Tabloid Blackmail
Adultery. Blackmail. Murder. This is a Jackie Collins novel come to life.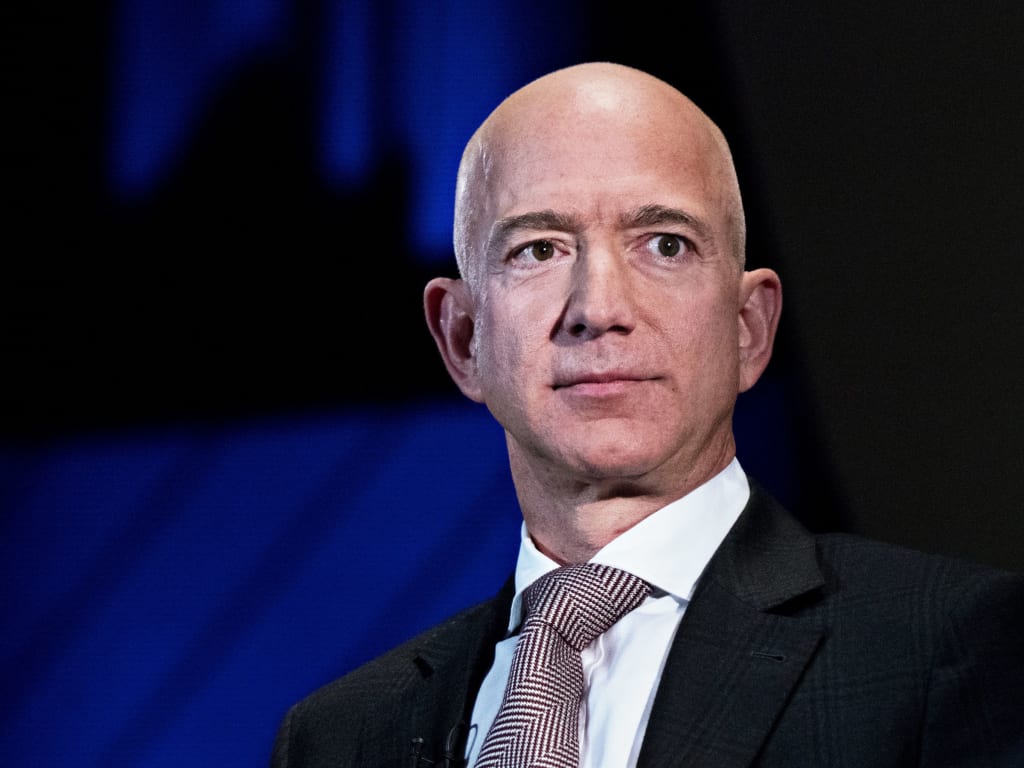 "Truth is stranger than fiction, but it is because Fiction is obliged to stick to possibilities; Truth isn't," Mark Twain explained to a literary magazine when asked why he didn't write about real life more often. As any writer will agree, when writing about the real world, the audience has an expectation that everything makes sense and the climax of the story ties up all of the loose ends. If the plot gets too sordid or weird, the audience will revolt. That's what makes the Jeff Bezos claim that he was blackmailed and extorted by the infamous tabloid The National Enquirer and it's publisher David J. Pecker.
Beloved author Jackie Collins wrote about celebrities and billionaires misbehaving. It is what made her a household name. Even she never dreamed up a scenario like this. Yes, there are the classic hallmarks there; Jeff Bezos, the wealthiest man in the world, was having an affair with a Los Angeles TV personality. Someone leaked the text messages to a hungry tabloid reporter, and in those text messages were pics of Bezos in various states of undress. It was a story so big that it could have filled several issues. This story literally wrote itself.
But there was something that Pecker allegedly wanted from Bezos. Ruining his life wasn't the end goal here. Most people who have gone grocery shopping and waited in line the last two years have noticed at least two issues a month featured a favorable cover story about Donald Trump and his "accomplishments." According to Bezos, the publisher asked him to lie about the political motivations of The National Enquirer. Allegedly they asked him and his lead investigator, Gavin de Becker, to say "we 'have no knowledge or basis for suggesting that AMI's coverage was politically motivated or influenced by political forces.'"
Political forces? Hmmm. But there's yet another twist to this story, which will bring in another scandal and murder. Since Jeff Bezos owns The Washington Post, and murdered journalist Jamal Khashoggi was critical of Saudi Arabia's government, it is believed that they played a part in this blackmail attempt. It also ties into why Trump would not condemn the Crown Prince of Saudi Arabia for the murder despite many intelligence agencies saying that he was responsible for the death of Khashoggi. But had no problem trashing Bezos. The world's richest man also alleges that the blackmail wasn't a one and done thing either. "And there's an associated threat: They'll keep the photos on hand and publish them in the future if we ever deviate from that lie." Somebody wanted their tracks to be hidden and stay that way.
Bezos filled his wife in on all the details of what happened, and they decided to divorce. The announcement came before The National Enquirer ran their first story outlining the affair with Lauren Sanchez. Right after the announcement, Bezos hired de Becker to begin investigating and started to get a clear picture. That's when he wrote an article and alleged the blackmail scheme, and let the pieces fall where they may. It was a brilliant way to force the hand of Pecker, who in recent weeks has been cooperating with Special Counsel Robert Mueller and his investigation into Trump's alleged Russian Collusion.
American Media Inc., the parent company of The National Enquirer and other tabloids, were taken off guard by the latest development. They claimed they were taking part in "good faith negotiations." Maybe they don't know what those words mean? Even though they believe they acted with integrity, they are still opening an investigation into what happened. Yep, they're investigating themselves. "Nonetheless, in light of the nature of the allegations published by Mr. Bezos, the Board has convened and determined that it should promptly and thoroughly investigate the claims. Upon completion of that investigation, the Board will take whatever appropriate action is necessary." It's almost as if they want to tweet out "NO BLACKMAIL" like the current occupant of the Oval Office would.
As mentioned earlier, Jackie Collins would have a field day with this story. But it's real life. And it makes no sense.
About the Creator
Edward has written hundreds of acclaimed true crime articles and has won numerous awards for his short stories.
Reader insights
Be the first to share your insights about this piece.
Add your insights