Richard Crafts: The Infamous Wood Chipper Murderer
The Truth Is Stranger Than Fiction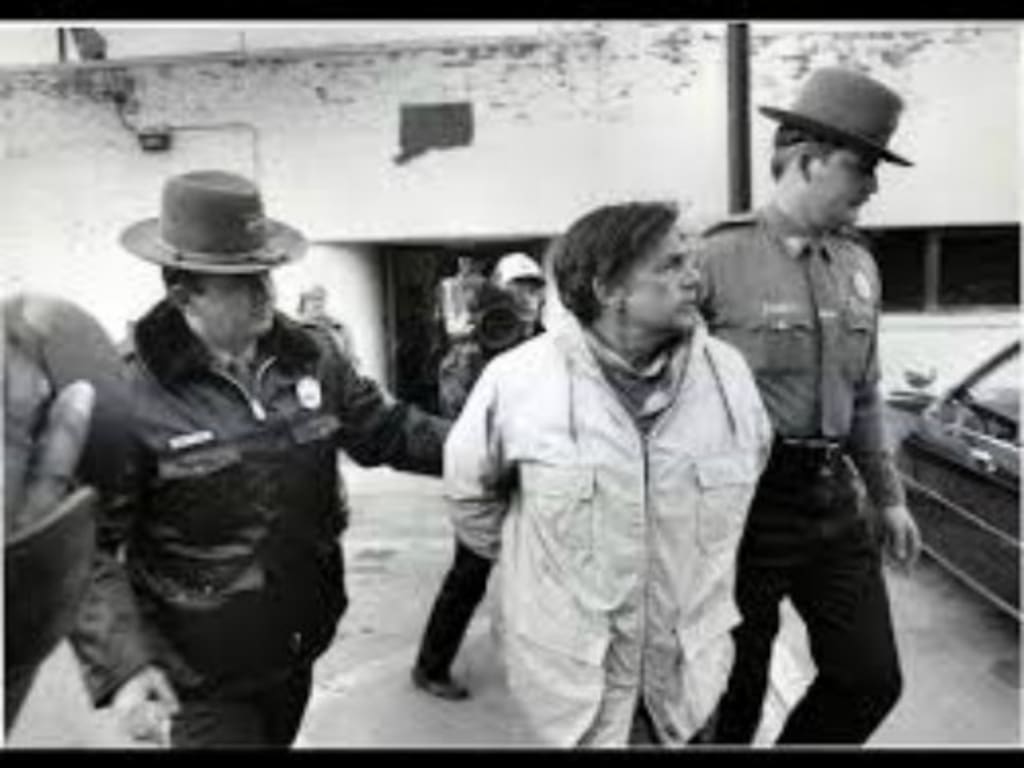 The Wood Chipper Murderer is apprehended
Newtown, Connecticut - On November 19, 1986, airline pilot Richard Crafts undoubtedly murdered his wife — a Danish flight attendant named Helle Crafts. He then chainsawed her body, temporarily stored it in a freezer, and later fed it into a wood chipper near Lake Zoar, hoping it would successfully disperse the remains and leave no traceable evidence.
It almost worked. However, on that stormy night, a snowplow driver had seen Mr. Crafts using the woodchipper near the lake. Finding it suspicious, the driver eventually alerted the police investigating Helle's disappearance. When police searched the area later, they found an identifiable tooth, bone chips, blonde human hairs, fingernails and human blood.
Not only was it an intriguing case, but it was the very first episode of Forensic Files. Personally, I hadn't heard of it until years after it premiered. Then again, maybe I had. Some speculate that the murder of Helle inspired an infamous scene from Fargo, the critically acclaimed Coen Brothers movie.
Indeed, the characters in that movie are nefarious enough, and a wood chipper murder indeed occurs. Still, while Fargo has its classic "Oh my God" moment, it was only loosely inspired by the real life "Wood Chipper Case."
The Helle Crafts story is actually scarier, and comes directly from real life. When reading the details, one can only imagine how the horror began brewing. In fact, there were some signs that undoubtedly contributed to Richard's downfall. Before her murder, Helle even warned people, "If something happens to me, don't think it was an accident."
So, we can call it what we like — the "wood chipper case," the "Wood Chipper Murder" — but it's clear that it functions as a real life warning to everyone out there: No one is completely safe from dangerous people.
The Killer
What about the murderer himself? What was his motivation? At the time, Helle Crafts was planning to divorce Richard after learning of his extramarital affairs. In other words, at judging by appearances, the victim wasn't particularly at fault for the divorce. This was just a man who (apparently) wanted total control over the relationship — to the extent of preferring murder over divorce.
Yes, divorce can be tough on a person — but it's a bitter pill that a man should swallow if need be. Richard Crafts couldn't take it like a man. He had to have his way, or else.
Just before his sentencing, Crafts noted, ''A great deal has been said about my apparent lack of emotion: 'He has ice water in his veins...'"
Though he wants people to believe differently, all signs indeed point to him being a cold-blooded murderer — who came pretty close to getting away with it. At one point, when state police divers began looking for his wife, Crafts allegedly told his brother-in-law: "Let them dive. There's no body. It's gone."
Unfortunately for Mr. Crafts (and fortunately for everyone else), it wasn't quite gone enough. It was the first murder conviction without a body in Connecticut's history.
Could He Have Gotten Away With It?
Often, after hearing about such cases, I can't help but wonder if the killer could have gotten away with it. After all, sometimes they actually do. In this case, I think the killer's main flaw (aside from the murder itself) was thinking his method of eliminating evidence would... well... remove all of the evidence. It clearly did not.
On top of that, he attempted to dispose of the body in a public place, in a very public and inherently unusual manner. Obviously, most people don't head out in storms to operate wood chippers near lakes. It makes me wonder how someone would explain such activity, especially when Crafts was a pilot and (presumably) not part of the local road commission.
Another general flaw in his judgment? He attempted to destroy the evidence fairly close to where he lived. Had he driven off to some distant, random location, his chances of concealing evidence might have been greater.
Of course, I don't wish to be seen as giving advice, other than to say, don't try this at home!
About the Creator
Wade Wainio writes stuff for Show Snob, Undead Walking, Pophorror.com, Vents Magazine and Haunted MTL. He is also an artist, musician and college radio DJ for WMTU 91.9 FM Houghton.
Reader insights
Be the first to share your insights about this piece.
Add your insights