Review of 'Glass Onion: A Knives Out Mystery'
Hercule Poirot and Elon Musk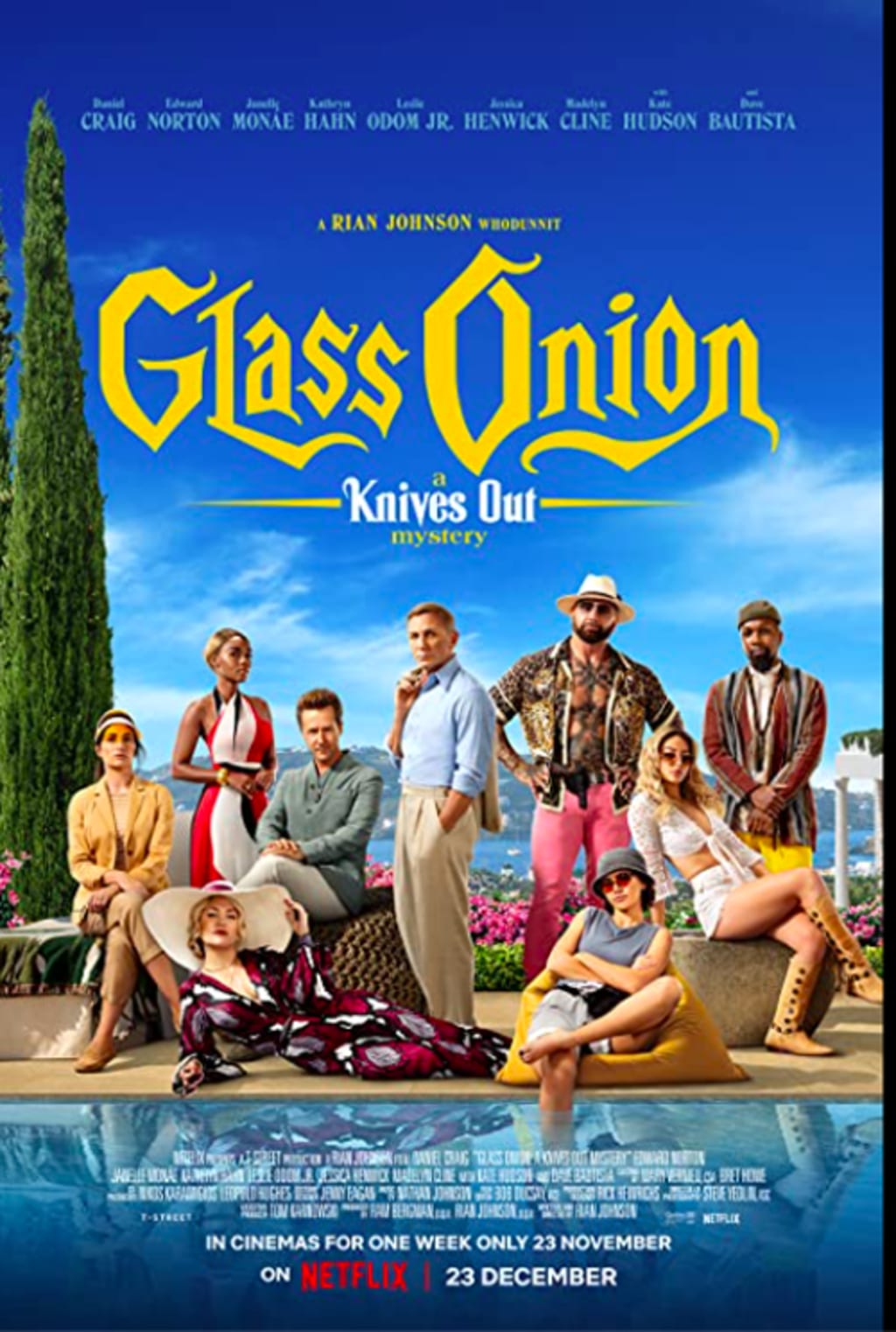 I thought Glass Onion: A Knives Out Mystery, now on Netflix, was even funnier and more fun than Knives Out, which was plenty funny and fun when it came out in 2018. Plus, Glass Onion was just brimming with social relevance, extending its satire of Agatha Christie to our real world at large with a zest and a vengeance. All to the good -- given what our real world is like, we could use all the satire we can get our eyes and ears on.
[Spoilers ahead of course...]
COVID is the first real calamity to receive this treatment. I certainly wouldn't want to see an entire movie lampooning anything about the pandemic -- it's no laughing matter, to say the least -- but the start-up of Glass Onion with the masks and the protective blast to the throat was just right.
Elon Musk, on the other hand, deserves all the satire anyone can lob at him. And Miles Bron, who turns out to be the villain of the story, surely has elements of Musk, hawking a scientific miracle energy breakthrough, flaunting his billionaire wealth, his presumed genius, and all the rest. Social media in general get a good ribbing in this movie, too. We've seen people glued to their phones in comedies plenty of times, podcast creators, too, but not quite with this level of exuberance and near insanity
The acting was great, too. Daniel Craig (as sleuth Benoit Black) and Ed Norton (as Miles Bron) have never given anything less than a top performance, at least as far as I know. It was especially good to see Craig routing out evil again, especially after we saw what happened to him in his last appearance as James Bond. And the supporting cast were in fine form, too, including Janelle Monáe, who played twins. But for some reason, my favorite of Bron's guests was Madelyn Cline as Whiskey (hey, she was excellent in Outer Banks, too).
Of course, in a satire whodunnit, the mystery plot has to be tight and well resolved. I won't give everything away, on the slim chance that you're reading this and haven't already seen Glass Onion. But I will say Hercule Poirot would've approved.
Oh, and the music was good, too! "Glass Onion" is always a pleasure to hear. And it sounded fantastic at the end of this movie. I'm thinking the producers of the movie did to this Beatles recording what Peter Jackson did for the Beatles in Get Back -- the Beatles never sounded better!
And while we're on the subject of music in this movie, Nat King Cole's "Mona Lisa" gets that same -- let's call it Peter Jackson -- treatment. Cole's uniquely warm voice, like "chestnuts roasting on an open fire," sounds like it's in the same room with us. Mona Lisa -- the Leonardo da Vinci painting -- makes a major appearance in the movie, a symbol of Bron's boastful greed -- as does an acoustic guitar alleged to be Paul McCartney's, which Bron strums for "Blackbird" to impress his guests.
Okay, this review is about a movie, not its music, but as long as I'm into it, the Bee Gees' "To Love Somebody" sounded crystal clear beautiful, too, as did David Bowie's "Starman" (his "Star" is in Glass Onion, too, but I always liked "Starman" much more). And one last point, promise, about this music: it was fun to hear Toots and the Maytals sing "Take Me Home, Country Roads," but yeah, it made me wish I was hearing John Denver singing his song with co-writers Taffy Nivert and Bill Danoff in this supersonic mix.
All credit goes to Rian Johnson, who not only selected the songs, but wrote and directed this gem of a movie.
About the Creator
Novels include The Silk Code & The Plot To Save Socrates; LPs Twice Upon A Rhyme & Welcome Up; nonfiction includes Fake News in Real Context, The Soft Edge, & Digital McLuhan translated into 15 languages. Details here. Prof, Fordham Univ.
Reader insights
Be the first to share your insights about this piece.
Add your insights