Reason First: Meek Is Free Because of Thinking
What does freedom mean to you?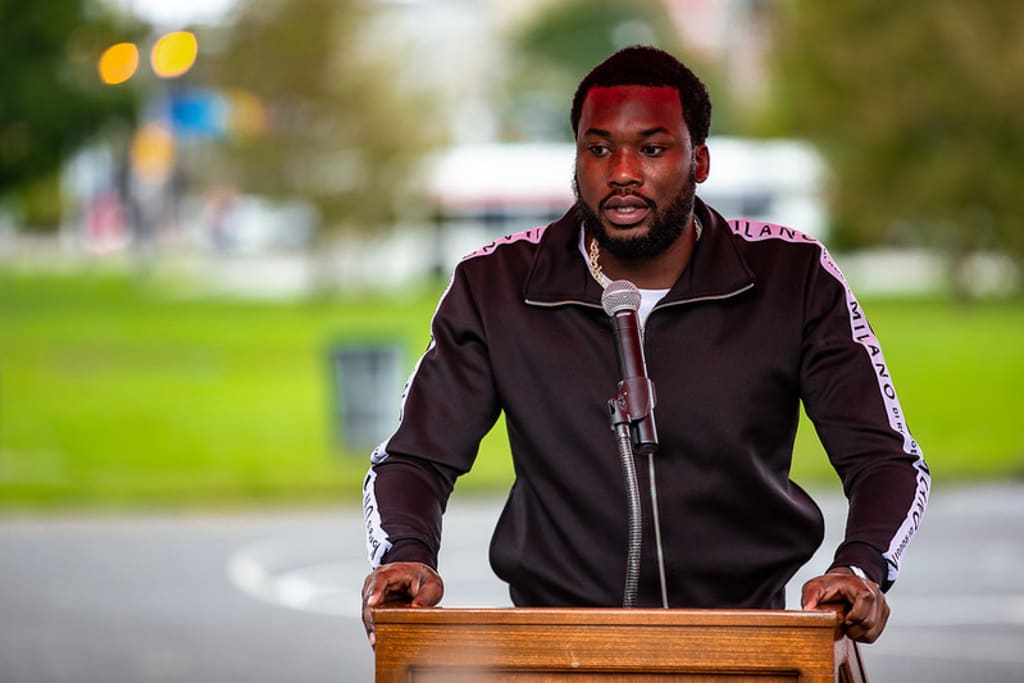 Every Twelve O'Clock Boy should be rejoicing from B-More to Philly. Meek Mill is no longer a suspected convict. A 2008 charge related to a firearm has been dismissed by a panel of three judges. On the heels of signing a brand new deal with his label Dream Chasers under billionaire JAY-Z's Roc Nation, Meek celebrated on Instagram stating how he is clean as far as the law is concerned. This is a clarion call to any man of color in America who is currently going through the legal system while still trying to enjoy the spoils and fruits of their labors.
In August, an Amazon Prime Video documentary will cover Meek's journey to freedom. In his raps, he details the dreams; he describes all of the women and riches and the family set straight like a perm crop up; the nightmares exist with him peeling off moldy bread from a bologna sandwich and a powdered drink while waiting on the detectives to talk to him. Meek's resolve should be admired. He certainly was facing a giant trash bin in the eyes of the rap populace. It appeared back in 2015 that rap superstar Drake "Champagne Papi" Graham had finished off the Philadelphia MC (They have since reconciled and produced music together.). However, with high profile cases, the media spotlight glowed ever brighter on Meek and his trials.
All of the doubters turned to believers as Meek marched through with singles and a hit album that continued to bolster his fame. It gives hope to the hopeless. In a time where narcotics are still not available to adults willing to pay for them, Meek makes clear in his raps that the drug game is still a prevailing market amongst the figures of the underworld. While he is no longer a felon or on probation, he is still a target for law enforcement just waiting for him to slip up in some way or another. He is smart enough to leverage his notoriety to illustrate to the young people who listen to his music that you should chase those dreams and leave the nightmares alone.
Meek's situation is a microcosm for the black man in America. He has had to go through the system, whether it's legal or psychiatric. The rational thing for Meek to do is to keep up the output of excellent music and make as much money as possible... legally. He is poised to be one of the most pivotal rappers to ever come out of the womb of Philly. His unorthodox flow and dense lyricism should carry him. All of the words crammed into his rhymes represent pain, struggle, strife, perseverance, victory, triumph, joy. The way that he lays out his life in his song in almost real time is a testament to his stellar artistry and sharp business mind. Meek's example is something for the legends. How many rappers can say that they escaped from an alleged crime that occurred over a decade ago? The Philly MC has every chance now to keep running his victory lap like the late Nipsey Hussle. But with breath in his lungs, Meek should be able to point out the worst corners, the ugliest gun battles, and the nastiest drug busts. Instead of glorifying the game, his cocaine chic rap style highlights the devastation and the hurt that is involved with drug dealing.
Every line that Meek might spit ought to be dripping with wisdom on how to navigate through the legal system and the rap game at the same time. He should be encouraged to never hesitate to air out all of the terrors that have occurred in his life so that other individuals may see that and avoid his ways.
JAY-Z once said, "don't follow me, youngin,' follow my moves." Meek ought to take heed to his mentor's words. He can demonstrate to the youth that it is possible to come out of situations that might seem hellish and end up in heaven while on earth.