Quadriplegic Man Dies While in Jail for Marijuana Possession
The jail wasn't equipped to provide the level of care Magbie needed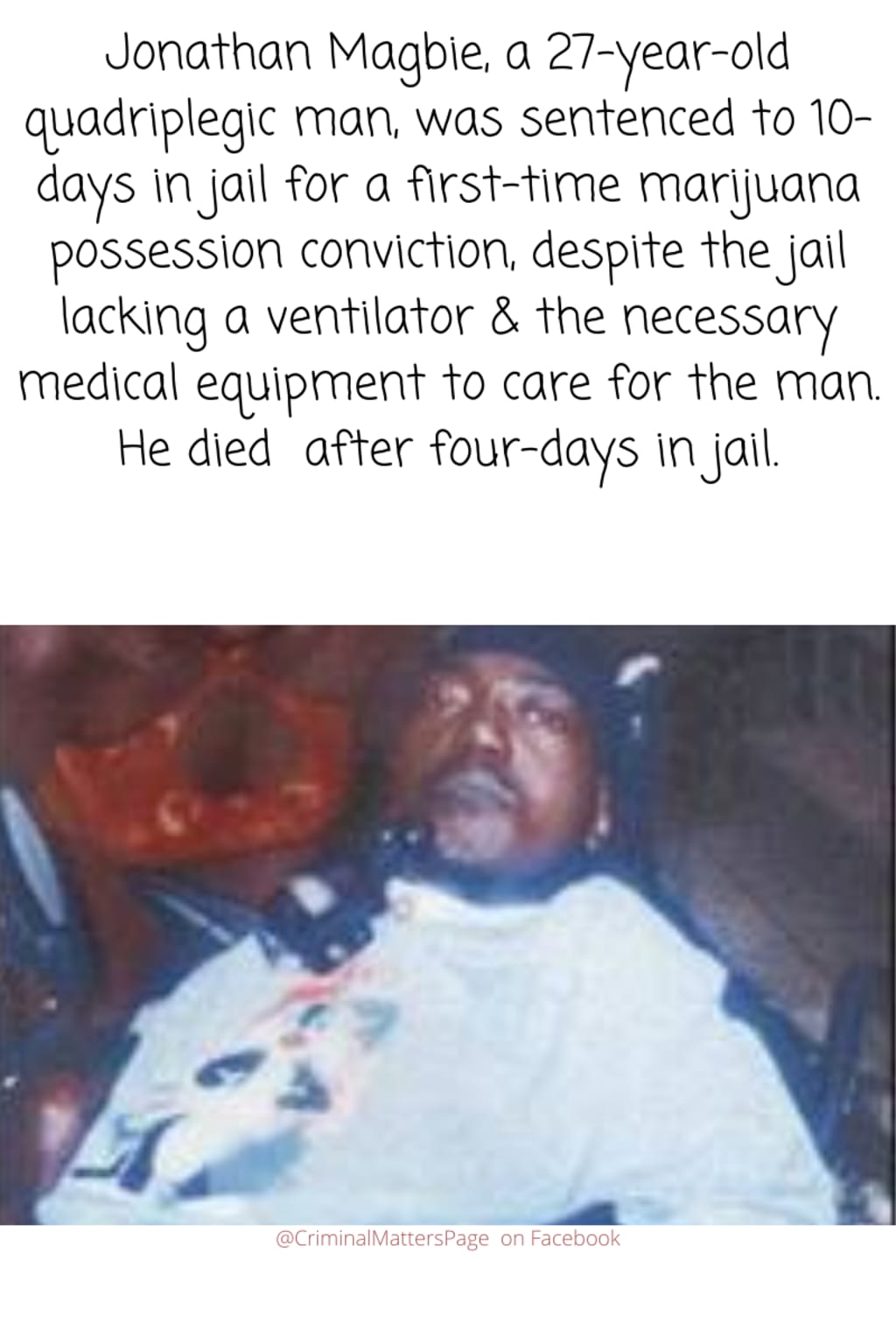 Jonathan Magbie died in jail on the fourth day of a 10-day marijuana conviction sentence. The 27-year-old was paralyzed from the neck down and needed a ventilator, wheelchair, and 24-hour care. Despite the jail promising they had the necessary equipment and staff to care for Magbie, he was hospitalized within hours of his booking, only for the hospital to release him and refuse to readmit him, despite jail officials pleading for them to do so.
Magbie had never been convicted of a crime before he was found riding as a passenger in a car with marijuana, four grams of cocaine, and a handgun. He admitted to the judge in court that he smoked marijuana to ease the pain he felt every day. The gun charge was dismissed. Most criminals convicted (at this time) of minor marijuana convictions were handed down probation sentences, but a judge denied the request for Magbie.
-----------------------------------------------------------------------------------
Paralyzed from the neck down at age 4 after the car he was riding in was hit head-on by a drunk driver, Jonathan Magbie smoked marijuana to help ease his pain. A judge found this idea reprehensible and sentenced Magbie to 10-days in jail after he was found by police riding as a passenger in a vehicle with marijuana and a loaded gun in September 2004. The court dismissed the gun charge but denied him a probation sentence after he said he would continue to smoke marijuana because it eased his pain.
Jail Not Equipped to Handle Magbie's Level of Care
The judge did not consider the round-the-clock care Magbie needed due to his condition nor how ill-equipped to care for a person with those types of medical needs the jail was. Magbie could not breathe on his own, his growth was stunted, and he depended on a wheelchair to get around. He operated the wheelchair with his chin and everything else, from scratching his head to changing his diapers, he relied on others to help with. His mother usually provided care for her son.
Magbie survived four grueling days in jail without a ventilator before he died.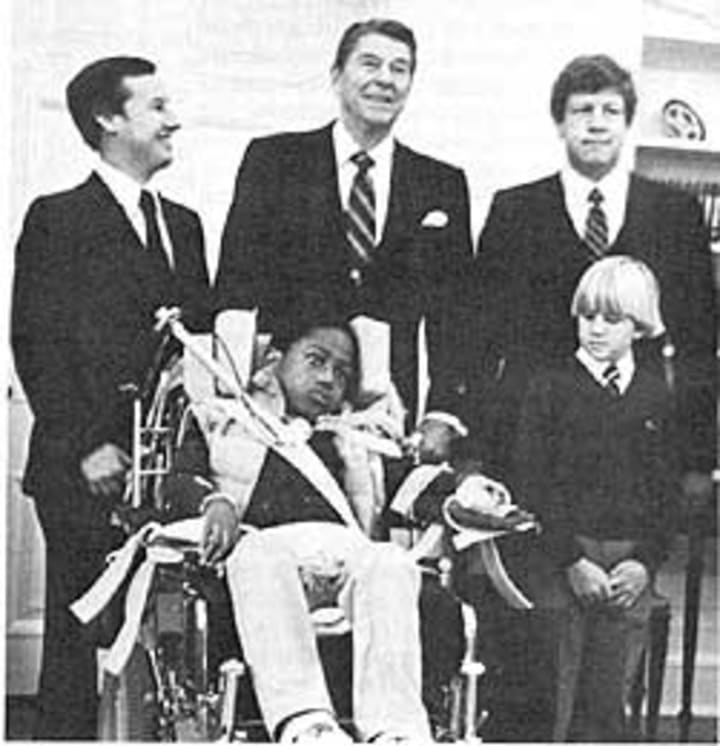 Magbie was transported to the hospital no sooner than he was booked into the jail in need of medical care. However, the hospital released Magbie the next day. Magbie was sent to the CTF facility. Jail staff called the hospital the very same night requesting Magbie return to the hospital. The hospital refused. The jail attempted to force the hospital to re-admit Magbie with help from a judge, but he declined to do so, stating he had no legal rights to make that decision.
Despite concerns from a senior doctor who was afraid the CCA (Corrections Corporations of America) operated facility was not equipped to handle Magbie's medical needs, they kept him inside the facility.
After suffering for four days, jail staff finally allowed Magbie's mother to bring his ventilator. She arrived with the ventilator around 10 a.m. That same evening, police called and told her that her son was dead.
Magbie's Death
When paramedics responded to a call from jail at approximately 9 a.m., they found 27-year-old Jonathan Magbie "unconscious, very sweaty, and sitting at a 45-degree angle in his wheelchair,' according to one account. His diaper was soaked with dark-colored urine and his catheter bag was filled with the same. A paramedic stated that it appeared Magbie had not been cleaned in days. Paramedics and a CTF physician stated Magbie had likely been in this state for several hours before the 911 call. He was transported to the hospital after an approximately 30-minute delay because CTF officials refused to let them leave with Magbie before they received transport paperwork.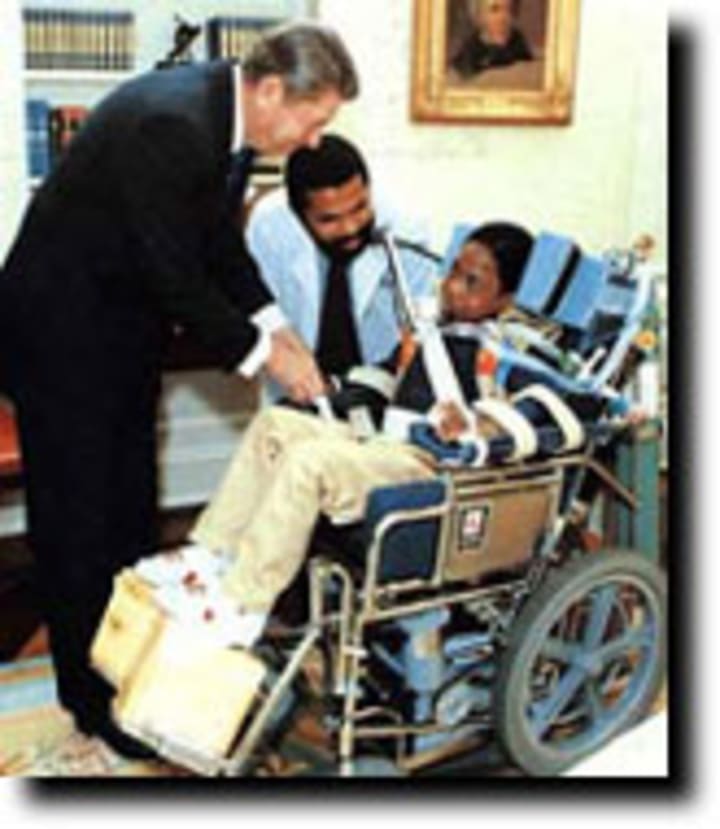 The stretcher would not fit inside Magbie's cell. Consequently, paramedics lifted Magbie out of his chair and placed him onto the stretcher. This, too, was delayed as correctional officers attempted to place the unconscious and in obvious medical distress Magbie in handcuffs.
Ms. Magbie Files Lawsuit
Mrs. Magbie filed a lawsuit against the District government and the Greater Southeast Community Hospital for failing to provide her son with medical care. The Center for Correctional Health and Policy Studies, Inc. and Corrections Corp. of America were both later added to the suit. The ACLU assisted Mrs. Magbie in the lawsuit, where she settled out of court for a total sum of $4.6 million.
More Information:
https://www.november.org/thewall/cases/magbie-j/magbie-j.html
incarceration
About the author
The most shocking & unbelievable collection of crime stories around. Prepare yourself for crimes that will piss you off. Graphic material! 18+ audience!
Reader insights
Be the first to share your insights about this piece.
Add your insights