'Pennyworth': S01.E07. "Julie Christie"
While Martha and Thomas confront Crowley over his strange party and the return of Patricia, Alfred and the lads track down the identity of a wanted killer.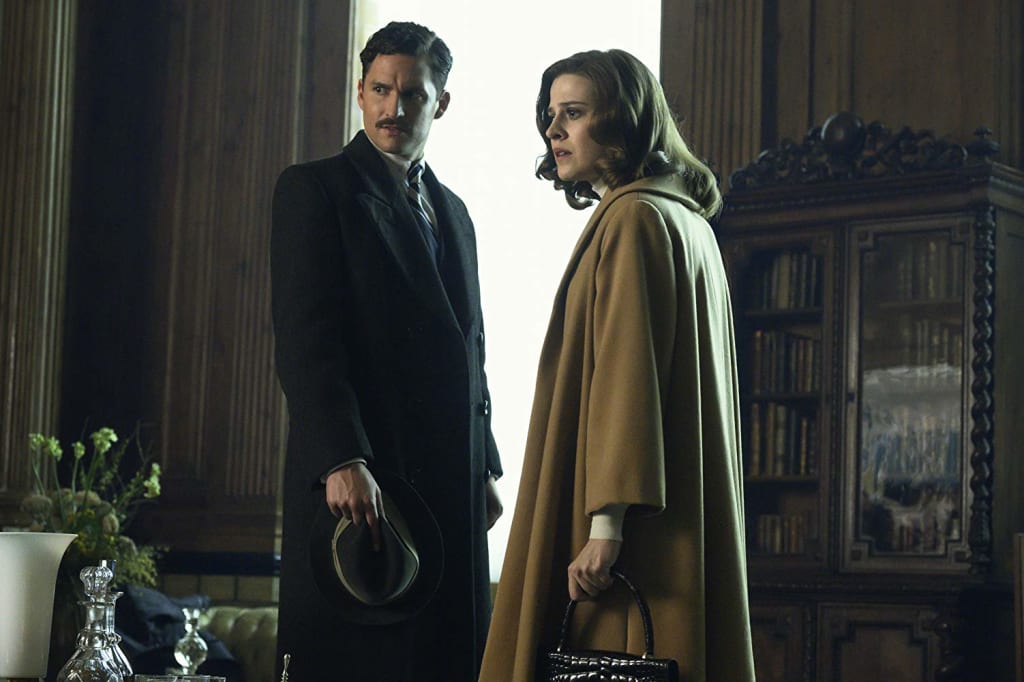 Screen Capture: Ben Aldridge and Emma Paetz as Thomas Wayne and Martha Kane, respectively, in "Pennyworth."
After a two week break, the latest episode of the Bruno Heller-created Epix original series Pennyworth landed Sunday, Sept 8th 2019. Picking up the narrative immediately after where the previous episode left off, Martha Kane (Emma Paetz) arrives home to find Thomas Wayne (Ben Aldridge) waiting for her. It came as a surprise to find him in her residence. Even more surprising, according to Thomas, Martha and his sister Patricia Wayne (Salóme Gunnarsdóttir) have been missing for three days.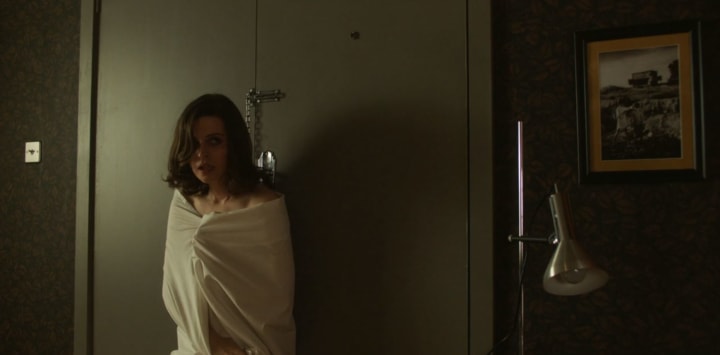 Where have they been? What have they been doing in that time? Where is Patricia? Patricia wasn't with Martha when she arrived back at her residence.
"Where is Patricia?" Thomas demands to know from Martha.
The sudden realisation that she and Patricia have been missing for three days hits her like a ton of bricks. Cue opening credits…
Meanwhile, across town, Alfred Pennyworth (Jack Bannon), Deon 'Bazza' Bashford (Hainsley Lloyd Bennett) and Wallace 'Dave Boy' MacDougal (Ryan Fletcher) are ransacking Captain Curzon's (Charlie Woodward) home in the hopes of finding clues as to where he's hiding.
Like Dave Boy, I don't get why Curzon would feel the need to kill Esmè Winikus (Emma Corrin) simply because of an offhand joke Alfred made during the war. It doesn't make sense. There's no rhyme nor reason to the senselessness of it all. The lengths that people will go to exact revenge on someone simply because of a joke made at their expense is staggering.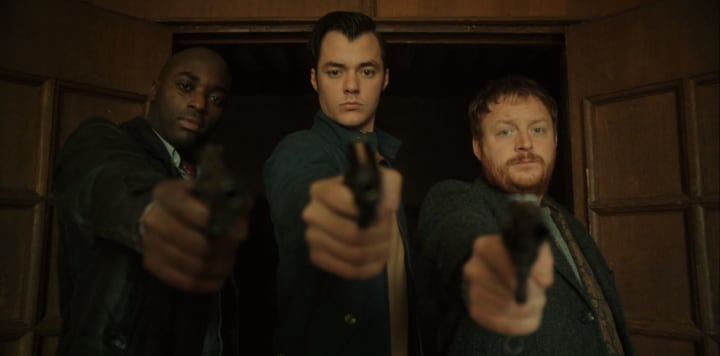 Even though the military records office doesn't list Curzon as being a commissioned officer, according to the housekeeper that comes in to clear his quarters twice a week, "he's up at the crack, puts on his uniform and off he goes."
"Where the f*** is he going all dolled up?" Dave Boy asks.
That's a good question. If the information Alfred was able to glean from the records office is correct, Curzon wouldn't have any need to wear his uniform. There's a good chance Curzon is psychologically disturbed and is in serious need of hospitalisation.
Elsewhere, Bet Sykes (Paloma Faith) is upset that she isn't going with Lord James Harwood (Jason Flemyng) and Peggy Sykes (Polly Walker) to pay a visit to the new leader of the Raven Society, Dr Frances Gaunt (Anna Chancellor).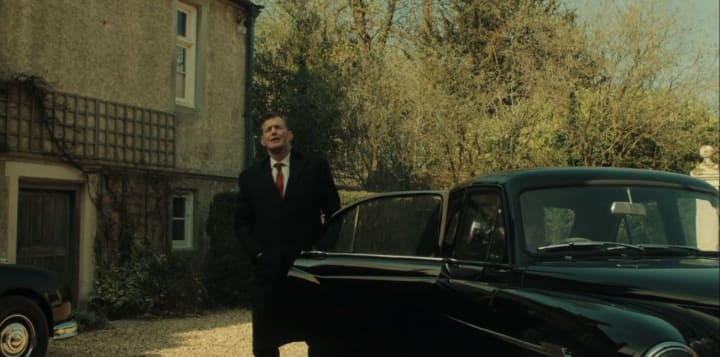 On their arrival at the Gaunt residence, Peggy finds a modicum of resistance from the guard at the door. Peggy being Peggy, she convinces the guard to speak with Gaunt and bring her to the door. Gaunt initially thinks Peggy is looking to sell her something, but when the doctor sees James is still alive, her tone changes significantly.
Martha takes Thomas to the last place she saw Patricia. We shouldn't be surprised to find Jason Ripper (Freddy Carter) answering the door, because he's just the type to reside with a Satanist. The Satanist in question, Aleister Crowley (Jonjo O'Neill), is extraordinarily eloquent. Even though Crowley has a disarming way with words, nothing he initially says has any real impact on either Martha or Thomas.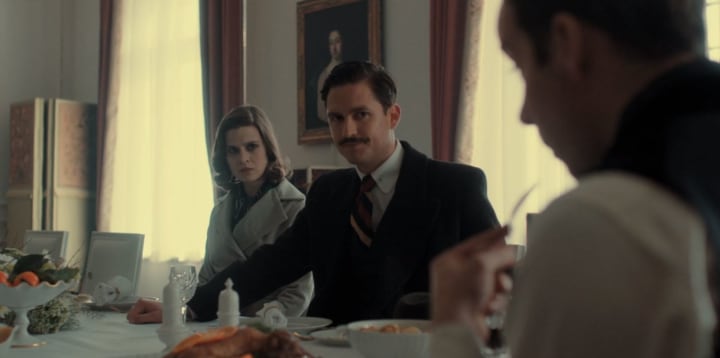 Surprisingly, not that the Devil wouldn't know everything there is to know about anything, Crowley is well informed as to the organisations Martha and Thomas purport to work for. Crowley even knows that Thomas isn't as much working for the No-Name League as he is working undercover with the organisation on behalf of the CIA (Central Intelligence Agency). This titbit of information comes as a genuine shock to both Martha and Patricia. Patricia always thought of her brother as being an immense bore. Thomas working for the CIA was a revelation Patricia didn't see coming.
With Crowley being well connected with the local police, Martha's threat of calling the authorities falls on deaf ears. Crowley correctly tells Thomas that his sister is an adult. She can do as she pleases. For the moment, Patricia chooses to stay with Crowley and Jason.
As the episode progresses, Martha begins to remember more and more of what transpired at Crowley's home during the three days she was missing. Thomas is unwilling to accept her version of events because it sounds positively ludicrous. The absurdly of Martha's words would many people placed in a psych unit for their own protection.
While Peggy and the guard play happy families outside the Gaunt residence, James speaks candidly with the doctor about the horrors he has suffered at the hands of the British Prime Minister. James lays out a plan to bring the British government to its knees.
James slips a custard crème biscuit into his inside coat pocket. When he does it a second time, even though Gaunt notices it, she doesn't raise the issue. Could pocketing the biscuits be a result of the torture he experienced or is it something else?
With Esmè's engagement ring in hand, Alfred attempts to clean it with a toothbrush. Because Mr Pennyworth (Ian Puleston-Davies) has been a butler for many years, it stands to reason he would know all the tricks to get anything cleaned properly.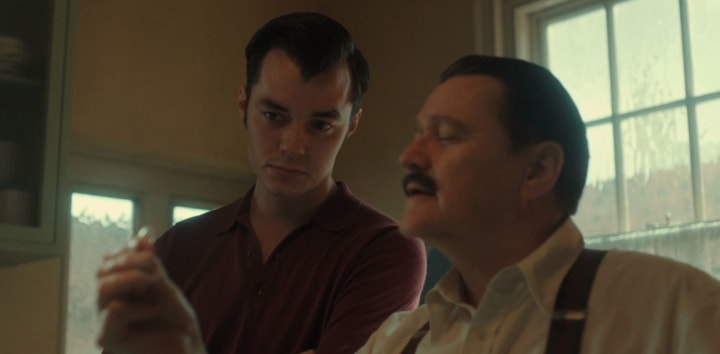 "Bicarbonate of soda," Mr Pennyworth said to his son when he saw Alfred cleaning the engagement ring. Mr Pennyworth shows his son how to correctly clean the ring. The scene shows Alfred's father has a heart and understands what his son is feeling.
When Alfred tries to gain access to the Officer's Mess, Sergeant Reggie (James Lewis) denies him access. Even though Alfred failed to get in through the front door, he found another access point more amenable to his needs.
Alfred barges his way into the Officer's Mess without giving any regard for established procedure. The officers don't have any interest in helping Alfred because he's not an officer. General Malcolm (Peter Guinness), after verifying what Alfred said is true, sends Reggie to the pub with the information Alfred needs to find Curzon.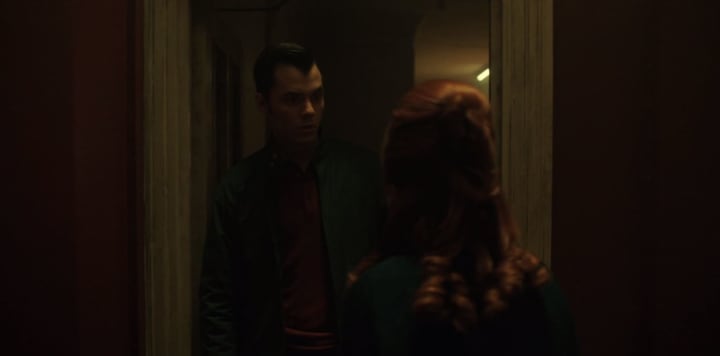 When Alfred goes to where Curzon is hiding, he finds he's not the only person looking for the captain. To Alfred's surprise, he finds Bet is still alive. Bet wants Curzon dead every bit as much as Alfred does. Alfred believed he saw Bet executed live on television. Little did he know at the time that the woman that was executed wasn't really Bet.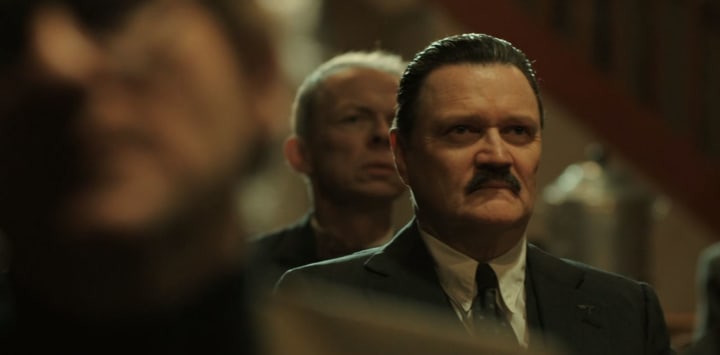 The episode ends with a surprising scene showing a meeting of the Raven Society and Mr Pennyworth is in attendance. Does Alfred know his father is a member of the Raven Society? Is he really a member of the Raven Society or is this a misdirect? It wouldn't be out of character for Heller to point us in the wrong direction.
Alfred has been doing jobs for the No-Name League. The No-Name League and the Raven Society have been at each other's throats for years. The increased violence between the two organisations has only recently become an issue for the local authorities.
tv review
I'm a freelance journalist. A member of both the NLGJA and SPJ, I currently write articles for Harsh Light News on Medium and HVY.Com. When I was a university student, I wrote articles for the NT Daily and TCU 360.