Pegging Your Demons Away
Unpacking the Triptych of Fantasies from the IMDY Season Finale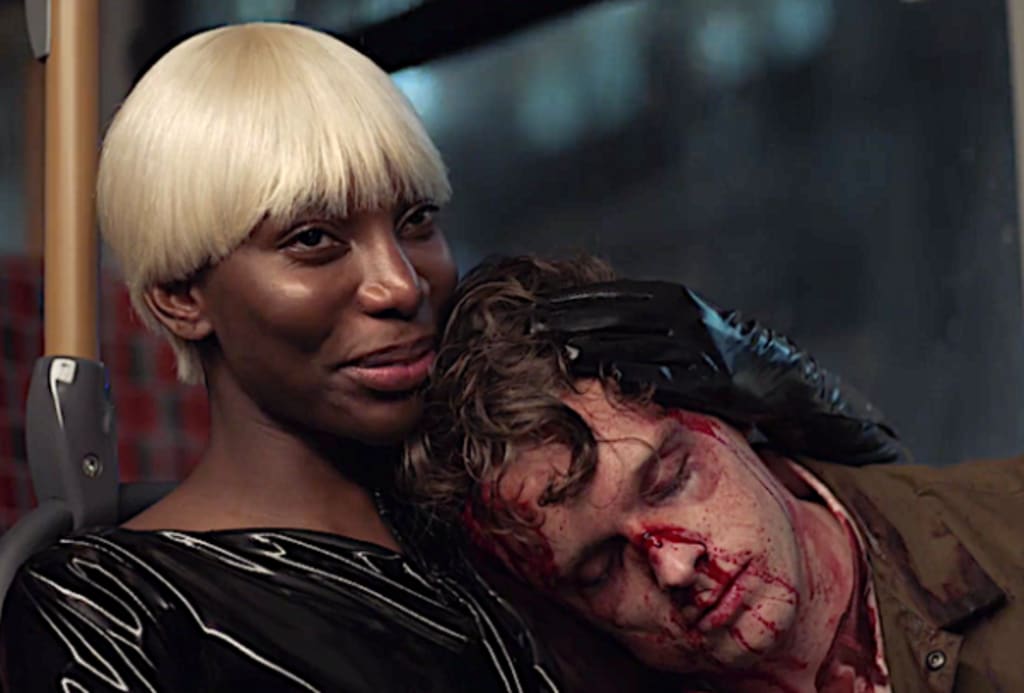 Image via https://tvline.com/2020/08/24/i-may-destroy-you-recap-season-1-episode-12-ego-death-finale/
The finale episode to the 12-part series of the Michaela Coel powerhouse, "I May Destroy You," left most of us nauseous, concerned and on the verge of tears the whole thirty minutes – as per usual. A show so well-crafted and incredibly triggering needed to pack a few final punches before leaving us, its viewers, to shiver in fetal position and contemplate our sense of self until the series is *hopefully* renewed.
But no one could have expected the stylistic route that Coel took with her triptych of reactionary scenarios, following the reveal of Arabella's rapists – the man who facilitated her penetration is just as culpable as the man who violated her physically. Following the rules of comedy – as comedic as a show about rape, consent, and identity as a survivor can be – each of the three rape revenge fantasies was more impeccable and provocative than the last.
Starting with the classic revenge plot of give the bastard what he deserves, we watch Arabella, Terry and Theo, execute a plan that Arabella has carefully prepared because "the criminal always returns to the scene of the crime." A confident Arabella – sporting another fantastic outfit of black vinyl dress and a bleached, cropped wig – flirts with David, her rapist, who drugs her drink. While Terry distract David's accomplice, Theo lifts the drugs off of David. As a stumbling Arabella is swiftly escorted to the men's toilets by David, we fear that, having no details of her plan, we will once again suffer her rape. Instead, once David removes her knickers and ensures she's out, Arabella opens her eyes and recites, "The criminal always returns to the scene of the crime" – a maxim well known by some survivors of sexual assault.
With that, Theo drugs David with his own stash via a needle to the ankle and the girls follow after him slowly. It is almost comical, watching the three women trail a zombified David. And true to Coel form the comedy begets darkness (which eventually begets more comedy) when Arabella realizes David still has her knickers on him and once he collapses, she cathartically begins to bash his face in.
We have not seen Arabella angry yet and as we watch her release her anger and pain, we are happy but still fearful at any repercussions she will suffer once it is clear she has killed David. How does one procure closure from rape? Seems to be a question the episode invites us to question. The answer is evasive because that is the nature of closure. Do we get closure? Well does anyone ever "get" closure? We are reminded that the concept of closure is as abstract as this episode and its dreamlike structure. In this first scenario, we feel a release but at the same time, we still fear for Arabella and wonder if this release will only result in more hardship for her.
As Arabella transports her rapist's corpse to her apartment, she sits casually alongside him on the night bus. Coel is never one to miss an opportunity, and an old lady on the bus remarks to the cuts and bruises on dead David's face, "Boys will be boys." Arabella just smiles. This acts as an homage to the mindset that sets rapists free and unscathed in a world that attributes rape to men's inability to control sexual urges and that women dressed or acting a certain way are "asking for it." The visual of dead David next to a sober Arabella also brings to mind the images of a passed out Arabella in the back of a cab with David before he raped her. This theme of gender reversal continues throughout the episode as Arabella reclaims her trauma and the events of that evening.
Once home, Arabella stuffs David's body underneath her bed, alongside the other demons she has hidden down there. She seems to solve the missing ending to her book, writing it on a notecard and putting it on the wall with the others. But she quickly throws the idea out after smearing blood on the wall. How does one procure closure from rape? Especially when on deadline?
In the next scene, we are relieved to see Arabella back in the courtyard with her lovable, dopey roommate – a scene that had already happened – and we understand that perhaps David did not in fact die and that the cops are not on their way to uncover his rotting rapist corpse. We experience the beginning of the same time loop as Arabella and Terry return to the bar – aptly named Ego Death, for maybe it is our ego that leads us to believe in closure as a finite, attainable conceit – and once again, Arabella is flooded with her memories and identifies her rapist(s). This time, it is Terry who has a planned prepared – in this scenario, we are reminded that Terry has given this thought because Terry too has been affected by Arabella's assault.
The plan starts with Arabella railing lines of coke to onset some serious viewer anxiety – we have seen the effects of coke on Arabella in Italy and it was a terrifying relief when she made it home in one piece. An incredibly coked out Arabella once again approaches David at the bar. He again drugs her drink – which she seems to at least partially drink and our anxiety only triples – as Terry distracts David's mate. When David takes a wobbly Arabella to the men's, Terry calls the police.
In the bathroom stall, David enters a seemingly unconscious Arabella who promptly turns her head and hits him with a "Hey David." He is surprised at first but then becomes amused and eventually enraged, holding her face and screaming horrible things at her, his lips inches from hers as he repeatedly calls her "princess" (along with "bitch," and "dumb whore") – the Madonna/Whore complex, personified. One of his arguments he tells her, justifying his attempted rape of her, is that that there are wars going on and people dying; a "little rape" is a privileged problem to have. This argument was the very coping mechanism Arabella had been using in an earlier episode, to invalidate her pain (or escape it temporarily) she would remind herself about starving children and bombs going off, as a sort of mantra.
Enraged David turns from belittling Arabella to belittling himself, calling himself a "dumb stupid little whore," now crying into Arabella's shoulder – gender reversal number two. By the time the police arrive, the two have disappeared. We find them sitting on top of Arabella's bed which is a symbolic improvement as she is now facing her rapist head on, not just stuffing him under the bed, out of sight and out of mind.
She sits and listens to David explain how he has done therapy, been to prison many times for all types of rape, and he eventually asks her why she is letting him sit there. He pleads for her not to leave him, as the police arrive, and she hugs him before the police remove him. The gender roles seem to have reversed back, as Arabella, a Black woman, comforts her rapist, a white man. It is almost as if the first fantasy warns of the dangers of reacting to trauma with anger alone and this one hints that humanizing your abuser, rapist or perpetrator of your assault can be harmful as well. With David gone, Arabella is left to write the ending to her book on notecards once again, until the moody lighting fades and we are returned to the beginning of the time loop once more. Her final fantasy.
And it is fantastical. The most stylistic of all episodes and scenes, Arabella listens to Terry realize her threesome in Italy was not necessarily consensual, as they start this time in the women's bathroom of Ego Death. They re-enter the bar and it is now day time and completely empty, save David and his accomplice. Prepare for the longest gender role reversal yet: Arabella approaches David at the bar and flirts with the confidence of a SWM. She buys David a drink and David cannot believe she's giving him the time of day, he is awkward and shy. She gets as close to his lips as he had in the previous scenarios and she whispers something into his ear; he follows her to the bathroom. Across the room, Terry stands over the David's accomplice in rape confrontationally before allowing the accomplice to stand up and dance for Terry as she sits and watches – he dances for her the same she danced to distract him in the earlier fantasies, but in both circumstances, Terry was in control.
A sultry song plays underneath as David and Arabella make out in the bathroom stall – which is marked as neither men's nor women's. The song continues as the two now kneel, kissing on top of her bed in her room, both completely naked and covered only in red lighting. They have sex and at first David is on top, but soon, Arabella is on top on David, fucking him from behind – the same way Kwame fucked his racist lover to battle his demons of being violated in the same position by a Grinder date.
As Arabella [presumably or metaphorically] pegs David, they both gasp in pleasure. After she finishes, we cut to the next morning, and both are still in bed, together and naked. David caresses her and tells her he will only go if she instructs him to, which she does. As naked David walks out the door, he is followed by corpse David, who crawls out from under Arabella's bed, her items from her abortion (including the ultrasound) in hand. Both Davids walk out of her door and out her life. A half-naked Arabella finishes her book and is returned back to the top of the time loop. This time, when her roommate asks if she's going to her "bar watch thing" Arabella says no.
The episode ends at Arabella's first reading of her new book – titled January 22nd, after the date of her rape – which she dedicated to dear Terry and as Arabella begins to read, we cut to the end credits. We never see much of any of the note cards she pens in at the end of each fantasy, but the episode itself seems to hint at what the end of her book might be like. As the book represents – to some extent – the series that Coel was writing when she was assaulted (her first series Chewing Gum) we know that she processed her trauma by writing a new series, this one, I May Destroy You. At her book reading, the presenter notes that Arabella independently published, after being fired. A subtle nod to the fact that Netflix offered Coel $1M for I May Destroy You but refused to offer her an executive producer/producer title. She turned down their offer and held out for one that gave her the autonomy she sought and deserved.
The most surreal aspect of this episode – and the series itself – is that Arabella's memory of January 22nd came flooding back at the exact right time – when she had writer's block with her book – and that they come back with such impressive clarity. Repression is quite real and brains are beautifully protective organs, but this picture-perfect resolution of our protagonist unmasking the culprit does not necessarily seem to fit Coel's normally subverting style; I think even that plot point can be interpreted as the viewer sees fit. Maybe Coel needed to give Arabella the closure of knowing, the power of that knowledge and the even more powerful opportunity of choosing to do nothing. No matter what, neither Coel nor Arabella owe us any sort of explanation or specific closure with this narrative. That is what the third fantasy scenario so brilliantly hints at and what is underlined when Arabella chooses not to return to the bar to enact any of the three fantasies. The final piece of that is when we do not hear nor know what is in Arabella's newly published book – as much as we want to know what she is reading or how she ended it, we do not deserve that, we are not owed that and we do not need that.
As far as what's to come after this – whether or not there will be a season 2 – one almost hopes that Coel decides to "Fleabag-it" and leave it as a limited series with only one season and those 12 magnificent episodes. Creating this show was Coel's way of processing and she was generous enough to share her brilliance with the rest of us. Some narratives are best left with questions unanswered, which is hard to reconcile in today's world where our greediness is fed by myriad streaming platforms. Coel is a gifted storyteller and part of that is the responsibility to know when to let something be. But if it is renewed, the only person up to the challenge of outdoing the mind-bending masterpiece that was season 1, is one Michaela Coel. Until then, may we all peg our demons away.
About the Creator
Queer writer & filmmaker based in Los Angeles.
elizabethburch-hudson.com
@effy1696
Reader insights
Be the first to share your insights about this piece.
Add your insights