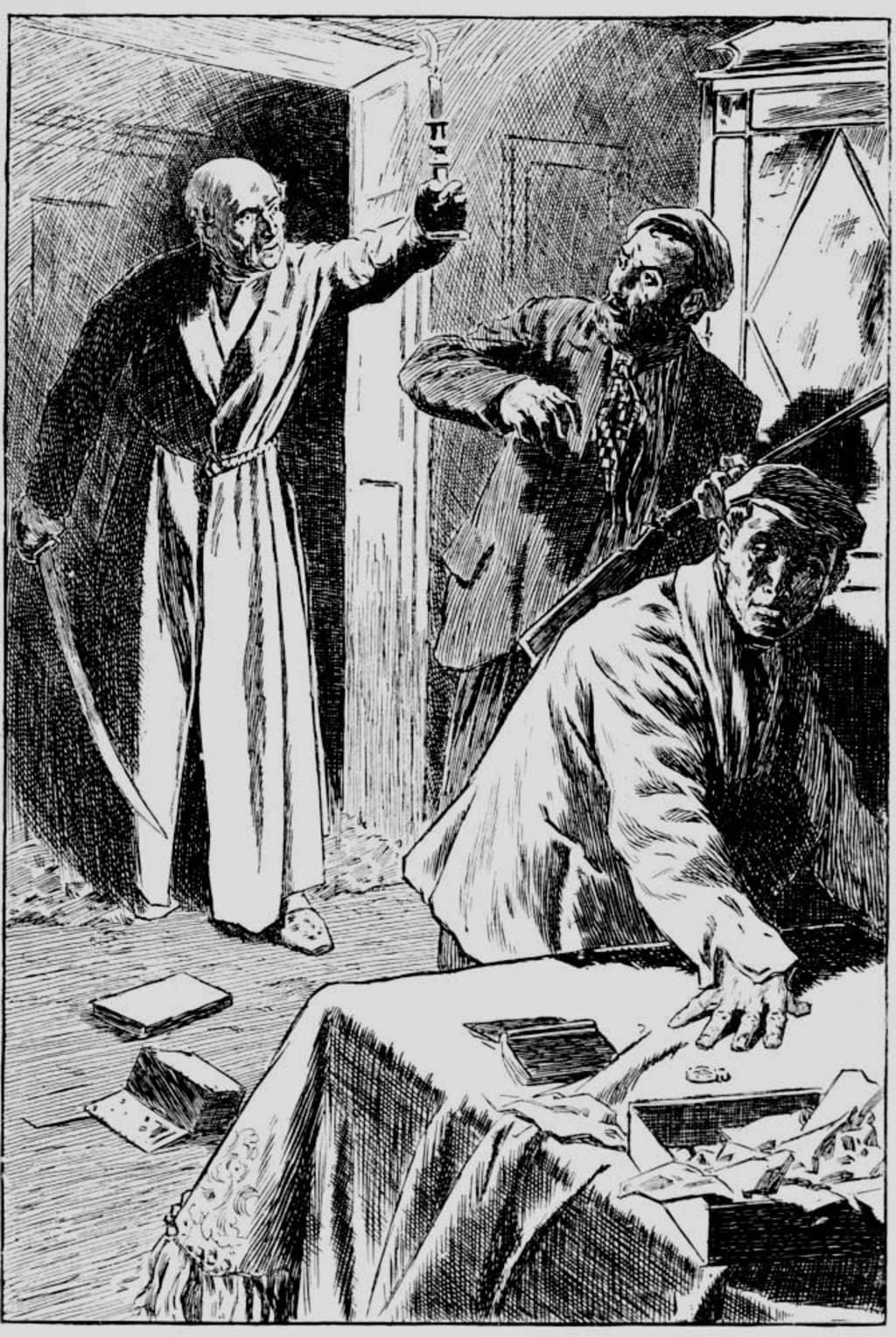 Rev Buckle accosts the burglars (Project Gutenberg)
Let me take you on a journey back in time. To 1879, when Victoria was on the throne, Disraeli sat in Number Ten, and Joseph Swan of Newcastle had recently announced his invention of the incandescent light bulb.
Inside a vicarage in the remote Northumberland village of Edlingham, six miles south-west of Alnwick, an incident occurred that saw two innocent men imprisoned, and the methods of the local constabulary heavily criticised after it emerged that police skulduggery was afoot. The case was also instrumental in bringing about the formation of the Court of Appeal.
Burglars Caught in the Act
In the early hours of a February morning, in 1879, at Edlingham Vicarage in Northumberland, the elderly Rev. M H Buckle was woken by his daughter, Georgina, who was in a state of some alarm. When asked what was wrong, she whispered to her father that she had heard noises downstairs. Reverend Buckle immediately rose and pulled on his dressing gown, and, in a display of determination that belied his seventy-seven years, the courageous cleric descended the stairs to investigate with a candle in one hand and a sword in the other. In the drawing room, he came across two burglars who were busy ransacking the vicarage. A struggle ensued, in which the candle was snuffed, the sword was swung, and a shotgun was fired. The burglars fled, leaving Rev Buckle with shot in his shoulder, and his daughter more seriously wounded in the groin. Fortunately, both survived.
In such a sparsely populated area, the list of probable suspects was short, and it wasn't long before suspicion fell upon two renowned poachers from Alnwick, Michael Brannigan (29) and James Murphy (19). It emerged that these men had been out during the night (as poachers are inclined to be) and on that basis they were arrested on the morning following the robbery.
While in custody, the police pressed the men as to their whereabouts the previous night, and what clothes they had been wearing. Murphy remarked that he had changed out of his wet clothes when he returned from his poaching expedition, and so an officer was sent to retrieve them. Murphy's fiancée, Agnes Simms, handed over the clothes, which were sent for examination.
Brannigan and Murphy were taken to the vicarage to take part in an identity parade. Neither of the Buckles was able to identify them as the intruders. It would perhaps be a little optimistic to expect them to, considering the Reverend only got a fleeting glimpse of the burglars by the light of a single candle before it was extinguished.
An Incriminating Find
A week after the arrests, there came a breakthrough when a doctor discovered a scrap of newspaper in the pocket of Murphy's jacket; a scrap that fitted perfectly where a piece had been torn from a copy of The Times found at the vicarage. While it is difficult to perceive why a burglar would carry such a worthless yet incriminating piece of evidence in his pocket, and why it took a week for this evidence to come to light, it did place Murphy at the scene of the crime.
The accused men maintained their innocence, reaffirming that they had been out poaching with their terrier (they had no firearms) and that they were nowhere near the vicarage on the night of the shooting. They told police where they had hidden their prey, and an officer was sent to check out the claim. He found dead rabbits exactly as described.
This development did not help their cause, however, as at the trial the jury returned after three hours of deliberation to deliver a guilty verdict. The men were sentenced to life imprisonment, and Brannigan was taken to Dartmoor, while Murphy went to Portsmouth.
What the police did not know, however, is that the jacket given to them by Murphy's fiancée did not belong to Murphy at all. While fetching Murphy's clothes for the police officer, she noticed blood and feathers in the pockets of his jacket: enough to send Murphy to prison for poaching. In a bid to protect her man, she handed over a jacket that belonged instead to Murphy's brother-in-law, a man named Redpath, telling the officer that it was what Murphy had been wearing on the night of the crime. It was in the pocket of this jacket that the crucial scrap of newspaper was found.
Redpath was never a suspect in the crime, so how came there to be evidence in the pocket of his jacket that placed him at the scene? The answer is simple; it was put there by the police in an attempt to strengthen their case. The police were in possession of Redpath's jacket for the duration of the investigation.
When this information came to light, the vicar of St Paul's in Alnwick, the wonderfully named Father Jevon J Muschamp Perry, took up the cause of the convicted men. He investigated other possible suspects in the area, and he soon homed in on one George Edgell, a known criminal who had also been out on the night of the shooting. Under pressure from the tenacious vicar, Edgell finally confessed to the crime, naming 53-year-old Charles Richardson, a local hard man, as his accomplice.
Release, Pardon and Compensation
After seven years of wrongful imprisonment, Brannigan and Murphy were released, their pardons being signed by Queen Victoria herself. They each received £800 in compensation, and both men went into gainful employment using skills they had learned in prison; Brannigan as a wheelwright and Murphy a baker.
With a clear case of evidence tampering on their hands, police called in Scotland Yard to investigate and four police officers were charged with conspiracy to pervert the course of justice. They were found not guilty through lack of evidence and released.
Edgell and Richardson fared a lot better than the pair originally sentenced for their crime. They were given just five years each. It is fortunate that neither of the Buckles succumbed to their shotgun injuries, as we would undoubtedly have seen the hanging of two innocent men.
To finish on a happy note, Agnes Simms, Murphy's patient fiancée, whose quick thinking inadvertently provided proof that the police had tampered with evidence, became Mrs Murphy.
(Originally published in Medium)
Reader insights
Be the first to share your insights about this piece.
Add your insights