After The Fall
There is a chance to rise.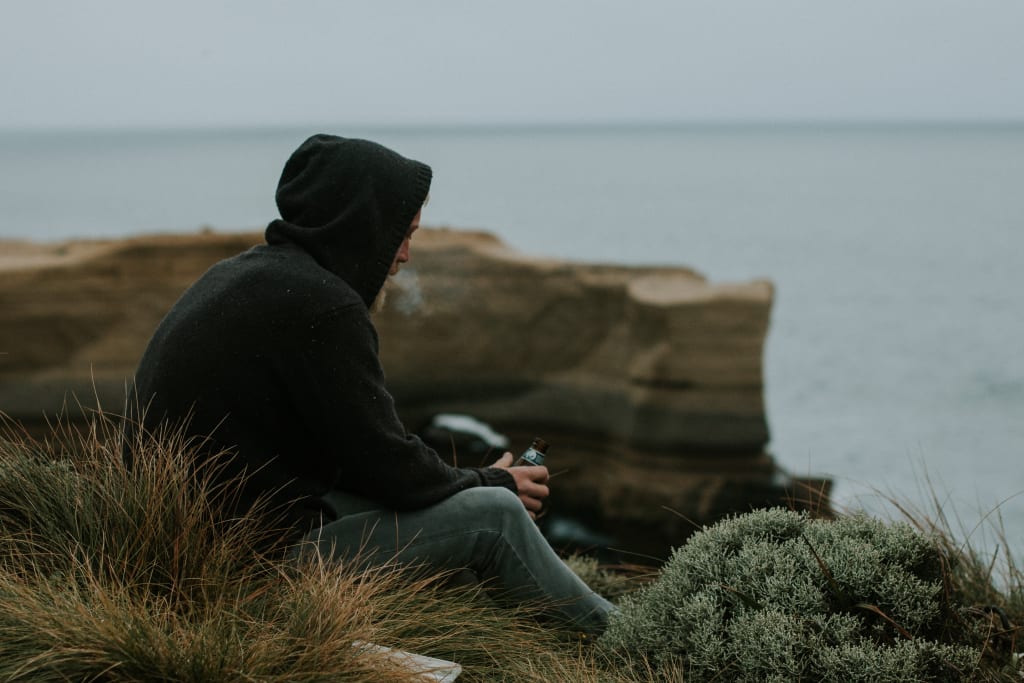 Photo by Cody Board on Unsplash
The air seemed still as if the world had somehow stopped spinning. He lay motionless in bed tightly grasping the phone as he took slow shallow breaths to contain the anxiety creeping through his body as flashes of what were supposed to have been lost memories came crashing back into existence. He spent months in therapy writing off these violent dreams as hidden psyches fighting to be brought back to life when in fact they were simply reminders of what he left behind.
As he remained silently still in the darkness beside the woman he had now began forming intimate relations with, he thought about his months of therapy and whether they had anything to do with this psychological break and sighed a breath of relief that he did not go along for the Hypnotherapy his therapist Beth thought would be beneficial in his circumstance. However, he now felt terrified of the decision his therapy sessions now influenced him to make. Taking the last eight months into consideration against what he was now starting to recall as the remnants of his past, Frank was now faced with the decision of returning to the man he was prior to his coma or the one he was learning to become since he woke up.
On September 18, 2020, Frank LaFay woke in a hospital bed, dazed and confused as to where he was but more strangely who he was. Doctors claimed he was brought in on the account that he had fallen from the LaPointe Lookout that overlooked the Madison River as he attempted to rescue a distressed female whom he would later come to know as Delia Owen.
He did not recall much about the day he awoke but in splits of memory he remembers trying to follow along as the people in white coats ran tests and questioned him about anything he could recall. Unfortunately, for him and them, he could not recall anything. Not even the couple who stood behind the glass peering in at him, distraught as ever. David and Marie were Frank's adopted parents, he has lived with them since the age of five and was never loved or cared for more deeply than these two individuals. He does recall the post examination follow-up, where Dr Carlton reported that Frank was suffering from TBI – Traumatic Brain Injury caused from the fall. He sustained severe damage to his temporal lobe which would in turn result in the loss of memory. The length of time for recovery or even determining whether he would regain any memory at all was unknown. Memories of his past were all erased, faces, places and things he loved all gone but the upside to it all was that he was alive and that was enough to make his weeping parents smile. The doctor devised a recovery plan for Frank based on patients with his condition and he would be released in a few short weeks after most of his wounds were healed sustainably.
The weeks he spent in the hospital all seemed a dazed as well but from where he was this minute, those memories would be the safest he felt since he reopened his eyes. He didn't recall having much visitors other than his parents. As a matter of fact, this was a topic of discussion during one of his sessions with his therapist Beth. The fact that he seemed to have no friendly relations lead to the discovery that Frank was most likely a recluse, although Frank did not feel introverted or have issues communicating, it was assumed that the old Frank didn't care much for personal relations even with his own family. This he had a hard time accepting since getting to know his parents, he found them to be lovely people. He enjoyed every minute of their time and appreciated their concerns for him.
As frequent as his parents did visit, the most interesting visit Frank would recall would be the one he got from Detective Walters. She seemed to be in her early or mid-30s with a demeanor that Frank found intimidating for her stature and built. She visited to gain some insight on the matters of his injuries but was duly disappointed to discover that she had nothing to gain. Her questions went unanswered and her frustration was clearly stifling her but she finished the interview most professionally. The questions she asked intrigued Frank as well, as he too was curious to most of them. For instance, who is Delia Owen to him? Were they friends, acquaintances; strangers in passing? What was she doing at the lookout point, more so why was he there? Who is Delia Owen?!
Eye witness reports what seemed to be from the distance they stood, an upset female – Delia, standing looking over into the river. A male – Frank, approaches with arms outstretched speaking to the Delia. The distance from the couple made it difficult to hear the exchange of words between the couple but the witness reports Delia shaking her head as if dismissing Frank as he slowly made his way toward her right before she steps back, knowingly or unknowingly, loses her footing. At this point Frank launches towards her but in his fail attempt to grab her hands, ends up going over the edge with Delia. Delia succumbed to her wounds.
Investigation into Delia later discovered her to be diagnosed with manic depression. This coupled with the eye witness report cleared Frank from any suspicions that may have been built against him. Still, as Frank read and re-read the account of the incident, he felt a sense of unease as if there was more than was seen from this third party point of view. He remembers after being discharged from the hospital, asking his parents to take him to the LaPointe Lookout. He closed his eyes as he revisited the memory, the smell of the air and the beautiful sunset about to take place. In that moment he believed this to be somewhere he visited quite frequently. Something about LaPointe felt familiar as the hairs on his body rose in ecstasy. In that moment it felt like peace but as he laid bed this instant, he felt shame and horror, so much that the bile he was trying to keep down for the past hour now summoned him to rise as he rush to the bathroom to let it out.
After washing his mouth and face, he walked slowly to the bathroom door and gently closed it shut. Throughout the chaos, his hands still grasped the phone that brought the memories that haunted him. He sank slowly to the floor, feeling the cold tiles against his skin. The air felt cooler against his skin in this room and he whispered her name "Delia Owens".
After his discharge from the hospital, Frank spent months obsessing over Delia Owens. His parents taught him about an online media platform called Facebook where all the young people have profiles and online presence. It seems he had one as well, he spent weeks working with his 16 year old neighbor Josh who helped him gain access to his computer, emails and Facebook where he spent time scrolling through Delia's open profile to find any clue as to whether he knew her or not. He felt deep down that he did but most importantly felt responsible for her death. His therapist Beth called it grief, she explained to Frank that what he felt was grief and although he agreed he did not believe that would be what his old self would call it.
His months of pouring through her online presence extended to another platform Josh has mentioned to Frank called Instagram and Tumblr. Delia seemingly was an open book of pent up emotions ranging from loss to personal failures. She seemed just as lost as he was and he wondered if that was it. At least that is what Beth thought after he decided to disclose his personal investments before she began discouraging the habit. Frank agreed that it was getting to the point of obsession and since there seemingly were no ties he could find, it was to be accepted that Frank was simply a passer-by to a woman deeply set on hurting herself for who he tried to save unsuccessfully. Beth asked him to stop blaming his memory loss as punishment for failing to save Delia on that fateful day. So he did.
He tried to move on with life and that's where he met Fran. She worked at the local coffee shop a block from his apartment which he moved back into as a way of taking charge of his life. He took up reading and got in contact with his job to resign due to being incapable of performing his duties any longer. They were nice enough to offer to keep an open spot for him should he feel the need to return any time in the future. Life started to look up, Frank 2.0, as her referred to himself even though he had no clue about Frank 1.0, was going to live his best life. He found a job at a local grocery store as a restock clerk and found joy in every moment, but deep within him he felt an unexplained darkness. An uneasiness that scared him at times.
He decided to move from the slumped position he took up on the bathroom floor to a full body sprawl across the bathroom floor as he hugged the phone now towards his chest. His months of forgetting about Delia and the past he thought would never be remembered seemed like a fleeting dream. Fran had a grand idea to revisit LaPointe because truly that was her favorite place. The visit was for Frank to put the accident behind him for good. She suggested it would be therapeutic if Frank instead of just visiting LaPointe, start from the bottom and hike to the overlook. In that way, in some weird sense, he would be rewinding the events and in this case helping a young woman up to the overlook. This activity was heavily frowned upon by authorities due to the unstable grounds but people still did it.
They decided to head over early so they can spend enough time at the overlook before heading to the trail that lead into the woods beside the overlook. Frank found it challenging at first but as they silently made their way up, he felt a growing sense of peace. Maybe Fran really was on to something here. He started to move at a quicker pace than Fran as she stopped to take pictures for her social media account when he noticed what looked like a phone caught in a brush of shrubs growing along the sides of the overlook. It seemed difficult to get to but something in him willed him to try. He glanced back at Fran who was deeply consumed in a Snapchat video she was making and began to slowly make his way to the shrub. He was almost vertical, sinking his fingers and sneakers into the mud for grip as he maneuvered to the phone.
"What are you doing?" yelled Fran
"I think I found something!" Frank yelled back
"Is it worth anything?" replied Fran
"Not to my knowledge" replied Frank
"Then let it go!" Fran chuckled
Frank got close enough and plunged his hands into the shrub towards the phone. The hidden brambles within the shrub, pricked at his hand but Frank's determination helped him to ignore them. As he secured the phone in his grasp, he felt a sense of dread but he placed the phone within his pocket and started making his way back over to the foot path.
"What was it?" Fran asked
As much as he had no reason to lie about what he found, he could not find the words to tell her.
"It was nothing, I thought I saw a phone but when I got there it was nothing." He responded and he brushed a kiss against her forehead and coaxed her forward.
They made it to the top and enjoyed the view for awhile before making their way into the woods. This place felt familiar and that ecstatic feeling came over him once more. He closed his eyes and breathed in the dense cool earthy air. As he slowly opened his eyes, he saw Fran caught distractedly videoing a butterfly on a leaf. As if possessed he stalked over to her slowly, making sure not to break her concentration and as he stood behind her he felt a sense of power as he grab her. She shrieked as he spun her around roughly to face him as he kissed her violently. She kissed him back but slowly pushed him back.
"Woooaaahhh there tiger! This is family friendly spot." She snickered
"And don't do that again!" she said she gently pushed him
"You scared the beegeezums out of me."
His heart raced, the beats resounding loudly in his ear. What was that? Why did he react that way? He had never felt that feeling before. Did Frank 1.0 feel that way? What was it?
The finished their walk then made their way to his place. Dinner and a movie turned quickly into a make-out session that landed them breathless and naked in bed.
"Do you still wonder about who you were before me?" Fran asked as she snuggled closer to him
"Sometimes, but then I see you and it no longer matters. I don't think you are Frank 1.0's type" he joked.
"Ha ha, funny" she smiled as she turned to her side in a drowsy state and fell asleep.
He spent most of the next week trying to figure out how to access the phone and its contents when Josh mentioned purchasing an application that was capable of retrieving data from broken phones. The searched the internet and found one but before they could use it, Frank hinted it was getting late and Josh should probably make his way home. He promised they would work on it together the next day as Josh made his way out.
"Fran!" said Frank surprised
"What are you doing here?"
"Nice to see you too boyfriend. I came to make you dinner" Fran smiled
"Ooooouuuuuuuuu, Frank is now a boyfriend" teased Josh as he continued making his way out.
"Get out of here." Frank replied laughing, jokingly pushing Josh along.
Boyfriend. This was the first time she had called him this and it sent his heart racing. He couldn't tell if it was a good thing or a bad thing. Why would it be a bad thing? He hid the phone in his desk drawer under a few magazines and proceeded to the kitchen to help Fran with dinner. Fran had her way with words. It was never a dull moment and Frank enjoyed every bit of what she had to say. She spoke with such passion and spirit and he admired that about her. The played Mario Karts on his Wii then settled down for bed. When Frank was certain Fran was out cold, he slowly got up and made his way to the computer desk to get the phone. He connected the phone to the computer with the USB cord and opened the application to begin uploading data from the phone. How exciting this all felt. He had no clue whose phone this was but something told him it was worth it. He kept walking back to the bedroom to check on Fran and sure enough she was asleep. As the application confirmed that it had downloaded everything from pictures to videos to phone records from the phone, Frank unplugged it and began accessing the downloaded folders. He went into the pictures first and immediately recognized a familiar face. Delia Owens. His heart began racing as he scrolled through the pictures, which all confirmed this was definitely Delia Owens's phone. How? How was this even possible? He decided to access the video files that were downloaded and clicked on the first video which was dated the day of her death. The video that played was Delia in bed stating she was about to make a change in her life. She ended it stating this was going to be the first day of the rest of her life where the past was not allowed to follow her.
Frank clicked on the second video, the video showed Delia driving and as she drove she recanted lines of poetry after which she laughed hysterically then mentioned she was going to her favorite place – the LaPointe Overlook. The video ended.
Frank clicked on the third video and as it played it showed complete darkness. Delia's commentary included that she loved coming to the overlook at this hour because it felt dangerous. She mentioned that she saw some headlights approaching but that they would park in the spot they called Angel's Nest, a few feet away from the overlook where lovers and teens came to perform acts of secrecy. She chuckles but her attention is taken to the woods.
"There's someone in there guys" she remarks.
She makes a howling sound of a ghoul in a movie as she said "Let's go bust some ghosts!"
The video shows movement, although it's dark. She decides to turn her flash light on as she makes her way into the woods. She whispers that she can see someone with a shovel in hand. She continues filming all the while being silent, before she whispers.
"Guys, I feel so scared right now that I honestly cannot move."
A few moments later her phone makes a sound of what seems to be an alarm as she scrambles to shut it off. There is what sounds like a scuffle as the phone screen is blank and there is a muffled cry.
Frank's heart rate is soaring at this point.
The video continues as Delia seems to find the phone and it is clear at this point she is running. You can hear her labored breathing as he shines the phone's light ahead. There is a clearing and she makes her way to it but ends up facing the edge of the overlook. There is someone behind her, she begins crying loudly now and pleading to the stranger to leave her alone. She turns to face them and holds her arms out pointing the light towards their face as Frank pauses the video.
Frank hears a gasp behind him. He turns to see a shocked Fran standing in the doorway.
"Fran" Frank says softly.
"It's okay. Let's talk about this?"
Fran stands focused on Frank, hands over her mouth. In an instant she turns to run towards the bedroom but Frank has already made it to her. She begins screaming as he covers her mouth and urges her to quiet down. She fights him to let her go and in one swift movement he does but as he does, Fran trips and falls hitting her head on the dresser on her way down.
Frank begins panicking as he lifts her lifeless body to the bed. There is no head wound but Fran again is out cold. He places his cheek to her lips and feels a shallow breath escape. She is breathing. Fran is alive. He breathes a sigh of relief and he collapses beside her on the bed. He may not have hurt Fran but he sure did hurt Delia Owens. The story the eye witnesses saw was true, only Frank wasn't trying to save Delia. He never did cared for her. He wanted the phone in her hand and had he had the chance to save her he's sure Frank 1.0 would not have approved.
"I'm a monster" said Frank in a trembled voice as he continued to lay on the bathroom floor holding the phone to his chest. Frank was torn on whether to turn himself in, whether he would be able to convince Fran that her memory before hitting her head were all in her head due to the fall. He wondered whether he would be able to live with himself, forgive himself. There was a demon within in that he no longer knew but quite aware was still within him. Would he be able to protect Fran from him?
Frank 1.0 may not have known love, lived a disdainful life and might have been locked away by the death of Delia Owens. What truly happened is Delia Owens' death freed Frank LaFay and all the lives he would have taken.
"Madison County Sheriffe Department, how can I help you?"
"My name is Frank LaFay and I have evidence that may corroborate my involvement in the death of Delia Owens."
"Hang tight there Frank, can we get your location?"
"I'll be at the LaPointe Overlook near the Madison River."
fiction
About the author
I was born a Dreamer.I have led a life that sounds unbelievable sometimes,encountered people who match the villainous and heroic personas we read about in stories and done things I would surely do better.
A penny for my thoughts is worth it.
Reader insights
Be the first to share your insights about this piece.
Add your insights