A Filmmaker's Review: 'The Assassination of Jesse James by the Coward Robert Ford.' (2007)
5/5 - One of my favourite films I re-watched recently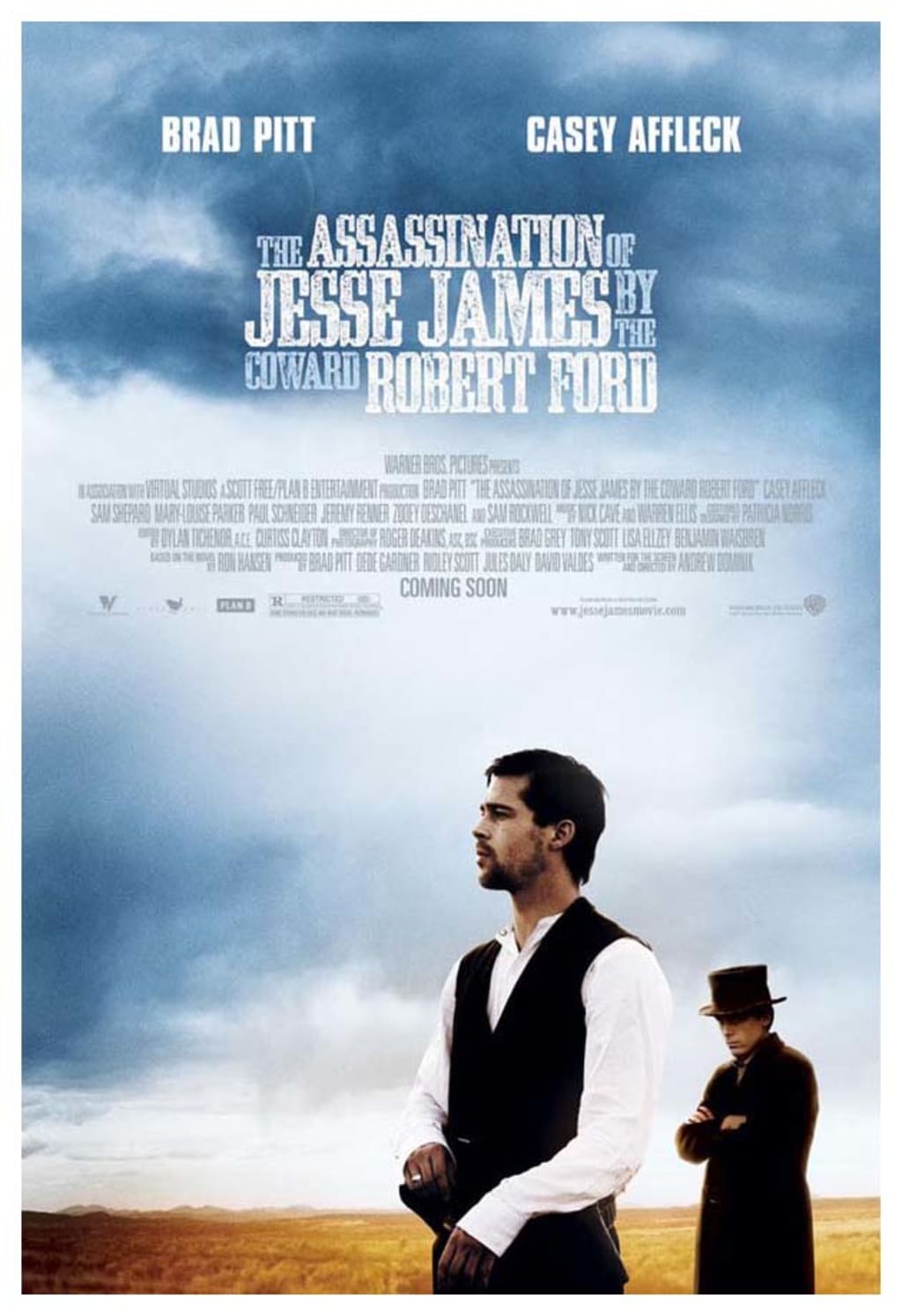 The very first time I watched The Assassination of Jesse James by the Coward Robert Ford (shortened to simply "Jesse James" for the sake of the article and my own fingers on this keyboard), I remember being impressed. It was either because I was genuinely enjoying myself or because I was about 14 at the time. Both are acceptable as an excuse. A beautiful movie with an absolutely stellar cast (including the likes of Brad Pitt, Casey Affleck, Jeremy Renner, Sam Shephard and Sam Rockwell), it seems to be a bit of both excuses that contribute. Let's take a look at why I rated this film upon second watch, the way I did.
Let's start off with why I think it's such a beautiful movie. The first reason is the acting. The acting is absolutely brilliant especially that of Brad Pitt and Casey Affleck. The acting fits with the atmosphere of the film and fits also with the sources that we have on the real people, Jesse James and Robert Ford. The acting was also incredibly dramatic, the characters were never bland and so—neither was the acting. There were moments of silences, where the characters would say nothing but you could still feel the emotion and that is the most important thing.
This film is not only told in a linear movie, but there are always those small vignettes that make the film far more interesting to watch. You may find they get more and more frequent towards the end of the film and especially after Jesse James is assassinated. These vignettes let us know that time is passing in the film and we are now moving on to a more interesting section. It's a really great method of filming and, with the narration, is not really used as much as I'd like it to be in modern film. But Jesse James seems to use it just fine and get away with various pieces of narration. Even the narrative voice fits the movie perfectly.
The story itself does not concentrate on the crimes committed by Jesse James, but rather the crime committed by Robert Ford. It centres around the assassination, leading up to it day by day and this makes for great storytelling. We already know who Jesse James is, we don't need to see all those train robberies again. We see one or two and then we see his downfall and how Robert Ford killed him in cold blood. We empathise with this criminal and his death because of the fact he is so damaged, he has two small children and he's being followed around by the incompetent Robert Ford.
So many things in this movie add up and connect. For example: When Jesse James and Charley are sitting on the ice and Jesse asks him if he's ever considered suicide. Charley being the very happy brother states that he'd never do it since there's always been something he wants to do, something else. After Jesse James dies, Charley gets sicker and sicker, he's grief-stricken and feels responsible even though he didn't do anything. After this, Charley shoots himself in the head and commits suicide. Another instance is when Jesse James asks Robert Ford if he's trying to be like him or be him and that's when Robert Ford starts dressing like and imitating Jesse James. But, has none of the bravery and courage that James has.
To conclude, this movie is always a classic, I watched it once and I really enjoyed it and then I watched it again and could really appreciate it. It's one of those films that when it's finished, you want to go right back to the beginning and play the whole thing over. The acting was brilliant, the storytelling was brilliant and the way in which the film was put together through connecting various lives and small situations throughout the film was brilliant. Overall, it's an amazing film that may become a classic of our day soon enough.