Welcome back to 52 Lock Up, I am your Appletini Cadma of Bitten Apple TV. 52 lock up is a series I started to talk about one of my biggest passions of true crime. A new episode on every Cadmaniac Monday for 52 Mondays, 52 crimes. Hope you guys enjoy, be sure to like, leave some feedback and subscribe; Viewer discretion is always advised.
Today we're going to eat fresh in Atlanta, Georgia; at Subways. 26 year old Brittany Macon born on January 14, 1996 and her best friend 24 year old Jada Statum decided they were going to work at Subways; 3 to 4 weeks ago. They were also roommates and did not know this would be one of the worst decisions of their lives. They fill out their applications and head to 74 Northside Drive Atlanta, Georgia; they began to work together and are excited. Who doesn't enjoy working with their best friend? While these young ladies are enjoying their life.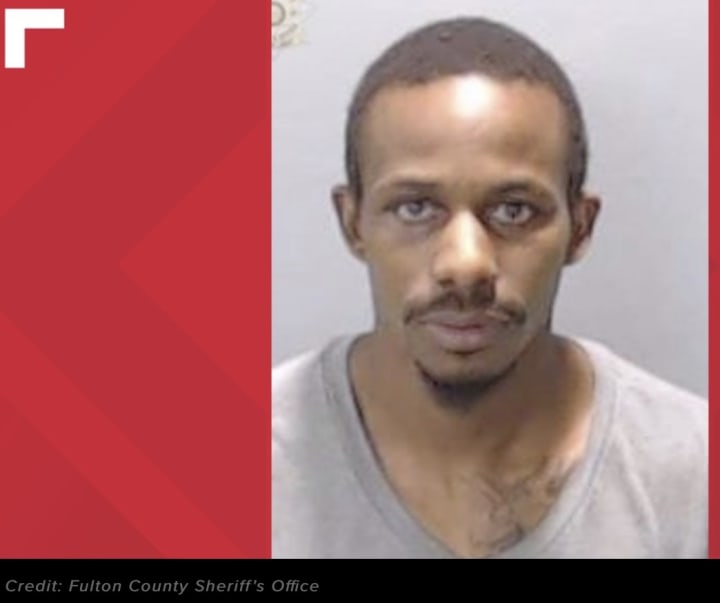 Melvin Williams is building a record since 2013 with a criminal collection of burglary charges, aggravated assault; and three months ago he was arrested for aggravated assault and cruelty to children. He was out on bond from these charges. As a side note in Georgia, first degree cruelty to children is a prison sentence from 5 to 20 years; due to it being a felony charge. Melvin Williams had eaten at the Northside Drive Subway sandwich shop many times before. He has never shown a problem; always ordered their food, ate and left.
June 26, 2022 would change the lives of 26 year old Brittany and 24 year old Jada; both women are mothers but today Jada could not find a babysitter. Her boss was flexible enough with her to let her bring her 5 year old son to her job. Melvin makes his way to Subways and orders his sandwich.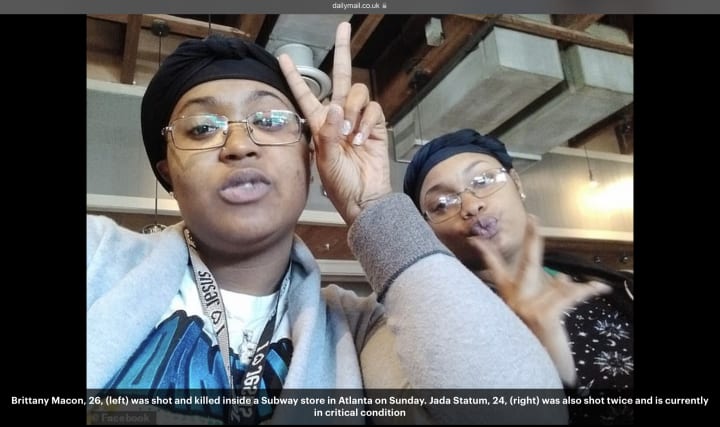 Now I'm not avid Subways eater but the reason this episode is happening is ridiculous. Whenever you enter Subways the employee will ask the customer "how can I help you?" Or "what would you like to order?" The customer will pick a sandwich they are interested in and then the employee continues with a stream of questions like "what kind of bread?" "6 inches or a foot long?" "Do you want it toasted?" "What kind of cheese?" "Is this enough meat?" "What dressing would you like?" "Do you want salt and pepper?" "How much mayo do you want….is that too much?" "Do you want oil and vinegar?" "What else would you like on the sandwich?" Every single Subways does this, it's so routined that I get annoyed because I know when I say they can pick the cheese; they don't believe me because of some ass wipe before me. Picture Melvin at the counter ordering his sandwich and confirming everything; every single step of the way. Melvin pays for his sandwich and sits down to eat; he decided that there was too much mayo even though he already confirmed it.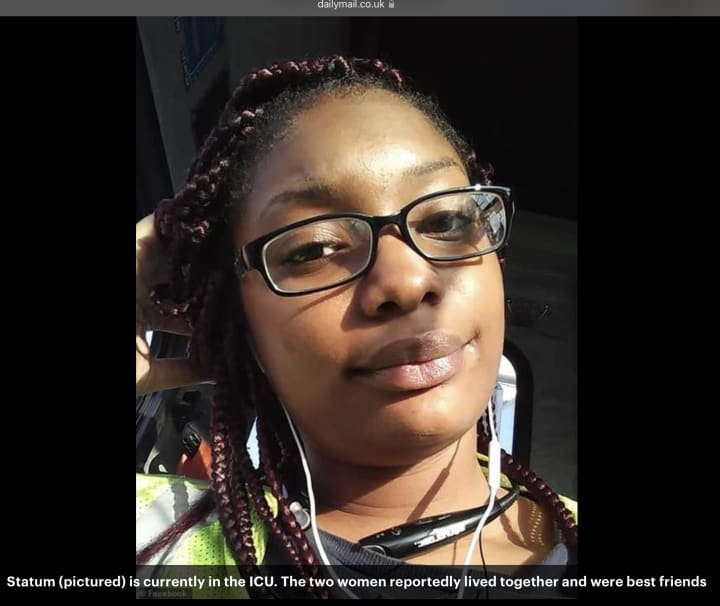 He gets up angry and heads towards Brittany. He begins to argue with her that there is too much mayo on the sandwich. Brittany offers to remake the sandwich. The store manager is in the back and can hear the argument ensuing. Instead of letting Brittany remake the sandwich, 36 year old Melvin Williams will pull out a gun and shoot Brittany dead.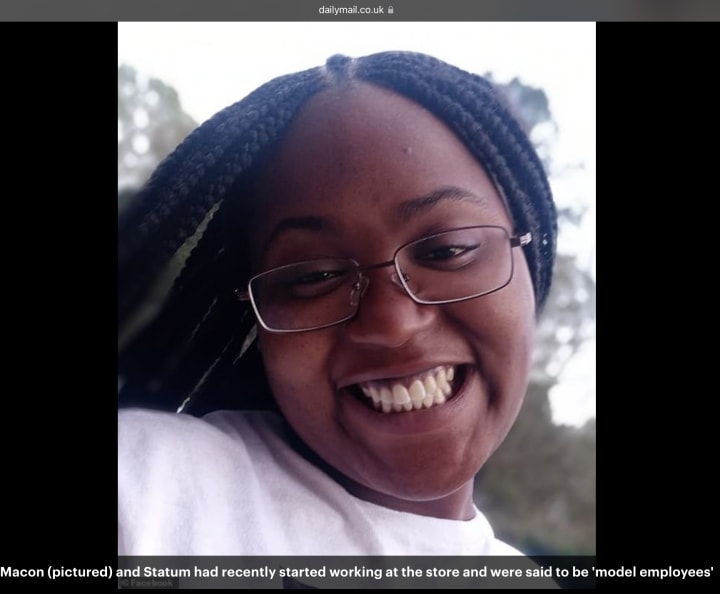 Another shot rings and hits Jada while she is pushing her son under the counter to protect him. Another shot rings and hits Jada's body again. A third worker hears the commotion and takes a gun out and shoots at Melvin. This is now turning into the wild Wild West; this must be what those against gun reform and restrictions are talking about when they say add more guns. By the time paramedics would arrive 26 year old Brittany would be dead and Jada will be rushed to ICU; she did recover from her critical condition.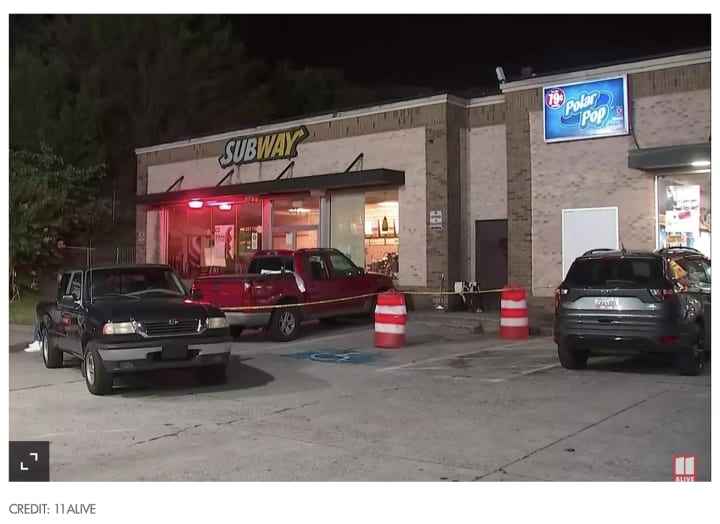 Her cousin released a statement "She was beautiful and loving, very vocal, would stand up for herself and others. She was caring and loved life and her family I really would hope that the fact an unhinged man came into a restaurant and took a life. Mental health in the Black community needs to be addressed, it could've been anyone." "We the family would like to take this time to mourn Brittany in private this situation is very fresh and painful she was an intellectual caring and courageous she stood out for her personality and stood up for her beliefs she was dependable with a big heart her beautiful life was abruptly ended due to gun violence and the failed mental of health of this society In hopes everyone will learn from this how precious life is and how very important proper assessment and community outreach for mental health services are needed"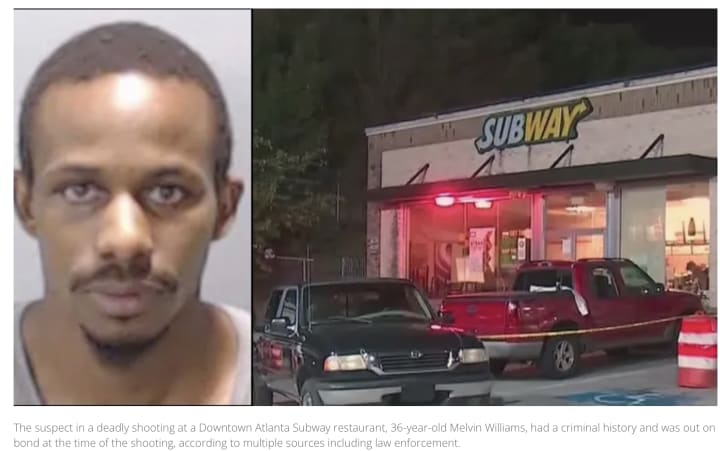 Williams is charged with murder, aggravated assault with a deadly weapon, and possession of a firearm tied to this case. He's being held at the Fulton County Jail with no bond.
If Anyone with information on the incident is asked to contact authorities. Tipsters can remain anonymous, and be eligible for rewards of up to $2,000, by contacting Crime Stoppers Atlanta at 404-577-8477, texting information to 274637 or visiting the Crime Stoppers website.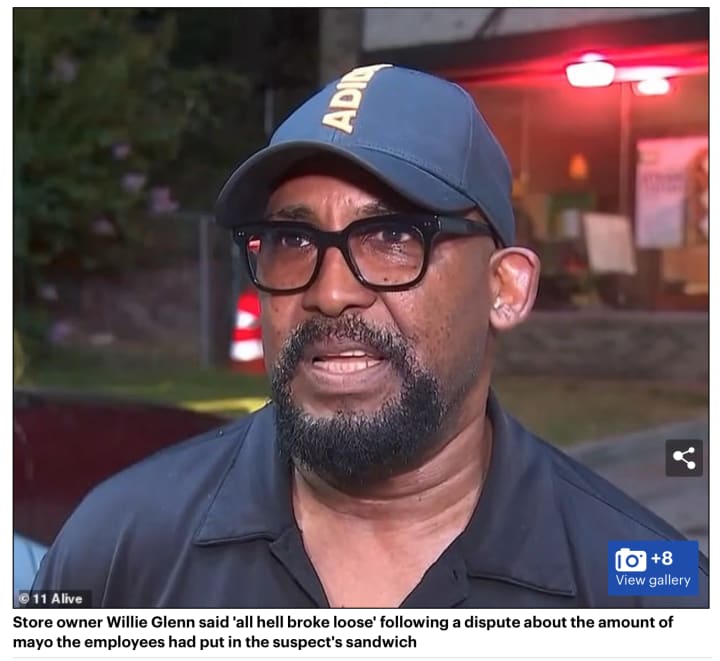 In a 2015 study, Bindu Kalesan, an assistant professor of epidemiology at Columbia University, found that there is a strong association between exposure to social gun culture and gun ownership.
• According to Dr. Kalesan's research, commented that the social gun culture includes "unseen codes of behaviour and powerful predictors of behavioural intentions and health behaviours." Dr. Kalesan measured exposure to social gun culture by using the following questions:
◦ Would the individual's family or social circle think less of them if they did not own a gun?
◦ Does their social life with family and friends involve activities including guns?
• Men who carry guns suffer from a "crisis of confidence." Jennifer Carlson, author of "Citizen- Protectors: The Everyday Politics of Guns in an Age of Decline," explained in a recently why men feel the need to carry guns in public. One man told Carson he felt "naked" without his gun.
Carlson found that men might carry guns in public "as a reaction to broader socioeconomic decline" or because carrying a gun is seen as a "masculine duty." Psychologically, carrying a gun can help men "address social insecurities far beyond crime." Carlson concluded by noting, "The gun rights platform is not just about guns. It's also about a crisis of confidence in the American dream. And this is one reason gun control efforts ignite such intense backlashes: Restrictions are received as a personal affront to men who find in guns a sense of duty, relevance and even dignity."
• Gun owners tend to be angry and impulsive. A June 2015 study found that "310 million firearms estimated to be in private hands in the United States are disproportionately owned by people who are prone to angry, impulsive behavior and have a potentially dangerous habit of keeping their guns close at hand." There is a "co- occurrence of impulsive angry behavior and possessing or carrying a gun among adults with and without certain mental disorders and demographic characteristics."Almost 9% of people who "self-report patterns of impulsive angry behavior" also have a firearm at home, and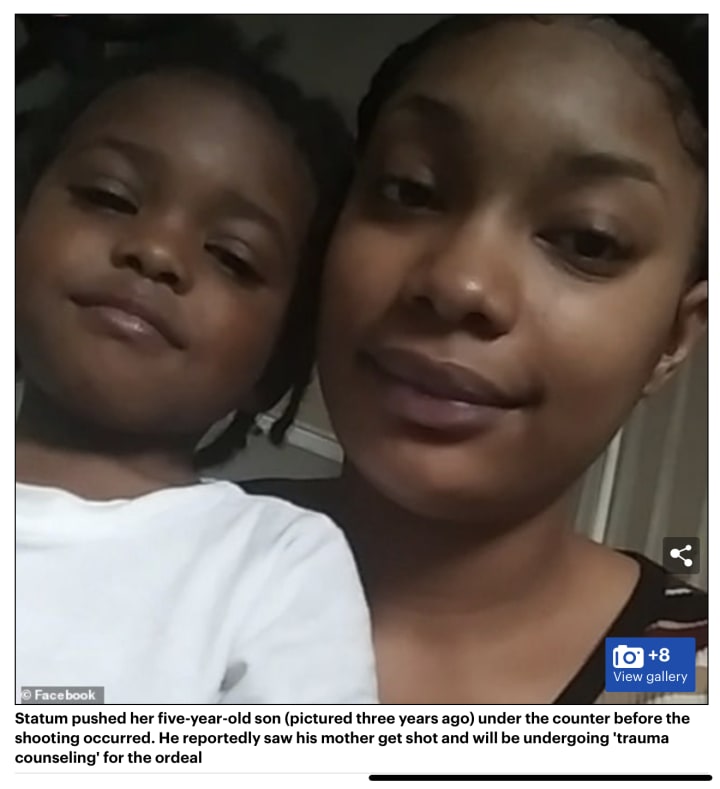 1.5% (or nearly 85 people out of 5,653 surveyed for this study) carry their guns in places other than their home. The authors found that, when studying violence and anger, it is more effective to look at the arrest history of individuals rather than seeing if they have a mental illness. Arrests could show "a history of impulsive or angry behavior (for example, criminal records of misdemeanor violence, DWIs and domestic violence restraining orders)," which "would likely serve as a more feasible and less discriminatory indicator of an individual's gun violence risk."
Holding a gun can make you paranoid. In 2012, James Brockmole, an associate professor of psychology at Notre Dame, found that "Wielding a gun increases a person's bias to see guns in the hands of others." Participants holding a toy gun during an experiment were more likely than participants holding a neutral object, like a ball, to think that people on a computer screen in front of them were also holding a gun. Participants were shown images of people that changed throughout the experience: sometimes the people in the image would be wearing ski masks and sometimes the computer would change the race of the people. Participants holding guns were "more likely to classify objects held by others as guns and, as a result, to engage in threat-induced behavior."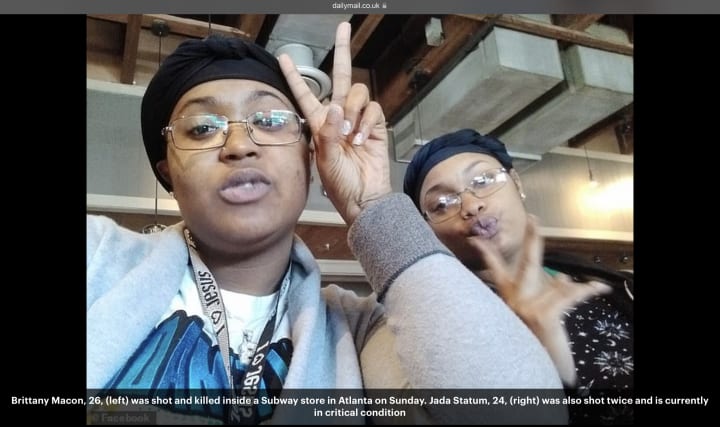 Did you know that? The Fourth of July commemorates the passage of the Declaration of Independence by the Continental Congress on July 4, 1776; that makes us 246 year old. What better way to celebrate by covering a story like this? Well it was either this or covering the crime of an 10 year old girl being raped in Ohio and having to travel to Indiana for health care.
Well either way "We hold these truths to be self-evident, that all men are created equal, that they are endowed by their Creator with certain unalienable Rights, that among these are Life, Liberty and the pursuit of Happiness." I wonder who they meant by that.
References
https://www.fox5atlanta.com/news/downtown-atlanta-subway-shooting-mayo-fight
https://www.wsbtv.com/news/local/atlanta/too-much-mayo-sandwich-1-dead-1-surgery-after-being-shot-by-customer-apd-says/ERSZ6VTFOBDY5K7ELGH4IXU2WY/
https://www.washingtonpost.com/nation/2022/06/27/atlanta-subway-mayo-shooting/
https://www.today.com/food/news/subway-employee-shot-killed-over-too-much-mayo-on-sandwich-rcna35501
https://www.news18.com/news/buzz/atlanta-man-kills-subway-worker-for-putting-too-much-mayo-on-his-sandwich-5454907.html
https://www.cbs46.com/2022/06/26/atlanta-police-two-people-shot-outside-circle-k-southwest-atlanta/
https://people.com/crime/subway-employee-killed-during-argument-began-over-mayonnaise/
https://www.11alive.com/article/news/crime/atlanta-subway-shooting-melvin-williams-suspect-brittany-macon-victim/85-4f31d10d-6f4b-4aef-bbd4-737c316c31d7
https://www.dailymail.co.uk/news/article-10965381/Subway-worker-shoved-son-underneath-counter-shot-twice-worker-killed.html
https://www.cnn.com/2022/06/28/us/subway-worker-mayo-dispute-killing/index.html
https://www.georgiacriminallawyer.com/cruelty-to-children
https://www.sylvaniafuneralhomes.com/obituary/brittany-macon
https://www.legacy.com/funeral-homes/obituaries/name/brittany-macon-obituary?pid=202286978&v=batesville
https://www.dailykos.com/stories/2022/6/28/2106936/-Subway-employee-in-Atlanta-shot-dead-over-a-sandwich-having-too-much-mayo?utm_campaign=recent
https://www.theguardian.com/us-news/2022/jul/03/ohio-indiana-abortion-rape-victim
About the Creator
A sweetie pie with fire in her eyes
Instagram @CurlyCadma
TikTok @Cadmania
Www.YouTube.com/bittenappletv
Reader insights
Be the first to share your insights about this piece.
Add your insights