Do you remember the early days of the pandemic? You know at about May 2020, when we'd just shut down, the stores were running out of toilet paper, and we thought that everything would be done and dusted by July?
Here I was trying to work from home with my four-year-old daughter and my wife. We didn't go out much because I was listening to the health advice, plus I really didn't want to engage with other people. Of course, that meant we had to be organized in our online grocery orders and quite often my wife would take on that task, which meant there was no casual "Oh that looks yummy I might try that" which usually occurs when I go grocery shopping the old-fashioned way.
Now most of us probably also embraced the digital world. I know that I did. I started writing again (on Vocal) and I made a point of re-sharing funny memes I came across. The one below was particularly hilarious, so I shared it with my friends and family on Facebook.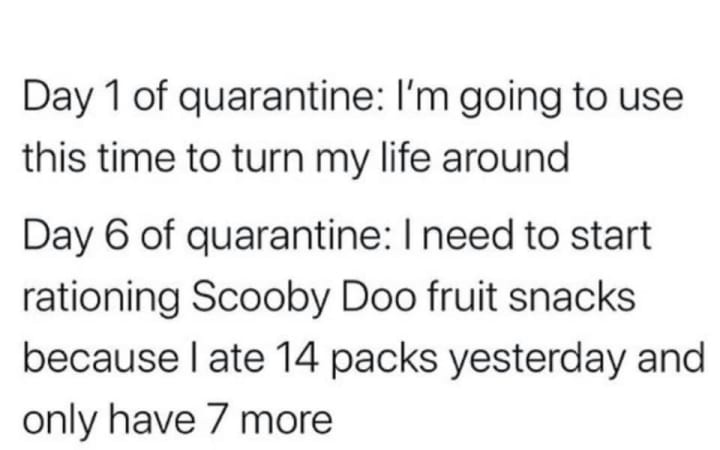 A few weeks later, I was browsing the wonderful Internet when I saw an online retailer that had additional face masks and hand sanitizer (or as we called it back then, liquid gold). As the modern-day hunter/gatherer that I am, I figured that I should immediately add those items to my cart. Then I started to look at a few other items. There were some new flavors of Pringles that I felt the need to try, some delicious chocolates and lo-and-behold, and an ad for cheese-flavored Scooby Snacks.
Could it be? Was I actually going to get the chance to eat my Scooby Doo treats through this pandemic? They were cheese flavored and I like cheese. Plus, they were SCOOBY SNACKS!
At that point in time I could hear the Fun Lovin' Criminals singing along:
Running around robbing banks

All whacked off of Scooby Snacks

Running around robbing banks

All whacked off of Scooby Snacks
Now whilst I don't condone bank robbing, I thought that there must be some reason someone would pen a song about Scooby Snacks so did I hit that "add to cart" button? No, I didn't, I hit it TWICE!
Then the waiting game began. I tracked that package the way the government was tracking every single person who was breaking lockdown. On the day I knew it was coming, the anticipation grew like a teenage boy who was going to get to second base for the first time in his life.
The parcel arrived, I raced out, collected it from the doorstep, and opened it. My wife couldn't believe that I had two big packets of Scooby Snacks. My daughter, however, was filled with the same level of wonder that I was.
As I opened a packet, I was quite amused to see that the biscuits were in the shape of a bone. What a genius marketing ploy. I took a bite.
Not bad. So I had a second.
My daughter, stood there, watching, and said, "Dad can I try some?" Now I'm a dad that likes to share so I replied, "Sure kiddo, here try one of these." She took a bite, gave me a thumbs up, and said, "Yum! Can I have another?" We were both enjoying snacking on these morsels of delicious Scooby-inspired flavor.
I posed for a photo enjoying the food so that I could post a witty post about how I actually got to eat some Scooby snacks.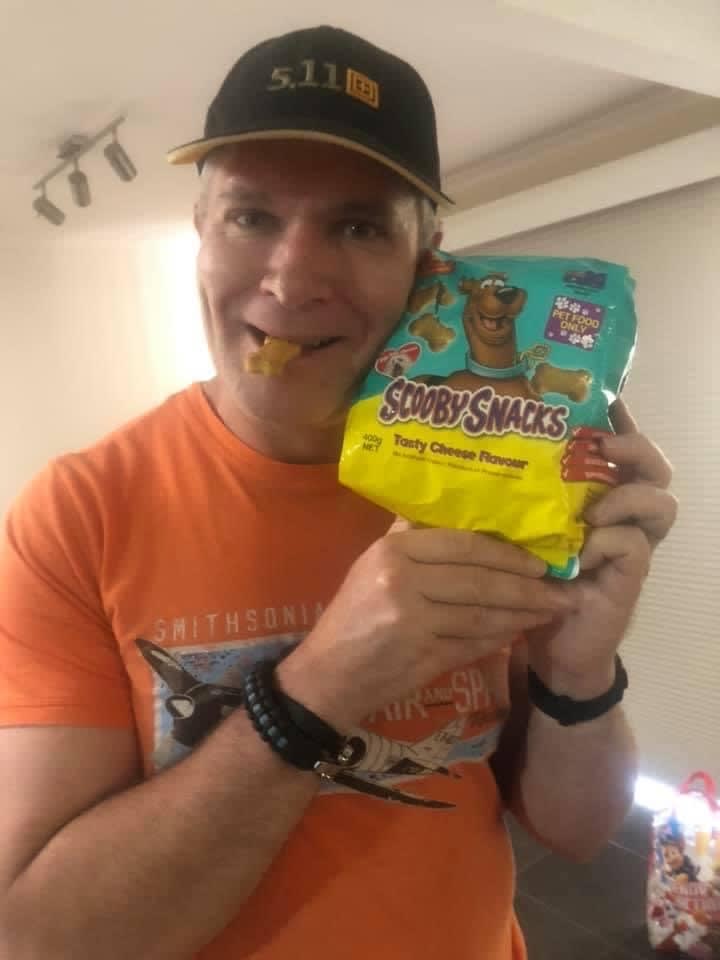 Then my wife, standing there looking at the packet, asked the question "Why does this say Pet Food Only?"
Now my wife and I have been married a while and I understand that my particular sense of humor may have rubbed off on her, so I responded with, "Yeah yeah, you're funny!"
Then she pointed at a spot on the bottom of the packet. Sure enough, PET FOOD ONLY.
That's right folks not only had I willingly eaten pet food, but I fed it to my daughter.
As I'm standing there still processing what has happened, my little angel was back at my side asking me if she could have some more. Nope, not feeding you anymore. I had to hide the packets because she kept trying to get into them.
Look, it's not the best act of parenting ever, but on the upside, her coat has never been shinier.
Unfortunately, this story is VERY true. But I hope you enjoyed reading about another act of failed parenting.
Please like, comment, or if you are feeling extra generous leave a tip (paying to get my daughter off dog treats is not cheap).
About the Creator
Amateur storyteller, LEGO fanatic, leader, ex-Detective and human. All sorts of stories: some funny, some sad, some a little risqué all of them told from the heart.
Thank you all for your support.
Reader insights
Be the first to share your insights about this piece.
Add your insights