Johnson's Career Remains On A Knife Edge.
Boris May Yet End Up Out of Parliament.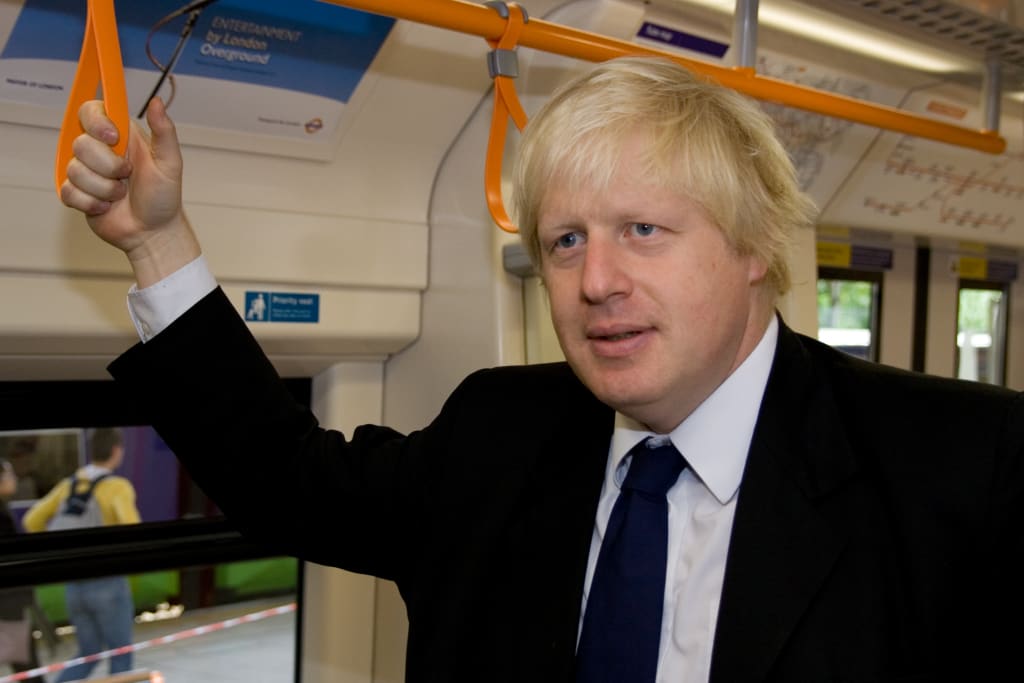 Former PM Taking a Tube Ride: Boris Johnson.
Right now Boris is still an MP on the backbenches. Right now Boris is still the sitting MP for Uxbridge. How long he will remain so depends on the inquiry into 'Partygate'.
There is currently an ongoing inquiry into what happened during 'Partygate'. Boris and his mates in the cabinet held gatherings where food and drink were present. Staff members working for 10 Downing Street were also there. These gatherings or parties broke lockdown rules. Broke lockdown rules when the public was told not to gather. Not to gather for risk of spreading the COVID virus.
If the inquiry finds against Boris he could find his career as an MP over. This would cause a by-election and the seat would be up for grabs. As to whether the seat would go back to the Conservatives is entirely speculation. Boris was called the 'Teflon' Prime Minister as nothing seemed to touch him. Will he come through this 'Partygate' inquiry unscathed and live to see his dream? His dream of becoming leader of the Conservatives and Prime Minister once more. Just like wartime and post-war Prime Minister Winston Churchill.
There is another ongoing inquiry into how the government handled the Coronavirus crisis. Even as I write this rumours abound that a new strain of COVID is in China. This other inquiry has not been launched in relation to Boris' comments about how the government handled the crisis. Boris shared information that was asked by this inquiry. However, this info did not meet the requirements of the inquiry. Boris though has launched an independent inquiry of his own. According to a former Downing Street employee Boris by doing this is "running rings" around Wishy Washy Sunak. Boris says he wants to release to the official investigation his messages on his old phone. It would appear Wishy-Washy is squirming over this. Lest this phone data should be detrimental to him.
Another former employee of Downing Street (or the same one) said: "This was a fight that need not have happened". So is this a straight fight between Boris and Rishi? Certainly, it would appear behind the scenes Sunak and his former Boss are perhaps preparing for a showdown. Boris knows he may be going down. Boris would be out forever from political life. Knowing this it's possible Boris wants to take Sunak with him.
Sunak's regime is no better than Bojo the Clown's administration. Despite promising his government would be open, transparent, and clean, it has proved anything but. Sunak on the surface would appear to be a competent man. No doubt, he may be, he didn't work in finance and gather his millions for nothing. Some would also say he is riding on the coattails of his rather rich wife Akshata Murty. His time as Chancellor and his competence in the job can certainly be challenged. Just as his short time in No 10 can be questioned.
In polls, Sunak is more popular than his party. Despite this Sunak has lurched from one ongoing disaster to another. It may be getting to the point where Sunak is wondering why his time as Prime Minister is anything but smooth.
Two MPs left his cabinet under dubious circumstances. Nadhim Zahawi and Dominic Raab, however, he kept Suella Braverman in place. Probably afraid of the storm Suella's far-right supporters would cause. Sunak has never faced the public in an election.
When the recent local elections occurred Sunak saw a thousand of his councillors wiped out. So beyond that there is the general election. If polls are to be believed and are accurate, Sunak will be out on his arse. Leading to a Labour administration led by Sir Keir.
About the Creator
I am a freelance writer currently writing for Blasting News and HubPages. I mainly write about politics. But have and will cover all subjects when the need arises.
Reader insights
Be the first to share your insights about this piece.
Add your insights