How a Batman ring helped a little boy through a hayride
Superheroes come through even in the smallest ways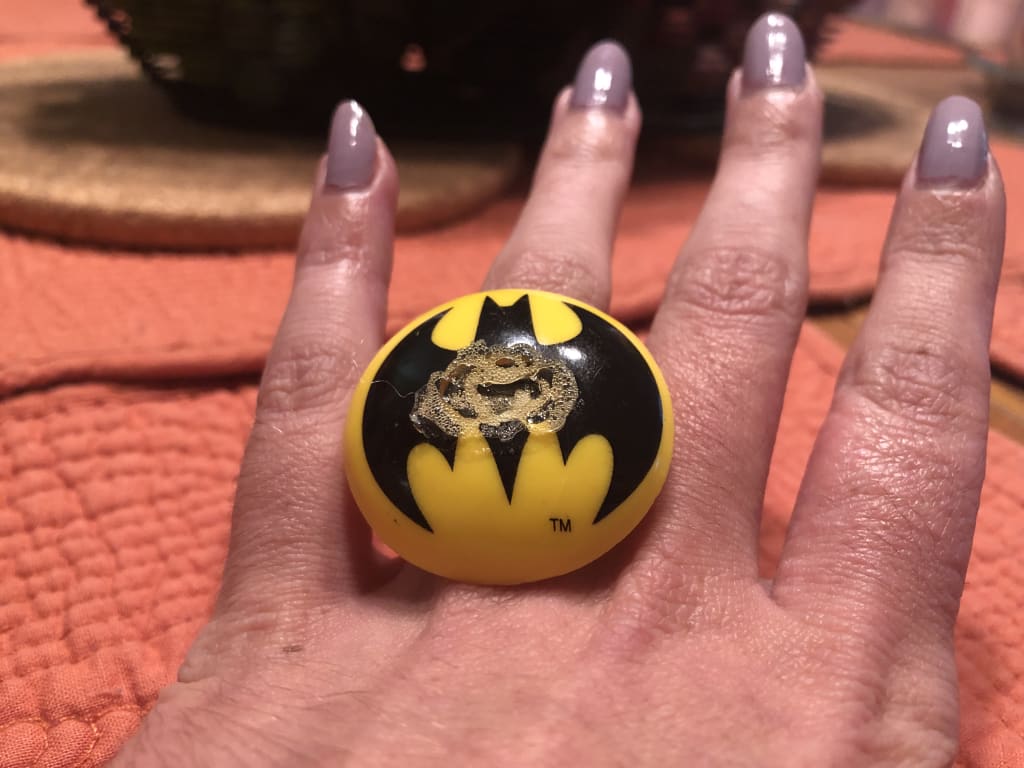 Batman has become a symbol for those that needed the extra boost to know that justice will always prevail and good always triumph over evil. No matter what, there is encouragement because of how brave Batman is.
Batman is one of my favorite superheroes, if anyone knows me in real life knows that I have a lot of Batman themed things. I have a Batman balloon I got for my birthday from my best friend. I have a Batman magnet on the side of my car, we call it the bat toaster, (It doesn't have a good ring to it, but there will be a good ring later).
One of my favorite Batman items is a cake topper ring that my mother found for me on the ground in the parking lot. After collecting many Batman fashions, that ring is always a staple to wear whenever I wear any Batman attire.
In 2013, a couple days before Halloween, my mother and I were invited to come out to the farm owned by my mother's friend Judy. It was the first holiday without my grandmother, so my mother and I were looking for something to do to preoccupy the time. So we dressed warmly and headed out to Virginia Beach for the festive frightful-themed farm. Judy went all out for event, the barn had spectacular spooky decorations. Another friend of my mother's showed up, a woman named Mary who helped me with the haunted hay ride. Our job was simple, toss out some of the hay for the cows so they won't jump up onto the wagon. I will admit that it did happen, I witnessed a cow jump up on the wagon and come very close to kissing my mother so she opted out of anymore hay rides before she had a cow,(Literally and also punny too).
Mary and I were getting ready for the last hayride, There was a minimal amount of people that wanted one last ride, three of them was two little boys and their and their aunt/mom/trusted family friend. I didn't know, I didn't ask to clarify the relation.
The oldest little boy was excited to see all the scary parts of the ride, his younger brother was not on the same vibe. He was very terrified, but wanted to be there because of his brother, as most younger siblings want to do.
This poor kid, he was so scared, he was emanating a combination of Shaggy from Scooby Doo and Piglet from Winnie the Pooh. I knew in my gut that I couldn't sit there for this ride and watch this poor kid be scared to death. I had an idea about how to help him, give him a little bit of courage. Before the ride began, I took off my Batman ring and I kneeled in front of him, and I said "I'm going to lend you this ring for this ride but I need it back by the end, this ring is going to protect you"
He took the ring with no hesitation and put it on his finger, the woman that held him in her lap looked at me and whispered thank you.
And then the rickety ride began, Mary and I got right to work by getting the hay settled into the ground so that way the cows would not come chase the wagon, and we reached the different stops on the hayride, I knew the stops that we were going to be making so I knew what this kid was in for.
One of the volunteers for the haunted hayride, was dressed up as a werewolf and his role was to come to the wagon and clutch onto the wagon and let go, the little boy remember what I said about the ring would protect him, so he put his hand up and then said "It's not working!"
Before I said anything to try and give him some encouragement, I wasn't the only one that I wanted him to be brave and not feel fear, everyone else on this wagon ride at encouraged this little boy and told him, "Hold your hand up higher! Yeah you got it!" Anytime there was a monster, everyone made sure to cater to this little boy, so he would not be afraid. He would be told to hold his hand up with the ring. Everyone else was emanating with bravery to help him that they were not going to let him be alone .Looking back on this story, I didn't even know that the other people on the wagon knew that the Batman ring was loaned to him for the sake of bravery, and everyone went along with it. It worked, because he had found bravery from this ring. Fear is a terrible thing when you feel it by yourself but when people encourage you in that state of fear it can easily transition into bravery.
At the end of the ride, the little boy took off the ring and handed it back to me and said "thank you". The woman that was watching them and thanked me again for helping him have a level of courage so he would remember this ride as having the bravery to go against the monsters then sitting there and feeling afraid.
I do wonder how that little boy is doing, I wonder if he thinks about the hayride and knows that even though it was a little ring with Batman on it, that the ring gave him the courage that he didn't know he had and then the courage that grew from the other people on the wagon that were cajoling him to keep up with his courage.
Of all of the jewelry that I have, this is one of my favorite pieces that has to do with a memory. In the picture there is a obvious spot of gorilla glue. A couple years ago, the ring had a encounter with gravity and fell and broke. I was determined to put this ring back together because of that memory of how this ring helped the little boy.
Humanity
I'm here to teach you something new or expand your mind in a neutral aspect.
Instagram: parrishpassages
tiktok: themysticalspacewitch
Oh and I wrote a book called, Inglorious Ink, now available on Amazon
Receive stories by Samantha Parrish in

your feed