Who Are The Top Most Hated Football Players In The World?
Just How Nasty Can These Players Get?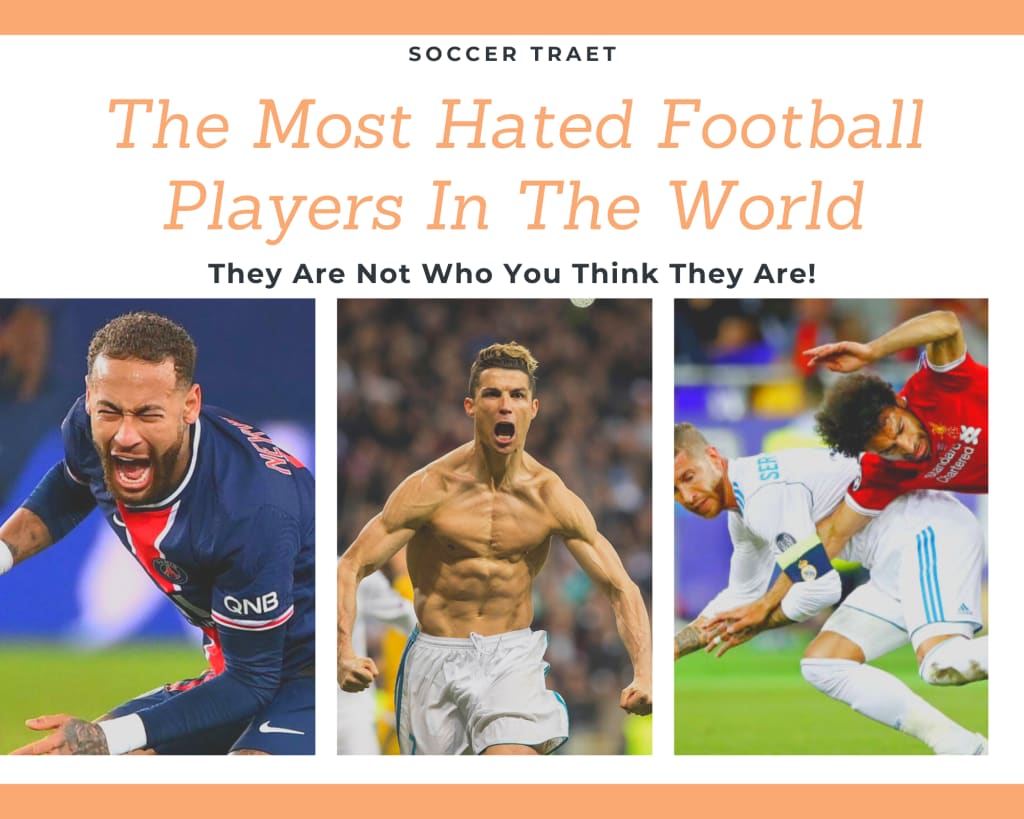 Worlds Most Hated Football Players-Do They Really Deserve The Hate?
This carefully collected list only does include players who are currently active . It also for some strange reason involves many players both from the English Premier League front and Spanish Spanish La-Liga just as well. These most popular football leagues having the largest audiences in the world also just as much includes the most hated players of them all. In this second episode of the most popularly hated football players we would be unveiling 5 players who are quiet notorious in play antics.
5. Sergio Ramos
Sergio Ramos has indeed had quiet a long, interesting and distinguished career as Madrid's most dirty player. As at the time of writing this article, Ramos had acquired 26 red cards and just as well held the title of the La Liga record. With just a couple of years to go before he does retire, that number could just as well rise even higher with more games ahead. Ramos is notoriously known to be a hard-tackling defender with a very nasty temper and a tendency for kicking and also elbowing his opponents during games. Anything goes according to Ramos, and Ramos will even go as low as to use his hands to stop the opposition from scoring. This has made him a popular and widely hated football player.
4. Dele Alli
Alli, despite being a relatively young player, has already gone and earned a reputation for diving just like the others, which says quiet a lot. So for some reason if you think he does not deserve to be on this list, give it some time and you will probably change your mind too. Just between the interval of 2015 and 2018 he has been booked three times for diving (more than any other player, even those on the list). In 2017, he was shown to giving the middle finger to a referee duringa game he was playing for England. Perhaps another non-disputing contributing factor is that Alli doesn't even appear to be living up to his former early potential, frustrating both fans of his club and also his country.
3. Luis Suarez
Where do we even start with this one? For most fans out there, Luis Suarez first came to his hateful efficiency when he hand-balled on the goal line in order to prevent a certain goal from being scored against Uruguay in the 2010 World Cup. With Ajax, he did bit an opponent.
After his move to the Premier League, Suarez was repeatedly accused of diving unnecessarily after winning quiet a number of penalties for Liverpool. Then, lets not forget the ban he received for racially abusing Patrice Evra. Two more interesting "bites" did follow, with the Uruguayan notorious vampire biting Branislav Ivanovich back in a 2013 match played against Chelsea, and Giorgio Chiellini's "bite" in a 2014 World Cup match played against Italy.
All Three Notorious "Bites" from Luis Suarez
2. Christiano Ronaldo
Other than his perpetual diving to win fouls and penalties and his tendency to be a petulant whinger, C-Ronaldo hasn't done a huge amount wrong compared to the other players on the list. Three things may have acted to heighten his faults, lets look at them critically.
• He earned first his global reputation at Manchester United, so he was probably always going to draw a big amount of dislike and hatred from the rest of the footballing community.
• He looks just like a Ken Doll especially when he wears earrings and uses hair gel, so there would necessarily be and of course there is a lot of scorn for this pretty boy-band look from football fans.
• He is in no doubt just a very good if not the best football player according to a vast number of people so he will with no doubt draw fouls from the opposition.
Christiano Ronaldo's Funniest Dives
1. Neymar
Neymar is one player who divides majority of opinion, but it is fairly safe to say many football fans do despise him, and this is not just because he has scored severally against their teams.
Without considering the number of fouls he draws during football games, Neymar sure has a well-earned reputation for diving unnecessarily, exaggerating body contact, and wallowing in somewhat of a simulated agony before just immediately going on to be completely fine and at the top of his game few minutes later after the display.
Neymar's character and attitude first became clear in 2010 when his disputes with popular Santos manager of that time, Dorival Junior, led to the manager being sacked from the team. He has continued to disrespect players, coaches, and even referees throughout his career, and in the process racking up several red cards. In 2017, after just four years with the Barcelona team, Neymar transferred to PSG, who play in a much less competitive French league as compared to the La-liga. The transfer would seem to be instigated more by money than footballing greatness.
Conclusively, Neymar's play style is notorious for it being particularly selfish. He is a player who would rather do it all on his own than involve his teammates, and most often he does, but these decisions can and sometimes do cost his team and just as well ends up frustrating fans.
Neymar's Surprising And Shocking Red Card Haul
If You enjoyed this article please consider leaving us a tip as it will help support my education and help us Put more helpful and informative articles out there.
celebrities
I am a blogger who writes about blogging, YouTube, Relationships, How-To's, Medium, Quora, Travel, self interests And In-between.
Say Hi On FB @ https://web.facebook.com/emmy.o.noah/
Follow On [email protected] https://www.instagram.com/emmy_noah_/