The Original Invincibles
Growing Up with Preston North End The Original Invincibles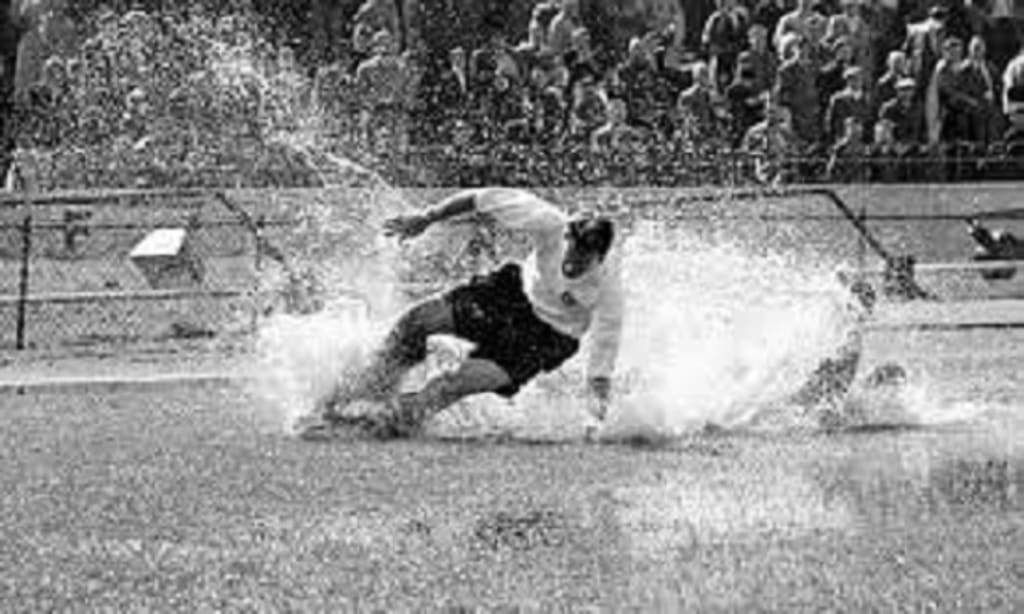 Tom Finney
My first memories of being a Preston North End supporter was watching the 1964 FA Cup Final on television and seeing us lose 3-2 to West Ham , thus engendering an unreasoning extreme dislike for the London club.
Note everything in here is drawn from memory so apologies for any errors or mind wanderings.
This is ironic because one of our greatest managers David Moyes now manages West Ham and has them on course for a top six Premiership finish this season.
Preston had lost their top flight status in 1961 the year following the retirement their greatest ever player , Tom Finney. As an indication of his sheer skill , Tommy Docherty , when he saw Lionel Messi said it was like seeing Finney playing again. If he goes down he gets up , his skill destroys the opposition and he never stops working for his team and showed incredible club loyalty. Messi wanted to finish his career at Barcelona but politics and money forced him out. Tom Finney's obituary is here
The lead in picture is one of the greatest football photographs you will ever see , Finney being chased over a waterlogged pitch , with a perfect spray of water thrown up at Chelsea in 1956 , the year before I was born.
I was taken for my first Deepdale match by my Uncle Trevor, and some were good , most were average , and we got relegated to the old Third division in the late sixties.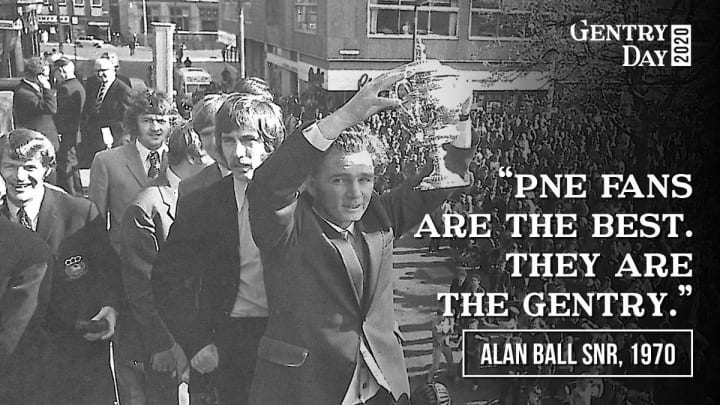 Then Alan Ball Snr took over as manager and he was speciAl. He called the fans "The Gentry" and the uniform was a bowler hat , giving the club an identity it hadn't had before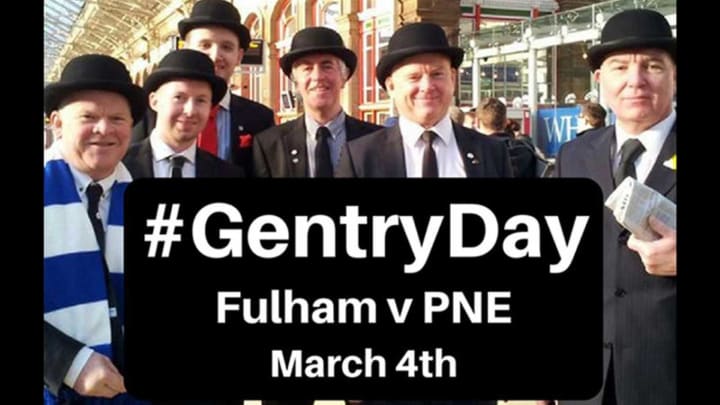 In that season we were vying with Fulham to win the Third division Championship and the penultimate match of the season was at Craven Cottage. Fulham had the trophy they were going to win that day on display , the only thing that would stop that would be a Preston victory , which had no chance of happening.
Preston beat Fulham 1-0.
Fulham management said to Alan Ball Snr , "You may as well take it back with you" . He responded , rather ungenteely with "You can stuff it up your arse , we have another match to play"
That match was against Rotherham at Deepdale, Preston won 3-0 and in the subsequent pitch invasion I stole a corner flag as a souvenir not realising that it was a eight foot long pole , I forget how I got it home.
Over the years Preston's stock dropped again resulting in almost dropping out of the league in the late eighties but surviving reelection , then Gary Peters took us out of the old fourth division. He was succeeded by David Moyes who got us promoted as Champions of League One to the Championship . We never made it to the Premiership , again West Ham and Bolton were our nemesis.
Another relegation to League One and Simon Grayson got us to two play offs. Pundits always pointed out that Preston never got promoted via the play offs so everyone else was favourites.
However I. His first year against Rotherham Joe Garner scored this remarkable goal , which had it been Ronaldo or Messi would still be being talked about today. Watch it and just be amazed.
The following year in the semi final Jermaine Beckford scored this against Chesterfield from the half way line because he was too tired to run any further.
The following year we hit the play off final against Swindon .Six minutes in, Jermaine Beckford scored which was a great start for us. We won 4-0 and Beckford scored a hat trick You can see the highlights above. Simon Grayson had done what no other manager had ever done , got Preston promoted by the play offs.
Preston are now a mid table Championship side who have a Cup match against Liverpool who have the finest front line in the world at this moment , so that is going to be an easy match , but it is at Deepdale.
So getting back to the "Original Invincibles" .
Preston North End were founder members of the Football League in 1888. In the 1888–89 season, the team won both the inaugural league championship and the FA Cup, the latter without conceding a goal. In that season they set a record for an FA Cup win beating Hyde United 26-0 , and that is highly unlikely to ever happen again, though in the Scottish Cup on 12th September 1885 Arbroath beat Bon Accord 36-0.
They were the first team to achieve the "Double" in English football and, as they were unbeaten in all matches, are remembered as "The Invincibles". Preston won the league championship again in 1889–90 but their only major success since then has been their 1938 FA Cup Final victory over Huddersfield Town.
The club's most famous players have been Tom Finney and Bill Shankly, who are both commemorated at Deepdale by stands named after them.
Reader insights
Be the first to share your insights about this piece.
Add your insights