The 10 Best Books for Fans of Women's Soccer
Whether you're a soccer player yourself or simply a lover of the game, you have to check out these must-read books for fans of women's soccer.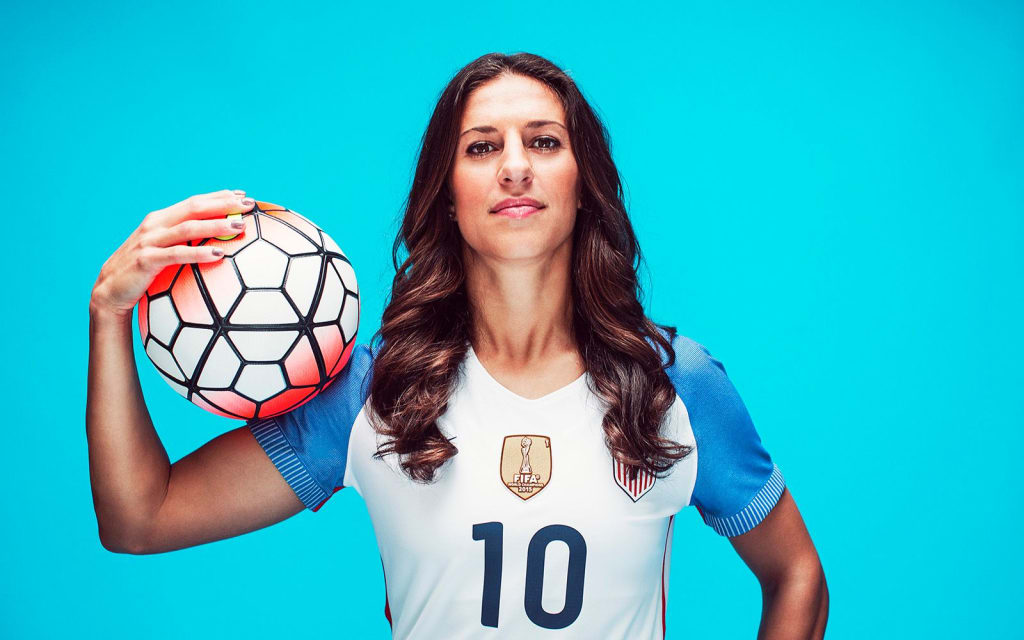 While there is a plethora of soccer books on the market, the vast majority focus almost entirely on men's soccer. While women's soccer was organized much later on a national and international pitch, it has proven to be just as entertaining and inspiring as its counterpart. Its star players; like Mia Hamm, Abby Wambach, and Hope Solo; are certainly no less compelling. That's why books for fans of women's soccer provides readers unique insights onto these players and their journeys.
The Beautiful Game is the true story of 16 young women on a youth soccer team—Santa Rosa Thunder—who experienced an unlikely meteoric rise from being a ragtag team to becoming champions. For years, the high school team struggled under the apathetic leadership of a male coach. The mediocrity came to an end when Emiria Salzmann took over, paving the way as a successful soccer player herself. Salzmann knew what it would take for the team to overcome its many obstacles, and committed the team to constant running drills, sprints, passing exercises, and discipline in order to succeed. She became the ideal role model for her soccer team, leading them to victory after victory. Journalist Jonathan Littman conveys the powerful tale of the unlikely champions in this must-read novel.
Abby Wambach is indisputably one of the greatest goal scorers in soccer history, titled as the highest-scoring soccer player in the world, male or female. Her illustrious career includes two Olympic gold medals and one FIFA Women's World Cup Championship. Alongside her successful international career, Wambach also experienced a tumultuous club career, all the while juggling her own personal life. This 2016 autobiography is a worthy telling of Wambach's personal and professional journey, and is one of the most important books for fans of women's soccer to read.
Jere Longman is an award-winning sportswriter for the New York Times, and The Girls of Summer, his account of the 1999 FIFA Women's World Cup, is one of the must-read books for fans of women's soccer. Longman explores the intricacies of the United States Women's National Team, and the perfect combination of individual talents that combined to win the 1999 World Cup Final. Longman also explores the darker side of the team's struggles off the field, including race and class issues, as well as the sexualization of the team's members and other differences between men's and women's soccer.
Unlike The Girls of Summer, in which Jere Longman traces the successful 1999 FIFA Women's World Cup United States National Team, this work by Clemente A. Lisi sets out to chronicle the evolution of the team since its 1985 inception. The U.S. Women's Soccer Team traces the team's development and studies its place at the forefront of women's soccer, including its multiple Olympic gold medals and FIFA Women's World Cup championships. The book also delves into the individual profiles of some of the most important figures in United States women's soccer history, including Mia Hamm, Julie Foudy, Amy Rodriguez, and Hope Solo.
There are many books on women's soccer in the United States, but what about the numerous other women's soccer leagues in the world? Under the Lights and In the Dark is Gwendolyn Oxenham's chronicle of the unique stories of women athletes from all over the world. One story follows Fara Williams, a Women's Premier League midfielder who hid her homelessness from her teammates while playing for the English National Team at the start of her professional career. Under the Lights and In the Dark gives the gritty details of Williams's story, as well as the untold stories of many more soccer greats.
Mia Hamm was the first superstar in women's soccer, setting numerous records and breaking down barriers since the start of her career with the United States Women's National Team in 1987. She held the record for most international goals scored until 2013, when the record was broken by her former teammate Abby Wambach. In Go for the Goal, co-authored by Aaron Heifetz, Hamm traces her life and accomplishments from her suburban upbringing to her international dominance of the sport. This memoir is not only one of the best books for fans of women's soccer, it is also a must-read for young girl and boy soccer players hoping to follow in Hamm's footsteps. In addition to Hamm's personal anecdotes, Go for the Goal includes instructional photographs and guides to help young soccer players study Hamm's technique and emulate one of the best female soccer players of all time.
Hope Solo is arguably the most famous and successful goalkeeper in the history of women's soccer. A member of the US Women's National Team since 2000, Solo has had an extremely successful career, despite some controversies. One notable event occurred during a 2007 FIFA Women's World Cup match against Brazil, in which Solo was benched in favor of a more experienced goalkeeper. The game ended as a tremendous loss for the US team, and Solo's post-game comments were seen as overly critical of her teammates. In spite of such tumultuousness, Solo is by far the most decorated goalkeeper in US women's soccer history, and holds numerous records. This no-holds-barred autobiography paints the complicated picture of this phenomenal athlete.
Carli Lloyd is another powerhouse player on the United States Women's National Soccer Team. As a midfielder, she has helped lead the team to multiple Olympic Gold Medals and a FIFA Women's World Cup Championship. During her career, she also served as Team Captain, leading the team on the field and scoring decisive goals in important games, such as a hat trick during 2015 FIFA Women's World Cup Final match against Japan. To earn the status she now enjoys, Lloyd has had to make numerous sacrifices in her life, including maintaining a single-minded lifestyle revolving around soccer, a tremendous work ethic, and sheer reliability in difficult moments. When Nobody Was Watching is Lloyd's own account of her impressive journey.
Brandi Chastain was one of the most important members of the US National Team from 1988 through 2004. One of the many highlights of her career occurred in the 1999 FIFA Women's World Cup during the final against China. Chastain scored the deciding penalty kick to win the cup and, in celebration, tore off her jersey and fell to her knees, mirroring a common form of celebration in men's soccer and becoming one of the most memorable women's World Cup moments of all time. This iconic moment is the source of this book's title: It's Not About the Bra. This must-have book provides commentary and guidance on sportsmanship, gamesmanship, and appropriate parental involvement in youth sports.
Alex Morgan has been a striker on the US Women's National Team and currently serves as co-Team Captain alongside Carli Lloyd and Megan Rapinoe. During the 2012 Olympics in London, Morgan scored the match-winning goal in the Semi-Final against Canada. After winning the gold medal with her team, Morgan ended the year with more than 20 goals and 20 assists, making her the second American to do so after Mia Hamm. Breakaway: Beyond the Goal is Morgan's uplifting memoir about her life, and is among other must-read books for fans of women's soccer, especially if you are a young player striving for success. Morgan has also published a series of young adult books called The Kicks, which is also excellent reading if you're considering the best soccer books for kids.
Reader insights
Be the first to share your insights about this piece.
Add your insights