Juventus Ferociously Mangled by Chelsea (A Review & Player Ratings)
An Old and Sluggish Old Lady falls 4 -0 at the hands of Chelsea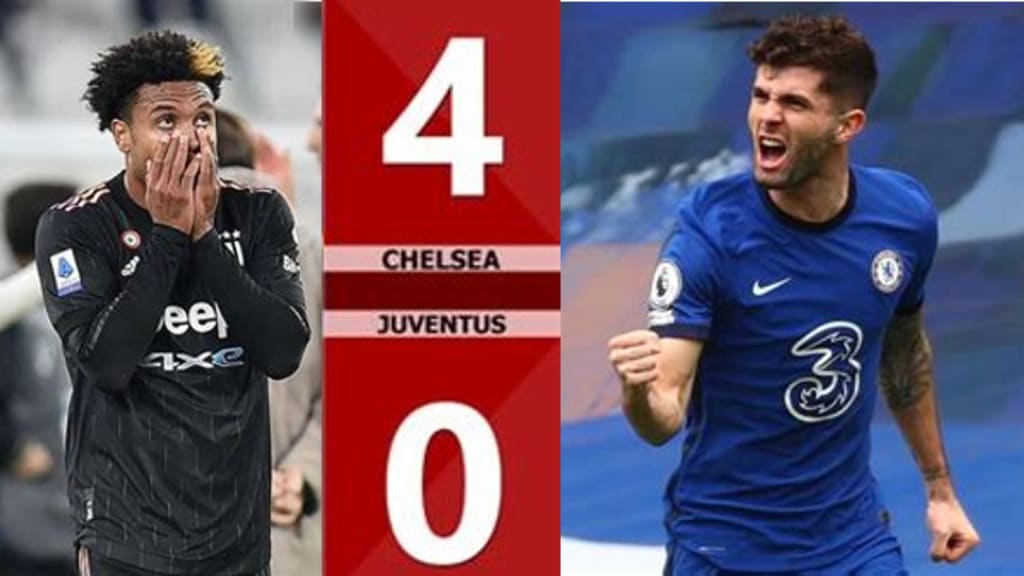 11/23/21
It's a horrifying afternoon here in The US where supporters saw McKennie and his Juve being savagely beaten with no remorse. On a long awaited European night with an air of it's usual magic in the wind, this wasn't a playoff round, but there was still much to play for as the clout of a First Place finish and in theory the chance for a "weaker" opponent in the next round hung in the balance. If you have been following Juventus closely this season, you may have seen a scoreline like this coming. I for one expected it in the playoff rounds vs the likes of maybe Bayern Munchen or Liverpool, and actually having it be more brutal. Chelsea showed us some semblance of mercy for the scoreline could have been far worse, a good 5 - 6 - 7 goals to mil, had it been for some more clinical finishing or a good save or two less from Szczesny who was surprisingly on form. For all his hype till this point Manuel Locatelli did little to gel together the midfield and attack with proper ball distribution and visionary passing; and did very little in ball recovery and possession to help create a base in midfield. This is a problem because it allowed Chelsea to run rampant. The only standout performer in midfield for most of the game was Mc Kennie tirelessly chasing down Chelsea players and looking lively throughout the whole match. Next came Arthur (Too little too late) and albeit for the wrong player, while I just finished criticizing Locatelli, Arthur for Locatelli was the wrong move in my opinion, We had a worse midfielder on the pitch in Rabiot, it is he who should have been subbed. Anyways, Arthur came on and did his job well, he held possession and distributed the ball nicely in his 30 min or so on the pitch.
What made this game more disheartening than usual to watch though, was how slow and sluggish the team looked, this is a problem because the team does have a good player age average and a youthful squad compared to the one that got us to the CL Final a few years back were we then where also exposed for being slow and lethargic by then there Real Madrid. Here is the thing with Allegri's appointment and why it has been so controversial … He doesn't like trusting players in their youth, and he likes to play properly established, solid players with a wealth of experience.
The Difference is that Chelsea does this better and has a manager that actually gives Youth an extended run in Tuchel. Let's look at the difference, Chelsea started the game with 4 players over the age of 25: (Thiago Silva (37y), Kante (30y), Jorginho (29y), Rudiger (28y).
Silva and Rudiger are akin to our Bounicci and Chiellini(injured) they have a wealth of expert experience in defense, and are the heartbeat of the defense just like Rudiger and Silva were today for Chelsea.
N'golo Kante and Jorginho who also hold a wealth of experience and are actually world beaters at their job and did it perfectly when it came to keeping possession and distributing the ball with purpose.
The rest of the squad are kids under 25yrs old (minus the keeper) and it was precisely a trio of under 22 year olds that orchestrated the beautiful symphony of our defeat. Reece James (21y), Tom Chalobah (22y), Hudson Odoi (21y), It was these 3 men who were crucial to our demise. Meanwhile on our hand we began with 5 players over the age of 26, but these players held much less weight and while they are more experienced are in no way clearly better or useful than younger options available to us. We started the game with 5 players over the age of 25 years: Bonucci (34y), Cuadrado (33y), Morata (29y), Sandro (30y), Rabiot (26y).
Bonucci and Cuadrado provide Juve with a great wealth of experience and good form, but the other 3 are borderline useless!
Alvaro Morata, someone who has strung together 2 horrible games now since the return from international qualifiers, and someone who, knowing Allegri, will keep getting game time ahead of Moise Kean just for his age and experience when in form he is poor, subpar and forever offside.
Alex Sandro, Another player on for seemingly his age, just when Pellegrini had put in a great shift over the weekend, I struggle to fathom why he wasn't given the nod here, wasn't even on the bench. Sandro has proved time and time again now that he does not belong at Juve no more, this season has been his best season in recent times, and This season has been lackluster and inconsistent to put it lightly, this should speak volumes!
Rabiot, this one really baffles my mind. Here is s player similar to Alex Sandro but younger at 26 (not a bad age) but an age where he should be a very solid player by now, this isn't the age where a top player can continue to play lackluster football. On that note this is a player rumored to be sold off as early as the winter (than the gods) and seemingly is not in Allegri's plans long term according to the media. One would not think that though judging by how much game time he gets
Honorable mention:
Allow me to write about Bentancur, not an old gun by any means (only 24y), but by now a player with a wealth of experience as he has been heavily used in Allegris last stint, by Mauricio Sarri and by Andrea Pirlo. During Allegri and Sarri's time Bentancur was great! He was promising and looked to take the world by storm, for crying out loud his form was so good we decided to get rid of a then important Miralem Pjanic. However since Pirlo and now with Allegri (curiously enough) His form has been torrid akin to that of Rabiot's/Sandro; Very error prone, horrible at keeping possession, horrible distribution, little attacking awareness, and little defensive awareness, can't win the ball back, can't make dangerous crosses. Their form is so bad it leaves you wondering how these 3 became professionals in the first place.
I'm beginning to ramble, but why am I rambling on about this? Age and all that? Because It's FRUSTRATING and SAD. Long time followers of Juve knew early on what to expect with Allegri's re-appointment. While the board wants to focus on youth, Allegri is not the type of manager to cultivate and groom football's up and coming stars. But the tradeoff here was that Allegri was a manager who might make you pull your hair out at times, and might play pessimistic football, but at the very least, at the bare minimum he guaranteed results, and he knew how to get the best form from his players no matter how mediocre. We have our own Very promising youth who have the talent, and have the fire to catapult Juve towards its glory days: Fagioli(20y) Rovella(19y), Kaio Jorge(19y), Luca Pellegrini (22y). These are all players that Allegri decided to FOOLISHLY loan out, or in the case of the last two make sporadic bit part players, when little management has graced us in seeing them, they seem to hold key traits and key qualities that we NEED now Today! Not in a few years. And they deserve an extended run in the squad and a chance to stake their claim. Would Reece James, Chalobah, or Hudson Odoi be in this Juve squad they would not be starters like they are at Chelsea and they would not have the ability to sink a giant like Juve; If Allegri had them at our disposal, they would either be loaned out or playing 15 min here and there at the end of some games like Kio Jorge or Pellegrini. This is the difference between Juve and Chelsea, this is the core reason for our demise, this is the lesson Allegri must learn.
Man Of The Match:
Weston McKennie: 7
I'm really grasping at straws here. McKennie couldn't influence the match much though he was the only player to force a save from Mendy in the second half, that's already extremely impactful compared to the rest of the squad. But why I mainly signal him is for his energy and attitude, for showing grinta and really sweating his heart out when the rest of the team let him down. McKennie was like a Federico Chiesa in midfield in a game where Even Chiesa looked sluggish. Unfortunately not all is sunshine and rainbows for McKennie though he was on the bad end of a slight error at the end of the match that led to Chelsea's 4th banger, he can be forgiven though for being the only player playing with his head up all game and trying to earn his pay check, It's a wonder he was in the position to kick the air instead of the ball to begin with while other defenders were barely tracking back and not even man marking.
Honorable Mentions:
Szczesny: 7
As you all know I have no love for the big Pole and would rather see him gone and replaced sooner rather than later. Credit where credit is due though, This night could have seen a truly scandalous scoreline Had the giant Pole not saved 2 or 3 good shots that needed his strength and concentration. He could do very little about the goals he did concede.
Arthur: 6
Was subbed in for Locatelli, and in 23 minutes managed to do more (Positively) than Rabiot and Bentancur all game. Arthur held possession, and distributed the ball well in his time on the pitch.
The Rest:
Juan Cuadrado: 5.5
Struggled a lot against Hudson-Odoi, Cudrado finally met his match vs someone younger and just as quick, Hudson Odoi is the type of opposition he doesn't usually face in Serie A . Wasn't his usual self going forward due to how occupied he was at the back.
Leonardo Bonucci: 6
Made a couple of good challenges throughout the match. No clear and obvious errors.
Matthijs De Ligt: 5.5
Struggled throughout the match, we could have really used one of his standout games here, but same as Bonucci, no real clear errors other than looking slow and lethargic.
Alex Sandro: 3
Lost possession A LOT! And did little to nothing to contain Reece James, it's as if he wasn't playing.
Manuel Locatelli: 5
Did very little, but there was this one moment in the first half where he broke lines with a beautiful pass that Morata almost converted with a chip on Mendy
Rodrigo Bentancur: 3
Struggled to do much of anything all game, He lost possession time and time again, did nothing to help distribution, and almost cost us a goal with a horrible back pass to Szczesney.
Adrien Rabiot: 4.5
Another one hardly involved in distribution or attacking intent but did have some moments defensively though nothing crucial.
Alvaro Morata: 5
Was in the right place to almost score … ONCE, from there he was largely invisible all match, needs to be benched from here on out.
Federico Chiesa: 5.5
Did not have the space for his usual trickery, did not look as relentless as in other games, very poor showing though he did try, and his intent (With much frustration) was very visible.
Subs
Paulo Dybala: 5
Like Chiesa, looked frustrated and struggled to do much of anything.
Moise Kean: 5.5
Had like 2 chances, although not clear chances, did more than Morata in 23 min, and you can see his effort and intent on the pitch
Dejan Kulusevski: 4
On for 10 min, did not make any sort of impact. Truly special/talented players or players worth wearing the Juve shirt make some sort of impact even in 10min.
Koni De Winter: 5
On for 10 min, struggled to do much of anything, though no one expected him to do much, looked more like a customary sub.
_______________________________________________
Thank you for reading all the way through, don't forget to like and share on social media if you enjoyed the read. don't forget to join the community on discord https://discord.gg/cg9W4DeC . For a the rest of my articles on Vocal https://vocal.media/authors/gery-quin