Countries That Have Won the Most World Cups
Which national teams in FIFA have won the most World Cups?
A Soccer Ball Next to the Fifa World Cup Trophy, the Prize the World Cup Champions Bring Home with Them.  Photo by Fauzan Saari on Unsplash 
Every four years, the world comes together to watch a sport known to most around the world as football, but known in the United States as soccer, to continue the tradition that has been kept alive for 88 years. Since the FIFA World Cup was formed in 1930, there have been 21 world soccer tournaments held, meaning 21 teams have been crowned after getting that final victory. Unless you are a serious die-hard fan of the FIFA World Cup final, many fans of the sport wonder which countries have won the most world cups.
Brazil—5 World Cups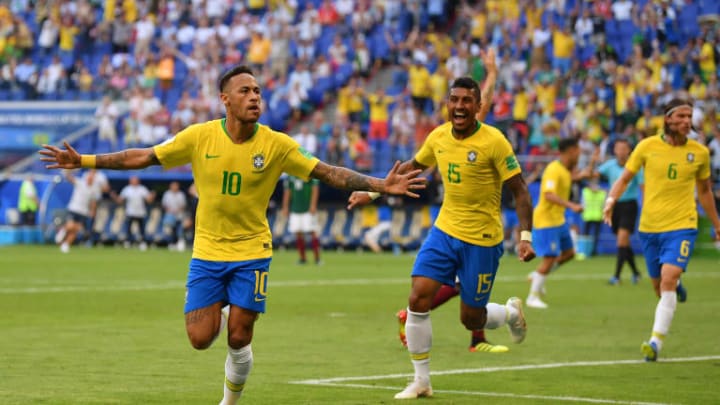 Brazil is the only team in the football World Cup's history to have competed in every single World Cup edition ever since FIFA started, and they have shown that they are most successful team in World Cup history. They have won five World Cup finals, the most of any of the national teams, and one more than all the South American teams combined. Their first two titles came in 1958 and 1962, with 1958 being the World Cup winning legend Pele's year (beat Sweden 5-2 in the final) and 1962 being Garrincha's year since Pele suffered a season-ending leg injury earlier on in the World Cup tournament (beat Czechoslovakia 3-1 in final). The other three titles came in 1970 (beat Italy 4-1 in final), 1994 (beat Italy again 3-2 in penalty kicks after a 0-0 draw), and 2002 (beat Germany 2-0 in final). Brazil could have won the tournament on two other occasions in 1950 (first year they hosted the World Cup) and 1998, but they came up short in both finals games to Uruguay (lost 2-1) and France (lost 3-0) respectively.
Germany—4 World Cups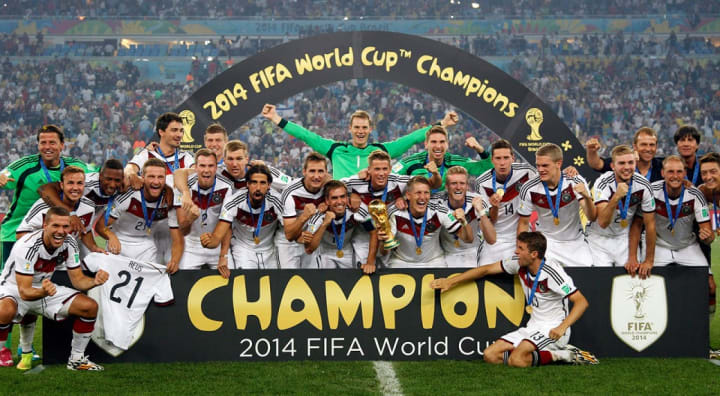 Germany has won four World Cup titles since they have been in the FIFA World Cup. Germany's titles have come in the years 1954, 1974, 1990, and 2014. In their 1954 World Cup victory, West Germany upset Hungary 3-2 in the final with a winning goal from Helmut Rahn after losing to them in the group stage 8-3, one of the biggest upsets in World Cup history. They won the World Cup again against the Netherlands 2-1 in 1974, their first year hosting the FIFA World Cup as well as one of the greatest comebacks in World Cup history, and again in 1990 with a 1-0 victory over Italy after losing back-to-back World Cup finals to Algeria (lost 2-1 in 1982 World Cup final) and Argentina (lost 3-2 in 1986 World Cup final). The goal came in the 85th minute with a penalty kick from Andreas Brehme. Germany's most recent World Cup title came in 2014 in a 1-0 victory over Argentina, becoming the first European team to win the FIFA World Cup in the Americas and second to win it outside of Europe.
Italy—4 World Cups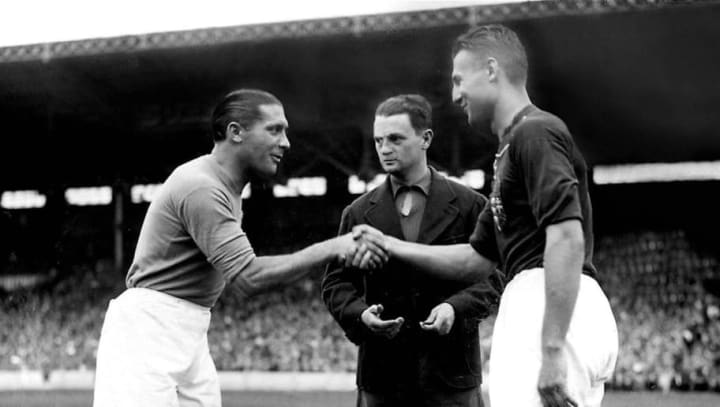 Italy joins West Germany at second on the leaderboard for countries that have won the most World Cups. Their titles have come in the years 1934, 1938, 1982, and 2006. Italy won the tournament their first two times competing after they declined to participate in the first year of the FIFA World Cup in 1930. They defeated Czechoslovakia 2-1 in extra time when they hosted the World Cup in 1934 and had a 4-2 victory over Hungary in 1938. Many people say that the success they had in these years was in big part to star player Giuseppe Meazza, who is still considered to be one of the best football players in Italian football history, and Coach Vittorio Pozzo.
These two wins were huge for Italy, because they held the title for 16 years straight since no world cups were held during World War II. Italy went through a little drought before their next World Cup victory against West Germany in 1982, winning the match 3-1. Their most recent World Cup came 24 years later in 2006, when Italy took down their long-time rivals, France. They won 5-3 on penalty kicks after a 1-1 draw at the end of extra time. If they played in the FIFA World Cup the first two times it was held and World War II didn't prevent four consecutive tournaments to be played, then maybe Italy would be the team to have won the most World Cups.
Argentina—2 World Cups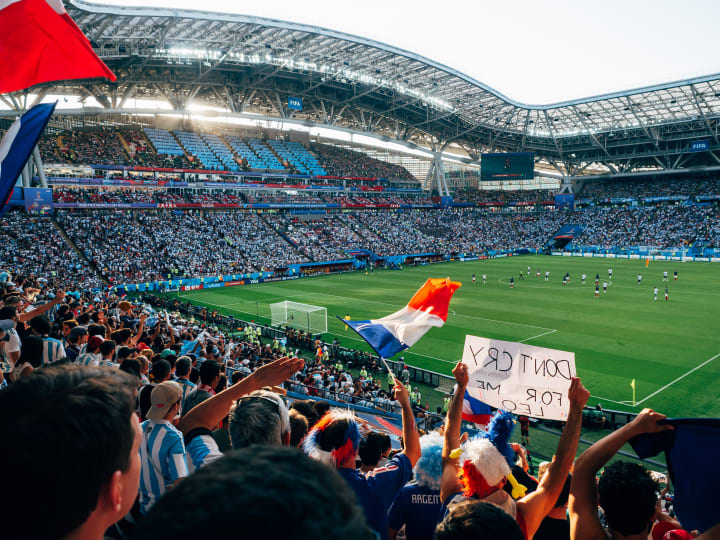 Argentina is among two other national teams to have two World Cup victories and are tied at third on the leaderboard for countries that have won the most World Cups. In Argentina's first year hosting the Cup in 1978, they won in the final over the Netherlands 3-1 in extra time. They won again in 1986 with a 3-2 victory over West Germany led by their star player of the time Diego Maradona. They haven't won a World Cup since then, but came very close back in 2014 with the help of one of soccer's best players of all time, Lionel Messi, in a 1-0 loss to Germany in extra time. If Argentina won that match over West Germany, they would be tied with them on the leaderboard for having won the most World Cups.
Uruguay—2 World Cups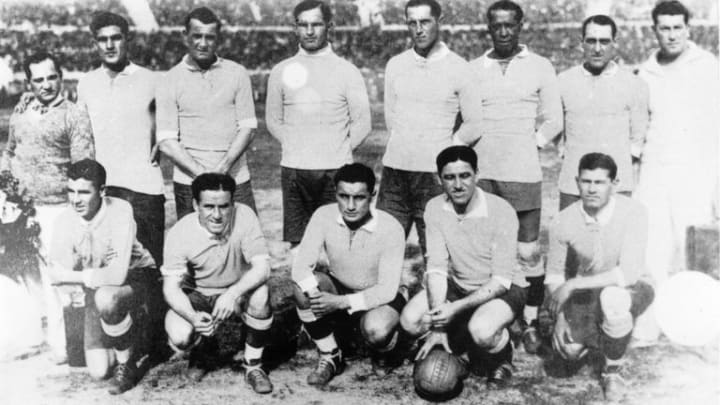 Uruguay won the very first World Cup ever held in 1930 on their own soil with a 4-2 victory over Argentina. They won their second title in 1950, 2–1 in the final match. This match received an attendance higher than any football match ever. Although Uruguay had some success early on in World Cup history, they haven't been to the FIFA World Cup final since. The closest they've gotten is fourth place in three separate World Cup tournaments: 1954, 1970, 2010.
France—2 World Cups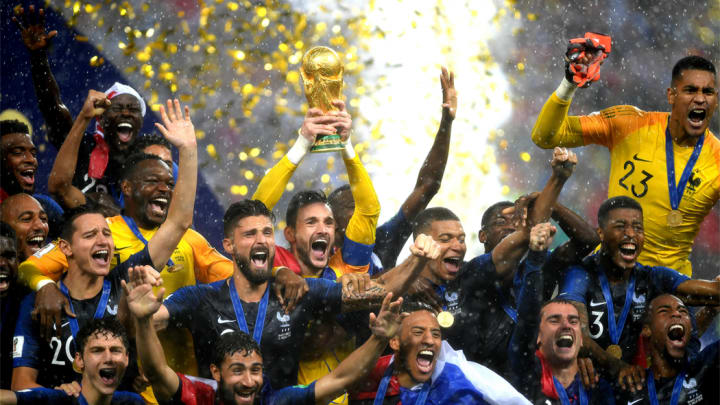 France's history in the FIFA World Cup is quite the opposite of Uruguay's. They had a 68-year drought from the World Cup title until they won it in 1998, defeating the team that has won the most World Cups and defending FIFA World Cup champion Brazil 3-0. France then won the world over in the 2018 World Cup when they took down Croatia 4-2 in the big game. If Croatia won that game, that would have made it their first World Cup victory ever. For now, I guess many Croatians are going to hold a grudge with the French for quite some time since their trophy spot still remains empty.
England—1 World Cup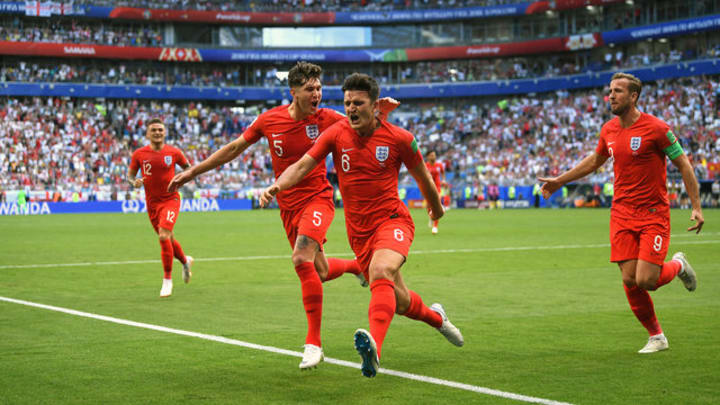 England's only World Cup victory came way back in 1966 when they defeated West Germany 4-2 in extra time. This is the only time England has shown any prominence in World Cup play, not making it past the quarterfinals since their championship appearance in 1966. However, they broke that spell in the 2018 FIFA World Cup, making it to the semifinals. The result was still disappointing for English fans though, losing to Croatia 2-1.
Spain—1 World Cup
Spain defeated the Netherlands 1-0 on an extra time goal by Andres Iniesta to win their first and only title in the 2010 World Cup. Iniesta's goal was one of the greatest World Cup goals of all time, scoring the game-winning goal at 116 minutes. Spain had not made it past the quarterfinals before the year they won the World Cup title, and they haven't gotten there since.
Ever since the official World Cup was started up by FIFA, there have only been eight countries to win the World Cup, and all of those countries that have won the most World Cups are either in Europe or South America. Some teams could be on the list and join the others, such as the Netherlands who have been runner-ups in the tournament three times now. If the Netherlands won in the 2010 World Cup, they would replace Spain on the list. Croatia could have also joined the list this past year in their first year making it to the World Cup final; however, they also fell short in the 2018 World Cup. So, Croatia and the Netherlands remain winless in the Cup along with Hungary (two runner-ups, 1938 & 1954), Czechoslovakia (two runner-ups, 1934 & 1962) and Sweden (runner-ups in 1958).
The most dominant team in World Cup history is definitely Brazil, having won five World Cup championships and a record 73 victories in 109 matches played in the World Cup tournament. Other teams such as Germany and Italy could be just as dominant, if not more dominant than Brazil, but they still each trail Brazil by one World Cup title. Although these teams have come up short to being number one on the leaderboard, one thing is for certain in soccer: They will have another shot for the FIFA World Cup title in 2022.
Reader insights
Be the first to share your insights about this piece.
Add your insights