Buying Guide for Women Soccer Cleats in 2019
If you are young or old, a new player in the game or an experienced professional, everyone will need help in choosing new cleats from time to time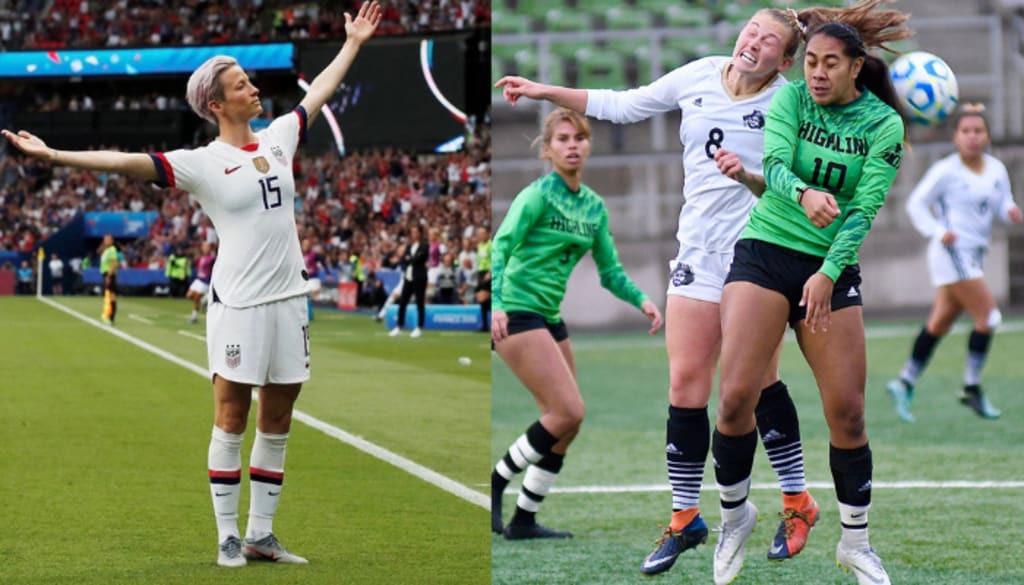 If you are young or old, a new player in the game or an experienced professional, everyone will need help in choosing new cleats from time to time. There are many options on the market now, and it's not really easy to make a decision. The only way to choose the best cleat is by looking at the buying guide for women soccer cleats.
A good pair of cleats can perfectly improve the game, as well as avoid injuries. Although all this may seem silly at first, analyzing and discovering your specific needs will save you a lot in the long run. According to the buying guide for women soccer cleats, there are some factors to keep in mind as we have mentioned below. This is not necessarily the final rules book on what to buy, it is an indicator to check back in your search.
However, the most important thing is to consider your goals as an athlete, as well as what you feel comfortable with. Nothing can be more important than your happiness in this area, so your cleats play such an important role. Although it takes some homework, finding the best cleat will improve your game in no time. You have to read the buying guide for women soccer cleats to help you find the right collection.
Playing Style
Goalkeepers: need something that provides great traction and the ability to move quickly sideways, while a good hit area for kicks and back passes is key.
Defensive players: will want to find a cleat that offers a bit more protection and something that allows a clean pass on the ball.
Midfielders: need a cleat that provides control and the ability to run for 90 minutes in total comfort. Wingers look for a lightweight and smooth boot that provides the ability to accelerate and change direction quickly.
Forwards: will benefit from a cleat that provides a clean attack area and provides minimal weight for explosive movements.
Categories of Cleats
Control: Designed with elements around the pass and the control area, it helps players when it comes to making sure of quick control and solid passes.
Power: gives players an extra boost when hitting shots, usually in the form of technology throughout the strike zone.
Speed: It's all about lightweight cleat production, which usually includes an artificial upper and very simple design.
Hybrid: Cleat that blends different styles, such as speed and control. This will be a lightweight cleat with some additional technology across the pass zone.
Heritage: focuses on providing players with an uncomplicated, comfortable and durable end product. Less technology, more leather!
Type of Ground
FG- Firm ground cleats are well suited for natural grass surfaces where they do not rain regularly. With many locations taking to artificial grass, companies are adjusting their designs. FG is now fully accepted as an option for artificial pitches.
SG- Soft Ground cleats should be used when the surface is soft so that the studs can penetrate the surface. This is a configuration chosen by players in areas where it rains frequently and generally contains replaceable studs.
AG- Artificial Grounds is the latest type of configuration that companies are trying to integrate into the market. AG is dedicated to modern turf surfaces, and the best brands have proven their effectiveness in producing excellent traction. It should not be used in FG.
HG- Hard Ground is a type of cleat that is quickly replaced in the market. The remaining pairs are an ideal choice for players playing on dry surfaces or on surfaces without grass. This configuration has a low appearance with many conical studs to help you maintain balance. It can also be effective on FG surfaces.
Best Women's Cleats
Under Armour Women's Magnetico Select
Undoubtedly, Under Armor is one of the leading manufacturers of sports equipment, and has consistently exceeded people's expectations for its excellent sports quality. When it comes to soccer cleats, they also left their mark in that area. This pair of women's soccer cleat is an example of a high-quality product. In addition, these cleats work very well and not only reduce fatigue but also look great. Ball control is greatly improved thanks to the light synthetic upper that supports the feet. Another great feature of this pair is the die-cut sock lining that provides additional support for the feet.
PUMA Women's Evospeed 4.2
Another giant in the sports equipment industry is PUMA. This company has proven its value and gained the trust of people in its high-quality products that it has continuously launched. This pair of soccer cleats PUMA is another feather in the pocket of this business. In addition, this pair designed for women and is full of great features that will perform better in the ground from the start. It's a very light cleat with speedCELL technology that not only reduces the weight of these cleats but also adds flexibility. The synthetic upper portion is lightweight and extremely soft, while the enhanced heel provides an appropriate amount of protection and stability.
Adidas Performance Women's Ace 16.2
The Adidas Performance Ace features a synthetic prime mesh upper. These firm ground cleats are made of ground/control stud design and synthetic sole. Built-in a mid-top design, the cleat has an inner collar that fits around the ankles. It has a white body and is available in two sets of colors: gold/pink and black/electricity. The other colors boldly play in white in the form of bright lines and drawing a tongue that adds to the style and character of the cleat. The spacious construction design also provides additional space for the user's legs.
Nike Mercurial Veloce II
Nike Mercurial Veloce II features a sleek and lightweight design. The cleat has a nylon structure and a microfiber upper with a smooth surface. Designed for firm ground, Nike Mercurial Veloce II features simple construction. It is equipped with Nike's exclusive Vapor traction system and reinforcements around the mid-foot area. Other design features include four studs and contoured sock lining. Thanks to its low-cut, excellent design, the cleats provide excellent movement control. In addition, the design is ideal for increasing natural speed and also helps maximize multi-directional flexibility.
Adidas Women's Nemeziz 17.4 FG
Adidas Nemeziz 17.4 soccer cleat has a durable and flexible design made of synthetic materials. It has a low-cut design. In addition, this cleat features a very sporty design, with bold and contrasting stripes around the mid-foot area. The inner cushioning and studs are black, adding an extra sporty look to its body. The synthetic sole features a combination of round and flat studs for maximum performance and agility. Featuring a synthetic sole, these low-cut cleats are lightweight and add agility and responsiveness to users' movements. The studs included in the sole of the cleat help maintain a balance between traction, agility, and stability on firm ground.