Best Soccer Cleats for Flat Feet
Do you have flat feet or are not comfortable in your cleats? In this article, we have written about the top seven best soccer cleats for flat feet.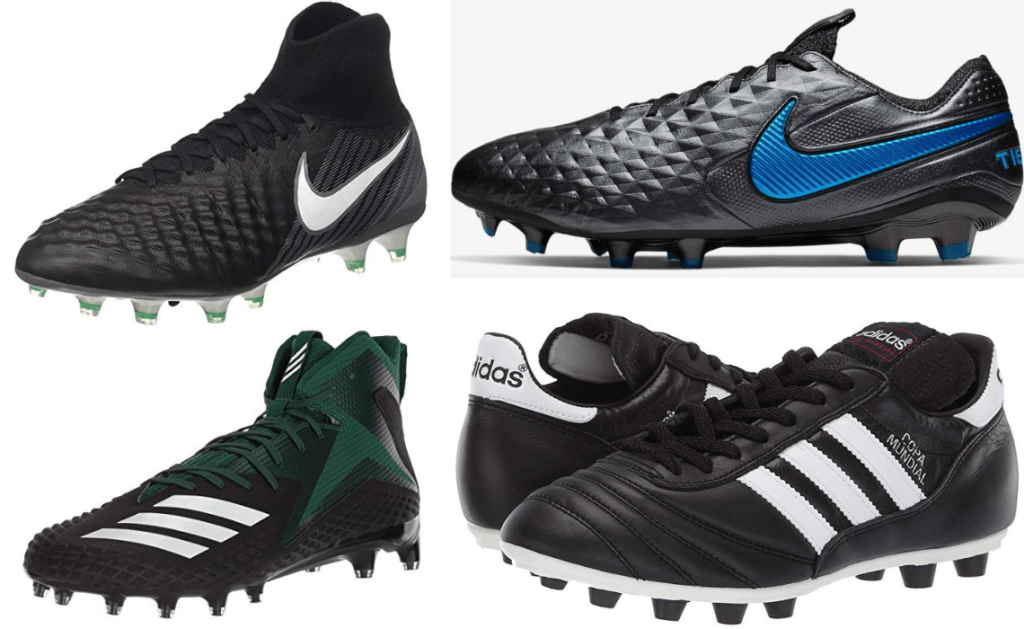 Best Soccer Cleats for Flat Feet
Do you have flat feet or are not comfortable in your cleats? In this article, we have written about the top seven best soccer cleats for flat feet.
If you are an inexperienced or a professional soccer player, you will find that the best soccer cleats are vital. The best soccer cleats will allow you to produce the best performance. Playing soccer demands a lot of high-intensity training, and your entire body is tested. That is the reason why you should look for the best soccer cleats for flat feet. Your performance will get better if you have the proper soccer cleats that fit your feet. It will also greatly affect the way you play in the long run. Before you go to buy soccer cleats, consider all factors, such as the type of feet you have, the type of ground you will play, and the position you are playing. Always ensure that the cleats you buy are comfortable and durable, so you are able to use them for a very long time.
Nike's soccer cleats are made of high-quality leather material that can stand through test times, even if used in extreme conditions. The lace-up design allows the cleat to say on your feet throughout the 90 minutes of the game. Moreover, the breathable fabric lining provides a good feel for the feet. This Nike soccer cleat has an EVA insole that provides comfort and cushioning. The cleat also has a molded stud design that provides you more traction than you can ever have. The lacing system gives a free play area for greater ball control, consistency, and accuracy. If you are finding a lightweight soccer cleat that can accommodate your flat feet, Nike Tiempo is best. The outsole and insole design ensure support and stability during high-speed races.
Nike Phantom Vision Academy has a stylish look. The black and white color is a design that Nike rarely has. All other color combinations are also innovative in choosing branded soccer cleats. This cleat has a slightly higher heel, curves down immediately, and then the rest of the sole is flat going to the front. You can see it in the other color combinations where both are colored differently. This is what makes it suitable for flat-footed players. The raised heel protects it and places it in a position that follows the proper pronation of the feet. It also provides the opportunity for small arch support that is required by the flat-footed people. This reinforces an arch where they don't have any.
This high-quality Adidas Men X cleat, you can move at high speed, stability, and agility on various grass surfaces. This soccer cleat is made of synthetic material of the highest quality that will stand the through the test times, even if you use it coarsely. Adidas X men's soccer cleats also have a claw collar with traditional language tongue construction. The snug fit design supports your feet to provide maximum comfort. The synthetic material is used in upper also helps you experience a lightweight feel as soon as the cleats get on your feet. As a player with flat feet, you want a cleat with the right size, and that helps you keep the speed and stability on the ground.
ASICS Men's Lethal Tigreor 4 deadliest soccer cleats produced by the Asics multinational company, which specializes in the creation of sports equipment and cleat for different sports. As one of the top brand in sportswear, Asics has continuously offered complete support to athletes in their quest to achieve their highest goals in any practice and competition. This cleat is built of high-quality leather material that will shape your foot for an excellent touch of the ball. The included lace design and design of the tongue provides a smooth surface for kicking. As a player with flat feet, you need an outfit that will aid you to perform to your potential. Asics cleats are just perfect for people with flat feet.
Puma King's soccer cleats were created in the 1970s. Since then, Puma has been recognized as an athletic brand in the world that successfully blended sports, lifestyle, and fashion. This Puma King cleat is made of highest quality leather material that will last a long time, even when used in the most severe conditions. This cleat has an ever more comfortable lace system that gives a great fit to your midfoot, while premium quality leather material provides an excellent touch of the ball. Furthermore, this soccer cleat is produced in a lightweight design and is the most iconic cleat in the market.
The nostalgic and classic design of the old school is easily recognized. For flat footed players, the reinforced heel panel or leather support extending from the heel is what aids the abnormal foot position. It provides greater balance and stability that can save the heel and prevent it from rolling too much within the cleat. It is also not made with synthetic leather. This cleat is made of genuine, soft kangaroo leather that not only supports the feet but also molds itself. With this cleat, there is no danger of overpronated feet. Moreover, the dual-density outsole also reduces the impact on the arch, where people with flat feet need more support and cushioning.
At first look, the immediate feature of the Freak X Carbon Mid soccer cleat is it is mid-cut. It is a bit less popular than its low cut counterpart but is the kind of cleat that proves to be great for players with flat feet. It provides the ability to correct toe drift or any other form of deformity or abnormal stance that flat feet causes. The mid-cut opening cushions the ankle to the lower part of the leg. It gives a sock-like fit that fits exactly the foot. On the laster parts of the cleats, it has adjustable laces that you can adjust.
Conclusion
All the above cleats are the best soccer cleats for flat feet. We have figured them out by doing lots of research and we have tried to look at every feature in detail. For any soccer player who is looking for cleats can get a lot of help from this. This article will not only save time but resources as well. All the hard-earned money will be saved and a good product will be bought amazon.com. If you are looking for the best soccer cleats under 30 dollars or under 50 dollars or under 100 dollars. For all the women, who are looking for the best women's soccer cleats.