Bournemouth 0-3 Liverpool: Reds as Dominant as They've Ever Been
Liverpool brushed the Cherries aside in a comfortable match for the European champions. Andrew Beasley puts their performance into context alongside the best the Premier League has seen in recent years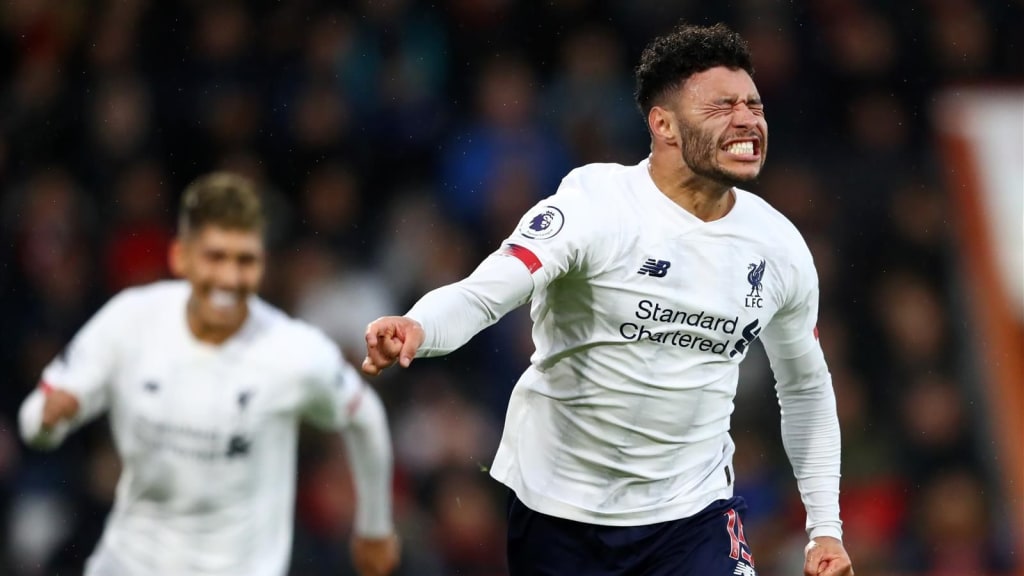 Alex Oxlade-Chamberlain celebrates giving Liverpool the lead
Liverpool wrapped up a busy week of football with as comfortable a victory as you will ever see away from home. The Reds beat Bournemouth 3-0 to continue their remarkable run of form against Eddie Howe's side.
Just as 'Crystanbul' seems likely to haunt the match preview every time Liverpool travel to Selhurst Park despite multiple wins there since 2014, so a trip to the Vitality Stadium conjures talk of Liverpool's 4-3 defeat in 2016. More recently, Liverpool conceded a late equaliser to the Cherries at Anfield in 2017, but their response has been brutal; they've won all five games against Bournemouth since, scoring 17 goals while conceding none.
Although the three goal win on Saturday was one shy of what Jürgen Klopp's side produced in each of their previous two visits to Bournemouth, on the underlying stats this was the most dominant. In fact, this was potentially Liverpool's most impressive away performance under their current manager.
The Reds had 21 shots while conceding only three. Having over 20 shots away from home isn't without precedent – this was the twelfth time Klopp's Liverpool have done so in league and Europe – but having that many while not trying desperately to salvage a result is relatively rare.
The collection of matches includes 2-0 defeats at West Ham, Burnley, Hull City and Crvena Zvezda. The most recent previous example was won, at Villa Park earlier this season, though in that match Liverpool trailed for over an hour and didn't equalise until the 87th minute.
So as you can see, the combination of a high shot count and a comfortable win have been pretty rare on the road. As it should be; if it were easy, Liverpool wouldn't have ended the day 11 points clear at the top of the league, as more teams would do it.
And it wasn't just the volume of chances which displayed their dominance, but the quality of them too. Where Liverpool's average shot quality across previous away league games where they had over 20 shots was 0.097 expected goals, here it was 0.138.
Bournemouth were completely unable to create anything of note. Their three shots were worth just 0.15 expected goals in total according to Understat. Five Liverpool players each recorded a higher tally, which is simply remarkable.
Klopp's team have only conceded a lower xG total five times in the league on his watch, and just once away from home: a 0-0 draw at Southampton in 2016 saw the Saints offer up just 0.09 expected goals.
And with 3.04 xG of their own, the difference of 2.89 in their favour made this Liverpool's most dominant away performance under Klopp in the main competitions.
It wasn't just strong in the context of the club's own recent history. FiveThirtyEight have an expected goal database which contains over 1,250 Premier League matches, dating back to the start of the 2016/17. Their model scored the chances in this match as 0.17 versus 2.95. Liverpool's advantage of 2.78 is the 16th best by an away team, and only five times have a home side had a smaller proportion of a match's total expected goals.
So how were Liverpool so dominant? Their main asset was demonstrating the variety of ways in which they can hurt opposing teams.
The opening goal, scored by Alex Oxlade-Chamberlain, was created via a perfectly weighted long pass from Jordan Henderson, which he played from inside the Liverpool half. It was the 37th chance the Reds have created with a long ball this season, putting them second only to Burnley (with 40) in the Premier League.
The second had more of a steady build up, but the key pass saw Mohamed Salah flick a sublime backheel between two defenders and into the path of Naby Keita, who fired the ball home. It was one of 24 passes Liverpool completed in the home side's penalty area, where Bournemouth managed just one in the Reds' 18 yard box in return.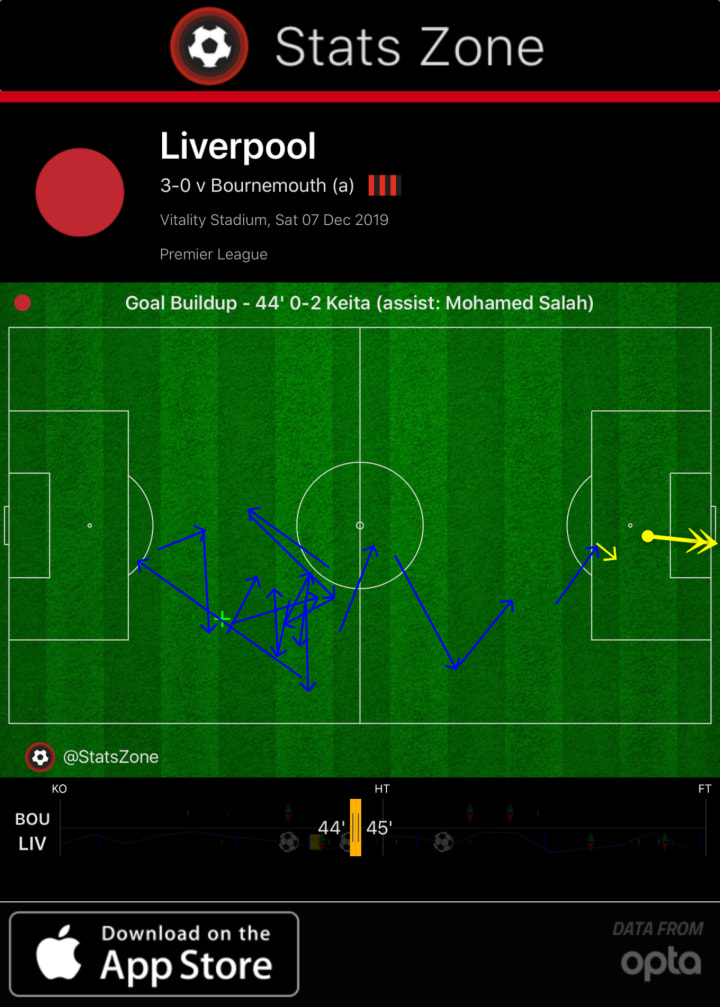 The scoring was wrapped up when a through ball from Naby Keita allowed Salah to pick up his customary goal against the Cherries. The Egyptian has faced Bournemouth on five occasions with Liverpool, and netted every time with seven goals in total. As with long balls, Liverpool are also the league's second best team from creating chances from through balls, having fashioned just one fewer such opportunity than Manchester City have in 2019/20.
And with City's loss in the late kick-off, the day really couldn't have gone much better for Liverpool. They can expect a far sterner test at free-scoring Salzburg on Tuesday night.