Best Gifts for Real Madrid Fans
Passionate followers of the storied La Liga franchise will certainly appreciate some of the best gifts for Real Madrid fans.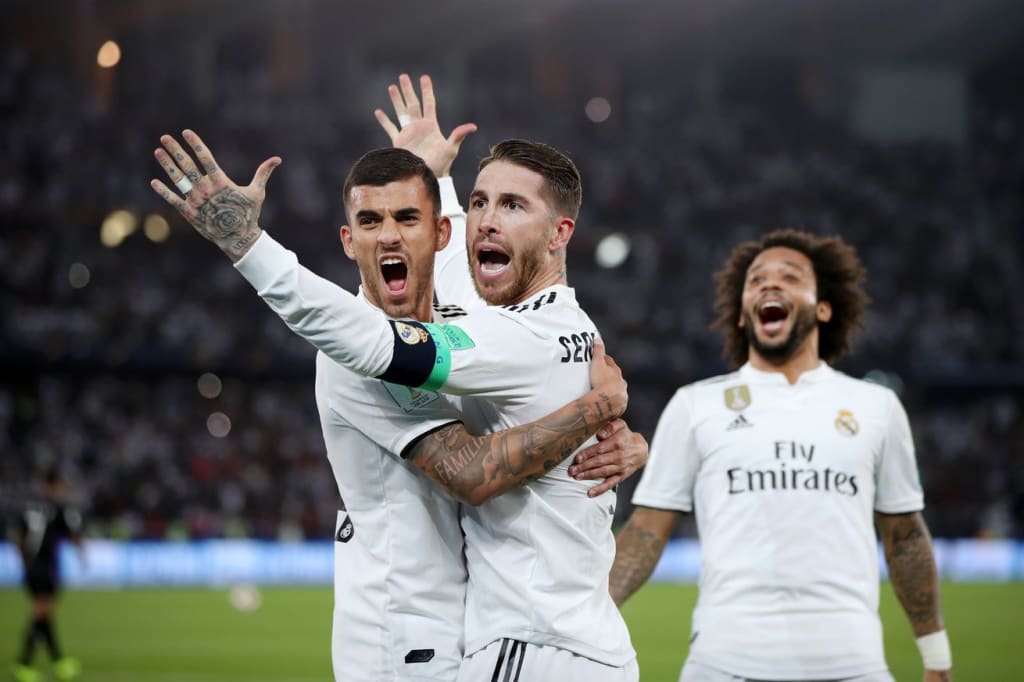 If it wasn't for the sport of soccer, I don't know what I'd do. It's captivated me in so many different ways—as a player, a fan, and even a youth soccer coach. Soccer, football, or whatever you want to call it, breeds some of the most passionate and supportive fans across the world. While the US itself isn't necessarily the most soccer-centric, there are still a number of hardcore fans, like myself, who enjoy the game at its very core.
Admittedly, however, I'm not a huge fan of the MLS. I prefer soccer on a global scale in its highest quality of play.
If I had to choose my favorite team, it would be tough, since I just love the sport as a whole. But as a lifelong fan of Cristiano Ronaldo, I must admit that Real Madrid stole my heart during his tenure with the Spanish club.
I'm more than partial, to be honest. They're definitely my favorite team—even after the Ronaldo to Juventus transfer—I just don't want to sound like a frontrunner. Something I most certainly am.
Regardless of semantics, there is no amount of Real Madrid merch that will satisfy my inherent need to represent the greatest soccer franchise in the world. Some of the best gifts for Real Madrid fans, although quite subjective, can be hard to come by in the States, and so, I decided to make a little list of the stuff that tickles my own personal fancy. Take a look at what I managed to dig up. From there, you can curate your own favorites.
There is a huge part of me that wishes I grew up in the 80s—mostly because of the fashion. I mean, who doesn't like the mullet/windbreaker combination?
Unfortunately, it's no longer socially acceptable to have a mullet, but I still think a windbreaker is totally doable. For a Real Madrid fan like myself, getting this sick Real Madrid windbreaker will both show off my fanhood and make me feel like I'm a cool guy from the 80s. As far as I'm concerned, that's a win-win.
For the times I'm watching the games at a local pub, wearing a jersey is probably the best way to show my off my alliance to Real Madrid. Adidas makes some great authentic soccer gear, and this jersey is certainly no exception. This official Real Madrid polyester jersey might make me a target for some criticism from some other fans of La Linga teams, but when I'm drinking, I really don't care what they think. They can call me a fair-weather fan all they want...
For someone who is, admittedly, a bit of a mess (especially when I've been drinking and watching soccer), I tend to stay away from wearing the color white. And this goes double when I'm at the pub. If you're like me, you might want to just opt for their black away jersey from adidas. Like my grandfather always says—you can still support Real Madrid without making a mess. Well, he never really said that, but it's definitely true.
Some people will tell you that Cristiano Ronaldo IS NOT the greatest soccer player that ever lived.
Those people are bad people.
Ronaldo is not just one of the top 10 soccer players in the world right now, he is the GOAT.
Ronaldo is, and forever will be, my favorite soccer player, so this replica autographed photo certainly serves as the perfect gift for me, or anybody that considers Real Madrid one of their favorite teams, or me... please? Realistically, the only thing better would be an ORIGINAL signed photo, but that would probably cost a few thousand, and let's be honest, nobody really likes me enough to spend that much money so...
Oh, fun fact: The goal in this photo was scored against his new team Juventus. Still a pretty badass goal though; just ironic.
Is it bad that this is the third time I've mentioned drinking since I started writing this? I swear I'm not an alcoholic. Anyway, this Real Madrid FC pint glass is perfect for those who like to get a little buzz on during the game, but don't want to spend some unnecessary monies at the bar.
Arsenal fans could even enjoy this gift—so long as they're a fan of drinking cold ones, none of that warm beer here please. Ice cold only. If they drink enough of them, maybe they won't even care about the logo on the front (and if they drink more then maybe they'll forget how poor they've played as of late).
For soccer fans that also happen to be soccer players—whether it be youth, club, or whatever—there is nothing more convenient than a drawstring backpack. In fact, it's pretty much a staple of all soccer players anywhere. This gym bag from Sportky is the perfect Real Madrid souvenir for hardcore fans like myself. With a logo spanning almost the entire bag, it's not hard to show off your favorite team to the world.
When it comes to soccer, there is nothing that truly shows your team spirit more than a flag. Other sports might use a giant finger or even body paint, but official Real Madrid fans will most likely opt for a flag of some sort. This Real Madrid banner is perfect for those types of people. You know, those trying to support their team without making a complete and utter fool out of themselves.
If you couldn't tell from this article yet, I'm basically a kid in an adult's body. When I was ACTUALLY a kid, I used to love doing puzzles, and while that hasn't really translated into adulthood, I think I might just start to dabble again after seeing this 3D Real Madrid puzzle. When finished, it's an exact replica of the stadium that I will probably never visit. But one can dream, right?
I'm not sure if you're aware, but it's been absolutely FREEZING out the last few weeks. While things have warmed up quite a bit, I still don't like to take my chances—I'm a scarf guy through and through. I have a couple boring black and white scarves, but I'm looking into something a little flashier. Especially if I ever find myself at an actual Real Madrid game. This particular scarf is perfect to do just that. Now, if only someone would buy me tickets and a flight to Spain... any takers?
You can't TRULY support your favorite football club if you don't have an official Real Madrid soccer ball, right? Well, fret no more, as we have this official-sized soccer ball loaded up with Real Madrid's logos. For someone like me that likes to kick the soccer ball around every once in a while, this certainly qualifies as one of the better gifts for Real Madrid Fans out there. And even if you don't play, well, it still makes for some pretty cool decor. Who knows? Maybe you'll get it signed one day?
Either way. Hala Madrid!

Brad Gould
I'm a sports nerd that has multiple fantasy teams in every sport. If you want to know who won the championship in any major sport in any year you've come to the right place.
See all posts by Brad Gould →