Best Gear for Manchester United Fans
Any Red Devils fanatics should check out the best gear for Manchester United fans ASAP.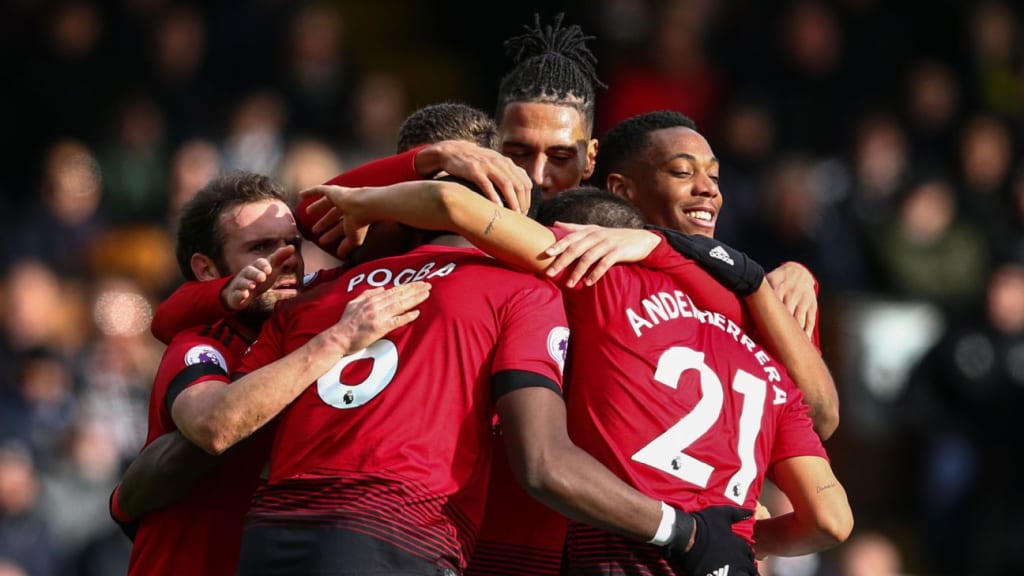 Most soccer fans can agree—Manchester United is one of the most iconic football clubs in the world. Their David Beckham era was certainly one that will live on in the memories of MU fanatics everywhere, but there is no doubt the club has an illustrious history, with or without him.
If you weren't aware, Manchester United has won more trophies than any other English club in the history of the Premier League, totaling 20 League titles, five League Cups, 12 FA Cups, and a record 21 FA Community Shields.
Additionally, in 2016-17, they became one of five clubs to win all three main UEFA club competitions, as well as the only English team to have won every playable competition. To put it short and simple—they're a legendary sports franchise through and through.
As a fan of the sport in general, I can't help but to respect Manchester United. My nephew, in fact, is a big time fan, and with his birthday coming up, I've been brainstorming some of the best gear for Manchester United fans. There is plenty to choose from, but I've managed to limit it to the top ten. Hey, at least I have some ideas for the next few birthdays... and Christmas.
While the future of Manchester United is up in the air, their legacy certainly isn't. It's hard to be a fan of the decorated Manchester United team and not own a jersey. If you're truly a diehard, you have to at least show off your dedication to the team, right? Well, this authentic home jersey from adidas will help you do just that. You'll be indistinguishable from an actual MU player once you don this thing. Sort of.
Any soccer player will tell you that a drawstring backpack is one of the, if not most, important pieces of equipment for the game. It's basically your hub for all things soccer—whether it be your water bottle, practice jersey, or shin guards. For my nephew, who plays youth soccer, this Manchester United gym bag is the perfect gift. In terms of Manchester United gear, this bag is a home run (Sorry, wrong sport).
Well if your soul is as as dark as mine, you might instead want to opt for their away jersey. The sleek, black sheen is definitely a better choice for people who aren't fans of the eye-popping shade of red. For an authentic jersey, it's also pretty reasonably priced at just about $60, so it's not like you have to break the bank to look like you once played under Ryan Giggs.
You don't have to be a Manchester United fan to love soccer, but you do have to love soccer to love Manchester United.
Damn, that was deep.
But seriously, anyone that's a fan of Manchester United obviously has a love for the sport as a whole. So if you're not only a fan, but a player who absolutely loves the game itself, getting yourself a soccer ball like this is probably a good idea.
In my older years, I've really come to appreciate socks as a great gift. While most of my socks are simply purchased for comfort reasons, there are other functions socks can serve—especially, in sports. These Manchester United Away socks are great for on-the-field action. Whether you play organized soccer, or just like to put the cleats on and kick the ball around, these will certainly serve a purpose. With mesh ventilation and advanced cushioning, they're also among the most comfortable on the market.
If you're looking to resemble a Manchester United player to a tee, you should probably consider investing in these training shorts that were worn by the team this past season. These official shorts of the football club are great for practicing, but are also just nice enough to wear on a day-to-day basis. You can really do your best Eric Cantona impersonation wearing these and the aforementioned soccer socks.
If you're not a fan of the Adidas socks—whether it be because of comfort or fit—then you can opt for these Home Manchester United soccer socks from SSKKZH. These might not have all the bells and whistles of the Adidas socks, but aesthetically, these look really cool. They're the same style sock the team wore for the 2018-2019 season, so they're certainly up-to-date in that regard. I'd definitely consider them some of the best soccer socks out there today, at least when it comes to Man U.
Unless you're playing in year-round leagues, soccer is typically played in the fall. Of course, as the weather is changing, it becomes difficult to adjust to the cool autumn breeze. One way to combat that, obviously, is by grabbing yourself a nice, warm hoodie. This Adidas Manchester United full-zip hooded sweatshirt is perfect for those looking to kick the ball around in the cooler weather without being, you know, absolutely freezing.
I'll admit, I'm not the biggest "hat guy," but that didn't stop me from purchasing this New Era Manchester United cap. After all, nothing says "I'm a fan of one of the most prestigious soccer clubs in the world" like a strapback hat with the MU logo front and center. I mean, it is one of the most legendary team logos of all time. Respect the Red Devils, fam.
Last but not least we have this Manchester United knit beanie, another item to help you combat chilly weather. Sure, it's not ideal to play soccer in frigid temperatures, but if the Manchester United team can do it, so can you (and my nephew). The insulation of this hat is actually unmatched by competitor brands, making it, hands down, among the best gear for Manchester United fans out there. David Beckham might arguably the greatest Manchester United player of all time, but there is no arguing that I'm their biggest fan.
Well, at least I like to think so.