Soulmates, the one and the red string of fate....
Have you found your soulmate or experienced the red string of fate? 🌌🌠🎆💞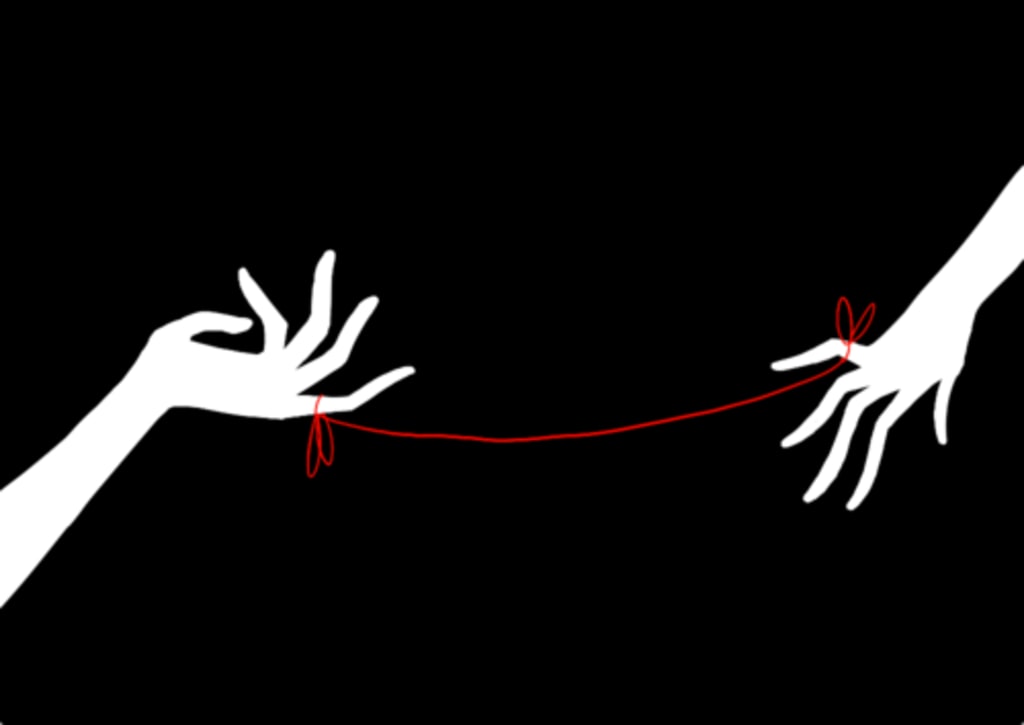 I grew up with the idea that finding "the one" could be possible, the idea that there truly is somebody special out there for me. Almost all the romantic films, especially Disney, have happily ever after endings. Do we also have happily ever after endings in real life? Will a prince come along and sweep us off our feet? 👑 👠
I believe that I have found the one, my soulmate, my prince and my other half after 23 years of being alone, waiting for the right person. I also believe that the red string of fate is more than just a myth!
Merriam Webster defines a soulmate as : a person who is perfectly suited to another in temperament
The definition of a soulmate defined by the dictionary doesn't exactly express my opinions well. So, my definition of a soulmate is somebody who you instantly connect with, you share common feelings of love, hopes and dreams, you live in harmony, with calmness and positivity.

A soulmate is somebody special that you had never met before, and never will again. They are unique, they mean the world to you. They are somebody who you can share the rest of your life with, they understand, care and protect you just like you do for them.
In my opinion, the red string of fate is more than just a myth, maybe the universe is sending a sign in ways that we don't even realise.
The red string of fate can be seen as a myth in Japanese, Korean and Chinese culture. The famous Japanese anime film Kimi No Wa (Your Name) illustrates the legend in a very beautiful, romantic, and incredibly moving way. The red string of fate legend says that there is someone out there for everybody in the world. Your paths might cross and change over time, but your destiny is to meet, so your paths will ultimately lead to each other in the end!
Here are a few reasons as to why i think the red string of fate is real based on my experiences....
🇪🇸 I carried out my placement year in Barcelona for 1 year in 2015 -2016 during this time, my fiancé travelled to Barcelona frequently, we hadn't met yet but we were in the same city, maybe our paths had crossed many times or we were near to each other, but we didn't realise.
🇬🇧 In 2017 as part of a day trip I visited Manchester with my sisters. At the same time, my fiancé was working in the centre. (He had moved to England temporarily for a new experience.) My sisters and I were close to the centre that day and around the city. My now fiancé and I still didn't meet there.
🇪🇸 In 2019 we were both in Spain again. I moved back in June 2018 and my fiancé moved back home in October 2018. We matched via a dating app in February 2019. Everything about the first messages we exchanged felt strange, I felt as though our souls touched and connected instantly. My fiancé was very handsome when I met him, and now 3 years later he is even more beautiful. We both fell in love fast, it was natural and we couldn't change the pace. His eyes spoke to me as if we had known each other for years, his words were special and filled my heart with happiness, he made me feel butterflies and excitement; maybe it was love at first sight, because I couldn't explain this feeling when I first met him.
I felt like I had finally met someone interesting, sweet and incredibly unique. The way he spoke to me felt, different. After a few weeks of speaking on the phone, we planned to meet in Girona for our first date. I love photography, although I am not a professional, taking pictures as a hobby seems like a good start for now. I always take photos whenever I can, I can see the beauty in nature, architecture, random buildings and streets. Little did I know, I actually took a photo literally outside the buildng where my now fiancé lived and I was right next to his work place, which I had absolutely no idea about! After I posted the pictures from my trip to Girona, he told me that I took a picture outside his house. Of course the first thing I thought was how strange that was, as I was walking quite a bit around Girona and to take a picture of that exactly... we were quite puzzled and didn't expect that at all!
These are the reasons that made me question the red string of fate and the idea of soulmates existing. These experiences are small, but maybe we weren't supposed to meet before in the past, we were destined to meet in 2019.
3 years later, and I still feel butterflies in my stomach and I'm just as excited to see him after not seeing him for the whole day or even just a couple of hours.
I have found my soulmate, he is the one, my other half and on the other end of the red string. He makes my life brighter and happier each and everyday. Since I have met him I no longer feel alone in this crazy, big world. I have someone to share adventures with, someone I can care for and give all my love and more.
Have you found your soulmate or felt the red string of fate yet?
body
About the author
I have been writing a few things for a while, but now I'm brave enough to share it!
I like writing blogs about real situations and poems about love.
Please show your support with a ❤️. Thank you 😊 .
All nature photos have been taken by me.
Reader insights
Be the first to share your insights about this piece.
Add your insights