SEND NUDES!
A guide to Nude Lipstick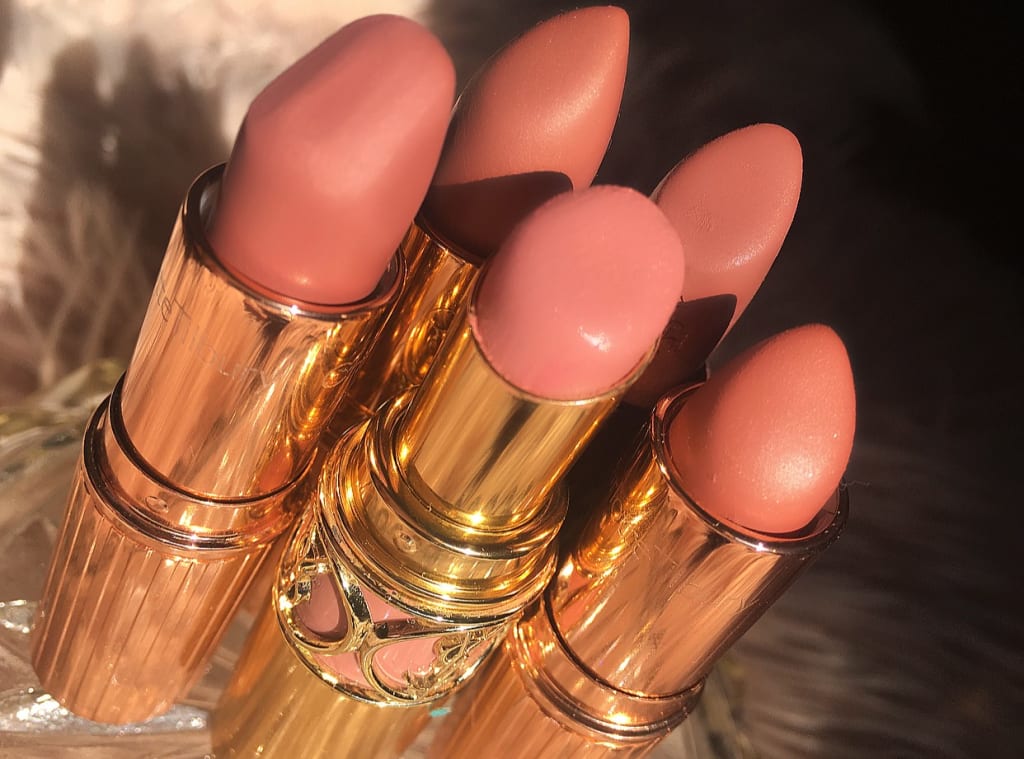 Photo taken by Rose Alexa
Ah Covid-19; it's the word that seems to be on everyone's lips at the moment. But today I want to talk about something else that used to be on our lips and that's Lipstick! More specifically nude lipsticks!
Nude Lipsticks! Where do I even begin?!
A nude lip can be interpreted differently for everyone, for some people a nude lip could be a shade that mimics their natural lip colour, or possibly a colour that is either one shade lighter or one shade darker than their natural lip. Annnd then there's the 2000's 'concealer lip' (No judgment if you're still rocking this naughties trend)
When it comes to a nude lip, for me personally I like to use my client's natural lip colour as a guide when choosing their nude shade. That is of course unless they already have their ultimate go-to colour which then I am more than happy to apply for them.
In this (very belated) blog post I want to take a trip down memory lane and talk about how to go about choosing the right nude for you as well as little tips and tricks that I have picked up in my time working within the makeup industry. Some of these tips and tricks you may already be aware of and that's great! But today I want to share this with people who aren't aware of them, and hopefully be- able to give them a little 'helping hand'.
****As always all opinions are my own and of course please do your own research****
Let's start with product testing!
Testing makeup at the moment is a complete and utter no-no thanks to Covid-19 and could possibly continue well after the global pandemic is over. It's very un-certain whether or not we will be able to test makeup in the future again, there is a high chance that all cosmetics testers will be removed entirely OR endure thorough disinfecting. I know when I used to manage the Napoleon Perdis cosmetics counter in Myer I would make sure that all the testers were thoroughly cleaned and disinfected before use… I still do this today with my professional makeup kit.
My guess at this stage is most likely a no to testers, or alternatively the client could be given individual card samples; Charlotte Tilbury is known to give card samples with her orders (I know this because I shop there way too much – and have indeed been given lipstick samples from time to time)
This finally brings us into how to go about testing lipstick!
Firstly...
DO NOT TEST ON THE BACK OF YOUR HAND!!!
The skin tone on the back of our hands is different to the skin tone of our lips; instead test the shade on your finger tip. WHY? Because your fingertip has a blue red undertone that's closer to your lip!
Now onto the nudes themselves…
When it comes to nude lipsticks I like to pick out a few different options that are either one shade darker or one shade lighter than the natural lip colour. Opting for a shade that replicates your lip colour can result in making you appear washed out.
"What if my Lips are too pink?!" well one; you're very lucky! And two that is easily fixed!
If you're one of the lucky people who have a prominent natural lip colour pat a little excess foundation or concealer over your lips. If you go ahead and use too much it's going to be way too thick and heavy. Using your fingers pat the excess product over your lips making sure to fade out across your lip line. A little natural colour peeking through is always good!
Before I conclude this blog I just want to address the "Using your nipple colour" for your nude lip shade…..
FIRST OF ALL it's the areola; the area around your nipple.
AND SECOND they can change colour with heat, cold, blood flow and hormone levels.
Please also note that the hue of the areola could be too light and end up washing you out. This 'method' is definitely not full proof for everyone and not a 'rule' to follow. Honestly for me it's just a no with a double cherry on top!
Thank you so much for taking the time to read this, it is very much appreciated! I am well aware that I've put this post out very late and should have been posted pre-covid.
Please stay well and safe! And remember, just because we're stuck at home doesn't mean we can't look and feel good! <3
Signing off with lots of love
Rose Alexa xx