My Essential Makeup Products
My top 10 must have makeup products.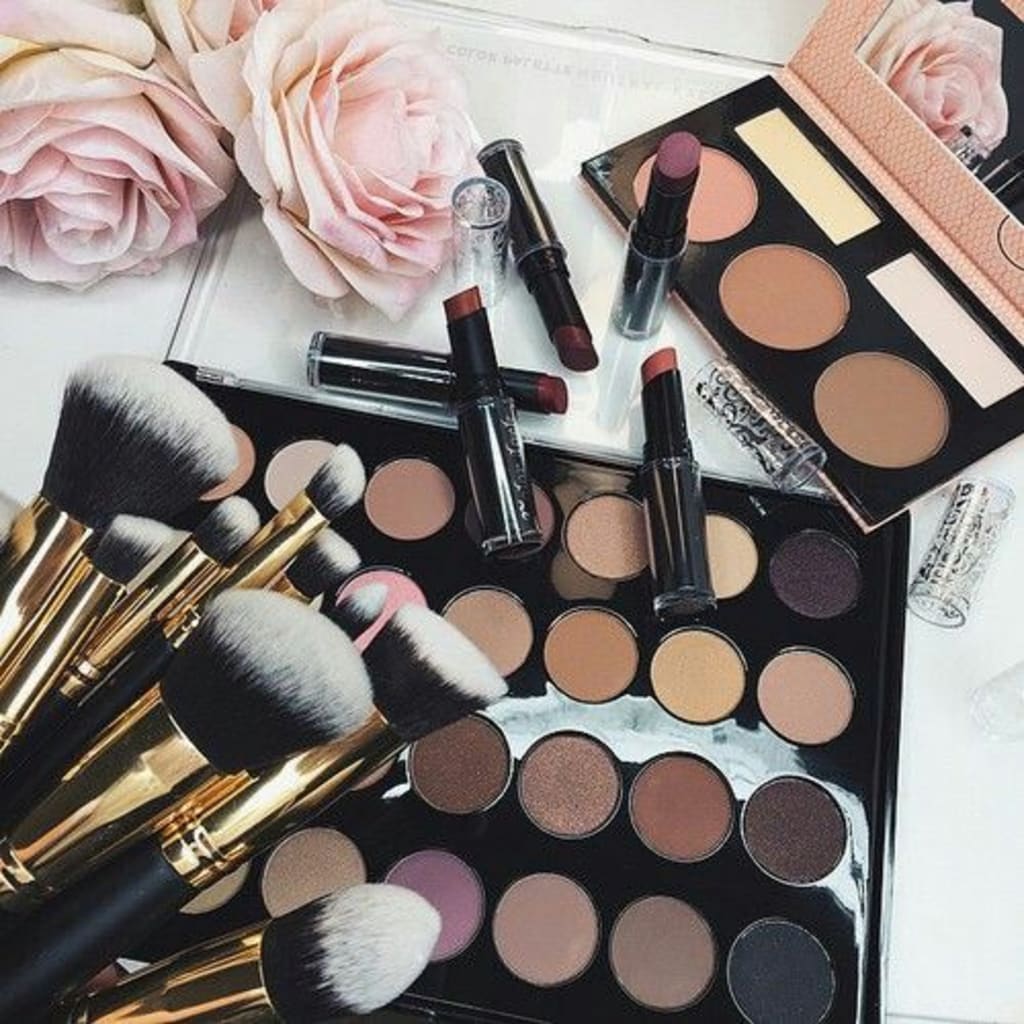 Original photo from Favim.com
I have always loved playing around with makeup! Over the years I have stacked up a pretty large makeup collection, but there are only some products that I continue to buy throughout the years. Whether I use it in a total, full face, glam look or just for my everyday makeup, this is my list of must have products (in no particular order)!
THE HOLY GRAIL! One night I flew out of California at 10 PM and didn't get home until 9 AM the next day. With one of my college classes starting at 11 AM that day and running on minimal sleep, I didn't have much time for anything but a nap, some coffee, and a quick swipe of concealer on my under eye bags. I'm talking some bad under eyes, like I-clearly-am-jet-lagged-and-need-sleep under eye bags, under eye bags that screamed "please get me a bed. NOW". And with a couple layers of Tarte Shape Tape concealer I looked fully rested! I swear this stuff works magic. It is the perfect consistency and comes in so many different shades. The applicator is similar to a lipstick applicator so the product can be super easily glided on. It also works great for contouring because it blends well and is buildable. For best results I blend mine in with a beauty blender and then bake over the top of it with translucent powder.
I used to use Anastasia Beverly Hills Brow Powder Duo but I noticed that the product easily wiped off & smudged. Product also very easily got onto my skin and fallout was very common. I've only been using my Ka-BROW for a couple months now but the difference is evident! This product never has fallout because it is creamy and stays in place very well, that does make it a little harder to remove at night when washing my face but I don't mind that. It is very pigmented but only really spreads onto your brow hairs and not your facial skin so it's definitely a faster application as well because I'm not worried about making such a mess. It's also very buildable so I use this product for both glam looks and everyday makeup.
This lipstick is by far the best I've ever used! It applies so smoothly (even when my lips are chapped) and dries in seconds. It also doesn't smudge and stays on for a pretty long time! I ate two meals and it was still looking great afterwards. The liner and the lipstick show up as the exact same color which might seem like an obvious but some cheaper brands like NYX have a subtle difference in shade when using the exact same liner and lipstick color name. This is the only lip kit I have so I can't say it's my favorite shade out of all of them but I really do love the color. I goes especially good with my darker hair. All of Kylie's lip kit also feature a signature "vanilla" scent, which smells extremely delicious. It's a deep brownish red shade, eye catching but not too out there. I use this for everyday makeup and glam looks.
I usually only use foundation in glam looks and not my everyday makeup but a beauty sponge is a definite must when it comes to applying foundation. Applying foundation with your fingers is a clear no-no! Germs can spread very easily from your fingers to your face and it's easily to clog your pores when using your fingers to blend. I often use foundation brushes to first apply my foundation and then use my beauty blender to blend it out. A sponge gives you a much more natural and blended look compared to a brush. I also use my sponge for baking/contouring.
This eyeliner is AMAZING! It's a liquid product but it comes out from small bristles and is very precise. It's also waterproof and only takes like 5 seconds to dry, so once it's on your eye it's on there for the day! Sometimes it doesn't come out very evenly so I have to shake the tube, but that usually only happens when the product starts to run out. I usually only use eyeliner in glam looks but I've gone through 3 tubes of this because I love it so much!
My Sephora concealer brush looks a bit different from this one but it's years old so they probably just changed the design. This brush does absolute wonders for concealing and blending things out! In all honestly though, any concealer brush is better than using your fingers! Like I said earlier it's very easy to get pimples if you are using your fingers (or unclean brushes!) for your makeup application. If you have problems with acne this is a complete must have! A little concealer or even foundation on this brush and then dabbing it on to a pimple until it's covered works so well to hide blemishes. This brush is a total necessity for glam and everyday looks.
I mostly use this powder for baking. It's super fine so it blends into your pores really easily and sort of blurs them out. It definitely makes the pore on my nose much less noticeable than if I would wear just foundation without this powder. I've bought three of these so far because nothing else compares but you definitely get a lot of product in each container. I mostly use this product for glam looks but you can also swipe it across an everyday makeup look to keep foundation set.
I truly don't know what I would do without this product! It's a tad bit tinted so it gives you a bit of coverage before you even put foundation on. It drastically reduces the look of my pores, especially around my nose, chin, and forehead. The formula is ultra creamy and super smooth so it blends so easily. I don't think it is very moisturizing so I often pop a couple pumps of moisturizer on my face a few minutes before doing my makeup. If you have ultra dry skin like me, a close second to this product is Urban Decay's Optical Illusion Primer, which doesn't have a tint and isn't as easily spreadable but I think provides much more moisture than POREfessional.
$31 (or smaller version for $12)
This mascara has been my go-to for so many years. It provides the perfect amount of both volume and length to lashes. I've never been able to find a mascara that compares to it! The bristles are pretty strong so they comb through lashes with super minimal clumping. It also stays on very well but a downside to that is that you will need a very good makeup remover to get this off! Never leave makeup on overnight! Especially around your eyes.
This brush is super soft and ultra versatile! I use it for powder foundation, translucent powder, pressed powder, contouring, blending, and baking. It might seem a bit pricey, but trust me, a good brush goes a long way.
Thank you for reading!
If you want more makeup product articles message me on instagram! @coleykimmy