Most Unusual Lipstick Trends of All Time
There have been so many makeup trends these past few years; even lips themselves have their moments. These are the most colorful and unusual lipstick trends that people still pull off to this day.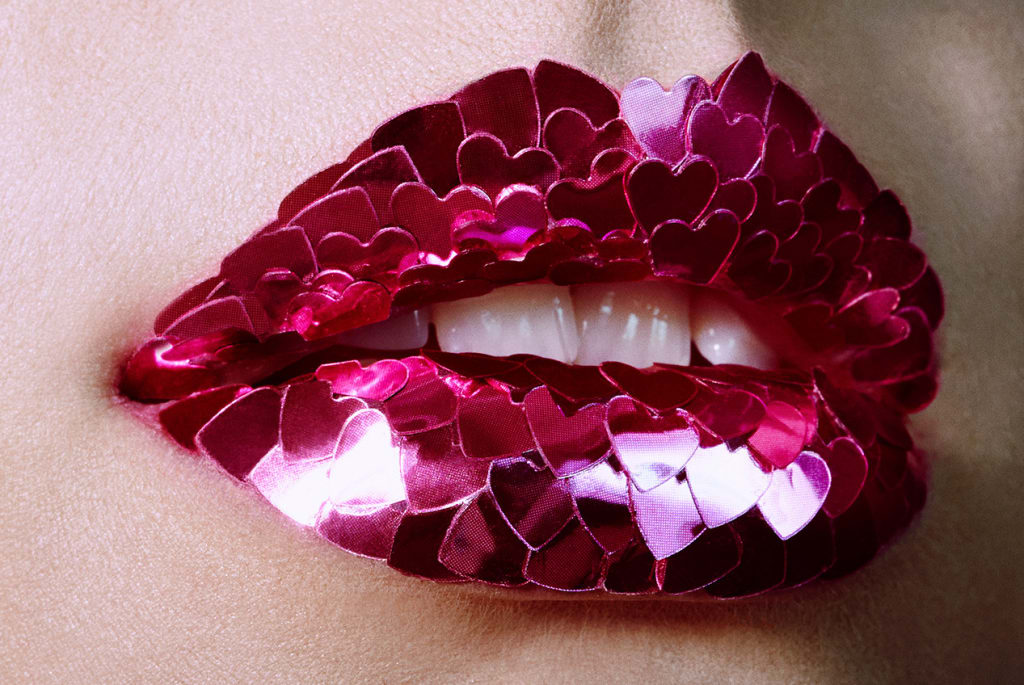 Ever since cosmetics became a huge part in the beauty industry in the past few years, makeup artists and lovers all around the world are getting really creative with it. They've started coming up with ways to make makeup more of an art form than just pampering the face. Through cut creases, contouring, sharp wing eyeliners, and ombre lips, these artistic people really enjoy playing around with makeup and coming up with unique trends that soon inspire other makeup lovers to do the same on social media.
Lips have fallen victim to these trends and people are always coming up with ways to use lipstick as an art form. Cosmetic brands like MAC have used lipstick trends as a way of advertising their latest products. Not to mention, some of these trends are stunning in so many ways, but difficult to pull off. And once a lipstick trend is out there, nearly everyone is doing it—for the sake of Instagram. These trends inspire many more and it's basically a never-ending cycle. To be honest, a lot of these trends aren't practical. Unless you can pull off the drippy lips trend on a night out, then go you. So, these are the unusual lipstick trends that are always running through the makeup world in the media and people can't get enough of them.
Lollipop Lips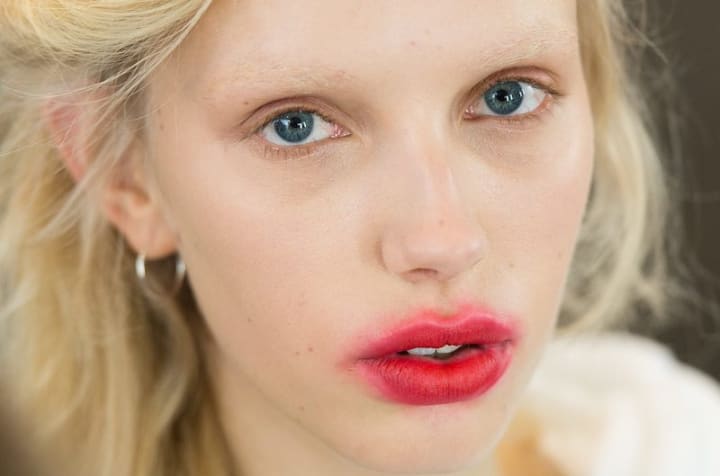 For starters, the lollipop lips seem like the messiest lipstick trend by far. There are so many ways to pull off this look and many makeup lovers are being super creative with this trend. People apply on a solid color before blending the color around their lips and putting on gloss on top—for glossier lollipop lips. Others just apply on a solid color and blending that color around the lips.
Overall, this is one of the more odd trends that end up having smeared lipstick around your lips. Makeup artists enjoy combining more than one color and blending them all around the lips for a lollipop, ombre look. Lollipop lips are also seen as one of the most ridiculous makeup trends by numerous people.
Squiggly Lips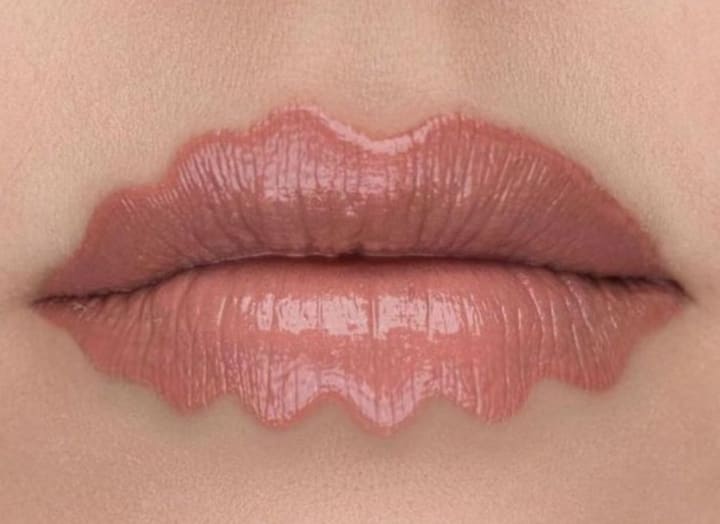 Squiggly lips is another lipstick trend that's similar to the lollipop lips. The one way it's similar is that you're applying lipstick over and around your lips—that's what gives it the squiggly appearance. Among the more unusual lipstick trends there are today, squiggly lips were inspired by the squiggly eyebrow and eyeliner trend.
Just like how you would outline your lips with lipliner, you draw out the squiggles and fill them in with either the lipliner itself, a matching lipstick, or liquid lipstick. You can even use lipsticks under $10 to achieve this look. People sometimes use multiple colors for this trend, but either way... it frightens me.
Glitter Flip Lips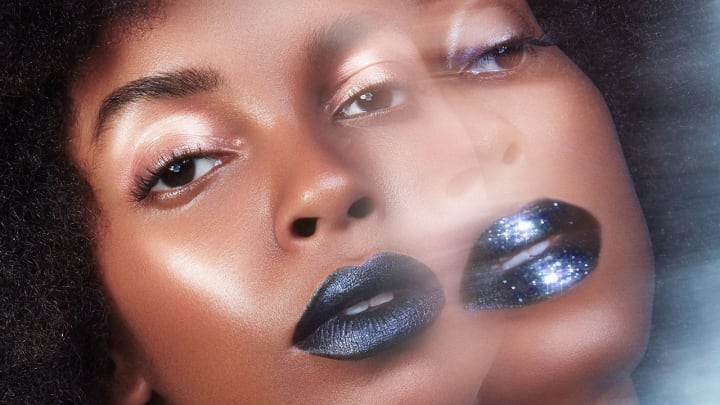 Now, there's actually a lipstick out there that goes from matte to metallic glitter once rubbing your lips together. It's the Glitter Flip lipstick by Ciaté London and it's actually magical. Even though it's not a trend someone created, it still considered a widely popular trend among makeup lovers.
From stunning colors like berry, teal, dark purple, light pink, and others, the Glitter Flip lips is probably a trend anyone can easily pull off. If you can get your hands on the liquid lipstick, you'll see what the big fuss is all about. It's two different types of lipsticks in one! It's no shocker that this is among the coolest, but unusual lipstick trends out there.
Furry Lips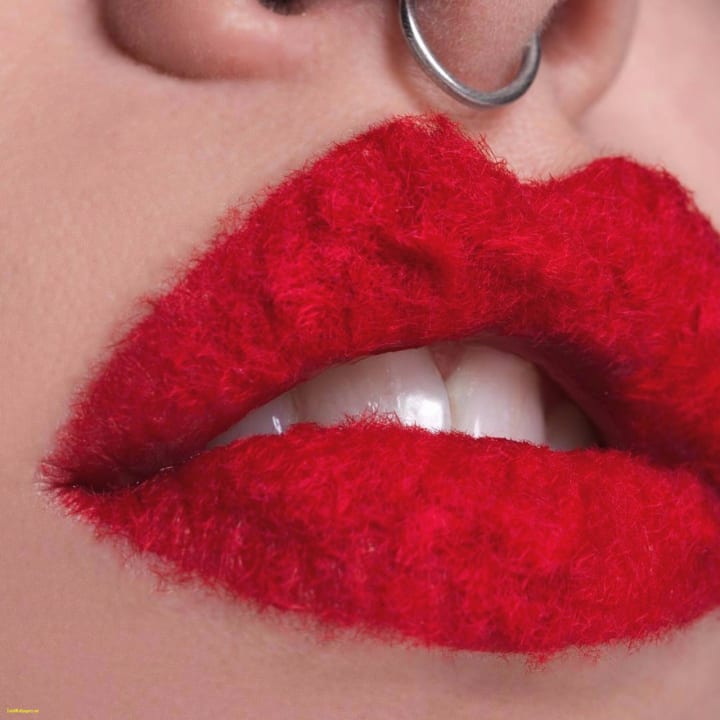 Okay, this one's weird. Furry lips really shouldn't be a trend because not only does it look super uncomfortable, but imagine getting a hair, or two, or eight caught on your tongue? You'll be searching for strands of hair in your mouth for decades.
Personally, I don't know how these makeup artists apply the fur onto their lips. Either they can buy it in one piece or they actually glue chunks of fur onto their lips. And what about smiling when having furry lips? Everything will just fall right off. It's cool in a way, but it's certainly not a trend for everyone.
Jeweled Lips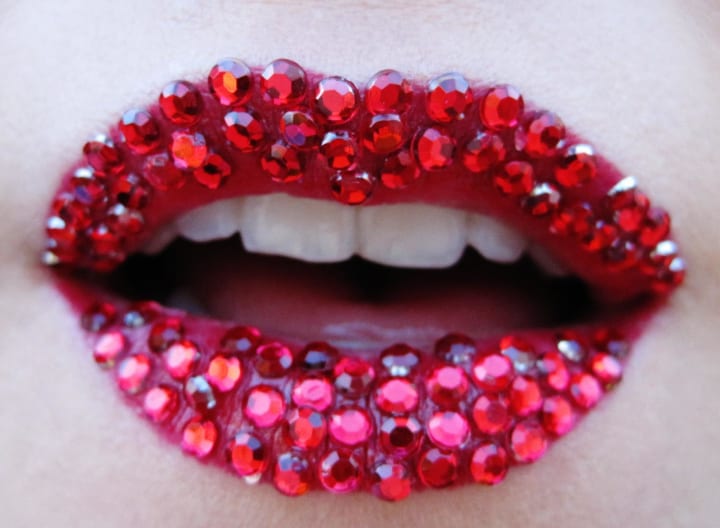 Among the unusual lipstick trends, the jeweled lips are absolutely stunning. You can be as creative as you want with this trend. There's only so many types of jewels out there to glue onto your lips. And as much as the jeweled lips look super sparkly and glamorous... don't smile. Everything will completely fall off and you'll end up with just dots of glue on your lips.
The jeweled lips are actually one of the first lipstick trends in the makeup industry. The trend is used in so many makeup ads that makeup lovers started doing it themselves.
Drippy Lips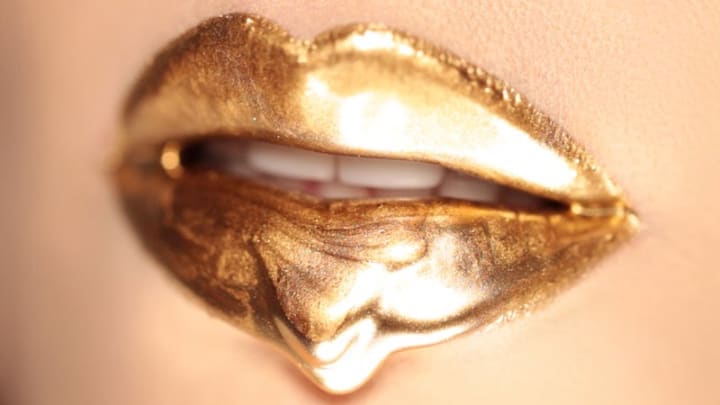 I'm sure those who pull off the drippy lips trend were inspired by Kylie Cosmetics' packaging. However, this one is quite simple to achieve, but difficult to snap a photo of. You just have to apply a heavy amount of pigmented lipgloss onto your lips and allow it to dribble down. No one can really go out and pull this trend off.
The drippy lips trend is usually done just to get a really cool photo to post on Instagram. And I don't blame them. I actually find this trend to be pretty cool, because it looks like your lips are melting like a popsicle. It can be hard to get a good photo of, because you want to get the precise driblet at the right time. My personal favorite is the drippy gold lips—it looks mesmerizing.
Holo Lips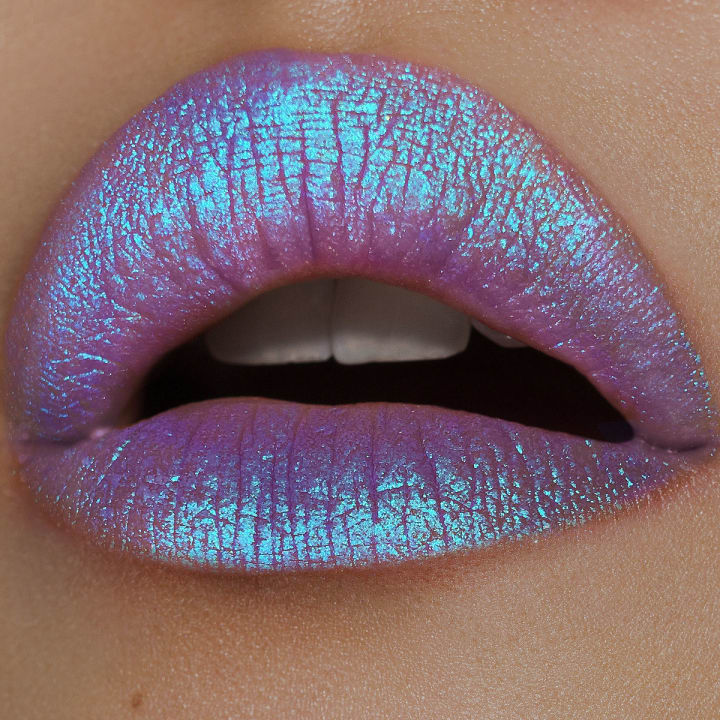 Holo lips are damn awesome. If you have the right amount of gloss and the right amount of holo, you've got yourself a great pair of holo lips. So many cosmetic brands are releasing holographic lipsticks, but many of them aren't as pigmented as we expected. When we think of holo, we expect this shiny, metallic rainbow pigment.
So, it's no surprise to find holographic lips as one of the unusual lipstick trends. Holograph is now found everywhere in the world of beauty. From nail polish to highlighters and even eyeshadows, the holo lips trend was bound to happen. But none of us are mad about this beautiful trend.
Flower Lips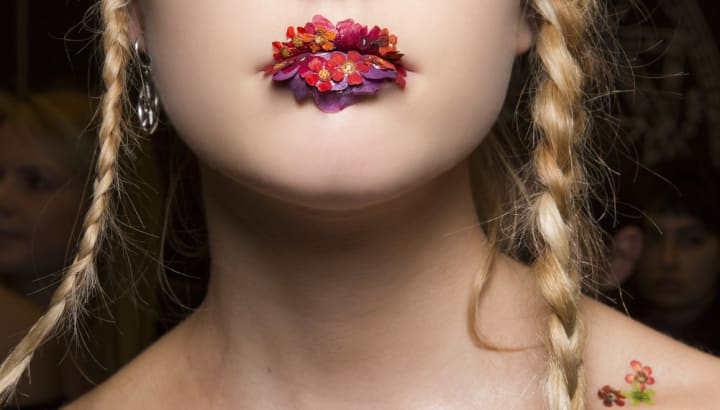 Floral, vibrant, and blooming, flower lips is a stunning trend that can be done by gluing tiny flowers to your lips or just drawing flowers on your lips. Either way, this is a trend that shouldn't die down. It's unique, colorful, and there's so many ways to create flower lips.
While it may be difficult to glue on the flowers, there are easy ways to draw simple flowers onto your lips. Flowers aren't just part of the lipstick trend also, it's also widely popular in eye makeup, too.
Rainbow Lips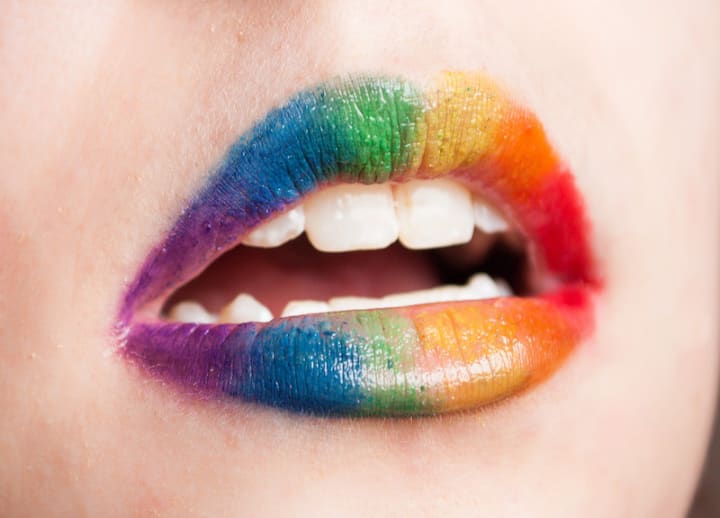 Hugely inspired by the San Francisco Gay Pride Parade in 2014, the rainbow lips are definitely one of my favorites from the unusual lipstick trends. While it looks like you've kissed a rainbow, this lipstick trend is pretty easy to create yourself. You just need all the colors in the rainbow!
There's also so many ways you can create rainbow lips. Adding glitter or gloss, take pride in your rainbow lips! And you don't have to have every single lipstick color to create this look, so many people use cream eyeshadows to achieve rainbow lips. Just use the magic of makeup!
Mermaid Lips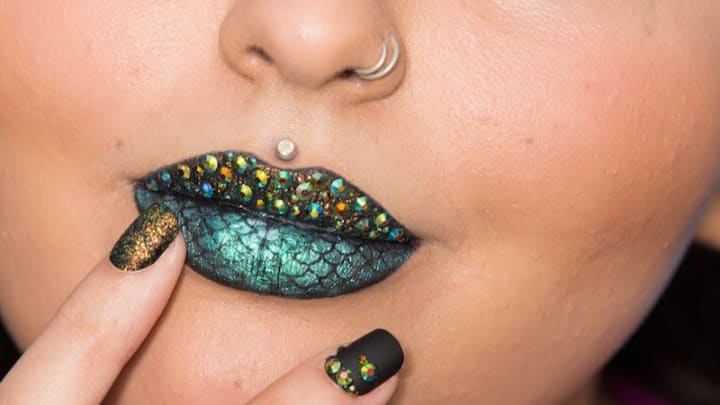 Lastly, the magical mermaid lips are one of the coolest, but unusual lipstick trends in the beauty world. This trend is on the more difficult side in creating, because you'll need certain colors, pigments, and even tools to get the best looking mermaid lips. Or you can just apply on any type of blue lipstick and highlight the center of your lips for that scaly tone.
However, makeup artists do go all out when it comes to mermaid lips. They'll take out their fishnet stockings, place it over their lips, and use a mermaid-tone eyeshadow to apply it over the fishnet for that scale appearance. You can also draw scales on your lips, too. And don't forget highlight and glitter! It's not mermaid lips without a touch of magic.