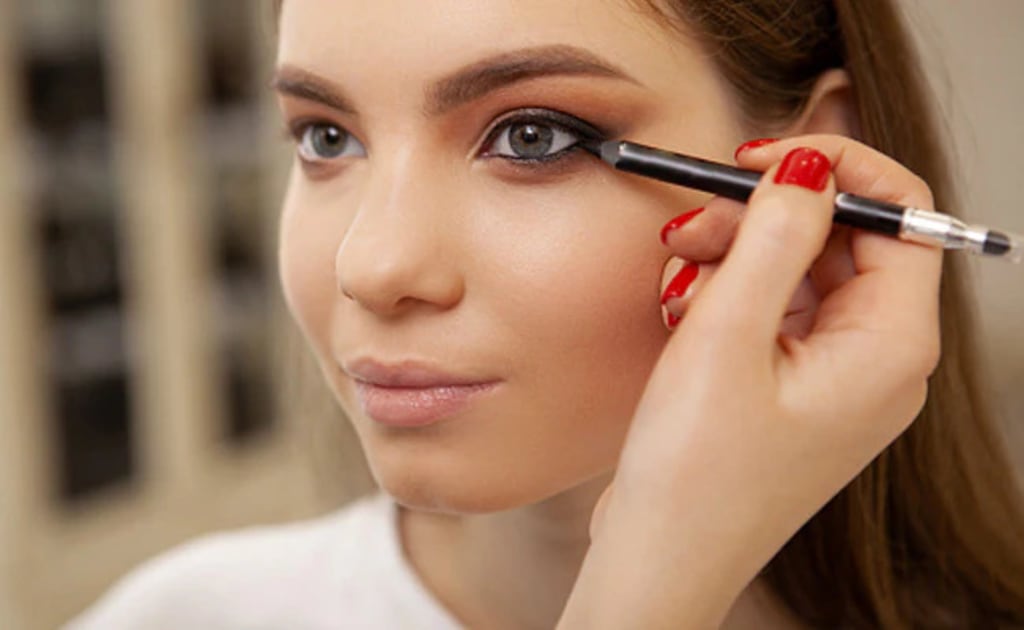 From ancient civilizations to modern times, the application of eye makeup has not only served as a means of enhancing one's physical features but also as a powerful tool for communication and self-confidence.
The world of eye makeup is constantly evolving, with new trends and innovative products emerging regularly. From holographic eyeshadows to multi-colored mascaras, the beauty industry continues to push boundaries, providing individuals with limitless options to experiment and redefine their looks. Whether you opt for classic cat-eye makeup, a bold smoky look, or a vibrant pop of color, eye makeup empowers you to tell your unique story and confidently face the world. It is still difficult for many of us to create a smudge-proof and long-lasting kajal look. But worry not! We have some tips and tricks for you!
Creating a smudge-proof and long-lasting kajal involves a few steps for optimal results:
1. Prep and Prime - It is advisable to clean the face before applying any kind of makeup. So, you need to begin by cleansing your eye area to remove any oils or residues. You can use any mild face wash or cleanser for this process. Having a clean canvas is really important for a fresh start. After you finish cleaning and drying your face, apply a thin layer of eye primer or a translucent setting powder to your eyelids and waterline. This creates a smooth base for the kajal and helps prevent smudging. Optionally, you can set the primer with a translucent powder to prevent creasing.
2. Use Quality Kajal - Kajal comes in different formulations, and we need to choose the best kajal for our eyes. Try to invest in a high-quality, waterproof, and smudge-proof kajal pencil or gel eyeliner. These formulations are designed to withstand humidity, moisture, and rubbing, ensuring your kajal stays in place throughout the day. Go for the kajal you find most suitable for you, be it a black, brown, or blue kajal. Never compromise on the quality of your kajal. If you prefer traditional kohl or kajal powders, consider mixing them with a small amount of water or a sealing gel to create a long-lasting paste. Then store this paste in a small container for further use.
3. Layering Technique - Instead of the thicker layer, apply the kajal in thin layers, gradually building up the intensity. Start by lightly lining your waterline or lash line, and then let it set for a few seconds before adding another layer. Give yourself time and repeat this process until you achieve your desired level of darkness. It may take more time than usual, but it will give your eyes a more intense and long-lasting result. Don't forget to allow each layer to set for a few seconds before you add more. If you're using a kajal pencil, you can set it further by gently pressing a matching eyeshadow or matte black eyeshadow over the kajal line.
4. Setting and Sealing - To further enhance the longevity, set your kajal by lightly dusting a matching matte eyeshadow or a translucent setting powder over the applied kajal. This helps lock the color in place and prevent smudging. You can also consider using a makeup setting spray to seal everything in and ensure your kajal lasts even longer. Setting spray helps you prevent sweat and oiliness. So, go for the setting powder or spray for the final touch!
To maintain the perfect kajal look, you also need to avoid touching or rubbing your eyes frequently. It is definitely going to maintain the longevity of your kajal.
Not everyone has the same skin or the same kajal. So, individual results may vary based on skin type, environment, and the specific products you use. Experiment with different techniques and products to find the combination that works best for you. Spend time knowing your priorities and choosing everything according to your requirements. After you're done selecting the products, these tips may help you make your kajal smudge-proof and long-lasting. Go and rock any occasion with your kajal now, be carefree!
Reader insights
Be the first to share your insights about this piece.
Add your insights