Jeffree Starr BloodSugar Palette and Lovesick Collection Review!
Makeup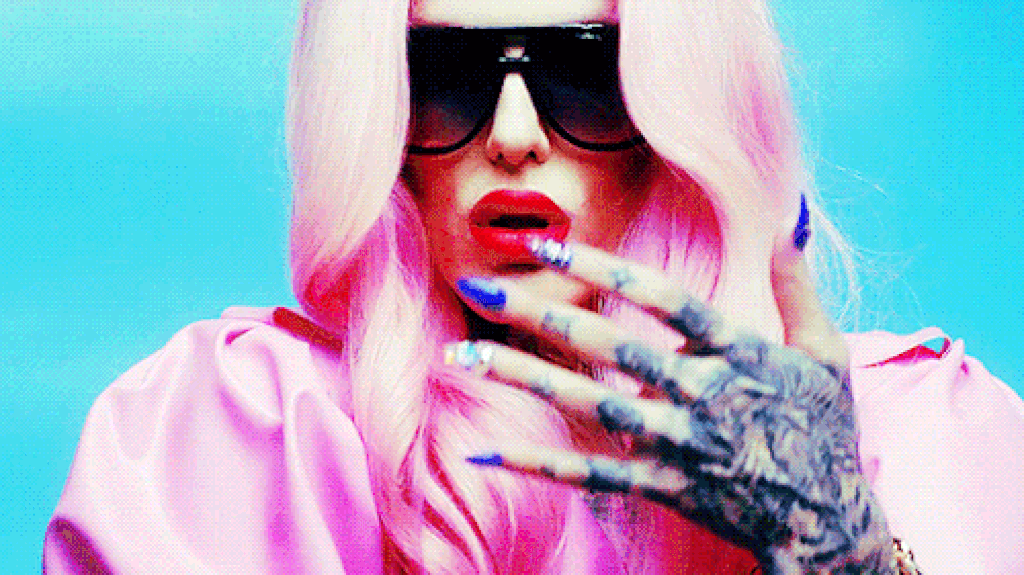 This past February, Jeffree put out his Lovesick Collection just in time for Valentine's Day, BUT since I've been broke I just NOW got my hands on it! So as late as this may be here is my review of his coveted collection and my final thoughts! Is it Chelsea Winona approved??? ... KEEP ON READING TO SEE!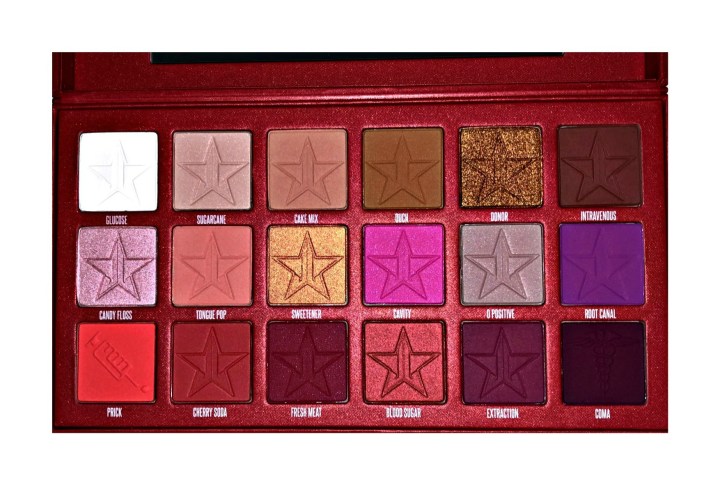 First off we are going to DIVE into this Eyeshadow Palette! Bitch... He didn't disappoint! This feels heavy! Almost like I want to take out the eyeshadows and put my own crap in here! It retails for $52. A little steep considering that most palettes cost about $45, but it's Jeffree, so you already knew that I was going to pay the extra moolah! The palette altogether has 18 shades, including from left to right: Glucose, SugarCane, Cake Mix, Ouch, Donor, Intravenous, Candy Floss, Tongue Pop, Sweetener, Cavity, 0 Positive, Root Canal, Prick, Cherry Soda, Fresh Meat, Blood Sugar, Extractor, and Coma.
Glucose: Is a matte white shade with a ton of pigment! If you are using this to highlight your brow bone, you better get a teeny bit on the brush because it is a BLINDING white shade!
SugarCane: Is more of a taupe shade with a pink undertone! Gorgeous color and a great transition shade. Girl, this eye shadow color was made for the crease!
Cake Mix: Is another taupe transition shade. It has peachy undertones. Pair it with SugarCane and your crease is bound to slay!
Ouch: This shade is more of a sienna brown. I would generally use it above my crease to make my eyes look bigger. This shade could also be used as a transition, depending on the look that you are going for!
Donor: Is one of the four shimmery shades in the palette. It is that perfect dark bronzey gold shade that you would use if you were going for a more neutral tone glam. Overall, I love the pigment that this gives off. It is insanely beautiful!
Intravenous: Is a muted red-purple, almost a dark berry shade, if you will. This would be a great shade to use for the outer V of the eye if you were going for a pink glam look!
Candy Floss: Is definitely the cotton candy pink shade that you would expect from Jeffree. It is the second shimmer shade and it is absolutely gorgeous! It works well with a brush, has great pigment, but if you use a finger or wet the brush with some setting spray it is blinding!
Tongue Pop: Is a light coral transition shade. It could also be smoked out under the eye to bring all of the colors together depending on your look!
Sweetner: Is another one of the shimmer shades. It is a true gold shade that could be used for a highlight in the inner corner and brow bone or all over the eye if you want to be noticed!
Cavity: This is another one of Jeffree's signature pink shadows. I have seen consistently in all of his palettes where he includes at least one hot pink shade. This does not disappointing! Super Pigmented, and looks great with any pink glam!
O Positive: This is one of those shades that is extremely versatile. It has a little bit of shimmer to it, but not so much that it could be classified as a true shimmer shadow. It is a nude color that would be great as an all over color, crease, Inner V. Honestly the works!
Root Canal: This shade is gorgeous in the pan, and stunning on the eye! I want to cover my body in this color honestly! It is a violet purple shade, but it isn't a dark shade. It's very blendable and feels buttery!
Prick: This shade is a true red shade. To be honest, this shade did end up staining my eye, but I was not mad at it because it was very pigmented! It is hard to make a true red shade, but Jeffree brought it with this one, So props are definitely required! Well done!
Cherry Soda: This is a darker red, and it is truly STUNNING! I used it in my crease and on my under eye. Smoked out with Fresh Meat and Intravenous. I should have snapped a picture because these colors together are gorgeous! They literally melted into each other!
Blood Sugar: This appropriately named shadow is the last shimmer shade. It is a darker almost metallic red. I used it in the inner V of my eye and it was gorgeous!
Extraction: This shadow is a dark mauve shade. Great for the outer V, but it could be used all over. Extremely versatile!
Coma: The last shade is a dark purple. Do not pack it on the eye, because I did and ended up looking like I got punched in the eye! I'm honestly not mad at it, because of the pigmentation!
Overall, I love the Palette, the packaging is incredible. The attention to detail was amazing and I loved that he stamped the bottom left and right shadows (Prick, and Coma) with a needle and medical symbol! The packaging was like I said, very heavy and it felt expensive. The shadows were also amazing! The colors are extremely versatile, and I feel like you could create so many different looks with the 18 shades. Let's talk about that as well. You get 18 shades which is four more than with the usual Sephora or Ulta Palettes. The pans are huge and you are definitely getting your money's worth! The shadows are extremely buildable. They blend out nicely and the formula is the bomb.com. Of course, this Palette is Chelsea Winona approved, was there even any question that it wouldn't be?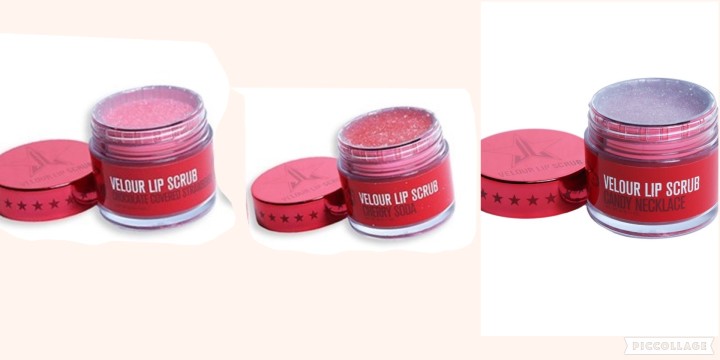 Next up, The Lovesick Collection. Jeffree put out three more Velous Lip Scrubs. The flavors are from left to right: Chocolate Covered Strawberry, Cherry Soda, and Candy Necklace. Honestly, the formula is the same. They all scrubbed my lips like they were supposed to. My favorite was definitely Chocolate Covered Strawberry. I am a sucker for anything that even remotely tastes like chocolate, so that was delicious! Cherry Soda was next in the flavor ranking. It smells like sugary, overprocessed soda, but I was surprised that the flavor was actually very good. Candy Necklace was my least favorite. Honestly, I just did not like the extra sugary flavor, but I was not mad because it did its job. Also, if you are not aware and were wondering, these are vegan and totally safe to eat!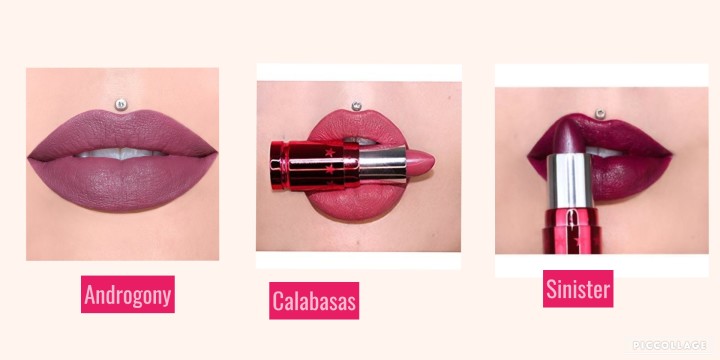 With this collection, he made three Lip Ammunitions. He brought back Androgony and Calabasas, which are already Velour Liquid Lipsticks, but they were requested so much, that he came through in the collection! Sinister is a new shade. It can honestly be compared to Berries on Ice from his Holiday collection! They are almost the same shade. So unless you really like wearing dark berry colors I would save my money and only buy one!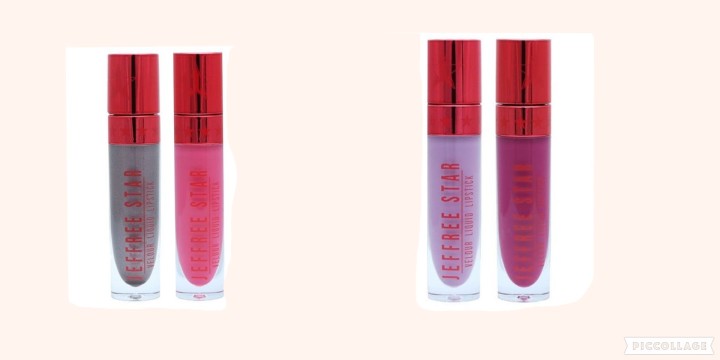 Jeffree also put out four New Velour Liquid Lipsticks. Including from left to right: Restraints, Romeo, Self Control, and Problematic.
Restraints: This was a Gray Metallic shade that was very unique. I found the formula to be a little patchy. You definitely needed to swipe on a couple of coats to fully get the color on the lips. In person, the color is beautiful, but you will need lots of patience to get it just right!
Romeo: This shade was a beautiful coral pink shade. I only had to swipe once for full coverage. I see you Jeffree! This shade went so well with the BloodSugar Palette. It matched my eye look so well! Well done!
Self Control: This was an adorable Light Lavender Purple. This made my teeth look kind of yellow to be honest, but the pigmentation was there so I wasn't completely opposed to wearing it. It might have to sit on the shelf so I can be prepared with Crest White Strips for next time!
Problematic: This shade proved to be a little... Problematic. The formula was patchy, and the pink looked lighter in certain places on my mouth. This is another dark berry shade that again could be compared to Berries on ice. Again, if you're not really into darker shades, I would save the money!
This collection had a couple of misses, but a lot more hits! I loved the Palette! The Lip Scrubs were amazing as always, mo surprise there! The flavors were extremely tasty... Yes, even Candy Necklace if you have a sweet tooth! I wasn't mad at it and it's worth a try! The lip ammunition was on point! The Liquid Lipsticks of Calabasas and Androgony were amazing, so I was NOT surprised that the Lip Ammunition did not disappoint! The Velour Liquid Lipsticks had two hits and two misses for me. If you are buying them separately, I would skip over the patchy ones! Overall, I love the collection and its EXTRA-NESS! It is definitely all approved and was money well spent!
Thanks for sticking around for all of the Jeffree Lingo!
Also, thanks for reading and please go and check out my other stories!