IMATS LA 2018 an Extravaganza of Makeup Artistry and Education
The World's Greatest Festivity of Makeup Artistry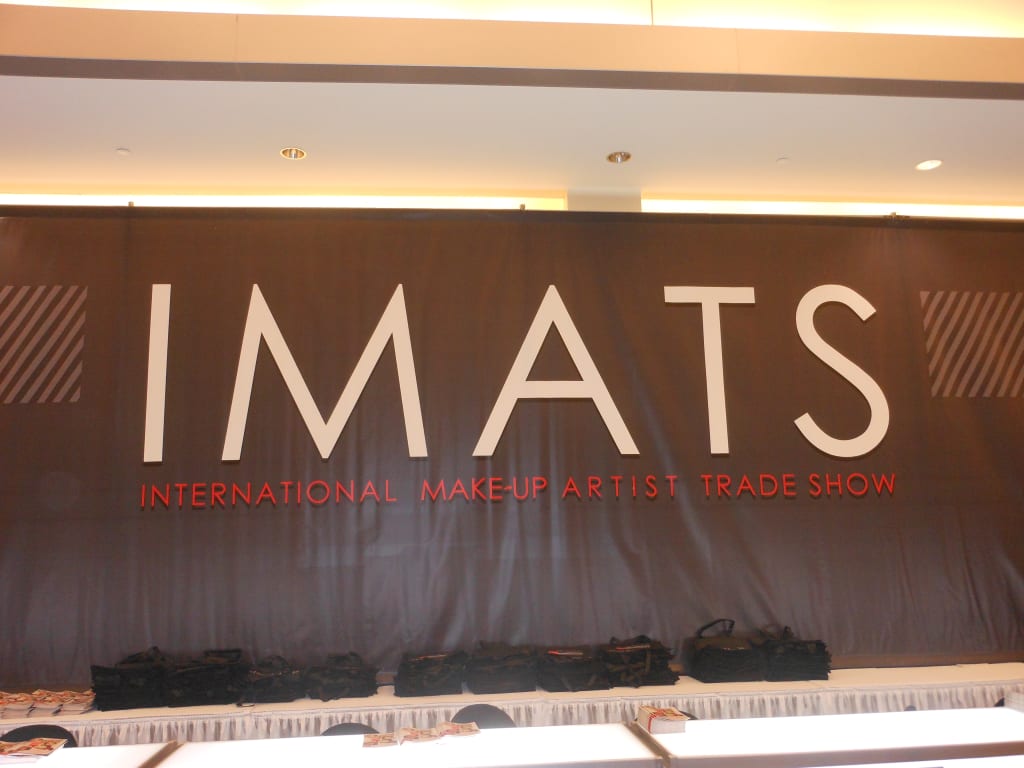 International Makeup Artist Trade Show Los Angeles 2018
IMATS, known as the International Makeup Artists Trade Show, brings its global tradeshow celebrating the best in makeup artistry to the Pasadena Convention Center January 11-14, 2018.
This year IMATS expanded its artistry education beginning Thursday rather than the previous year's Saturday classes. Any artist or makeup aficionado will learn the best tips and tricks at their Master Classes. Everything from Makeup Artist Lighting 101, Bridal Beauty Rules, Grand Illusions in Makeup, to How to Makeup Match Any Skin Tone are some of the popular and in-demand classes at IMATS LA.
Looking to become a Celebrity Makeup artist? IMATS LA has you covered, teaching you how to build a career in the industry from famed Makeup Artist, Gregory Arlt. Arlt shares his techniques along with demonstrating the hottest red carpet and editorial looks.
Additional master classes, panels and student competitions include:
The MUAGrapher Experience with PRO Artists Danessa Myricks, Fidel Gonzales and Roque Cozzette sharing how to take control of your career through self-empowerment, life experience, and technology. You will also sit-in on a live photoshoot with tips on set etiquette.
Illuminating the Skin When The Director of Photography Doesn't with Sian Richards.
Interview with Kevin Yeager, discussing his Emmy Award winning television career.
NYX Professional Makeup with Jordan Liberty
Battle of the Brushes Beauty and Fantasy Awards Show
The Ten Commandments of Assisting with DeShawn Hatcher
Social Media and The Power of Influencing by Eve Pearl
Leading Ladies of Makeup Speak Out
IMATS affords PRO Artists an opportunity to stay abreast of the latest information in the beauty industry through Makeup Artist Magazine, the beauty community's top resource to leading-edge makeup techniques and the latest industry news and trends. Makeup Artist Magazine is a bimonthly publication for professional and aspiring pros working in TV, film, theater, or fashion. Makeup artistry students and professionals will find that IMATS and Makeup Artist Magazine offer many tools to succeed in the industry. They can help you in selecting the best schools along with networking with top industry professionals.
IMATS LA is open to the public and offers a great opportunity to network with fellow artists, connect with beauty brands and meet your favorite social media personalities.
One of the greatest benefits of attending IMATS is the chance to save up to 40% off of the top beauty brands and exhibitors present at the show. This offers makeup artists a chance to build a great basic kit to service clientele. Additionally, you can enroll in the PRO CARD discount programs offered through vendors such as Nigel Beauty Emporium, Naimie's, Frends Beauty, MAC Cosmetics and Makeup Artist Magazine to receive numerous PRO discount perks and privileges throughout the year on products, training classes and services. Beauty enthusiasts will delight in the opportunity to receive discounts on the latest makeup, skincare, and beauty tools. Along with saving money on the hottest products, premium lines and brushes, it's fun to showcase it on social media! Many people go to Snapchat and YouTube for IMATS hauls for product reviews and see if certain items are worth the hype.
Some of the top brands and booths to visit at IMATS LA:
Senna Cosmetics with iconic Makeup Artist and Owner, Eugenia Weston – Booth 615
Sigma Beauty – Booth 600
the Balm Cosmetics – Booth 711
Jouer Cosmetics – Booth 222
Lady Moss Beauty – Booth 307
MAC PRO – Booth 200
Naimie's Beauty Center – Booths 128, 129 and 229
Nigel Beauty Emporium – Booth 319
Pinky Rose Cosmetics – Booth 4009
Smith Cosmetics – Booth 124
tarte – Booth 622
The Makeup Light – Booth 415
Morphe Brushes – Booth 5019
Appeal Cosmetics – Booth 432
Benefit Cosmetics – Booth 5006
Egyptian Queen – Booth 609
It Cosmetics – Booth 712
NYX Professional Makeup – Booth 219
Make Up Forever – Booth 400
Kat Von D Beauty – Booth 707
Plus Many More
There is something for everyone at IMATS and you will not be disappointed. From the magnificent fantasy makeup models, to the guts and gore of horror and prosthetics makeup, you will find Instagram worthy photos to display throughout the show.
To purchase tickets to IMATS LA or to view a list of upcoming cities and countries, visit the IMATS website. IMATS LA will be held at The Pasadena Convention Center, 300 S. Green Street, Pasadena, California. Follow IMATS on Twitter, Facebook and Instagram.
About the Creator
TV Host, Fashion, Lifestyle, Blogger & Writer for Vocal Media. Fashion, Beauty, & Entertainment. Follow on:
https://www.instagram.com/missreesealexander/
https://twitter.com/TheSassySuit
https://www.facebook.com/ReeseAlexanderTV
Reader insights
Be the first to share your insights about this piece.
Add your insights