How to Build a Curly Girl Hair Routine
Here is the curly hair method to build curly hair routine for girls with some product suggestions, to simplify the process and get you started.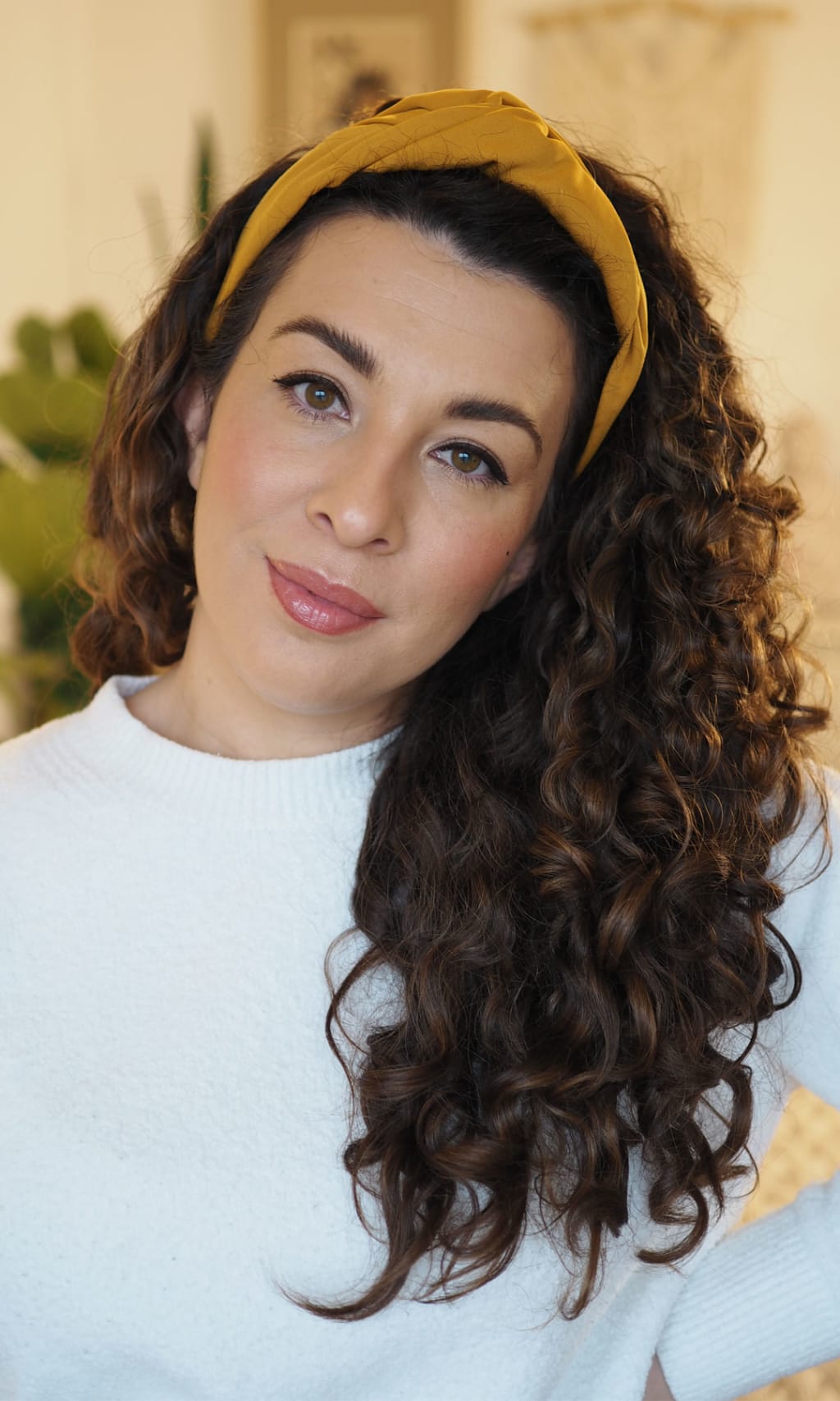 How to Build a Curly Girl Hair Routine
Step 1. Final Wash | Clarify
If you're just starting the curly girl method, you need to do a final wash to get rid of the silicones out of your hair, and any product build up. For this, you'll need a shampoo that does contain sulfates, but doesn't contain silicones. My favourite is the Bumble & Bumble Sunday Shampoo.
Technically it's a chelating shampoo, which is stronger and harsher than a clarifying shampoo. Containing ingredients that remove hard water, limescale, metal and mineral deposits. So if you live in a hard water area, or swim in the pool or ocean regularly, use this as your final wash and keep a hold of it to clarify once a month.
Step 2. Cleanse
So you've ditched the shampoo, but now what should you use to wash your hair? And how often should you be washing it? I always recommend washing your hair twice a week, with a sulfate-free, silicone-free cleanser. The goal here is a healthy scalp and hair, not to see how long you can go without washing your hair. For most people, once enough isn't enough. But three times or more a week is too much, and not good for the hair.
If you've just discovered the curly girl method, here's where it can get confusing and overwhelming. Because the emphasis seems to be on going as long as possible without washing your hair. Or avoiding anything that lathers. With confusing terms like co-washing, lo-poo and no-poo. I'm going to try and simplify it, so you can understand what will work best for your hair. Regardless of what any book, method or rules say.
Step 3. Condition
This is usually where you find silicones in products. So it's really important to check the ingredients when purchasing your conditioner, deep conditioner and/or leave-in conditioner. I've included product suggestions for all three conditioner categories below. But please note: you do not need all three! So don't feel you have to rush out and buy all of them.
Get one conditioner made with good quality ingredients, leave it in for 15+ mins to deep condition, but no longer than an hour. Instead of purchasing a separate leave-in conditioner, simply leave in some of the conditioner you already have in your hair.
Step 4. Style
Clarifying, cleansing, conditioning and deep conditioning is where you fix any issues with dry, brittle or frizzy hair. Or limp, lifeless curls that drop within hours of washing. You won't fix any of those issues with styling products, not with long-lasting results anyway.
When choosing your styling products, think about what you want your hair to look like. What do you want from your styling products? Some people want texture and volume, others want definition and hold. Most often, people want a combination of a few different things.
Hold
The final step in the styling routine is something to seal everything in and hold it all together. For this you can use a gel, jelly and/or custard. If you just want hold, go for a gel. If you want definition, clumps and hold, go for a jelly or custard. But I often use both, if I want great clumps, definition and hold.
You can get lightweight to strong hold gels. Gels, jellies and custards work best when applied to wet hair. For extra clumps and definition, you can give your hair a final brush through with a Denman Paddle Brush before you scrunch and diffuse. CURLMAVEN for 20% off the Denman Paddle Brush at Look Fantastic, who ship worldwide.
To get a long-lasting hold, you need to let the gel, jelly or custard dry fully on the hair, creating a cast. This cast will give you hard, crunchy crispy curls at first, which is what you want. You then need to gently break the cast, or "scrunch out the crunch" to reveal the soft, defined curls underneath.
Top Tip: If your hair is covered in white flakes after using a gel, it's most likely because you used too much.
Gel, Jelly & Custard Product Suggestions:
Light Hold:
Aveda Confixor Liquid Gel – CURLMAVEN for 20% off
Bouclème Curl Defining Gel – CURLMAVEN for 20% off
Medium Hold:
Innersense I Create Hold
Aussie Instant Freeze Gel
Umberto Giannini Curl Jelly – CURLMAVEN for 20% off
Bounce Curl Light Creme Gel – CURLMAVEN for 10% off
MopTop Curly Hair Custard – CURLMAVEN for 10% off
Strong Hold:
Bouclème Super Hold Styler – CURLMAVEN for 20% off
Jessicurl Spiralicious Gel
Giovanni Styling Gel – CURLMAVEN for 20% off – the strongest gel I've found
TréLuxe Hi! Definition Gel – CURLMAVEN for 15% off – my favourite gel of all time!
Also available in my Amazon Shop. Use code CURLMAVEN for 10% off Innersense Organic Beauty and Bounce Curl at The Clean Beauty Edit, who ship worldwide. You can get TréLuxe at Sari Curls or Le Curl Shop in the EU. Naturalistic Products, House of Curls UK or Kiyo Beauty in the UK. Curl Warehouse in Canada or The Curl Store in Australia.
Putting it all together
If you want consistent results, you have to have a consistent routine. You can't be switching up your wash day line up all the time. Somehow expecting your hair to look good each time. I listed each product category in the order you'd use them. Apart from your final wash and monthly clarifying, you need something to cleanse, condition, style and hold. Hopefully from my tips, advice and recommendations, you can figure out what products will suit your hair best. So you can build your curly girl hair routine.
Trying New Products
When trying out new products, use one new product at a time to determine if it works or makes a difference to your hair. Or keep one half of your wash day routine consistent. For example, if you want to try out different styling products, keep your cleanser and conditioner the same. You also need to try something out consistently for at least 2-3 weeks before you see any signs of improvement. But more like 4-6 weeks to see long-lasting improvement.