Rice Water Rinse Routine & Results
If you are struggling with protein moisture balance, make sure you read this post. Here is my modified rice water for hair rinse routine and my amazing results!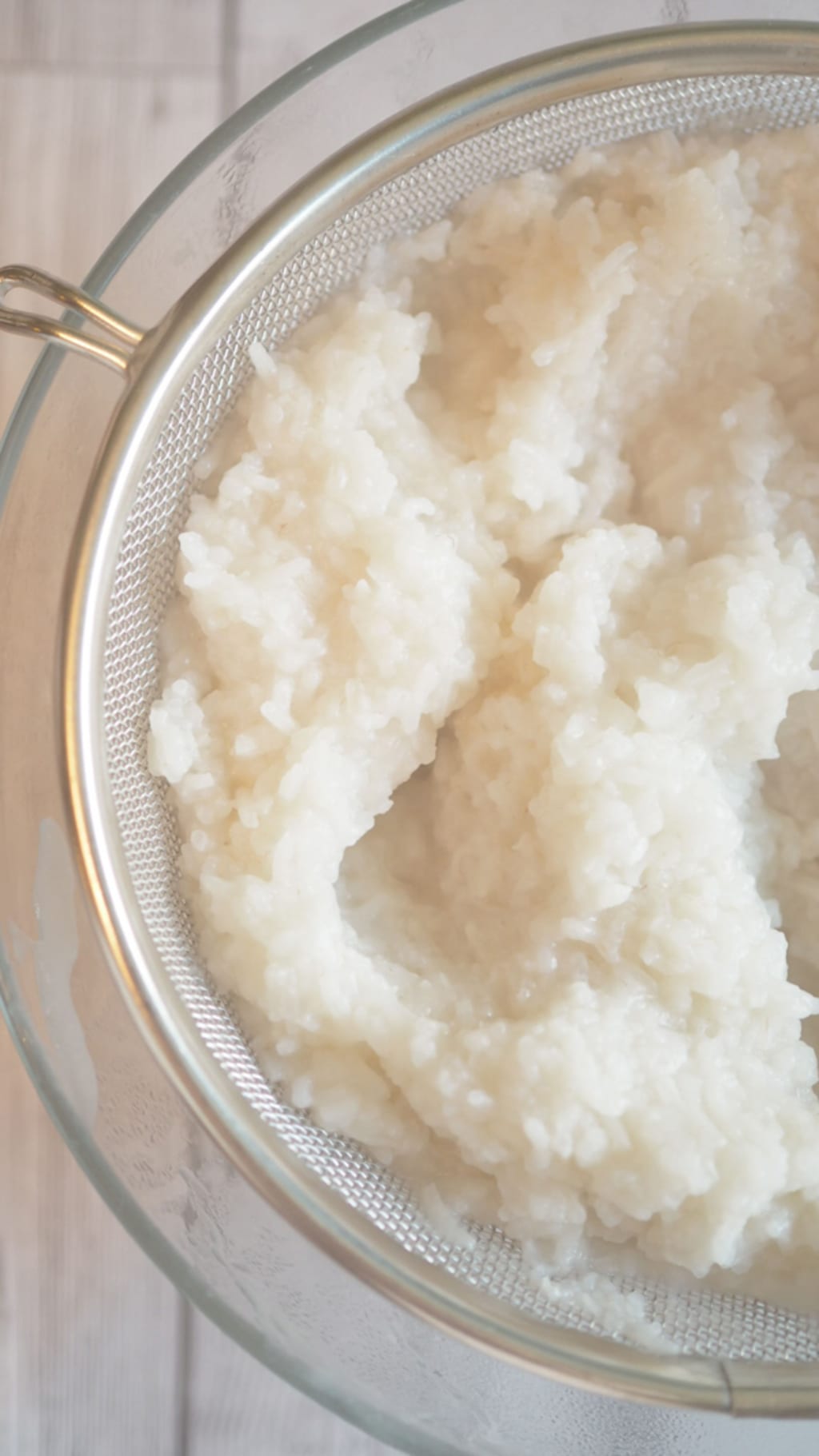 My Rice Water for Hair Routine
Have you recently discovered this amazing DIY protein, strengthening and repairing treatment called a rice water rinse? Far from a new Tik Tok Trend, rice water rinses have been traditionally used for thousands of years in China and Japan. Rice water is surprisingly beneficial to hair because it contains an impressive array of vitamins, minerals, antioxidants, and amino acids – the building blocks of protein. If you're struggling with hair growth, protein moisture balance, limp, lifeless curls not holding past washday, this post will really help! Here's my modified rice water rinse routine and my amazing results!
Rice water is an effective DIY protein treatment thanks to amino acids – the building blocks of protein. It strengthens hair, adds shine and smooths the cuticle, reduces surface friction and de-tangles.
Benefits of Rice Water for Hair
There are so many benefits to using rice water for hair, it's a case of why wouldn't you use it?! Here's some of the amazing benefits, but it takes time, patience and consistency to see long-term improvements in the hair. If you want to get the best results from using rice water, you need to do it consistently (weekly) for at least 4-6 weeks, sometimes longer.
Increases hair elasticity, and bounce
Strengthens and thickens the hair
Adds volume, softness, curl definition and shine
Smooths hair cuticle
Reduces dandruff
Promotes and stimulates hair growth
Dissolves hard water build up
Reduces hair loss
Relieves dry, irritated, itchy and flaky scalp
Penetrates the hair shaft to repair the hair from within
Continues to repair damage after use, shampoo and rinsing
Moisturising, antioxidant and repairing properties
Improves manageability
Prevents hair from future damage
Gentle, mild cleanser
Improves overall condition of the hair
Stimulates blood flow to the scalp
Nourishes hair follicles at the root
My Modified Rice Water Rinse
I do things a little differently. The first time I did the rice water rinse and left it on my hair for 30 minutes, I didn't deep condition for long enough afterwards, and my hair felt quite dry. Now I add a dollop of one of my favourite deep conditioners, Hairfinity's Strengthening Amino Mask, and leave the modified mask on my hair for 45 minutes – 1 hour with my Curl Maven Heat Cap.
Top Tip: This DIY protein, strengthening and repairing treatment is perfect if you are suffering from over-moisturized hair. Hair is limp, lifeless and unable to hold a curl for very long past washday. Or hygral fatigue, hair feels quite soft and mushy or gummy, and you may experience excess hair shedding.
My modified rice water method works best when you mix it with any conditioner or deep conditioner that already contains protein. Hairfinity is becoming increasingly difficult to find, so stock up when you can. But I've listed some of my other favourite conditioners and masks that work well with my modified rice water treatment below.
Deep Conditioner Recommendations:
Innersense Colour Radiance Conditioner – CURLMAVEN for 10% off and worldwide shipping. Or shop here if you're in the USA, and shop here if you're in the UK.
Curl Junkie Repair Me!
Act + Acre Restorative Hair Mask
Curlsmith Bond Repair Rehab Salve
Hairfinity Strengthening Amino Mask
Curl Maven Thermal Heat Cap will maximise the benefits of your hair mask/deep conditioner.
How to save and store your rice water
The following ratio will give you enough for one large modified rice water treatment, suitable for thick or long hair. Or two treatments for short-medium length or fine hair. You can store it in the fridge in an air-tight container for up to one week, either with or without the deep conditioner mixed in. Alternatively, you can cook up a big batch and freeze it in an ice cube tray. Then simply pop out two cubes the night before, and mix with your chosen deep conditioner once they've defrosted! Genius time-saving method for anyone who's really busy but wants all the benefits of rice water for hair growth, length, strength, shine and scalp issues!
Top Tip: The sun breaks down the protein in the hair, so doing weekly rice water rinses during the Summer months can really help maintain shiny, healthy, hydrated, frizz-free definition that holds a curl for longer!
Ingredients
Using a measuring jug, use half a pint of rice (organic, jasmine or basmati…) and rinse – however, I think the starch from the rice gives some added benefits to the hair.
Put the rinsed rice in a saucepan and add 2 pints of water
Add some essential oils if you like, such as rosemary which is great for hair growth.
All the conditioners, deep conditioners and hair masks I use for this modified rice water treatment already contain protein/amino acids. They're just not very high up the ingredients list, so they're not considered a strong or potent protein treatment. When I add the thick rice water gloop, I get much more noticeable improvements and results. I advise doing your own test with both the rice water rinse on its own. And your usual deep conditioner on its own before you try mixing the two.
Method
If you're just doing a rice water rinse, don't let the rice go stodgy or the consistency will be too thick. This method is for my modified rice water treatment.
Bring the rice to the boil, stirring until you get a cloudy, creamy, thick consistency of water. This takes approximately 20 mins on a medium-high heat. You want the rice to almost absorb all the water.
Once the rice has absorbed most of the water and appears almost stodgy. Remove from the saucepan and gently press into a sieve to get the thick, creamy, gloopy water out. NB: You only want the thick, creamy, watery gloop to go through the sieve – NOT the rice!!! Otherwise you'll have rice bits in your hair. I usually have to scrape the rice water 'gloop' off the bottom of the sieve, into a bowl underneath.
Add either a teaspoon or tablespoon of your favourite conditioner or deep conditioner, and mix to create a creamy hair mask consistency that you can apply to the hair.
The ratio of rice water gloop to deep conditioner depends on how strong you want the rice water treatment.
Cleanse or clarify your hair as normal, and apply your modified rice water rinse mask to your hair, from the ends upwards. Bring it all the way up and massage into the scalp if you're wanting to encourage hair growth and/or have any scalp issues. Such as a dry, itchy, flaky, irritated, sensitive, greasy or oily scalp.
If you're new to protein treatments or hesitant, start off by leaving it in for 10-15 mins. Gradually building up to leave it in for 20-30 minutes, but never any longer than one hour.
Use a Curl Maven Thermal Heat Cap for best results.
If your hair is particularly dry or damaged, then don't rinse the treatment out fully.
Rinse with luke-warm water, until a milky coloured water runs out the ends of your hair, then style as normal.
Don't use rice water more than once a week, and don't use it as a leave-in spray. Too much rice water, used too often or left in the hair for too long can cause damage.
I'm a single mum of two kids, I don't have time for a full wash day, including multiple rice water rinses, a deep condition and then my usual styling routine! So by doing this modified rice water treatment, I'm saving time and getting the maximum results of so many benefits from both the rice water and the deep conditioner.
My Rice Water Routine Results
I've been doing this rice water for hair treatment for years now and this is what I've found has worked best for my hair. It's soft, yet strong. I've got hydrated curls, and frizz-free definition that lasts day after day. Instead of my curls dropping and falling limp and lifeless within hours of my washday.
How often can you do a rice water rinse?
If your hair is over-moisturized, or your curls are falling flat, limp and lifeless within hours after washday. I recommend you do this. modified rice water treatment weekly for at least 4-6 weeks. Continue longer if you feel your hair is still soft and fluffy and not holding a curl. Once the ends start to feel dry, reduce to once every other week, and then gradually to once a month, after you clarify. Resume/repeat if the hair starts to feel soft, fluffy, limp and lifeless again. Or you have any scalp issues that flare up again, as rice water for the hair has so many benefits for the scalp too!
"I do mine weekly, and I absolutely believe that it's helped dramatically increase my hair's shine and curl structure. My hair feels stronger to the touch. I have high porosity hair and it's an absolute must for me. I get all the protein and nutrients her hair needs from these weekly rice water rinses."
– DOMINIQUE, @POWERDOMI
Low porosity hair may only need to do this rice water treatment once a month. But high porosity hair that tends to always be a little on the softer, over-moisturized side, will benefit from doing rice water rinses once a week. Especially over the summer months, as the sun breaks down the protein in the hair. Protein is what gives the hair the strength and structure to not only define a wave and curl, but to hold it there.
You have to do this more than once to see the benefits and long-lasting results! Building protein in the hair is like taking an iron supplement. You don't take one iron tablet and expect to see immediate and long-lasting results! You have to take that tablet every single day for at least 2 weeks before you start to feel any benefits. It's the same with rice water for the hair.
hair
About the author
Award-winning blogger, Curly Cailín talks about her journey, tips and advice, reviews and recommendations for following the Curly Girl Method & CG Beauty
Reader insights
Be the first to share your insights about this piece.
Add your insights