Dry and Irritated Skin Beware!
Skincare Reviews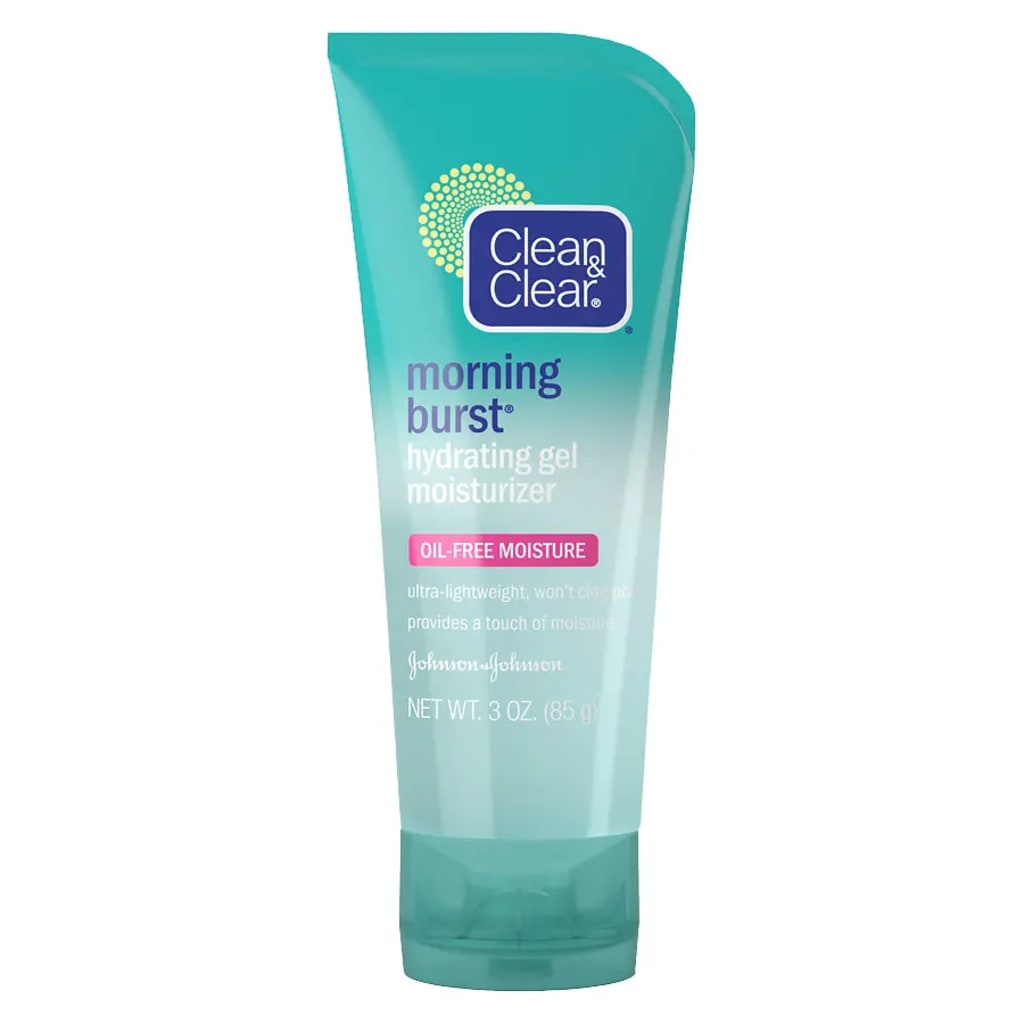 Name: Morning Burst Hydrating Gel Moisturizer
Brand: Clean & Clear
Purpose: To replenish and moisturize acne-prone irritated and dry skin with its cucumber and green mango extracts and non-greasy formula.
Ingredients: (Inactive; Water, Dimethicone, Glycerin, Dimethicone/Vinyl Dimethicone Crosspolymer, Polyacrylamide, Cetearyl Olivate, Phenoxyethanol, Dimethiconol, Sorbitan Olivate, C13-14 Isoparaffin, Fragrance, Dimethicone Crosspolymer, Carbomer, Laureth-7, Methylparaben, Propylene Glycol, C12-14 Pareth-12, Propylparaben, Ethylparaben, Cucumis Sativus (Cucumber) Fruit Extract, Mangifera Indica (Mango) Fruit Extract, Sodium Hydroxide, Green 5, Blue 1, Yellow 5)
Texture: Gel/Non-greasy/oil free/lightweight
For skin types: Normal, Combination dry/oily
Rating: 5/5
For Those Who Don't Know Their Skin Type:
Dry and irritated skin is no joke. Especially during the harsh winter months. Whether you live in a colder climate or if you were just cursed with tight and irritated skin, I think I may have found a good alternative to higher end products!
But first, let's discuss dry skin and what causes it.
The medical term for dry skin is Xeroderma. It's described as a condition in which your skin lacks moisture. You can determine whether you have dry skin by inspecting your skin carefully, and taking notes of any scaling, flakes, cracking or itching, or if you feel any tightness.
As I've mentioned before, I have combination dry/oily skin and suffer from dry patches in my t-zone area, where I also get the most oily. Having both conditions might be frustrating and disconcerting at first. Research is key! You have to determine what type of skin you have, what's causing its mayhem and treat it properly. Now while sunburn, vitamin deficiency, lack of humidity, and various oral and topical medications can also contribute to dry skin, it's possible that we were just born with it.
Trial and error has definitely been a part of my journey to healthier skin. I used whatever cleansers and moisturizers I could get my hands on while still being on a budget. It wasn't until I started to notice my skin's patterns season after season that I could finally stop wasting money on products that just didn't work for me. Fortunately for me and my bank account, I found a drugstore product that can treat my skin woes and it's just under $6!
Okay, now let's get into this review!
Review
I'm going to be as honest as I can be and say I didn't like this moisturizer at first. But that was due to my own ignorance in not realizing that it was the cleanser I was using at the time that was causing me to breakout. I didn't reach for the Clean & Clear Morning Burst Hydrating Gel Moisturizer again until recently and I absolutely love it. The green mango and cucumber infusion helped to calm down my sensitive and irritated skin after finishing my skincare routine. The gel-like formula might look like it'll make you look like a grease-ball in a manner of minutes but I promise you, it does no such thing. At least not for me. The texture of the formula will make your skin feel sticky at first, but it dries down quickly and makes your skin feel soft and supple throughout the day.
How I Used This Product:
Made sure my face was cleansed properly.
Blotted the excess water off my face with a soft towel.
Applied a dime's worth of product at the tip of my fingertips and began to dot it in the areas I needed it the most. (Cheeks, jawline, temples.)
I began to massage the product gently into my skin, pressing it in so it would absorb completely. Then I used the remains for my t-zone.
And we're done!
The hydration lasts all day. There's no need to re-apply the product unless you absolutely have to. Other than that, it performs well underneath the makeup products I usually use. It doesn't cause the foundation to roll off my skin in any way, and it doesn't enhance the oily areas of my skin too greatly. However, if your skin is sensitive to certain smells or any of the calming ingredients such as cucumber and green mango, I suggest you try other scentless products. The scent is rather potent. Not too much that it'll consume your nostrils, but just enough for you to know there's definitely cucumber in the formula.
Until next time, guys!
product review
Full of raw and unfiltered fluid poems, short stories and prompts on love, sex, relationships and life. I also review haircare, skincare and other beauty products. Instagram: grungefirepoetry MissBeautyBargain Facebook: grungefirepoetry
Receive stories by Sharlene Alba in

your feed