Curls, Frizz & Tears
An Egyptian-American's Relationship With Her Curly Hair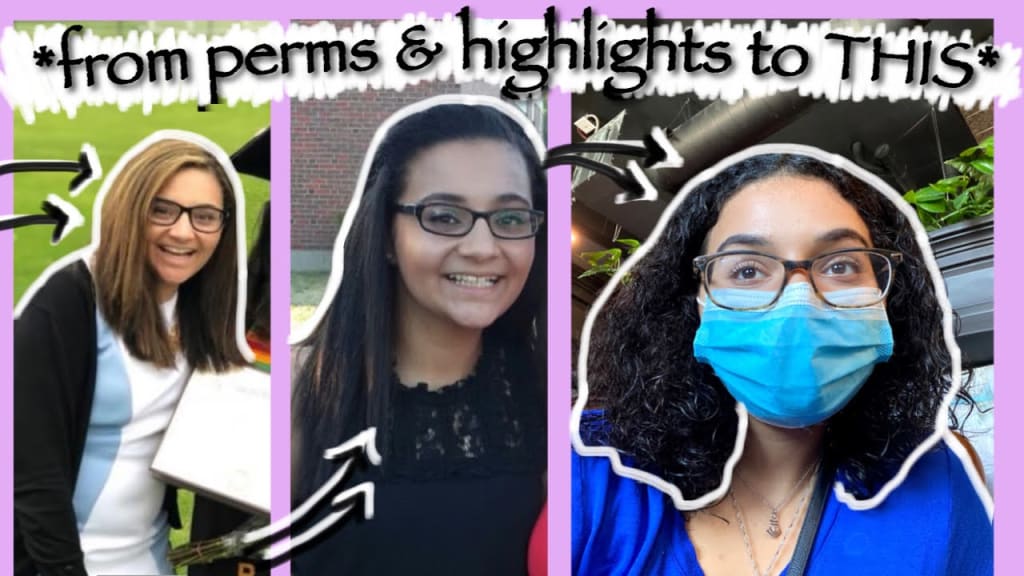 I sat in the leather chair for three hours, smelling the sweet aroma of burnt hair, and the salon lady's strawberry shortcake perfume. Mama had told me that this would be the greatest birthday gift I would ever receive. The follicular patterns which belonged to my Egyptian ancestors would be chemically erased - as if God had heard my prayers all along. In forty two minutes I would be gifted with a head that screamed "smooth & sleek"; a marketable scalp fit for Pantene commercials and magazine covers. After 12 years of hiding behind tight and frizzy buns, headbands that brought headaches, and ponytails that were tugged back by my mother- I would finally be liberated from the tragedy that is having curly hair.
The lady turned my chair towards the salon mirror, and released me from the black cape that throttled my neck. A version of myself with straight hair smiled back. With eyes lit up, and fingers running through, I truly felt beautiful. I turned back and saw Mama smiling too- credit card in hand.
Mama paid $200 that day for a white lady to burn my hair. I spent the following four years growing out tufts of hair that stood up in every which way. I hid behind more ponytails, strategically placing the larger pieces over my fuzzy scalp. I spent every Easter and Christmas feeling unworthy, missing my curls for the first time in my life. Mama said she was sorry too many times to count.
When the hair grew back, I thought I had learned my lesson. It was time to "embrace" the curl. I slathered on thousands of different types of gels until the stiff edges begged for freedom. I made the curls crunch, flattening the hairs closest to my head too close to my forehead. I would do anything to make my curls not look "too curly". They had to be tamed.
My sophomore year of Highschool is when I had enough. No type of gel or perm would do the job, but if I couldn't change the texture, there had to be another solution.
I sat for another three hours in the leather chair- this time in a new hometown with a new salon lady. She was a young blonde, fresh out of college. She painted my hair with what I thought would be an ombre into light brown - something I could finally feel beautiful in. I left that rainy afternoon with streaks of yellow on my head- a desperate measure taken by a teenage version of myself in the middle of nowhere Upstate, NY.
At school, they asked:
"What happened to your hair?"
"Why does it look like that?"
as if I pulled a Briteny Spears, went manic, and shaved my hair bald. The truth is, I had no idea it looked that terrible until I dyed it back to brown with a $10 box one impulsive summer day.
I moved to a new neighborhood only a few years later. For the first time in my life, I had black neighbors. Black boys and girls played hopscotch, and decorated the concrete with chalk - a sight I had never seen before. That was the first time in my life I stopped using my hair straightener. I pulled the plug, and hid it in a bathroom cupboard for over a year. I bought leave-in conditioners, shea butters, and silk nightcaps to sleep in. Anything to make the curls bearable.
Then it clicked. Every time I had burnt, dyed, or straightened my hair, I took a stab at the people that raised me, and the ones that came before them. Every manipulation of my already perfect hair was a crime against the Pharaohs that came generations before I did. A crime against the God that created me to be "wonderfully and fearfully" myself. A crime against my future children, as I know I will one day hypocritically tell them to "love themselves."
Curly hair is meant to be big. It hides the secrets, and holds the stories of my immigrant parents. It covers my eyes, concealing the pain and trauma Mama and Baba went through. It makes a statement, telling everyone in a room that my parents had to fight to enter this country. Curly hair tells the story of the generations of people that came and fought before me. They fought colonialism, and in revolutions against oppressive regimes. They fought religious persecution, and racism in countries they sought refuge in. They fought so I could exist today. So that every step I take ends with a bounce from the curls that lay freely on my shoulders.