Clear Skin
How I am clearing my skin month by month.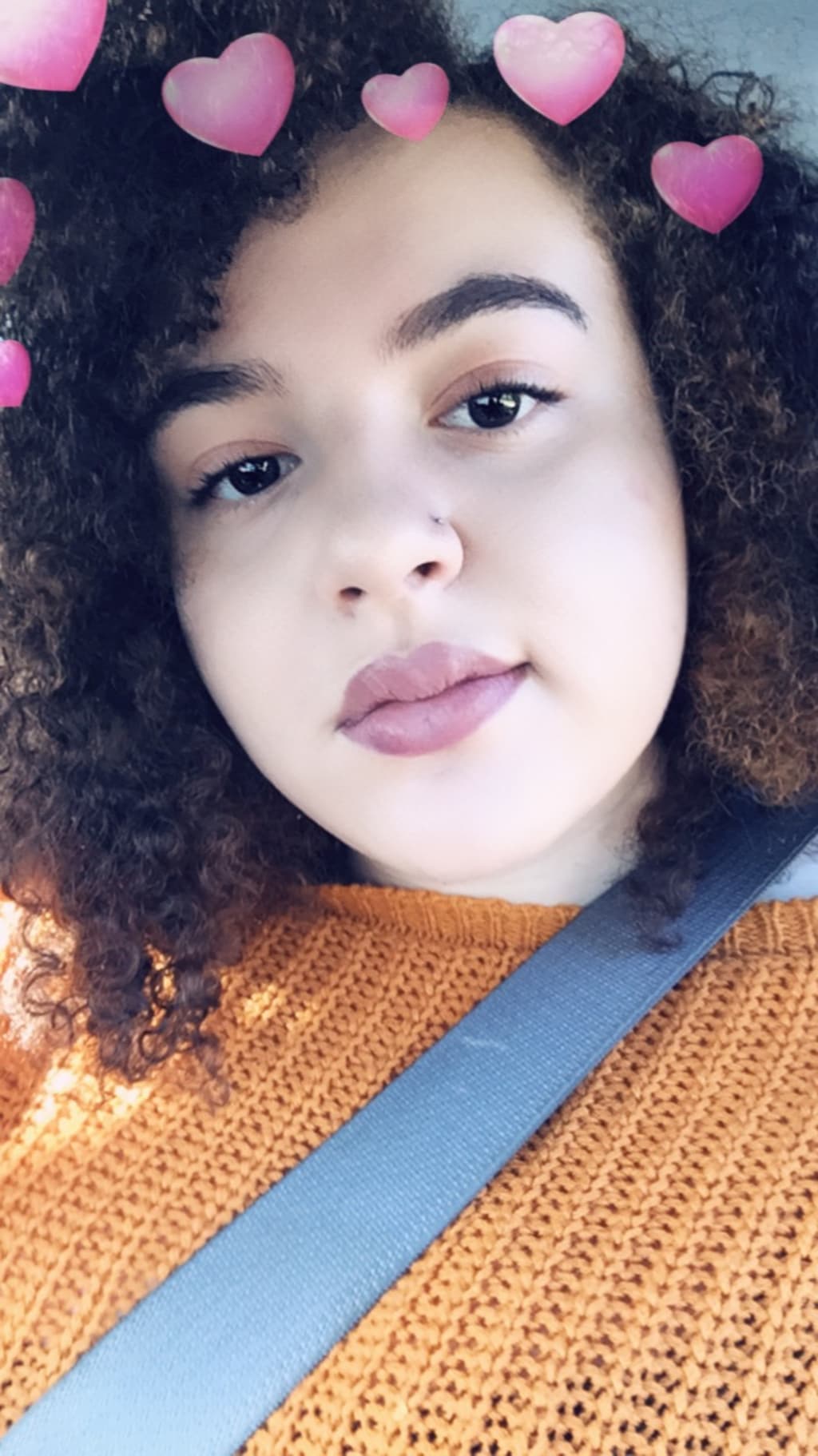 Hey everyone! So I've been struggling from really bad acne since I was in the 4th grade (9 years old!). It sucks growing up being a kid with nasty acne, especially being surrounded by people with pretty skin. I have always been trying medicine and different ways to get rid of my acne, but I have finally said, "Enough is Enough!" and decided to get a skin regime going and sticking to it! 2018 is my year for healthy, glowing skin!
So has anyone seen those Twitter or Instagram posts talking about how to get glowing skin for cheap? Well, I have very resistant acne and none of those ever worked for me. If you have resistant acne, go to your doctor and ask for acne medicine (which I'll name in this article).
Also: None of these products were sponsored other than the Acne Dote from Alba Botanica, but that sponsorship was for something else in November, I just still have it from then!
Day 1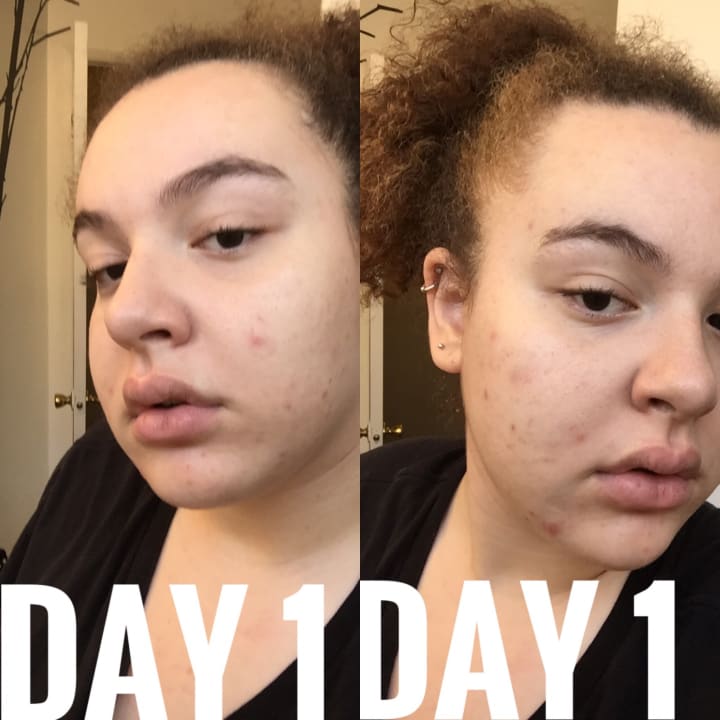 Day one of my treatment was actually kind of hard because I am very used to being lazy and just washing my face in the morning and thinking at night, "If I remember, then I'll wash my face." And that was really it. The minute I wake up, I wash my face and the minute I say, "Goodnight" to everyone, I wash my face again. I have combination skin of oily and dry, and my skin became overly oily because it was actually dry, so this is my skin routine for these issues:
L'Oreal Pure-Clay Cleanser and Alba Botanica Acne Dote Face and Body Scrub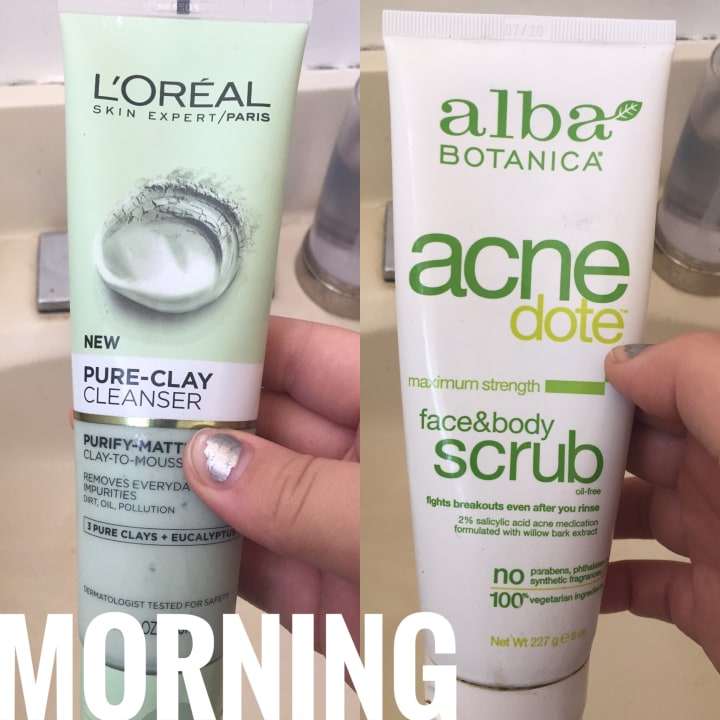 I wash my face everyday with these two. The Acne Dote you can get at Target for about $7 and it will last you a while! Acne Dote has 2% Salicylic Acid and uses Walnut Shells as the exfoliate. I have super sensitive skin and using this everyday does not make me feel gross or dry or ruin my skin. I have a lot of congestion (bumpy spots that are acne) on my chin and my forehead and this helps get rid of them! Congestion is caused by the dead skin cells clogging the pores, so it is very important to unclog these by exfoliating once a day.
The Pure-Clay from L'Oreal is $6.99 on Ulta's website, and a lot of the time you can get the "Spend $15, Get $3.50 Off" coupon. This also, will last you a while. I mix the two, using less than a dime size for both, and use circular motions on my face for thirty seconds and then I rinse, making sure to get all the product off. Then, I move on to adding all my product on:
What I Put On In The Morning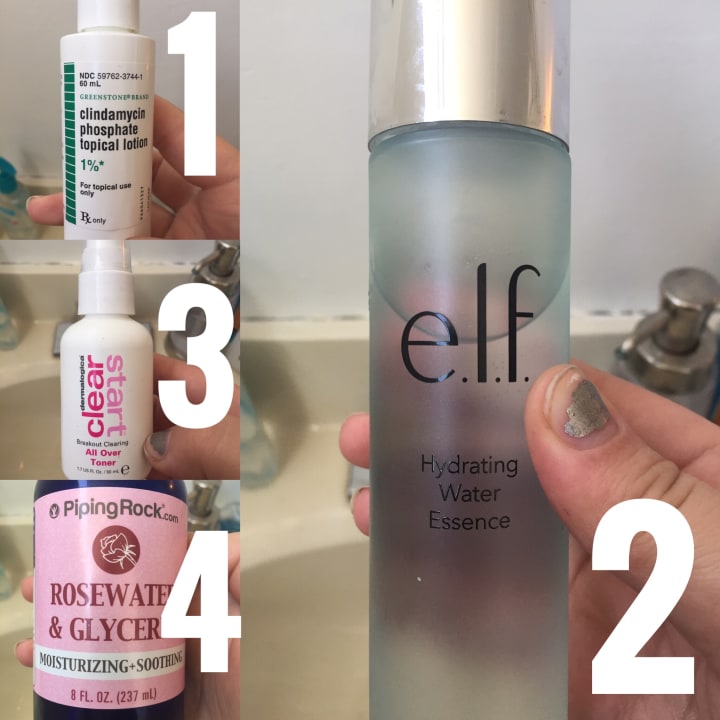 Here is where I bring in the doctor. I first put on my clindamycin phosphate topical lotion in 1%. I was prescribed this back when I was in the 7th grade (twelve years old) because my glands on my throat were swelling up to the size of golf balls and at first we thought maybe it was because I was getting sick, but they never went away and they were tender. The doctor told me it was because of my acne and how bad it was. Acne is an infection of the skin and your glands are supposed to remove toxins and possible infections from the body. My glands in my neck were over working from trying to purify my skin, to the point that they freaked out and stayed crazy enlarged. Sucks right? Well I went to the doctor and was put on two topical medications (both that will be mentioned here) and since then I have been using them.
I then put on the Elf Hydrating Water Essence as a lotion. I'm still looking into getting a good SPF based lotion, so if you know one, let me know! All the ones I used in the past caused me to break out because they were clogging my pores with how thick they were. This Water Essence feels really good on the skin and it does make me feel hydrated. It was lasted me over a month now and I only use a few drops on my finger tips and then I tap it into my skin. It was $8 at Target, so it is worth it!
Then I go in with my Clear Start Dermalogica toner. It has Salicylic Acid and can help get rid of left over dirt in the pores while also closing the pores and keeping bacteria from growing in the pores again. You really do not have to use this. You can make your own out of Witch Hazel (Walmart for around $5-$8), Tea Tree Oil (Amazon around $10), and a couple drops of water. I use this because I got it in a Dermalogica set and did not want to put this to no use. (Caution: I do not recommend spraying this on your face if you have sensitive skin! Spray into your hand and then smooth onto your face. You will see the reaction I got from it later in this article).
Then I use Rose Water and spray that on my face. Rose really helps hydrate the skin and helps keep it glowing.
L'Oreal Detox-Brighten Clay-to-Mousse and OXY Acne Medication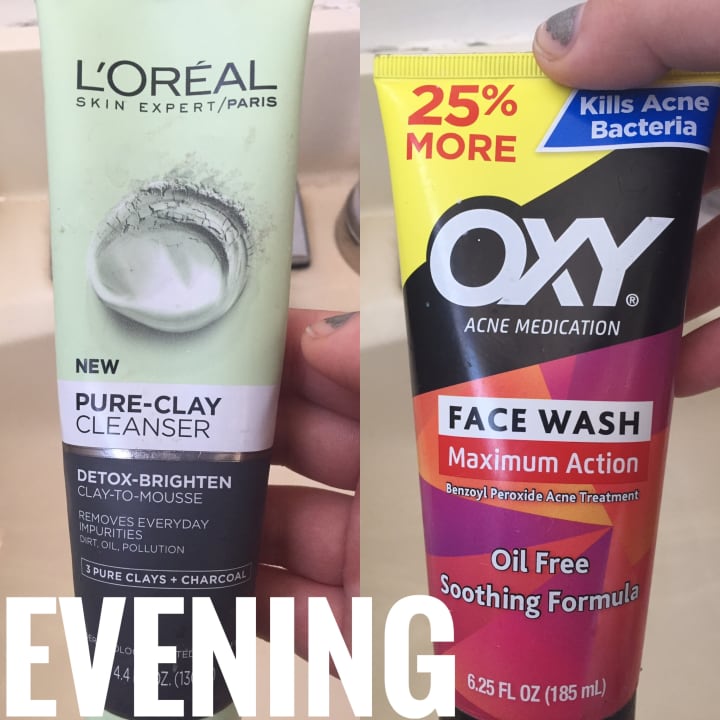 At night, I wash my face with the L'Oreal Pure-Clay Clenaser in the Detox-Brighten Charcoal face cleanser (Ulta: $6.99) and OXY face wash (Walmart: $7). I mix the two just like I do with the other face washes I use in the morning. I use less than a dime size of both and mix them and they last me a long time. The OXY face wash has 2% Salicylic Acid, and this I only wash with for around fifteen seconds, getting the dirt from the day out of my pores.
What I Put On in the Evening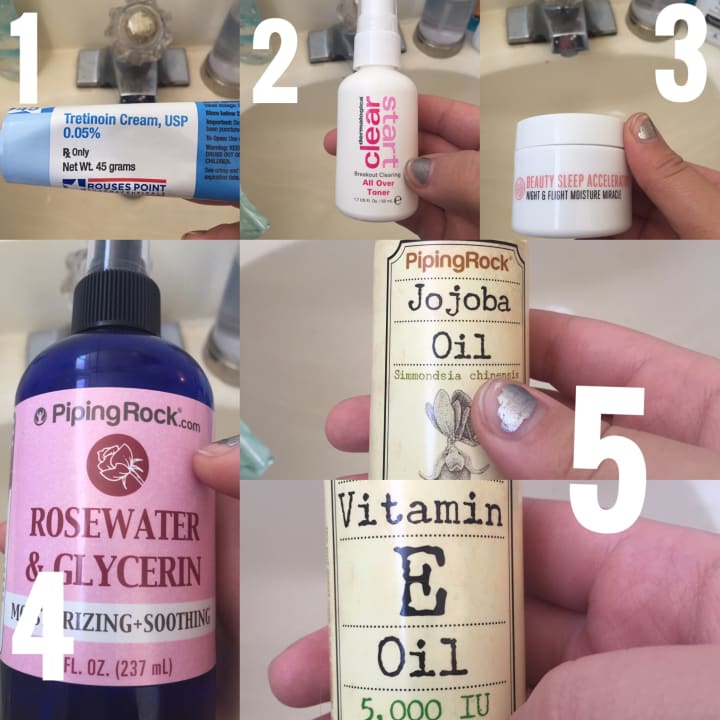 The first thing I put on isTretinoin Cream in 0.05%. This has Retinoid in it, which is really good for acne, acne scars, and wrinkles. This is something I was prescribed from back when I was 12 that I still use. You can get straight Retinoid creams from the store, I've seen them for around $13 but I have never tried them. This is in the cream form too. There is a gel form but I really do not like how it feels. My skin felt dry and it would burn any pimples that were extracted. The cream doesn't do that. Also, the he'll flakes and peels off while you sleep, which makes a mess and I didn't like it. You can request for your doctor to give you the cream instead, or just buy the Retinoid cream from the store (Sam's Club, [maybe] Costco).
Then I put the same toner on from earlier (again, do not spray it directly on your face if your are super sensitive).
Then I put on the Beauty Sleep Accelerator from Soap and Glory. It moisturizes your skin as your sleep or if you're going on a flight. It was $18 at Ulta but I do not think Ulta carries it anymore, but you could probably find it at other places that sells Soap and Glory.
I then spray my face with the Rose Water again (because I want that glowing, great skin!!!) and then I put Vitamin E oil and Jojoba Oil on. Vitamins E will help with acne scars and Jojoba helps with oily skin. I know, when you have oily skin you think, "Stay away from oil!" But no! It can really help! By putting oil on, your skin thinks that it doesn't need to keep producing oil because it has over produced, so in a sense, you're psyching-out your skin! This sounds odd, but it really helps. Jojoba oil really hydrates the skin also, which is great.
Now I'll be showing you my progress!:
Day 3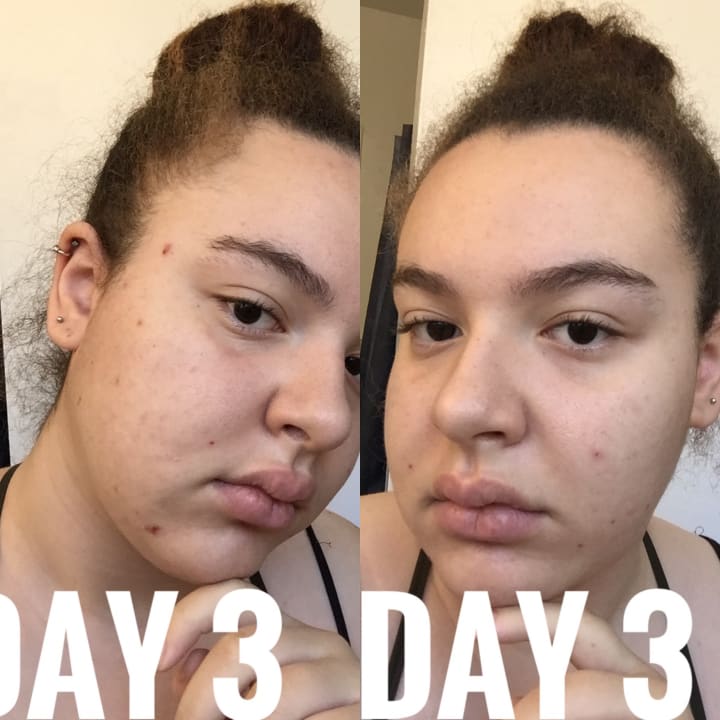 I could already see a slight difference in my skin. It felt more hydrated and I could tell I wasn't getting the usual 3 new acne spots a day.
Day 8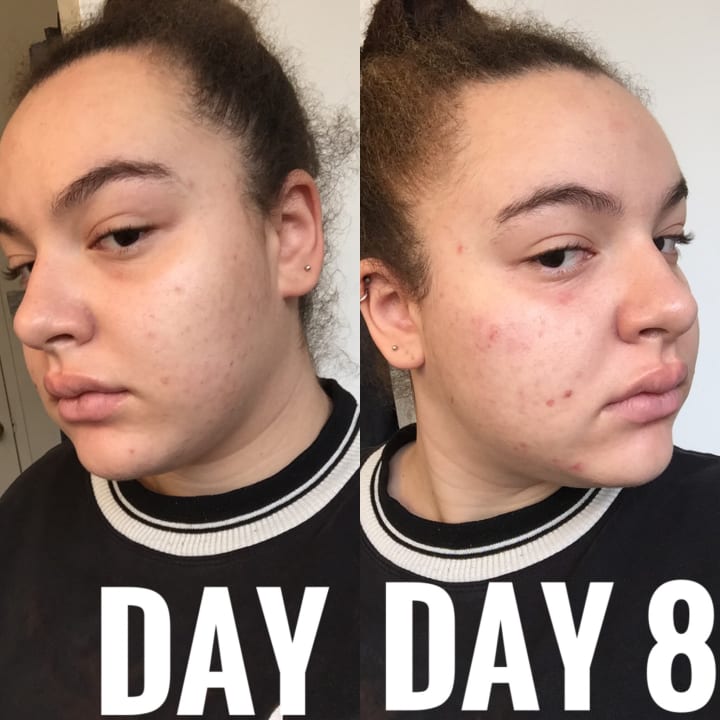 Most of my acne was going away, which was very awesome! But, if you can see in the picture on the right, there is a small red spot under my eye. I did not think much of it at first.
Day 10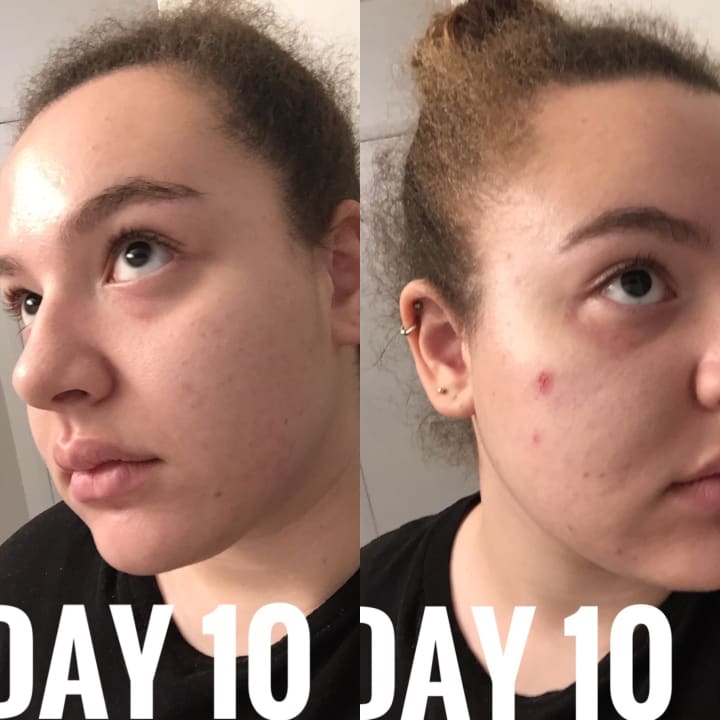 Most of my acne was disappearing and I noticed some of my scars were fading as well. The red spot under my eye started to spread though, which scared me. I thought maybe it was stress related due to college. It was also itchy! I realized, it was eczema! I suffer from eczema on my hands and arms, but never my face! It absolutely sucked! I realized, it was on my right eye because I was spraying that toner with my right hand, so it was landing under my right eye more! I stopped spraying it on and just started putting it on my hand and putting t on my face that way so I could avoid my eye. My cosmetology class is sponsered by Dermalogica and we got to go to a lecture and ask questions recently. I told her what happened and asked why that would happen and she explained that because it has Salicylic Acid and I have sensitive skin, especially under my eyes, it was too much to handle. She said for clients, she would cover their eyes and then spray it because you never know when a new client is going to have a reaction on a very sensitive spot.
Day 17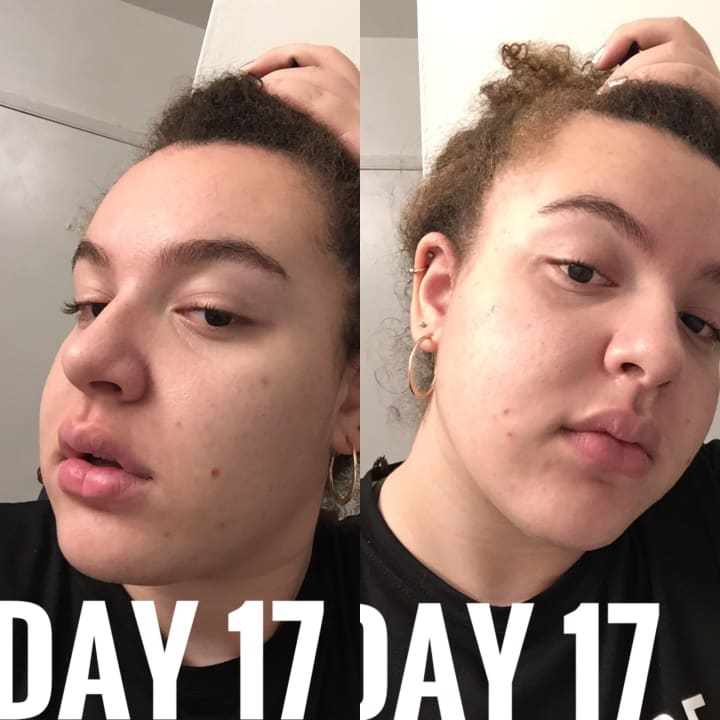 I got my red spot to go away and a lot of my acne was disappearing, after less than a month of doing this. Also, any acne spots that I had, no scar was left due to using the Vitamin E oil and the Tretinoin.
Day 24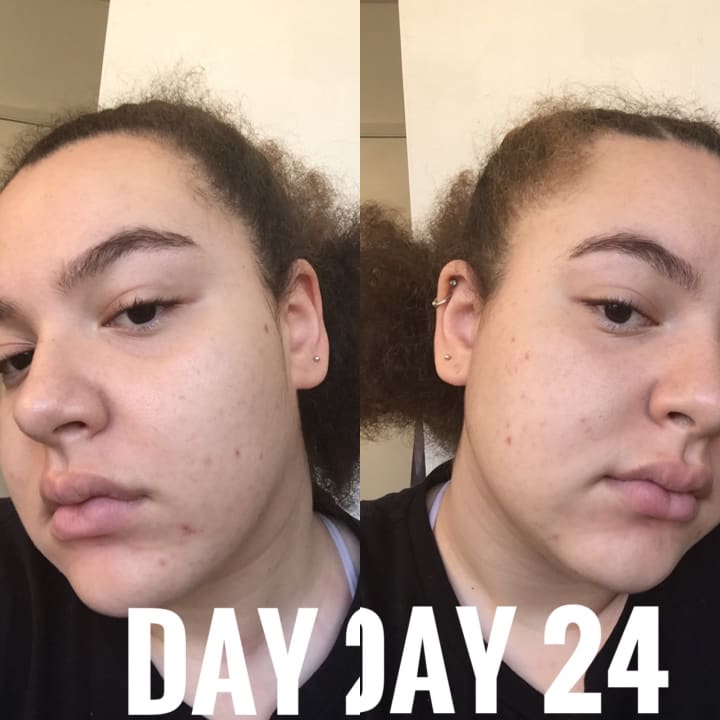 Small spots are coming up, but NOTHING like how my skin looked before.
Day 39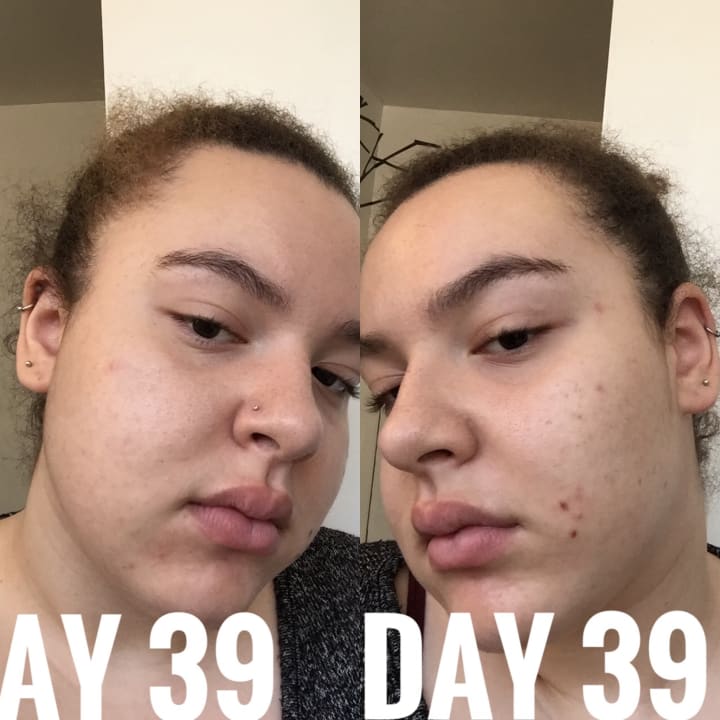 Day 39, the day I'm writing this. My skin has cleared up so much. My right side is still acne ridden, but I have realized it's because I need to start changing my pillowcase almost every night. That's the side I sleep on and I need to fix that. Then maybe I'll be good to go.
I will keep this going and keep writing these articles if they help you. Just let me know and I will gladly keep making these. Remember, invest in your skin. It can be expensive, especially if your skin is high maintenance like mine. It sucks, but instead of buying that $50 makeup pallet, get the skin care instead so your skin can look beautiful with that new makeup pallet.
If you have any questions or want me to try something new and let you know how it worked please email me or message me on my social media:
Email: [email protected]
Instagram: @annisa_c_love
Twitter: @annisa_c_love
Facebook: @Annisa Love
how to
About the author
I am a hairstylist going to school for journalism. Hope you enjoy what I write! I also love to draw, so check out my Redbubble: https://www.redbubble.com/people/AnnisaC/shop?asc=u
Reader insights
Be the first to share your insights about this piece.
Add your insights