BoxyCharm: Three Month Subscription Plan
Will I continue or will I cancel?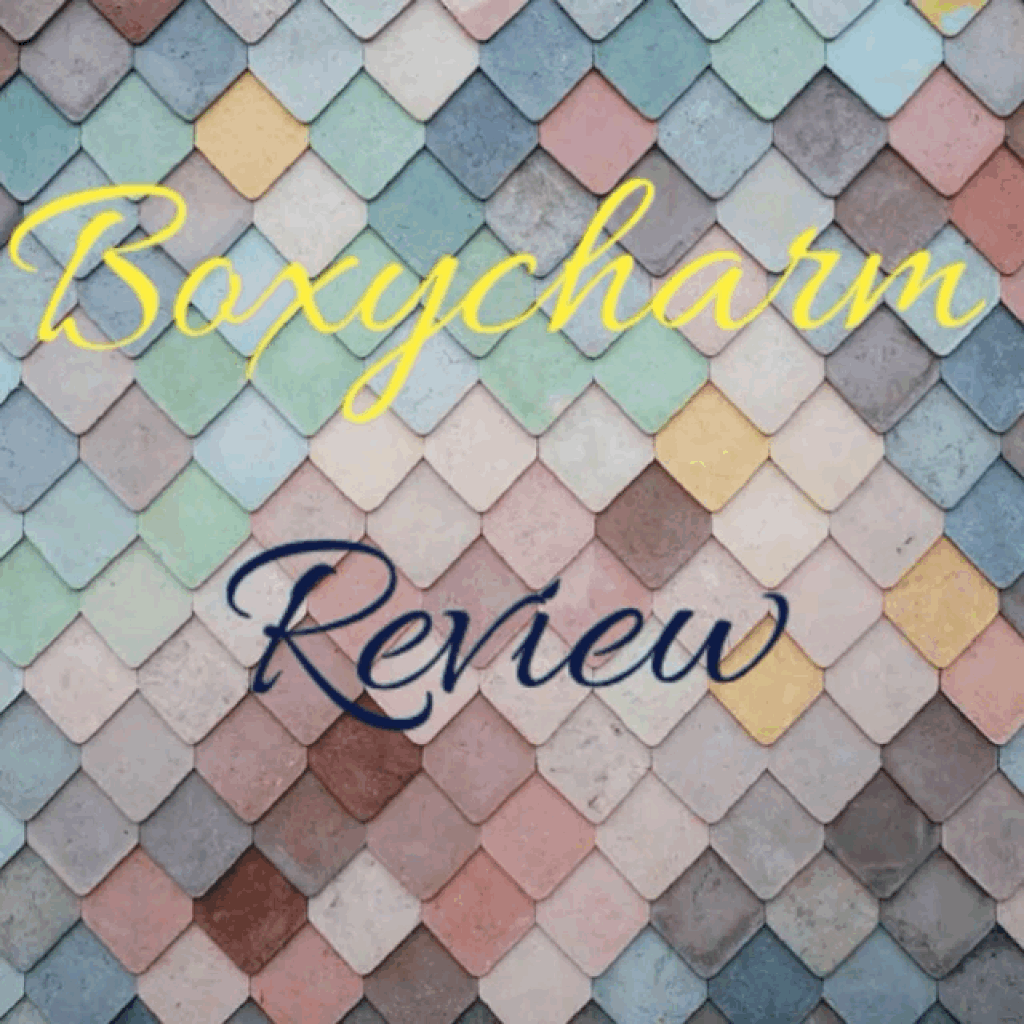 So I subscribed to BoxyCharm on June 27, 2018. There were two reasons I subscribed for the three month plan. One, I saved a tiny bit of money comparatively to the usual 21 USD per month. Two, I felt that just getting it for one month would not be a fair shot towards BoxyCharm.
Simply because not every month is going to be a love. I accept that, and I understand that it's impossible to please everyone. Plus, it's only fair to do different things, different months—thus every customer gets something they at the very least like.
It cost me 59 USD (19.67 USD per month) + 15 USD Shipping (5 USD per month)
People may bark about the personalized profile, but I understand that it's unrealistic and not a guarantee. Though, I do recommend two possible changes BoxyCharm could make to somewhat manage customer dissatisfaction.
They could stop with the variations. I do feel that every customer should get the same box, or at the very least even if it's a different brand, the colours or the product should be relatively similar, if not completely the same. That way, at least you won't hear people saying "I wish I had gotten the mist instead of the mask. Or the nude over the bold."
Or if they want to have variations, then perhaps they should allow the first 1000 customers (for example) at the beginning of every month to choose their own products. If others customers have commitments at said time, that really is not BoxyCharm's problem. Granted, they have to be prepared for the traffic influx, so their site doesn't keep on crashing (BoxyLuxe, ahem, BoxyLuxe). But every month all customers would have a fair chance to "build their own box" so to speak. Plus perhaps the customers who were able to build their box one month are not allowed to do so the very next month, giving a chance to customers who were not able to do so.
Apart from that, I feel ten kinds of fool to complain about this when the cost is so low. It's embarrassing almost, because it is cheaper than even drugstore makeup. If I bought three-four items on "sale" (not clearance mind you), that would put me close enough or even more at times to 21 USD. But then again bargain finds are not as likely in Canada as they are in the US. So I could be wrong.
If you are dissatisfied, cancel it is as simple as that. Being extremely sensitive about your disliked product is irrational.
To conclude on this introductory part, the gist of what I want to say is I am open minded to getting skincare over makeup, bolds over wearable, or vice versa.
My only problems are when something is obviously not meant for me, and when the quality of something actually sucks (but this might be a tiny bit subjective, you be the judge). And not on a preference level, but actual physical traits level. Like I have black hair, not blonde hair. What am I supposed to do with an ash brown eyebrow gel?
The products with an asterisk signs are the ones I am very much satisfied with.
Products Breakdown By Month:
July

Crown Brush Fuego Eyeshadow Palette
29.99 USD: The shadow pigments are good (not the best mind you), but the packaging and brand feels cheap.
Wander Beauty Curl Mascara *
24 USD: Love it. Don't see myself paying full price for it but if it went on sale then I'd most definitely would buy it—if I was running out that is, not as a back up.
Note Cosmetics Silk Luminous Blusher *
11.99 USD: Not a blush person personally but am glad that I got this. I can broaden my horizons on using makeup items that I personally would not buy.
Chella Beauty Eyebrow Cream
26 USD: Hate it. I am dark haired. My eyebrows are black, not taupe.
Farmacy Brightening Mask **
38 USD: I like the mask. But on the tube it says that it's made especially for BoxyCharm. And that only makes me wonder if this mask is actually as good as the one you get at Sephora.
Points: 3.75/5
August

Adese Sweet Almond Cuticle Oil
18 USD: It works, but I do not need a nail softener, the exact opposite actually.
Wander Beauty Eye Masks
13 USD: My undereyes are most definitely not my insecure points. Thus, I sold the three packs for 6 USD.
Laura Lee Party Animal
19 USD: It's a good pigmented product, alas an incomprehensible color story coming from a problematic brand. Trying to sell it at the moment, but hopes are low.
Bang Beauty Chocolate Eyeliner
22 USD: This sucked. The product was so dry and stiff that it does nothing. And I was so excited to try this out. Alas, massive fail.
Smashbox Tritone Lipstick
24 USD: This is what I mean when I say they should stop with the variation. An orange, purple, and berry lipstick is too much, even for me.
House of Lashes
12 USD: Not a lash person, so was able to sell it for 6 USD.
A disappointing box, but I did recover 12 USD out of the 26 that I did spend. And if LL goes, I'll have recovered close to 21 USD. So I'll say it was a 3/5.
September BoxyLuxe
I was lucky to get my hands on BoxyLuxe, though the way Boxy handled it on the launch day was disappointing. No excuses.
Dolly Makeup Headband
4.99: I would not pay 5 USD for this. It feels like a dollar store product. Plus I don't like headbands that have that ruffled/scrunched feeling to it. It irritates my scalp like no one's business. Decluttered for a family member.
Smashbox Nicol Concilio Primer Water *
32 (?) USD: Love. Love. LOVE IT! Enough said.
Lorax Pro Liquid Lipstick *
See, getting stuff from Lorax in Canada is not easy. So super pumped about this happy surprise.
Girlactik Skin Glow Duo
26 USD: It's a nice product. It feels very luxe. It's just not for me.
Alamar Ojitos Eyeshadow Brush Set *
18 USD: See, an eyeshadow brush set is a necessity in my makeup routine. It was long overdue that I bought some, because I only keep what I need. I do not have jars of brushes. So these came in not only at the right time, but also are really brilliant to work with. However, I would never pay 18 USD for three brushes when I can find something cheaper that works just as well at Marshalls. But unlike the next brush, the price of these ones are not OTT.
Luxie – 732 Airbrush Foundation Brush
38 USD: It feels very luxe, and I can see that it'll work very well for foundation seeing how tight the bristles are. But one, no makeup brush, all things considered, takes that much to make. And two, I prefer my eggs. You know some products that are senselessly expensive (regardless of affordability or not)? This feels like that. Granted, it also feels very nice, just not 38 USD nice.
Pretty Vulgar Nightingale Palette
35 USD: This palette underwhelms. I do not know if it's the palette or the brand itself. Perhaps it's a bit of both. I feel that the palette this month should have been a touch more lux, considering the luxe drama. Apart from that, PV does have nice shadows, so that's nice.
Juice Beauty Stem Cellular Anti-Wrinkle Serum *
80 USD: At 24 years young, I do not suffer from wrinkles. But I do love luxe skin care. And I do cynically believe in that different packaging, demographic, and labels, but it's the same bloody thing in the inside. Anything that mentally takes me to the spa is a plus in my book.
R+Co High Moisture Cream
16 USD: You see some people are salty about travel sizes from BoxyCharm. One, look at the price. Two, you really do not need full size of anything really, but especially body care because it's just going to take up room if you don't like it. Now onto the product itself. I love how it smells, but it does not get rid of my frizz that I am suffering from recently a hundred. Like it, but don't love it enough to repurchase.
Sol De Janeiro Ipanema Sunset Glow Oil *
35 USD: Still figuring out what to do with this. But the smell is so good that I'll find a way.
Tarte Cosmetics Park Avenue Princess Avenue Chisel Palette
45 USD: Right brand. Right price point. Not nescessarily the right product due to its lack of versatility.
X
Total Cost: 59 USD (3 mo sub) + 15 USD (3 mo ship) + 28.99 USD (Boxyluxe) + 3 USD (Boxyluxe shipping)= 105.99 USD
Total Worth Of Items Recieved: 348.99 (Sept) + 108 (Aug) + 103.8 (July)= 560.79
Total of Happy Products and Resale: 149 (Sept) + 12 (Aug) + 73.99 (July)= 234.99
I honestly think that the 3 month BC subscription was a win both in retail value and satisfaction levels. And if I, with patience, am able to sell more of these products which I still have not touched—more win!
Charm Points
You can review all products in a given month's box, even the ones you do not get. And each product essentially gives points worth 50 cents, which can be used in their store. Now the products in the store do change I believe on a monthly basis. So if you like something, you have to act fast. If you do not have enough points, I believe you can use your points and than use whatever is left over. In three months, I have collected points worth 20 USD.
Referral
Hey if you're interested in signing up, then throw a girl a bone and use my link which gives me 0.50 cents in points. TYSM!
Conclusion
Will I continue or will I cancel? The answer is Yes. I will prepay for one year, and than cancel it. After that one year is passed, I don't know if I'll stay or not. Really depends on where I am at that point in my life. Makeup is a loved hobby, but is not my passion. Plus, I don't want to be overwhelmed with too much stuff. Potentially I'll end up with more than 60 items in a year (which is a lot), and I want to see if I'll be able to put these products to efficient use (personal, gifting, selling), or if I will reach hoarder status.
product review