Bold and Bushy Brows, Baby
My personal "bold brow" journey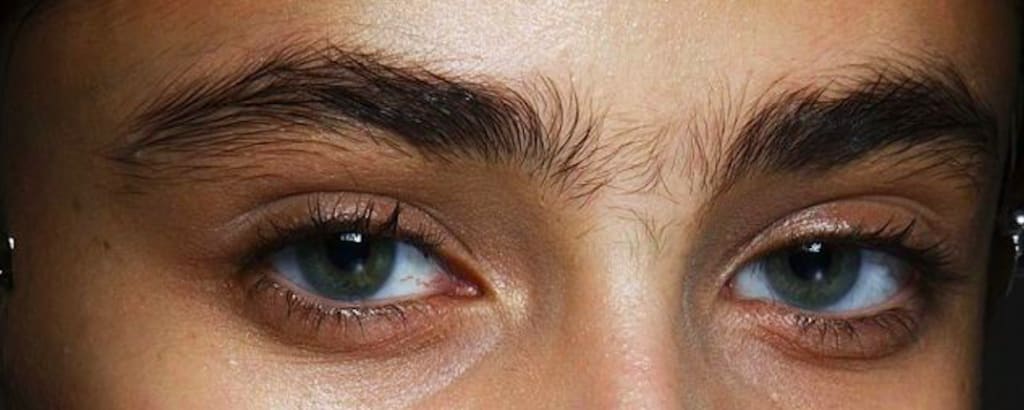 Bold brows weren't always a trend.
My eyebrows have always been a bushier than others', and were lightly joined above the bridge of my nose. I asked my mom about them one day. She reassured me that my eyebrows made me unique. I took her word for it, and carried on with life.
At age nine, the day finally came when I was confronted by a classmate.
"What is that?" my classmate rudely questioned, while pointing at the middle of my eyebrows.
I was different, which was constituted as bad. The ever-so-subtle elementary school bullying continued with curious questions.
I felt unpretty. It was so rare to see a person with eyebrows like mine labelled "beautiful." I wanted my eyebrows to be thin and exquisite, just like everybody else's. And so forth, I grabbed the scissors and tried to fix my eyebrows. As a result, my eyebrows became even worse. They were a mess.
When my mom demanded to know what happened, after seeing what was left of my eyebrows, I was in full panic.
A stupidly crafted lie slipped out of my mouth in a mutter, "I don't know, I just washed my face, and then looked up and this happened... maybe something's wrong with our water!"
Needless to say, summer went by with people wondering why my once full eyebrows were now patchy. People laughed and the situation was passed off as typical and ridiculous childish behaviour.
Luckily for me, my eyebrows grew back by the time school started in September, and as I got older, I still remained insecure about my "caterpillars." The time and money I would end up spending just to make sure that my eyebrows were always in good shape soon became a tiresome obligation, and was no longer for myself, but for others. I feared that the teasing would start up again one day, and always tried to keep my eyebrows perfectly groomed, when in reality, personal self-care didn't always need to include the painfully-glamorous eyebrow threading that I forced myself to endure.
Overtime, I slowly learned to appreciate my eyebrows, with the help of fashion trends, magazines, and celebrities who embraced bold brows. It was then when I realized that my unibrow and bushy brows actually gave me a lot to work with; I started experimenting with threading, waxing, and tweezing. I had multiple good eyebrow days, and let me tell you, when a random girl in the club bathroom tells you how much she loves your thick eyebrows, it feels great and makes the bullying worth it. You're suddenly thankful for your unibrow, which once brought on merciless teasing.
Fast forward to today: I don't mind getting my eyebrows threaded every now and then, and love how they look afterwards. The post-threading glow is real, and the compliments that follow are great. That being said, I actually haven't had them threaded in a year, and still love how my eyebrows look. And this has to do with the fact that now, I rarely feel like I need to get my eyebrows done.
I finally decided to embrace my eyebrows for the way that they are naturally, and while it was a long process, it was worth it. What I love about my eyebrows now is that I choose how to love and maintain my brows on my own terms, regardless of the latest beauty trends.
I'm not thankful that bold brows are a trend today… I'm thankful for making them my own trend forever.