Best Facial Mists for Glowing Skin
Get beautiful, glowing skin this summer without a greasy effect with these best facial mists. Think of facial sprays as the new toner.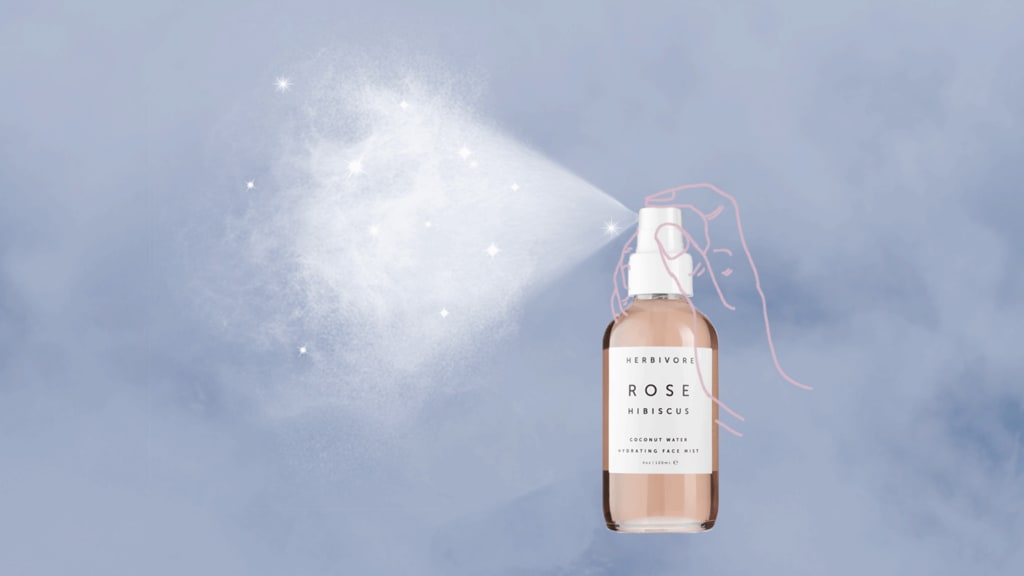 Especially on hot days, it can be difficult to avoid oily, acne-prone facial skin. For others, the summer heat can cause drying and peeling. While there is no shame in struggling with skin problems with the season changes, there is something you can do to make it better. One of the best ways to help dry skin during the summer is to get facial sprays.
From this list of best facial sprays, you'll discover quality, trustworthy products that can tend to your dry, oily, and/or sensitive skin while balancing its hydration and pH levels.
If you think you're ready to add a facial spray to your daily skin care regimen, let's get started.
Containing aloe vera, rosewater, thyme, and fruit extracts, Mario Badescu's facial spray has substantial reviews for its hydrating, refreshing, great-smelling formula while breaking the bank.
This facial spray isn't just designed for the hydrating the face but also for setting makeup and rejuvenating dry hair. Best of all, this facial mist is gentle and non-irritating for all skin types. It has a soothing, non-irritating set of ingredients even for individuals with sensitive skin.
Up next, we have Kopari's Coconut Rose Toner, a vegan, alcohol-free face mist that can be used as a face primer or as a makeup setting spray. It's also non-GMO, gluten-free, and cruelty free.
Kopari's spray is not as affordable as the last product we've looked it, but it's for all skin types and can help combat an uneven skin tone, redness, and dryness.
Containing witch hazel, this toner is also great for eliminating and preventing dirt, bacteria, and thus blemishes from forming on the face. Both the rose and coconut part of this product offer soothing, smoothing capabilities for the skin.
One of the next best facial mists available is the Rose Hibiscus Coconut Water Hydrating Face Mist by Herbivore. Similar to the last product, this Herbivore face spray is vegan, cruelty-free, and gluten-free and is safe for all skin types.
Use Herbivore's spray to assist with uneven skin tone, dryness, and unclogging the pores for a cleaner, fresher face. The hibiscus flower apart of this product assists with the skin on a cellular level for tighter, more even skin.
For a fair cost, Brumisateur has a super hydrating face mist for dry skin that's paraben-, sulfate-, and phthalate-free. Among all of the facial sprays on this list so far, this product is most essential for hot days, especially days at the beach or swimming pool.
Brumisateur's spray hydrates the skin while drying perspiration and removing salt water and pool chlorine from the skin at the same time to help rebalance the face's pH and purify the face. Apart from this, this formula is suitable for all skin types.
The cooling face spray provided by First Aid Beauty is enriched with green superfoods from kale to spinach to cool down the skin on hot days, assist with dry and dull skin, and protect your face from damaging free radicals from the environment.
First Aid Beauty's product is one of the most powerful face mists offering a paraben-, sulfate-, and phthalate-free formula with anti-oxidant enriching ingredients with no artificial fragrance.
First Aid Beauty is a trusted company as they only offer products with ingredients without artificial colors or fragrances, formaldehyde, talc, and other harmful substances. Plus, it's a way to fight dry skin without breaking the bank.
This next face spray by Mad Hippie was recently-released compared to other mists on the market. It's formulated with an antioxidant blend and super hydrating ingredients to lighten dark spots, reduce sun damage, and assist with age-related skin problems including fine lines and wrinkles.
This nutrient mist is not only for the face but also for the hair, neck, arms, chest, and other areas where signs of aging are present. It was also the 2017 winner of the Earth Day Beauty Award.
For more moisturizing skin over or underneath makeup, opt for Saturday Skin's Daily Dew Hydrating Essence Mist. Saturday Skin's mist assists with eliminating free radicals from the face and tackling fine lines and wrinkles effortlessly.
The grapefruit extract within this face spray helps support the elasticity of the skin for a more youthful appearance. This mist also includes hyaluronic acid, a common ingredient found in anti-aging formulas, to provide both skin hydration and suppleness.
Next on our list of best facial mists is Too Cool for School's Coconut Milky Mist. Just the name of it alone sounds refreshing, and it lives up to it as it provides a flawless, silky glow after application.
This face spray keeps your skin hydrated thanks to fatty acids which ensure moisture in the skin can be replenished quickly even on hot days. Overall, Coconut Milky Mist is light-weight and offers a lovely coconut scent. Use it as a refresher for the skin or as a makeup setting spray.
Laura Mercier's Flawless Skin Perfecting Water Moisture Mist is dermatologist tested and provides optimal hydration for the driest of skin types. This face spray is an essential before treatment and serum applications.
Even in the winter, this product can provide the moisture your skin needs to retain its youthful, firm, and smooth appearance. After just days of using the product, dry patches and redness vanish.
Generally, Laura Mercier's face spray provides the hydration your face needs without making it appear greasy or feeling heavy.
On the moderate-priced end of face mists, yet offering high-quality 4-in-1 benefits, Goodal's Super Seed Oil Plus Skin Mist is one of the best facial mists.
This product is jam-packed with seven seeds include sunflower, camellia flower, argan, jojoba, green tea, olive fruit, and macadamia seeds without providing a thick or heavy finish. It doesn't have any of those makeup ingredients you should avoid in it; it's all natural. It's a must for individuals who suffer with chronic or acute dry, flaky, or peeling skin.
For the types of ingredients offered within Goodal's face spray along with the results that come about after application, the money is well worth it.
About the Creator
Proud mom of three chinchillas, hard core Justin Bieber fan, watches Unsolved Murders religiously
Reader insights
Be the first to share your insights about this piece.
Add your insights