A Brunette's Holy Grail Guide to Purple & Blue Dyes
Who said only blondes can have more fun?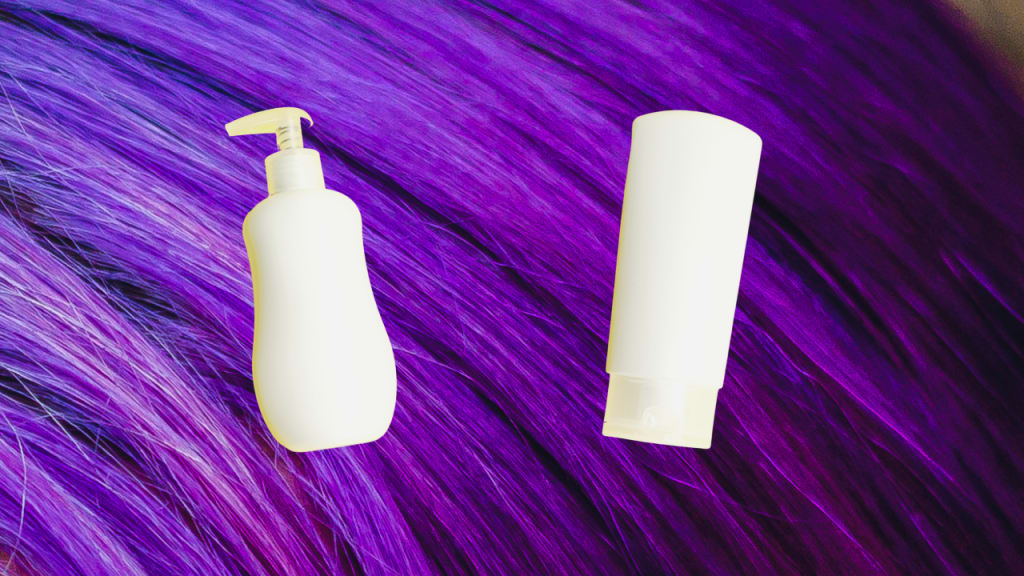 It's been 8 years since I first starting experimenting with fun, non-traditional colors in my hair. I've bleached it & used boxed dye (sorry Brad Mondo!) so it's been through a lot. Luckily enough, I've still got a head full of thick hair. Since then, less damaging hair dyes have come into the market so today I'll be sharing my current favorites which I consider my holy grails. I included the prices in USD but of course, availability & pricing varies depending on your location.
Favorite Purple Toned Hair Dyes
Purple to me really ranges from magenta to violet to what many actually "purple".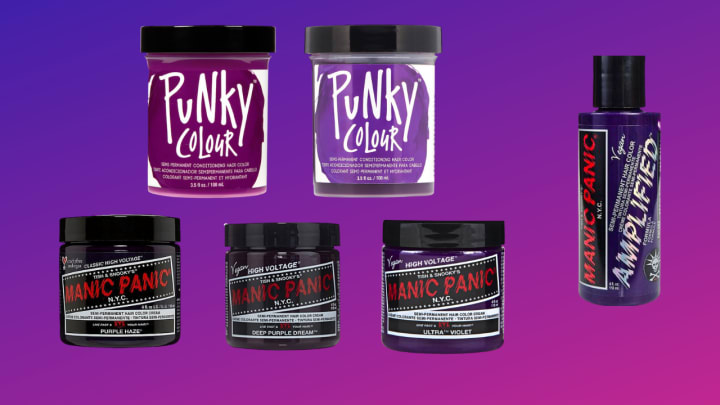 Semi-Permanent Conditioning Hair Color - Purple (Punky Colour, $8)
I would say this "purple" borderlines magenta & pink rather than a true purple. After watching some review videos on youtube, it does also lean closer to the same brand's Plum shade which even pinker than the purple shade.
Purple Haze - Classic High Voltage (Manic Panic, $14)
This shade is definitely the shade I would associate most with the purple heart emoji. Obviously, it won't be vibrant on darker brunettes but it has never let me down with adding a pretty true purple tint to my hair.
Violet Night - Amplified (Manic Panic, $18)
The Amplified collection from Manic Panic just means the color claims to be a little strong than the original shade. I find the dye itself to be more cool-toned than Purple Haze.
Semi-Permanent Conditioning Hair Color - Violet (Punky Colour, $8)
When placed next to my hair dyed with the Punky Colour Violet, you can really see how much more cool-toned this shade of purple is. I prefer this color over Purple because I just find cooler toned purples prettier.
Deep Purple Dream - Classic High Voltage (Manic Panic, $14)
Since these last two purples really have what looks like strong blue colored bases to them, I would say they really vary in the results but I personally love the inconsistency of finding out what it looks like on my hair.
Ultra Violet - Classic High Voltage (Manic Panic, $14)
This shade is just a hair bluer than Deep Purple Dream so often I switch between the two. I also may combine one of these two with other hair colors for another way to get a fun surprise color.
Favorite Blue Toned Hair Dyes
Blue is a bit tricky to use on darker hair whether you bleach your hair or not. If you bleach it, you should make sure you tone it with purple shampoo or toner (or if you're like me use purple hair dye as a transition color & dye the blue on top after enjoying purple hair for a few days/weeks). Otherwise, after bleaching warm-toned, dark hair it turns yellow & yellow + blue = green based on color theory (remember primary colors - blue, red, yellow?). If you don't bleach it, you should make sure it is light enough for sunlight to pass through it for that tinted look & make sure you leave it in longer than normal. If you follow the process I mention in this article, you can get a pretty good result.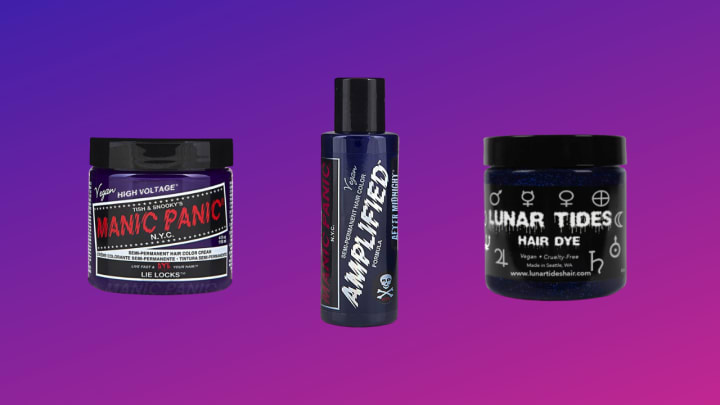 Magic Shadow - Magic Collection (Lunar Tides, $12)
The whole Magic Collection by Lunar Tides is made exactly for people that want that dark hair but colored tint look. It is technically a black hair dye so it is very darkly pigmented, but if you dilute your mix with diluter (conditioner) you can get a less intense black shade. Black dyes are super pigmented so try out a quarter (even a penny or pea) sized dot amount of dye to a bowl of conditioner ratio & slowly add more if you want. There is little glittery mica in the formula which can leave your hair literally covered in little sparkles so be wary. I have yet to try the other colors, but they have the exact colors I want to try to rock dark hair with a dash of purple, blue, red, or green. I would say the smell is not great or terrible just pretty good.
Lie Locks - Classic High Voltage (Manic Panic, $14)
I absolutely loved this hair dye on my hair! It was so trippy. In a certain light, my hair looked purple while in others it looked blue. It worked best for me after leaving it on my hair for an unhealthy amount of time but the results were one of my favorites.
After Midnight - Amplified (Manic Panic, $18)
If you're looking for a true blue shade, this is what you should try. Of all the dyes, I definitely suggest using lightener before dying otherwise you'll risk green hair or very temporary blue hair. On bleached hair, it can be as blue as the blue heart emoji.
BONUS: Favorite Burgundy Red Toned Hair Dye
Some hair dyes borders between red & pink/purple depending on the base hair color. While there are many red dyes, my favorites have always leaned toward a burgundy look.
Cranbaby - Deep Velvet (Lunar Tides, $12)
This was the first hair dye color I tried from Lunar Tides. I remember going to Hot Topic because I had a coupon & was drawn to this color because the packaging had Taurus symbols on the cap & as a Taurus sun & venus I could not resist trying it. Luckily, I loved the color on my hair. It gave me a pretty burgundy red, sometimes magenta tint to my hair.
Other Hair Products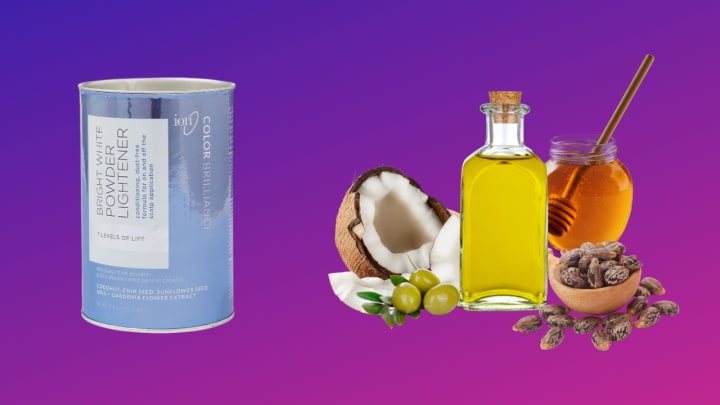 Dying my own hair is fun & therapeutic for me although I always note the possible risks & damage that might occur if something goes wrong. I typically start with clean, dry hair & combine these hair dyes with some conditioner. It's great for those that want more hair dye without having to buy multiple containers. While the color may not be as vibrant, I've never had a problem with the results. As with many hair dyes, make sure your work area is covered (or that you are extra careful about the dye contacting any surface) as well as have petroleum jelly, an old shirt, & gloves to minimize dying your skin.
Since many of these dyes are conditioning formulas, there is significantly less damage than leaving box hair dye in your hair for the same amount of time. But regardless, take precautions & consider your hair's current state. I typically leave the dye in my hair for at least 4 hours or overnight depending on how I feel. The most important part for me is to check my hair every so often & ensure my hair is always moist underneath a reusable shower cap, plastic wrap, or tin foil. If it dries, I add more dye or conditioner.
When I do bleach my hair, I use Bright White Power Lightener by Ion Color Brilliance which claims to be a "conditioning, dust-free formula for on & off the scalp application" with 7 levels of lift, coconut, chia seed, sunflower seed oils, & gardenia flower extract. As with all bleach, it smells quite strong but to be honest the package marketing these seemingly healthy, natural ingredients is what got me to buy the product. It works great for me nonetheless.
Before I bleach my hair, I apply coconut oil all over my hair to provide a barrier for my hair follicles. I find that it helps my hair from getting super brittle when I use the lightener. I also put on coconut oil on the ends of my hair regularly after I wash & towel dry my hair with 1 drop of castor oil on my scalp.
Once in a while, I make an apple cider vinegar hair rinse to use after I shampoo my hair. In a reusable container (like the length of a mascara tube), I fill about 1/5th of the container with ACV & fill the rest with water. After I wash the shampoo from my hair, I shake the container & pour the contents on my hair. I leave it on for about 5 minutes then rinse my hair with water before applying conditioner. It will remove some dye so be aware as I usually only do this one or twice a month. Since ACV smells, the shower won't be pleasant but the scent goes away after your hair dries.
I also find that when I combine olive oil, coconut oil, & honey in a bowl it makes for a good DIY warm oil treatment to use when you're in need of a cheap hair mask. It's super messy but after leaving it on for a few hours & washing it out my hair feels super soft & shiny the next day.
Final Thoughts
I have not gotten around to trying brands like Overtone, Lime Crime Unicorn Hair, or Iroiro but they are definitely products I hope to test one day. I'm fairly picky when it comes to hair dye since I hate wasting money but part of the fun is seeing the end results. While I really wanted to include Arctic Fox hair dyes, I heard about some problematic issues regarding people involved in the company which makes me feel iffy supporting them. Luckily, when I had heard about it, I purchased an Arctic Fox product from Depop in which my money did not go directly to the company. If something happens to the company, similarly to KVD Vegan Beauty, I would definitely be open to purchasing them again from them Sally Beauty. If any of the mentioned brands are associated with concerning business practices or individuals, I definitely would be open to removing them from my faves - so let a girl know! It's impossible to be the perfect conscious consumer, but I would like to do what I can to support businesses that share similar values.
Just like with any brand sometimes there's variation between similar colors from another brand, or even within the brand itself. Since lots of factors impact the end results of coloring your hair, your experience might vary. I would say my hair is typically the same tone as Selena Gomez's hair in the movie Monte Carlo. You should get your hair lightened or carefully bleach it yourself if you want to have a more vibrant appearance. However, if you're looking for a tint that shows up in sunlight, in my experience these dyes are perfect for that kind of look without as much damage as a box dye!
hair
About the author
Reader insights
Be the first to share your insights about this piece.
Add your insights