I Replaced My Shampoo With This New Hair Wash for 30 Days
And Here's What Happened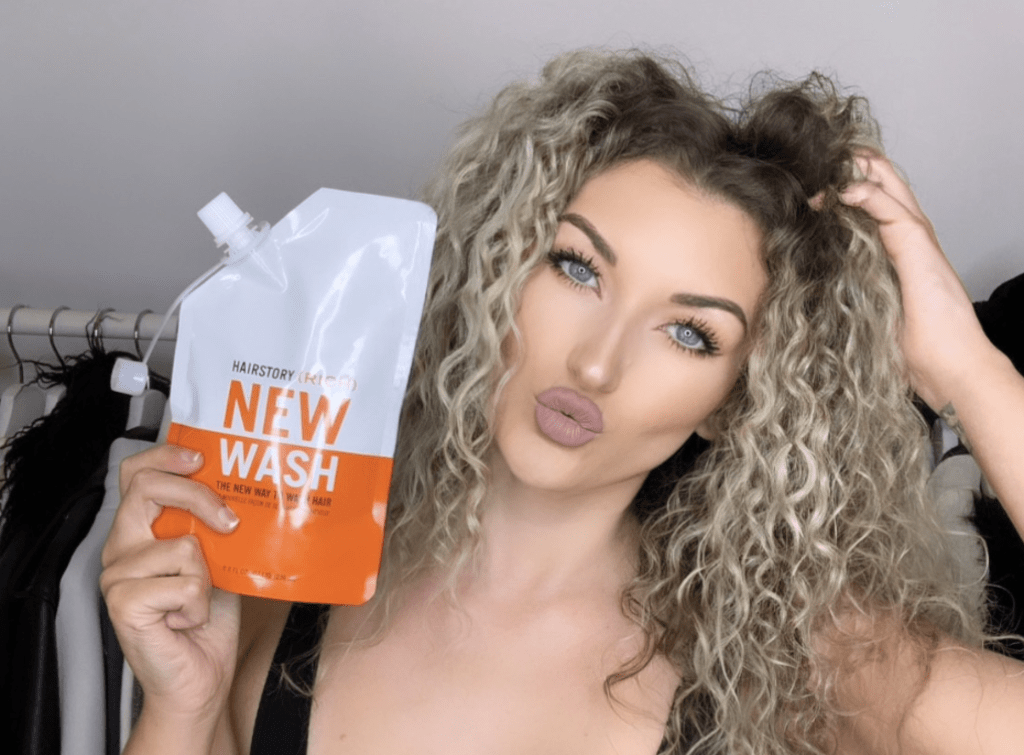 Hairstory New Wash
Believe it or not, my hair and I have had a very tumultuous relationship.
Growing up with these crazy natural curls, I always hated how 'different' my hair was- being the only curly girl in my family and in my school. Because of this, I began straightening my hair for special occasions like holidays and school dances which escalated into straightening my curls every day for years! At the same time my naturally blonde hair was looking dull and I began highlighting my hair. As you can imagine, all of this processing and straightening led to so much hair damage! Because of all of the damage I was constantly putting my hair through, it began breaking, and breaking…. and breaking until I was forced to do the 'big chop' that is so common for girls with damaged curls. I ended up with chin length hair that looked amazing and healthy, but of course, I didn't learn my lesson and was still straightening and highlighting my hair.
A couple of months later on a family vacation to Miami, I decided to spend the trip embracing my natural curls and leaving the straightening behind. Straightened hair and the ocean waves are NOT a good match and I would have much preferred having the extra time in the sun than inside of my hotel trying to tame my hair. It was such a freeing feeling stepping away from the straightener and worrying a lot less about how my hair looked. The best part was that my curls actually thrived with just a few days away from heat styling!
Since that Miami vacation years ago, I've never straightened my hair again and I finally began to love my curls the healthier they have become.
Taking care of my curls is now my number one priority. I have continued on my curly hair health journey and have been experimenting with products to find a system that not only makes my curls look amazing, but to find products that are actually good for my hair at the same time.
When it comes to what I look for in a hair product, I search for products that will help to shape my curls, reduce frizz, while also maintaining my hair color (because regardless of my hair health journey, I just CAN'T give up my bright blonde!) While on my search for the unicorn of hair products, I came across Hairstory Hair Care Products and was immediately intrigued by their process in helping to find their customers the best products through a quick and easy quiz. After a few minutes, I was matched with Hairstory's New Wash Rich, the thickening hairspray, Lift , and the effortless air-drying Hair Balm. The Hairstory quiz matched me perfectly with products that addressed all of my hair concerns and wants.
A few days later, I received my Hairstory package and challenged myself to use the products every time I washed and styled my hair for the next 30 days and here's what happened!
I started the process by washing my hair using New Wash Rich which is an all-in-one product that cleans, conditions, detangles, and repairs hair- but don't worry, it is NOTHING like those horrible 2-in-1 products that your dad probably uses. New Wash perfectly moisturized my curls without weighing them down and my hair and scalp has never felt so clean- I also attribute this super clean feeling to their Scalp Brush that cleans your hair, evenly distributes product, and feels like a scalp massage all at once! The fragrance is enriched with essential oils and my hair smelled like I just left an expensive hair salon after every use, I was getting tons of compliments on how great my hair smelled!
After washing, I moved on to styling.
I started by applying the Lift Thickening Hairspray into my damp hair before using the Hair Balm. I applied the Hair Balm all over my damp hair and scrunched my curls to help form perfect spirals. This product works without heat and gives you perfectly air dried curls and is an amazing product to use if you're trying to limit your heat styling to protect your hair like I always am. I was immediately impressed by how moisturized and smooth my curls looked while giving my hair so much volume- weighed down curls is typically my biggest complaint when I'm trying new hair products. I was so eager to not only have my hair LOOK amazing, but to help improve the overall health of my hair after using Hairstory's products for 30 days.
The best part about my new Hairstory routine was that my curls looked amazing for a couple of days and I could quickly refresh my curls by misting the Lift Thickening Spray and applying a little bit of the Hair Balm to my dry hair. This saved me so much time by cutting down on the amount of times that I would have to completely rewash and restyle my hair.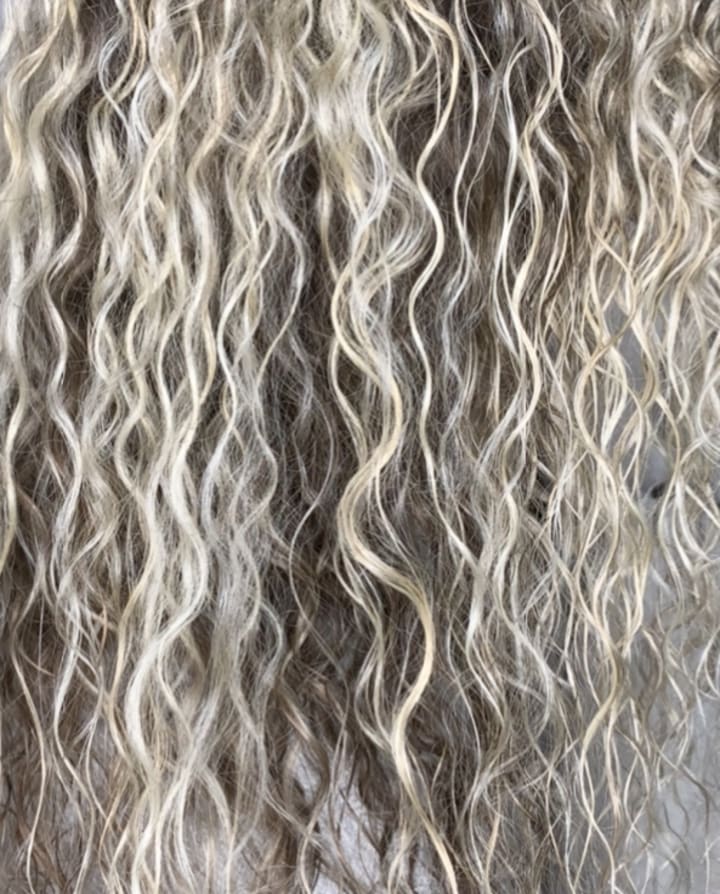 During the past year, hair salons have been reopening only to shut down again, so as you can imagine, my blonde hair is not looking as fresh as it could- I haven't been able to get fresh highlights since November. After the 30 days of using my Hairstory products were up, my biggest surprise was how much my new routine kept my hair looking blonde and bright, despite not having those fresh highlights that I desperately needed.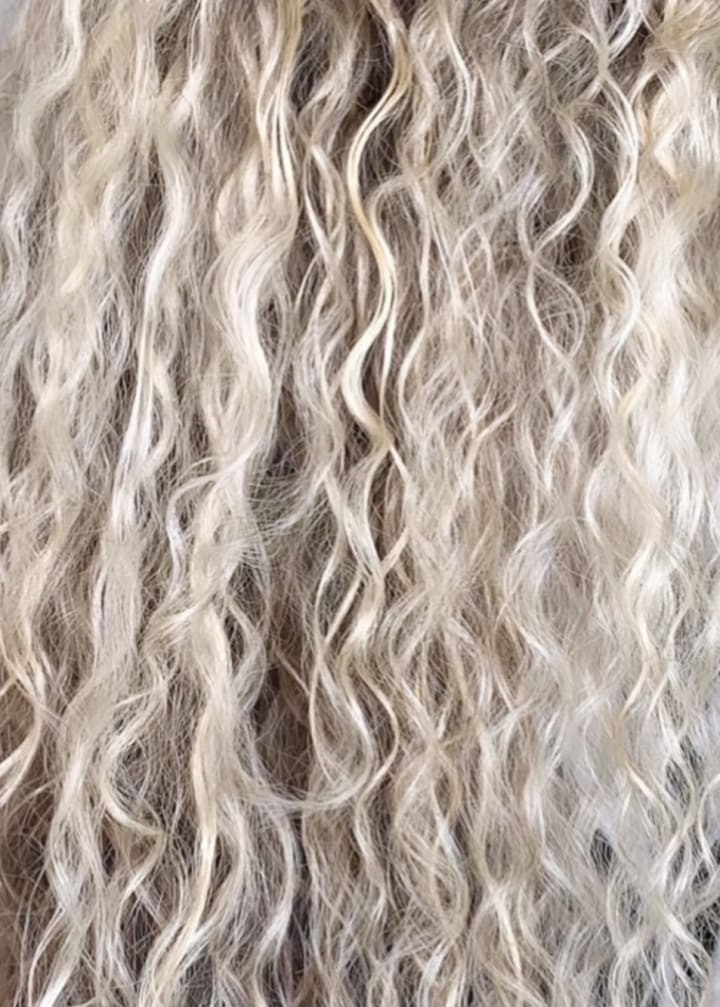 These products have completely changed the game for me and I'll continue using them as my primary washing and styling products.
The before and after pictures I took speak for themselves- my hair has never looked healthier, my curls have never been so soft, smooth, defined, and voluminous and my blonde is looking brighter than ever!
Do yourself a favor and take the Hairstory quiz for your customized selection of products that work for every hair type, concern, and goals!
Tiffany Wood
A scantily-clad writer and content creator currently living between Toronto and Los Angeles collecting misadventures and all of the best fashion, beauty, & lifestyle tips!
https://www.tiffanywoodxo.com/about
@tiffanywoodxo
See all posts by Tiffany Wood →