'You Are OK!' The Maine Says So...
The Maine recently released a new alternative indie album, 'You Are OK.' The album was publicly released March 29, 2019, and features ten tracks.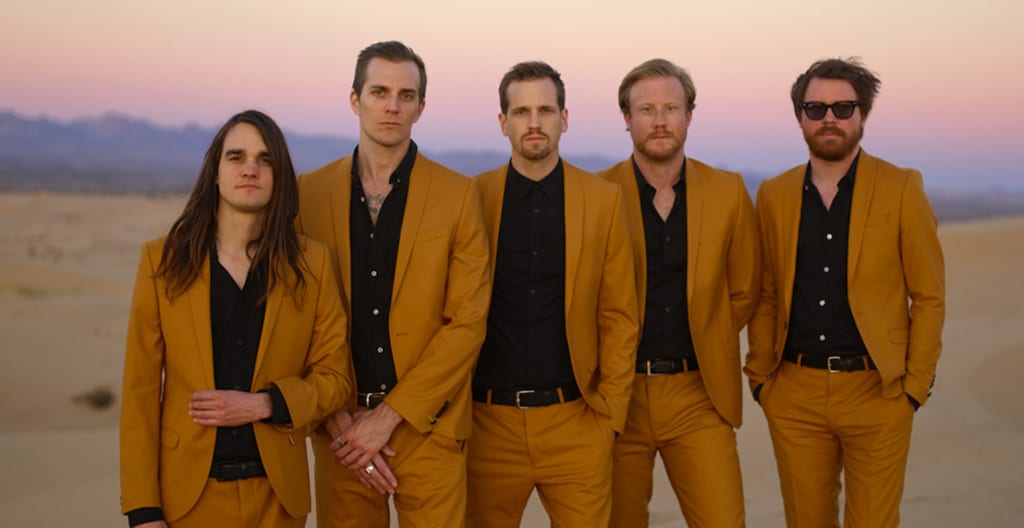 The Maine is a five-piece band from Tempe, Arizona, that is constantly destroying their own previous records with every new release. The band formed in 2007, and is currently made up of John O'Callaghan, Kennedy Brock, Jared Monaco, Garrett Nickelsen, and Pat Kirch. The Maine's first release was an EP that ended up in the hands of Fearless Records, a legendary label in their genre. With Fearless Records behind them, the band released a second EP. Those were followed by a debut album and a holiday themed EP just in time for Christmas of 2008. However, their first real seller was their second album, Black and White, that sold more than 22,000 copies in its first week. This would prove to be the album that really rocketed their careers. Between 2011 and 2019, the band has officially released five more studio albums, Pioneer (2011), ForeverHalloween (2013), American Candy (2015), Lovely Little Lonely (2018), and their most recent, You Are OK (2019).
You Are OK has been categorized as an alternative album, and has ten tracks, starting with one titled, "Slip the Noose," and ending with "Flowers on the Grave."
"Slip the Noose," despite the title, is a catchy little love song that has a very significant meaning to the vocalist, John O'Callaghan. In an interview with Rock Sound magazine, O'Callaghan said the song is about him "…Letting the girl I fell in love with know that I was in a bad place before she came around, and I'm very thankful that she did." He makes this clear in the chorus when he sings, "I was on the verge of breaking down/ Then you came around/ And not a second too late." The band really pushed this idea during the album's promotion time when they used only the word "urgent" to describe the song.
"Space" is the word used to describe track number four, "I Feel It All Over." It does have a very space-y vibe. It feels distant, yet surrounding. Lyrically, it is about being in a moment that makes you forget all others. The type of moments you miss as soon as they end, the kind your body aches to return to, even though you can't get them back.
Track number five, my personal favorite, is about living in the fast lane, being adventurous. The word "fast" came to the band's minds when describing it. This is the most easily placed word for the song, in my opinion. The song highlights finding your way in life and feeling "So alive, we could die." "Heaven, We're Already Here" is bound to open up the door for your free spirit to adventure.
The only acoustic track on the album, "Forevermore," rightfully described as "bare," is just that. It's raw and bare and intimate. The beauty of this song is that you feel the emotion in the voice and minimal instrumental.
"Tears Won't Cry (Shinju)" is correctly described as "different." Shinju, Japanese for "double suicide," is a beautiful, lustful, simple song about how in love the two are. They are so happy they could die together right then, to avoid later pain, and be fine with it. A classic reference to the romanticized double suicide in Romeo and Juliet, but also a reference to old Japanese teachings. Some Japanese cultures believed that the bond between husband and wife will transcend into the afterlife in heaven, and even in their next lives.
"Hopeful" is how the band feels about "Broken Parts." The song is about how "We are all the same broken parts," which means that yeah, we might be broken people, but we can help to fix each other. The band is hopeful in thinking that if we are all nice, loving people, we can all prosper and become whole once again.
Last, but definitely not least, is "Flowers on the Grave." The song is about how the little boy the singer used to be has grown and matured, then returned to his childish ways that he was told were wrong. The idea of being an adult who plans life out and sticks to that plan is unappealing to O'Callaghan, and he doesn't want anyone else to feel constricted to that lifestyle. As he says in the chorus, "You don't plan life, you live it/ You don't take love, you give it." That is how life should be lived and experienced. Freely, like a child experiences it. This is why the band chose to describe it as "full circle."
Overall, You Are OK, like most of The Maine's music, is deeply meaningful and beautifully executed. This is, however, my favorite album of theirs and is without a doubt, the most powerful of them all.