Woody Guthrie Didn't Read the Headlines. He Found the Battle Lines
Woody Guthrie Documentary Entertains and Informs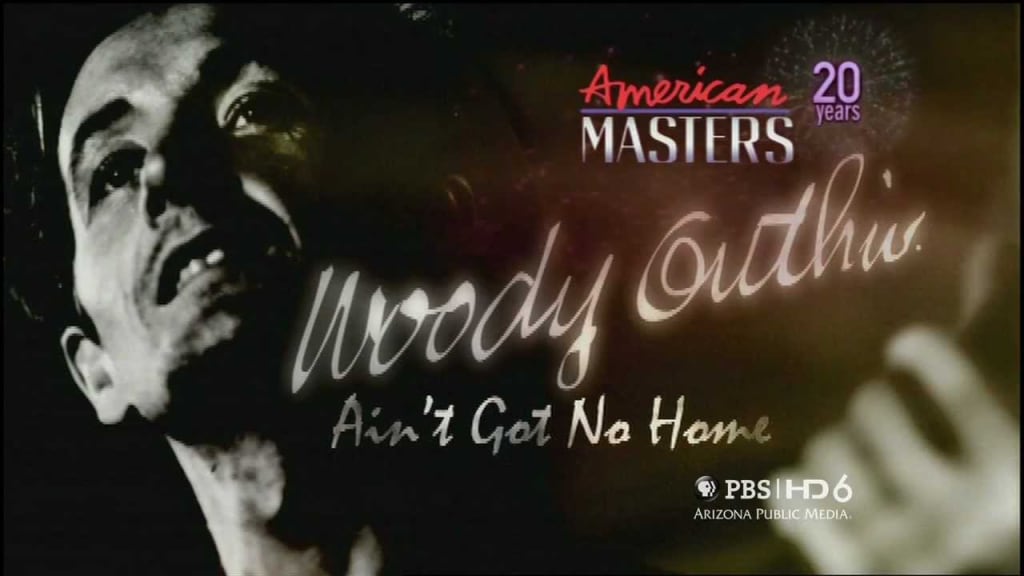 Last week at the Jacob Burns Film Center, audience members found residence in Peter Frumkin's Woody Guthrie documentary Ain't go no Home. Opening the evening, which included a discussion from Frumkin and Guthrie's daughter, Jacob Burn's program director described the initiative of this forefather of American popular song.
"He didn't just read the headlines, he found the battle lines of where things were happening and then went out and did something about it," said Brian Ackerman. The film opened on a similar note with insight to the song that his name will always be synonymous with – America the Beautiful.
This Land is Your Land 
The lyrics were written as a left wing response to "God Bless America." A song that he loathed, Guthrie felt dustbowls, injustice, and depressions were not in God's hands but in control of ordinary Americans to change. Hence the words, "This land is your land, this land is my land…"
On film, Bruce Springsteen commented on the simplistic genius of the words Guthrie put to music. "You've got to exert ownership over the place you live," he said, and take on the responsibility required of citizenship. Although, other than Springsteen and Pete Seeger, the film is mostly devoid of big name celebrities.
In accordance, Frumkin commented on how difficult it was to condense Guthrie's story into a 95-minute documentary. He traveled so extensively, and performed with so many people, that Frumkin chose to limit the film mostly to family members. This included his first wife and daughter Nora, and little known performers from the early days.
He was just Woody.
Nora Guthrie pointed out in pride how so many of the interviewees ultimately used the same phrase to sum up her father. "He was just Woody," she said.
Guthrie chalked this up to the way he approached life unfettered by whatever the prevailing political or social winds of the day were. "Woody would look inside and say to himself, what's the right thing to do today," said Guthrie.
Contrary to the popular impression, his conscience came from that of a well-read man and not just a simple Oakie. He spent much of his young life educating himself in the library.
Woody knew the struggles of the common man.
His identification with the struggles of the common man did not come out of a book, though. He, like so many of his time, came from a family of means that lost everything. As a result of the disease that would incapacitate and eventually kill him, his mother's struggle with Huntington's Disease would take it all away.
The erratic behavior brought on by the disease lead to numerous family arguments. In one incident, his sister set herself on fire and his father was severely burned. His mother institutionalized, the tragedy landed Woody in an orphanage. After nine years, Guthrie took to the road and unleashed all the rage with his guitar to tell the story of America.
As he gained fame, Woody found himself performing for causes, putting out 45s, and working in radio. Nonetheless, he stuck to his principals — even in the face of fame and fortune. For instance, he quit a highly lucrative New York radio job over content. Stated in the film, Guthrie felt, "There was a great tendency to do what money wanted you to do, and not what the truth wanted you to do."
And write he did.
Even so, his talent to talk the language of the needy never left him without money for long. John Steinbeck learned first hand how easy it was for Woody when he compiled The Dustbowl Chronicles to coincide with the success of The Grapes of Wrath. "That little SOB got my entire book in 17 stanzas, and it took me two and a half years to write," Steinbeck reflected.
And write he did, according to Ms. Guthrie. He left behind about 2600 songs that were never recorded.
The bag log has her prolonging his legacy and recording about an album a year with different bands. "I'm taking all my Dad's material and bringing them to you like he was alive and well," she concluded.