Twice's Chaeyoung Dyes Hair Orange
...And everyone loses their minds.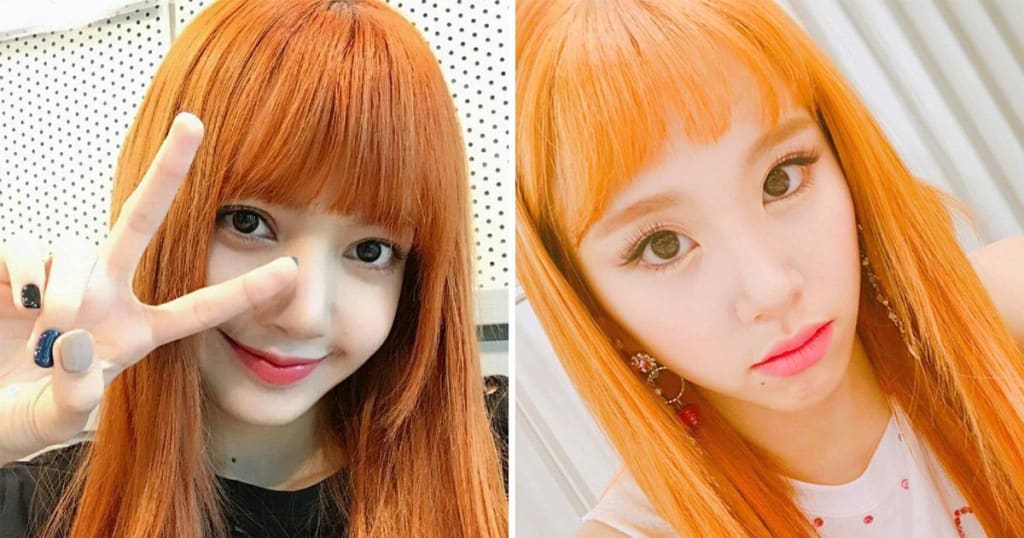 BlackPink's LIsa (left) and Twice's Chaeyoung (right). Who do you think wore it better?
According to an article on UK's MetroTwice member, Chaeyoung, has dyed her hair orange, is now wearing blunt bangs, and some fans are accusing the K-pop girl group member of copying BlackPink's Lisa. Lisa has adorned many different hair colors, sometimes multiple colors at once. It just so happens that orange hair is one of those colors.
BlackPink and Twice are both very popular girl groups in Korea, and both are rapidly gaining more fans worldwide. With this new change to Chaeyoung's hair (who bears the same name as BlackPink's Rosé), it's at least a little bit familiar. I mean, Twice is not known for wild fashion and ever-changing hair colors in the way that BlackPink is.
Twice debuted a full year before BlackPink and still hasn't set as many records as the latter group has. BlackPink has fewer members, and some might argue more fans. The two groups have performed to a few of the same songs, like Beyonce's "Partition", "Wonder Girls", and "So Hot". BlackPink proved to be the more modern with both performances.
Girl groups in Korea have had to step up their game since BlackPink hit the scene, in much the same way as male groups had to step it up after BTS' popularity all but broke through the atmosphere. Red Velvet's choreography became a little more risqué, but never quite reached the same level of intensity and sexuality as BlackPink's choreography. Similarly, it's no surprise that a Twice member has gone for a more edgy look. Both groups are just about as popular as BlackPink and have to compete with them directly for sales, YouTube views, and music show competitions.
Let's face it. That hair color was most likely not a decision Chaeyoung made on her own, and at the very least it had to be cleared by management at JYP, the agency that manages Twice. Even the agencies know that something has gone very, very right in the making of BlackPink, their whole aesthetic and their vibe.
BlackPink is all edge. It is in their very group name. Black and Pink together. A mix of the serious/sexy/intense with the cute/pretty/lovable. Most girl groups in Korea, especially in their early years, typically just go for cute, pretty, and lovable.
Perhaps BlackPink, specifically Lisa, who netizens claim Twice's Chaeyoung is trying to emulate, should take this as a compliment! After all, the saying goes that 'imitation is the most sincere form of flattery.' And maybe it really is a tip of a respectful hat to BlackPink. Several Twice members are good friends with BlackPink members, like Nayeon, who has been close friends with BlackPink's Jennie since their early years as trainees.
There is probably no bad blood between the members of the two groups. It's silly that there has to be so much bad blood between the fans of the groups. So she dyed her hair orange. So it may or may not have anything to do with BlackPink's Lisa famously rocking the exact same look. There is nothing to be said about the number of girl group members who have black hair, though. There's a lot of those!
I could maybe understand anyone's concern about Chaeyoung's hair color if, say, she dyed her hair with the same frequency and the same sequence of colors in the same order as Lisa. But like many female idols before her, the Twice member has merely changed her hair color just before a comeback, which is set to take place in a few weeks. And like I said, they have to keep up with BlackPink's star power, so maybe this edgy look means the group is going to try shedding some of its cuteness and go for a little more hotness.
At any rate, calm down internet people. It's only hair. She'll probably change it again before their next song hits music show stages. We all know for sure that Lisa's hair will change again, too. No one owns a copyright on orange hair.
Reader insights
Be the first to share your insights about this piece.
Add your insights