Top 4 Underrated Prince Songs
The musician that still makes us party like it's 1999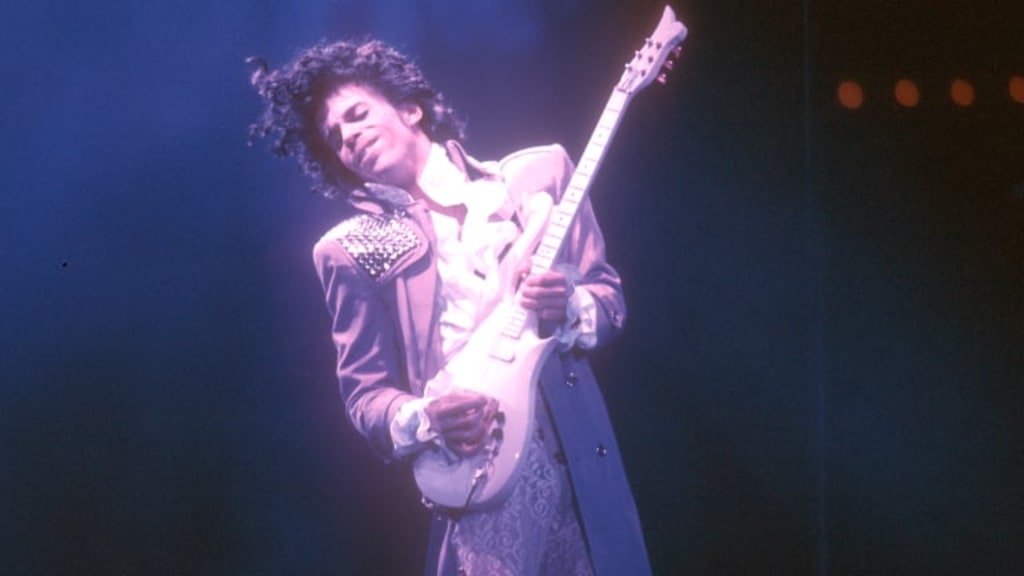 Photo from History.com
Prince Rogers Nelson made an impact for the way music is for creativity, and challenging. The way music can be created in a new way to twist up the tune of the genres, and for how far a song can go about sultry themes. He's the reason why there is a Parents Music Resource Center to warn people of the lyrics, and why there is a warning label of Parental Advisory on the CDs you buy. Prince wasn't afraid to take a risk; he changed music forever, but music also changed when he died. There will never be another musician like Prince and those doves are always going to cry.
Prince's success of his songs always made the high mark on the lists of pop charts in both genres of Pop, R&B, funk, rock, soul, etc. Little Red Corvette was in the top ten list in 1982. Delirious was apart of the Billboard Hot 100, a majority of his songs from Purple Rain were successful on the pop charts, Billboard, and a placement on Rolling Stones top albums of all time. The man made his mark every year in every decade. But there are some songs that haven't been heard yet, If you're missing Prince then this should help getting to relive the love for Prince all over again.
1. Computer Blue
As mentioned in the opening, the album for the movie Purple Rain, is ranked number 8 in Rolling Stone's Greatest Albums Of All Time. So with a high rank and permanent status for this album, somehow Computer Blue is rarely heard about despite the inclusion in the movie and album and even a live performance in 1985, the year after Purple Rain's premiere in 1984.
This song is a different one, it doesn't have many lyrics, but the placement is perfect for where it was used to interpret the frustration at the mid point of the movie where The Kid (Prince's character) has no idea where his life is going, the problems in his personal, professional, and romantic life. It is a song that is confusing with questions for lyrics, but I think it was meant to be confusing to convey those questions and conflicts. The lyric "please someone tell me what the hell is going on" We all want answers in life as to why something went wrong or if it can be fixed. It took me a while to really understand the song both individually and as a placement so it can be universally interesting. Take a listen for yourself, it's not a long song but it still feels timeless for a prince song.
2. Thieves In The Temple
The song was included for the trailer of Purple Rain's unknown and stale sequel, Grafftti Bridge. If you haven't seen Graffiti Bridge, it's not a great movie for Prince, but it has great music. When I was watching the trailer for the sequel this was the song that primarily played, and I was hooked. It just goes to show that when Prince entered the 90s he was still going to maintain his style well making it mainstream for audiences in the 90s. He brought the power per decade.
After one listen, you'll want to go back to this temple for more.
3. Kiss
Now this is a known song, Kiss was apart of the Parade album with high rankings on many different charts in 1986, but it's not remembered fondly and not played often. It's hard not to swing and sway to the way this song is sung and played.
The only other time I've seen this song relatively known was when Julia Roberts sang a snippet of it in the bathtub for the film Pretty Woman. It is also the song that is sung by Nicole Kidman at the beginning of Happy Feet. So it's a bit ironic that two famous Hollywood actresses have sang the song of Prince's, but it's rare to hear the song itself in films, only in various memes.
This song deserves some extra time, it's what Prince would want.
4. I would die 4 U
It's known but it's not played as much , it's only known for being the last song at the end that his character sings after the reinvigoration from his performance in the club. Listening to this now years after his death, it hits differently. It wasn't a song I listened to outside of the movie, I only listened to When Doves Cry and Let's Go Crazy. It feels it's at a standpoint that is genuine listening to it and thinking about Prince's career. Most of Prince's songs are about lust and love, but it's a perfect song of the declaration of love, and it was a perfect way to end the movie.
I'll end this list with a quote from Leslie Jones when she spoke of Prince (Time Machine, Netflix 2020)
"He had on a red leather suede chaps with his ass out, a yellow half top fringe Big Bird shirt on with daisy painted around his belly button. and a big old white fedora with a big ostrich feather, and six inch heels-

-But that was Prince, and he was beautiful."
Thank you for reading this music list, please consider leaving a tiny tip for my hard work , take care and enjoy the tunes~