11 Songs That Help Write Dark Humor To Be Bold and Bleak
If you are a dark humor writer, this should be your perfect playlist for smarmy characters, bleak futures, or scuzzy situations.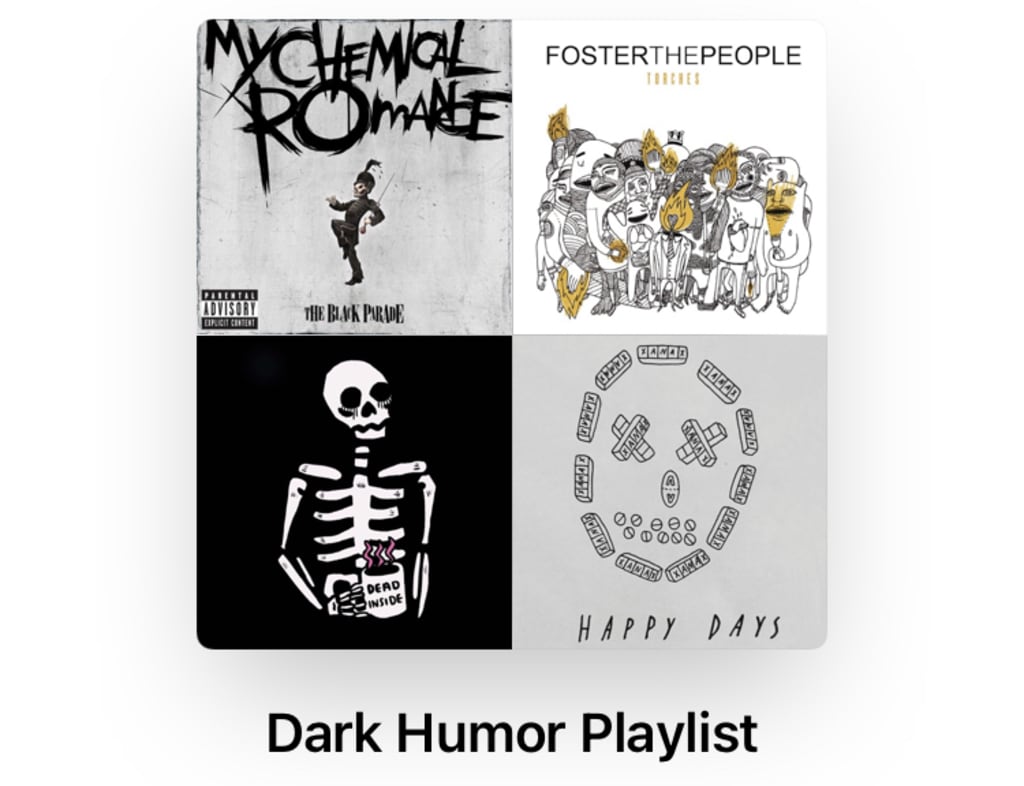 All rights of the songs go to their respected creators
There are a plethora of songs that have a happy sound that actually can be stretched to be the anthem for antagonistic characters, sleazy situations, or tweaked for turmoil within the topic of the plot. Over the years, I've found many songs that I've analyzed to be used for the creative assistance of dark humor. I love to hear a song that is too happy for the dark undertone. but at the same time it fits perfectly because it's something that normally wouldn't be heard at all during a dire situation. Depending on what character you are creating for the tricky turmoil they are in or the way they are. A certain tune might be what you need to tweak that turmoil your characters are in.
I'll be including a frame of the lyrics to show how it can pertain to be used for musical inspiration for writing Dark Humor.
1. Dead Inside by Younger Hunger
I got a real big heart that I'm willing to hide

You ask me what I want from life, I said to

Make a lotta money and feel dead inside
The lyrics have the perfect way to sum up someone who accepts the emptiness in their heart and the reality of life to have a increase in financial value. Often times in dark humor, the idea of obtaining money is a main factor for a character's concerns. This song has become a dark humor anthem for me in the creating of my crumbling, reckless characters of Inglorious Ink. The whole vibe of the song with the beat and the lyrics that can cultivate in the creation of an empty character.
2. Run Diana Run by Don McLean
They like to feed on fantasy

Like lions feed on meat

They like to shoot her every day

And bring her home to eat
I've talked about Run Diana Run in an article, and dissected the morbid possibilities to the fate of Diana. Taking the tone of the story about how this woman is on the run. This is the song for any scenario you are writing with a a character on the run from the threat that's gaining on them, this would be that perfect song to put on to increase the tension of their fate.
3. Cigarettes and Chocolate Milk by Rufus Rainwright
Sitting here remembering me

Always been a shoe made for the city

Go ahead accuse me of just singing about places

With scrappy boys faces have general run of the town
For some strange reason, every time I listen to this song, it puts me in a coffee shop setting where there is a hitman nearby who is enjoying his cup of coffee while he is scouting around his target.
It's a happy sounding song with a tinge of unease. If you need a sense of unease for a character that has a premonition that something bad is going to happen to them, this is the perfect song for a dark deed that is about to happen. Dark deeds are usually in a casual setting which makes it a unnervingly normal. There is a certain casual demeanor in a person with dark intentions or knows a looming threat is coming.
4. You're Not Drinking Enough by Don Henley
I can see that you haven't recovered from the girl who let you down

And you'd sell what is left of your soul for another go-round

You keep telling yourself she means nothing and maybe you should call her bluff

But you don't really believe it

You must not be drinkin' enough
If you have characters that are alcoholics, and they are burned out from constant disappointments, this would be a song to listen to channel their downhill ways. This is a simple song for those sullied characters that choose to have their therapy from a bottle of booze.
5. Warrant by Foster The People
I've thought a lot about the way that they fight

Come through the phone lines, not man enough to face me

I can stop or argue about what they say

Yeah the warrants out and I'm not gonna pay
This band already has the way to convey a dark topic in a happy sounding song. If you are familiar with the song "Pumped Up Kicks", this is very similar to that.
This song has helped with giving the idea of a character on the run from law enforcement. But this song can be stretched to the idea of the lyrics hold that it's a character that is slowly disintegrating within his reality.
6. Mama by My Chemical Romance
Mama, we're all full of lies

Mama, we're meant for the flies

And right now they're building a coffin your size

Mama, we're all full of lies
The madness, the melancholy, and the morbidity within this song is a staple for characters that are going to death's door at a fast rate. It's a great song to use for characters that have become unhinged in violence.
7. The Kids Aren't All Right by Fall Out Boy
I'm not passive but aggressive

Take note, it's not impressive

Empty your sadness

Like you're dumping your purse on my bedroom floor

We put your curse in reverse
This is more of a melancholic song that has a positive tinge to use for characters that won't have a happy ending but they are accepting of their outcome. I've used this song many times for various characters that went through a horrendous ordeal, but still have their companionship.
8. Notorious by Duran Duran
You own the money

You control the witness

I'll leave you lonely

Don't monkey with my business

You pay the prophets to justify your reasons

I heard your promise, but I don't believe it
This is sort of like a mafia song with how the lyrics go, I associate it with any character that is doing their own illegal schemes and continue to do it with pride.
9. New Kid In Town by Eagles
There's talk on the street, it sounds so familiar
Great expectations everybody's watching you
People you meet, they all seem to know you
Even your old friends treat you like you're something new
I feel that this song helps out when a sketchy character comes to town that will be doing some damage. It's an anthem for those with antagonistic antics, this would be the song to listen to as you navigate their chaos for this character.
10. Friends by Flight of The Concords
If you cross the road and a truck struck you

And scrape you up and reconstruct you

I'll cheer you up if you're depressed

If you get murdered I'll avenge you're death
This isn't a sketchy song, it is a wonderfully weird anthem for friendship. But friendship in dark humor is automatically weird for the bizarre antics that happen in the story. This is a song I would associate with certain friends that involved in something sketchy and have to see this life altering thing through because they care about each other.
11. Happy Days by Brooke Candy
I bought a six pack of freedom

Ten pack of pride

Losing the streets, and I'm feeling alive

Cigars and Sinatra

Sparking some flames

Killing me softly

Kiss me again
Everything about this song is has the exact material to get into the mindset of someone who is going downhill. There are themes of addiction, the theme of what will and never will be. This is a song I would use for a character that is making reckless decisions, and they are content with how bad their life has become.
I hope these songs find a way into your writing playlist to be used for your story process in creating your characters chaos or making an eerie ambiance.
If you enjoyed this article, please consider a tiny tip to my hard work.