Top 30 Albums of 2018
Odd year for music, was it any good though?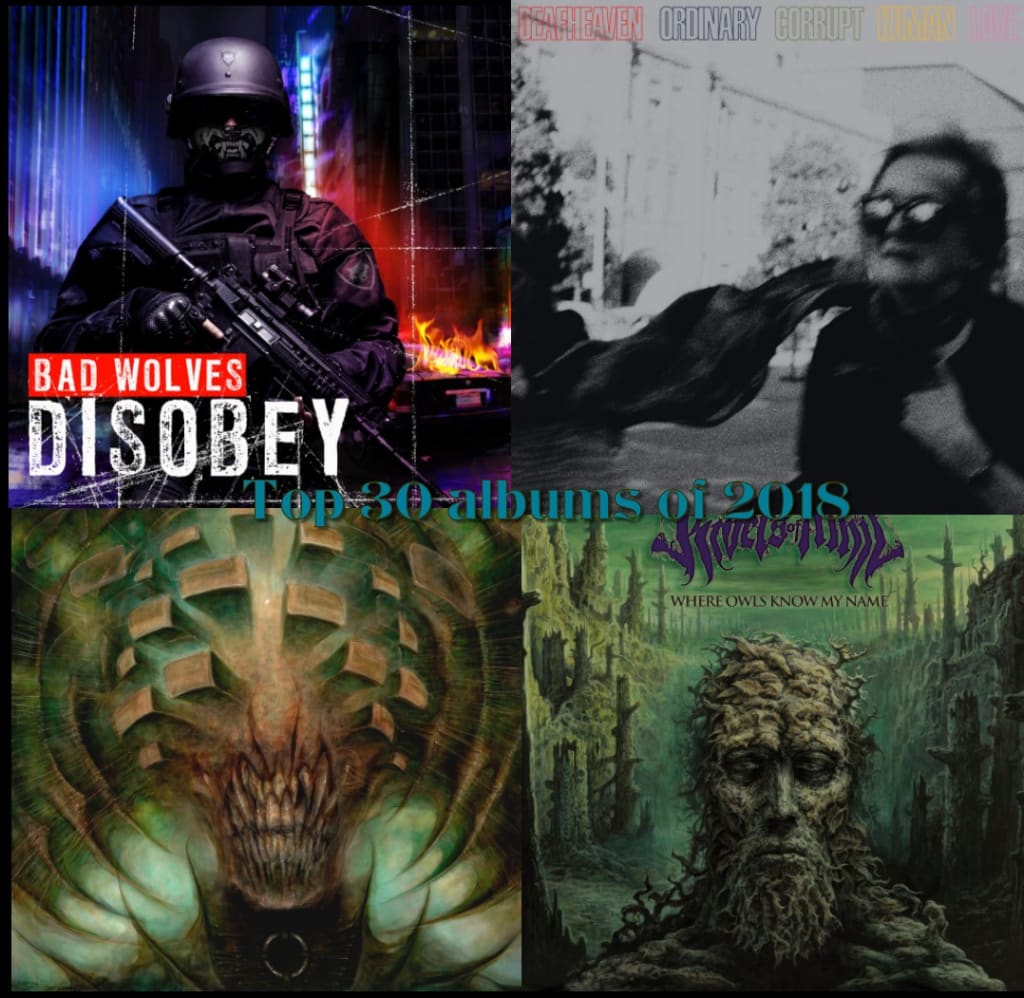 Wow, what a year overall am I right? From everything in the world to what I can only imagine personally this year has been a roller coaster for a ton of people! I will say musically it has been a crazy ride. Let's reminisce one last time on this year of major ups and downs through these albums, starting at number 30!
30. 'Dreamcrusher' by Condemnatio Cristi
Starting off the list with a cinematic atmospheric black metal from Slovenia. These guys have been making music since 2009 and this is their finest work to date. Fast drumming and texturing guitars throughout make it a pleasant listen. Even for those who aren't fans of this type of music. I would call it a good gateway album into the genre of atmospheric black metal. As a whole, not easy listening music by far, but as close to it as I have ever found in black metal!
29. 'Dying Flame' by Toarn
Deathcore that seems to delve into that beatdown the kids love these days. This album has a lot of atmosphere to it in a dark way. Moments, where it is the notes that they are not playing, adds to the overall songs. Check this out if you like breakdown heavy deathcore! There are a few songs with breakdowns so doomy and slow, the hardcore kids are going to need a type of slow dance to get down to this at times!
28. 'The Light That Shines' by Fractal Gates
As a huge fan of melodic death metal, this year was lacking a bit. This album though, even with its slightly proggy moments did its best fill the void. In the year we were supposed to get new Allegaeon and Children of Bodom albums but never came, this was a solid release. That being said, this album really stands on its own and sounds like At The Gates decided to write alongside a band like old school Opeth!
27. 'Human Nature Dark Side' by Insane Art
Sweet grooving death metal scoob! This album hits hard but still keeps it groovy! There must be something in the water in the Russian metal scene this year. As this awesome album was just the tip of the Siberian iceberg. In an ocean of good music coming from over there this year! A bit metalcore, a bit Pantera, these guys lasted a gauntlet of great albums to make it on here, having been dropped in early January!
26. 'I See What I Became' by Mirrors For Psychic Warfare
This album had lots of great ideas but can be a bit harsh or repetitive at times. This industrial folk metal band is darkly brooding and very interesting! Out of all the albums I have heard this year, this one stood out as the most unique. Overall this album is a trippy, dark and moody good time!
25. 'Head Cage' by Pig Destroyer
Truly bringing the core to grind-core on this one! Easily their most accessible album to date, with some real stand out tracks in the mix. Along with moments of their grinding glory of old. There are tons of featured vocalists throughout the album keep things fresh from start to end. The lyrics and overall words in the album are on point. Even at times if not messing with the listener. Overall a fun album and a good gateway to grind-core!
24. 'T​.​C​.​B​.​T.' by Black Tusk
Somewhere between the lines of old-school punk and Savanna sludge metal, there is a place called Black Tusk! All in all, this is a solid album that demands many re-listens. With bangers of songs like "Closed Eye," "Burn the Stars," "Agali" and "Scalped." It is an overall low-fi record drenched in reverb and a whole ton of edge to it.
23. 'Disintegrating Earth​|​Revitalizing Birth' by Forever War
Have you ever wondered what it would sound like if Jonny Hawkins of nothing more fronted a band? Well after listening to this I kind of know what that would be like! This is an excellent album from a very young band! This seems to be the first album from these guys and they already stand out from the pack. Not only of their peers but in the genre metal as a whole! I can't wait to see where this goes!
22. 'Phanerozoic I: Palaezoic' by the Ocean
A solid album by a solid band, I have some history of loving their last few albums. Is this album of the year? Not exactly, but it is up there with the amazing releases this year? I would say yes with a few great tracks like "Ordovicium: The Glaciation of Gondwana" and "Devonian: Nascent. These alone will have fans new and old loving it. It is overall a bit arty but overall great!
21. 'Our Raw Heart' by YOB
This album's title says it best, this album is raw and full of heart! As I delve back into the doomy sludge music style that I used to love, this one drug me back in beard first! This album has long brooding tracks with many movements within each. This album can somehow magically be a soothing background jam one moment. Then a triumphant explosion of metal the next!
20. 'The Algorythm' by Beyond Creation
Overall this is an enjoyable album, if not a bit out there, for more casual metal fans to fully sink their teeth into anyway. For the techies though, the album is absolutely sublime! With songs like "Entre Suffrage Et Mirage" and "The Algorythm," this album takes the tech to new worlds. Melodic when it wants to be and brutal when it isn't. This album is a bludgeoning on the headbanging muscles as well as the brain!
19. 'Exsanguinate' by Sarcophaguts
This is one of my favorite underground finds of the year! You can really hear the Revocation influence in the band, that in itself is not a downside though. This album is chalked full of thrashy riffs and very unique vocals for thrash. For a small indie type band, the overall production is amazing. The song bloodless is one of my favorite jams of the year!
18. 'Extinguish' by Murena
Still a bit unsure what is in the water over in Alaska's neighbors this year? It has to be something to have so many killer extreme metal bands forming there. Then just start cranking out amazing albums off the cuff! This was a bit of an odd one, the cover leads me to believe it was going to be some run of the mill Bandcamp black metal. Oh, boy, was I wrong! This chaotic inventive spin on sludgy black metal was an instant-buy for me. I love this album and it is a mainstay in my car stereo! Just like Sarcophaguts another indie darling of an album to really wow me!
17. 'Stars Wept to the Sea' by Unreqvited
This album is beautiful, truly beautiful! For once the old facebook adds got me to check out this album. As it was every other thing I saw on that wretched site. For once though I am glad I finally gave it a click! I think this album would have been much higher on the list if the new Deafhaven didn't outgaze them. This is one of the most shimmering "pretty" albums I have heard in extream metal in a long time! Long instrumental passages and low mixed vocals make you feel like you are in some sort of journey through some shining abyss!
16. 'I loved you at your darkest' by Behemoth
I do often wonder, can this band release a even average album? This album is more or less a continuation of their album, "The Satanist" with some added layers and tricks! The song Bartzabel was a major stand out in the year overall! I never thought I would hear a catchy song from this band but here it is! This stays the course of their last release. Almost like it is building for the next big thing, but still amazing album!
15. 'Unheavenly Creatures' by Coheed and Cambria
This album was really good, not great but really good! This album really had potential and the singles were really great! The only downside was this album was filled with a ton of filler tracks. If this album cut out the fat. Maybe keep a few of the extra tracks beyond singles, keeping it to around ten great songs instead of seventeen. I know for a fact this album would have been higher on the list!
14. 'Sirens' by Into Eternity
Overall I would say this a very good comeback album for them! I also look forward to what this line up will do musically from here. I say this because six of the eight tracks of this album are certifiable bangers! "Scatter the Ashes" was kinda of just an eh that didn't do much for me. But this album should be mentioned among the best albums of the year! It also shows that after ten years, they still got it!
13. 'Devouring Radiant Light' by Skeletonwitch
This was not the album I expected from these guys! Hell if you told me back when "Breath the Fire" came out that this was the same band. I would call you a lier! The brooding black metal atmosphere, songs past the four-minute mark, clean vocals? Who are these people!? This is in no way a bad thing though. These guys seemed to have been going towards this for a while. It looks like they have arrived and realized the band they wanted to be! Look past the first minute of this album... that sounds like it was played on a guitar pro midi player. Then find a truly amazing adventure that is this album!
12. 'Dancing on the Blacktop' by Nothing
Dreamy, desolate, shimmering and beautiful are words I would use to describe this album! This post-rock/shoegaze outfit returned to the form of their first album. Going for a less indie rock vibe like their last album "Tired of Tomorrow." Returning more into the shimmering post-rock that I fell in love with in "Guilty of Everything." In by no way do I mean this album is regressive! There are essences of their last album throughout mixed with their core sound. This seems to lead them on a path of the sound they are fully going for! An album great for a long grey rainy drive.
11. 'Avatar Country' by Avatar
It really took me a while to get into this, all the zany song titles and poop jokes through me for a loop for sure. Also an album like "Feathers and Flesh" was a monster of an album to follow up. So it is easy to say it took me a bit to get over that and enjoy this album for what it is. There are two instrumental tracks and an interlude and on a ten-track album, which was a weird choice for a band with five people. Leaving one of their strongest players out of three of their tracks is a bold move. The full tracks make up for this, being diverse and sometimes rather long. All of which are following a concept which if you read through the lyrics paints a pretty good story. These guys are very talented had they had a few more full band songs or a truly stand out single this album. I feel it would have gotten in the top three.
10. 'Prequelle' by Ghost
Starting off the top ten strong with a genuinely fun album! Oddly poppy, still kinda occult and heavy in its own way. Overall a great album, with easily my favorite tune form the last five years in "Dance Macabre." There are enough singles on this album to be remembered for years to come. Like Skeletonwitch, going off what I first heard from them, this is a huge departure but every release it made since a bit more. To put a genre on this album would be hard, as it never really stays on one too long. You could say it even 70s rock, blues, and even disco at times. Needless to say, there is something for everyone on this album!
9. 'Oblivion' by Realm of Wolves
This is a really pretty sounding unique yet stand out of an underground album. Shimmering guitars both from electric and the acoustic giving it a very good almost happy feel to the album at times. While also creating an aura of melancholy at the same time. I could possibly call it something like fake happy and compare it to a person who has a smile on their face in their day-to-day. Though on the inside this person has either given up or feels truly dead on this inside where no one could see. Music wise this album is all over the place under its atmospheric black metal shell.
Overall quite impressive what a three-person band can make happen with just the traditional guitar bass and drum set up! I would go as far as to use the word progressive to explain this album if they have not. This album blew me away and is my underground album of the year for sure! If you check out one album from this list, check these guys out this is the future of atmospheric black metal, and I am excited about it!
8. 'A Patient Man' by Cult Leader
This magical bastard of an album decided while writing this list up it needed to be on the list! Though not just on it this list, this album demanded itself be near the top! I have no idea how a band who can be so brutal and chaotic can also have songs like To Achlys and A world of Joy. Within the first four and five tracks into this super heavy boundary-pushing album. The dynamics this album goes through truly is a journey! Slapping a genre on these guy beyond "Heavy" I think you might need to have a few degrees from Juilliard to even attempt it. One of those to truly to get it, you have to listen to it for yourself type albums! That being said, check it out if you are a fan of music pushing the boundary of what even is a subgenre in heavy music anymore!?
7. 'As the Kingdom Drowns' by Psycroptic
When it comes to technical death metal versus progressive death metal I usually lean on the side of progressive for its lack of seemingly needless wankery. This album is so beyond that, I almost want to apologize for thinking that about the genre at all! Sure there is some guitar wizardry going on, but instead of a "look at me" vibe from the riffs. It is more, this sounds good, yes it is hard to play, but that is what makes it sound good. They choir and synths add a dimension to this album. I didn't think was possible, to the extent of, where sonically would that fit? These guys, they found a way, not only does it just fit, it adds so much to the album overall.
6. 'Idol' by Horrendous
This was a real surprise album for me! Up to this year, I had not even heard of these guys. After this album though, they won me over as a fan for sure! Essences of the band death are aplenty on this album, in the best way! The vocals on this album really got me hooked, with their variety that spanned all around the realm of metal vocals. Which vocals like that are usually missing from the traditional death or thrash metal album. This album if I had an award for it, would be my best bass tone of the year award. The muddiness of the recording at times got to me, as there was a ton going on but I feel like I missed it due to the production! Or maybe my headphones need to be better to understand how awesome this album is. Overall the muddiness kept these guys from the top five, but still an amazing album!
5. 'Where Owls Know My Name' by Rivers of Nihil
This album will be one that will be remembered for years to come! When bands like this take all their tech death brilliance then add in melody and good clean vocals that make sense. This makes my respect for that band rises beyond measure. This album is a wonderful example of this! There are moments throughout the album with clean vocals and acoustic guitar that sounds right at home in this album. Hell, this album has saxophone all over it too and they made it work. As a listener, I love that these guys left the metal comfort zone and explored this sonic space to such a great avail!
4. 'Make It All Show' by Skating Polly
Now we take a break from the progressive tech death bands for an alt-rock band, why? Because it was a good year for music in a ton of genres and these guy are just fun for my ears. Ever more fun after hearing the same three chugging scream filled breakdowns three hundred times this year! There are some slower moody jams on this album that really showcase the two singers voices very well but there are a lot of up tempo punky jams. One of most note being their song "Camelot" which after I had found it, I think I listened to it on a loop like fifty times that day. I have usually one or two non-metal albums a year in the top 10. This trio are overall just a very large breath of fresh air from what I normally hear. Don't listen to them if you only listen to death-core and hate fun!
3. 'Catharsis' by Machine Head
This album overall is super hit or miss with people, those who like it, may like it or love it, but those who dislike it HATE it. To make it this high on my list I had to live with it all year for it to grow on me. It had some moments I don't like but what album is perfect for it's full run time? In no way do I hide the fact that Rob Flynn is one of my favorite vocalists of all time. Or the fact he is a huge vocal inspiration at times in bands I am writing for. This album has some amazing riffs that make me want to mosh anywhere I am, thus inspiring more than one car pit. Good vocal hooks on a lot of the songs, though some of the lyrics, well, I was not one hundred percent behind. Overall, a solid album that came out early in the year with some great songs throughout. Not every song is a winner but a good chunk of the songs made it on playlists this year!
2. 'Ordinary Corrupt Human Love' by Deafheaven

This album can be summed up in one word, wow! This album overall is just an experience that is hard to put to words! There is so much going on in this album but it flows smoothly like a fever dream! This album would best be taken in as maybe a guided meditation. Even just in a pitch black room, with the only stimulus being this album. Just so one could take in everything without distraction. There are few albums I would say would just be an overall great soundtrack to something like that. Though perhaps if you went into a sensory deprivation chamber with nothing but this album, you might actually find your way to the astral plane! I can't say enough about this album, but it is also hard to put this album into words.
All I can say is take the time to listen to this album, not as background music, really take this album in as there are not many like it. Dark, happy, beautiful, deep and even awe-inspiring at times. The only thing keeping this from number one is you need to listen to this whole album at once! There is no picking and choosing songs to add to playlists it is perfect on its own, and only on its own.
1. 'Disobey' by Bad Wolves
What can I even say about this album packed with bangers and awesome jams!? To put it into context, by the time of writing my favorite songs of 2018 list, I had narrowed the album down to four songs. Which was a hard undertaking but picking my favorite track off this album was even harder as there were a few. Thinking this album is a vehicle for that "Zombie" cover is the furthest thing from the truth. In fact, I would call it a weaker track on the album as a whole and it did not make it past the first cut. I have been following Tommy Vext for a long time. Since the first Divine Heresy album, I really enjoyed his work! Knowing at one point he would find a project that really worked for him and this supergroup did just that.
This album has me really excited to see where this group goes, with this as their first album I can only imagine where they will go! This album got the number one through great songs, I could not take another album on this list and have it go song for song with this one! Deafheaven may have made the best album of the year. This, however, was the greatest collection of songs on a single CD this year though. I hope these guys stay hungry after this release and do not rest on it. These dudes have the potential to be the next big thing if they keep this momentum up! In the long term, this album might not hold up as an album to the number two. Overall I think some of the songs on here will stand the test of time and be known as classics in years to come!
In closing
So there was my top 30 of the year, did your number one album make the list? Is there any that didn't make the list you think should have? Or any you think I may have missed? What was your album of the year and do you have any in 2019 that you are already looking forward to? Thanks for all the support this year and look forward to keeping it up for years to come!
album reviews
About the author
Lead singer of the band Vesuvian, lover of the metals, horror movies and grower of beards!
Reader insights
Be the first to share your insights about this piece.
Add your insights