My Top 8 EPs of 2018
A Bunch of Short Sweet Treats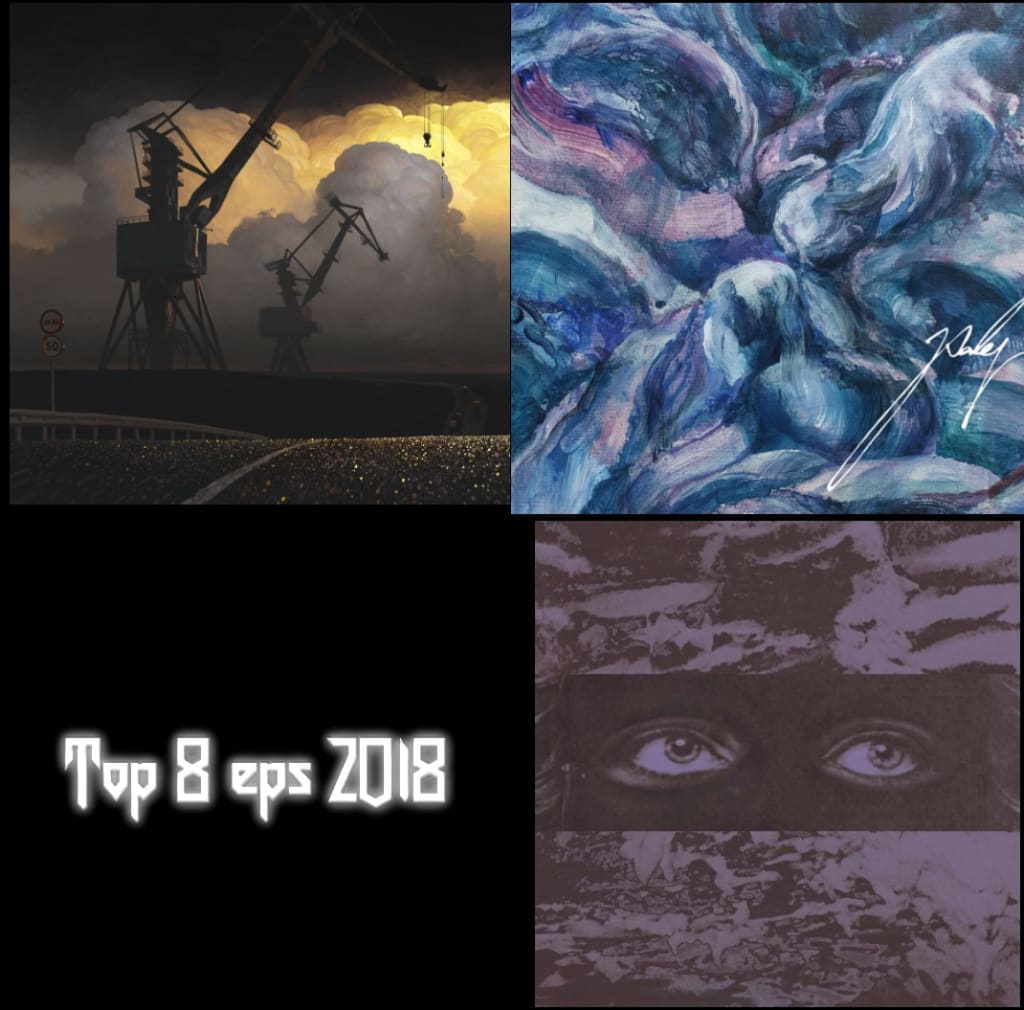 This year had some amazing releases (some really bad, too) that I moved my top 20 albums to 30! In that, there were a ton that were fighting for the cut, so I decided to take eight of the best EPs from that list and gave them a list of their own!
8. 'Honey Insulation' by Trashlight
Let's start this off with something different then what I normally listen to! This is an interesting bit of darkwave, I am not super well versed in the genre. As an intro to it all, I was really liking the driving rhythms and dual vocals that are used on this EP! It has moments of warmness, but also aggressive and even moments that tend to cause some tension for the listener! This initially made it on my top 30 albums before I decided to do a list for EPs so this is overall a quality listen. There were a lot of vibes akin to the soundtracks of the Silent Hill video games, which I also dig!
7. 'The Beginning' by The Ancestors of God
Coming in at number seven is an experimental or proggy band from Tacoma Washington, who with my old band I had the privilege of sharing the stage with! Their blend of Prog and Melo Death really have them stand out from other bands on this coast and in their genre as a whole. These guys are young and unafraid to take risks in this musical blend that a lot of their contemporaries or peers seemingly lack the drive to as of late! I really like the direction of this young band and can't wait to see where they go from here. Very recommended listening for fans of In Flames, Opeth or even Between the Buried and Me. They often toe the line of prog and mellow death very well and there is a lot to love about this EP!
6. 'Peacewalker' by Peacewalker
Man for someone who listens to a ton of extreme metal like me, it can get a bit "samey" from one band to the other. Then there is a death metal band like Peacewalker, who changes it up and gives my ears something fresh to breathe in. These guys still have all the marks of a death metal band, if not a bit of death-thrash in their sound, but to say they sound like every other death metal band would be really hard to say. The overall sound and some of the vocals are abrasive, yes, but a very fun and listenable metal album. I would say this album even borders on the prog side of things, as they are doing a ton of things different from your run of the mill death metal act! Very spacey passages with angelic leads, among the thuds of the riffs, that I would say fans of Fallujah keep an eye on these guys as they might be their proggy second coming!
5. 'Juniper' by Myrkur
It took me a lot to really get into Myrkur as a project, but after this EP, well, I think I finally get it. Upon my first few listens, I have really started to appreciate what is going on, it is soft and calming, yet brooding and mournful. The string section adds a dimension on it its own and blends beautifully with these melancholic songs. Overall, there is a lot going on in these two tracks, in which seems like it would be a stretch to do a ton with under 10 minutes, but everyone involved pulled it off and very well at that!
4. 'Murk' by Murk
Sweet sludgy salvation batman! This is only a two-track EP, but both songs do everything to lumber you into a headbanging frenzy! Both songs are heavy and amazing in their own right along with its sludge there are moments of blackened bliss! All three vocalists bringing something to the table that sounds different and fit very well through the songs. Last, but not least, I want to mention the solo's throughout that are used sparingly, but when they do, you might need a new face!
3. 'Kur' by Voidthrone
Another band from the Seattle area, you say? Am I playing favorites you may ask? I would have to ask if you have listened to some of the music coming out of there lately and tell me there isn't something in the water over there! Avant garde black metal from the town forever overcast that at times sound like your headphones are exploding and breaking down. This album is all but long enough to be an LP, but I like that they kept it a long EP and added zero filler! The musicianship is off the charts at times as well as the songwriting, some of the ideas on this album boggle the mind on how one thinks of that and how one part links to another so seamlessly. The other advantage of its runtime is there is a ton to take in so if there was much more, it could get a bit overwhelming—even to people who love music like this such as me. Give these guys a shot. I guarantee you have not heard much like it all year!
2. 'Day of Wrath' by Odyssian
I have been following these guys for most of their career and to see where they started to this release is crazy! This EP is a bit less tech than their last album. This release they traded the tech for a bit better songwriting overall these songs are excellent proggy jams! Though can we call it prog, if none of these songs even pass five minutes of run time? Guitar and bass work is outstanding (the bass tone is rivaled only by obscure in my ears) both guitars are doing their part very well and some of those leads just put a smile on your face! Production is solid, it is in no way overdone, but everything can be heard really well and nothing overshadows anything negatively. Check it out if you are a fan of metal in general!
1. 'EP' by Pale
It is really easy to sum this up if Deafhaven grew up in the musical landscape of Japan! This was the album that made me make this list, it is a truly amazing EP that I wanted to showcase and tell the world about. Thinking through in the big list of LPs this would have been in the lower half on runtime alone. That says nothing of what the music is doing, and oh man is this a bit of a trip, this EP goes all over the place, leaving no sonic stone unturned. Chaotic beautiful, hopeful, and fresh, these would be the words I used to sum this up on my first listen (of many). There are moments of wow these guys like Deafhaven, but this is not a collection of idol worship and wankery, but just the closest thing I can compare it to! For fans of the future of music and just amazing albums, I would recommend it every time!
list
About the author
Lead singer of the band Vesuvian, lover of the metals, horror movies and grower of beards!
Reader insights
Be the first to share your insights about this piece.
Add your insights