To the Beat: March 2021
A playlist curated by creators, for creators.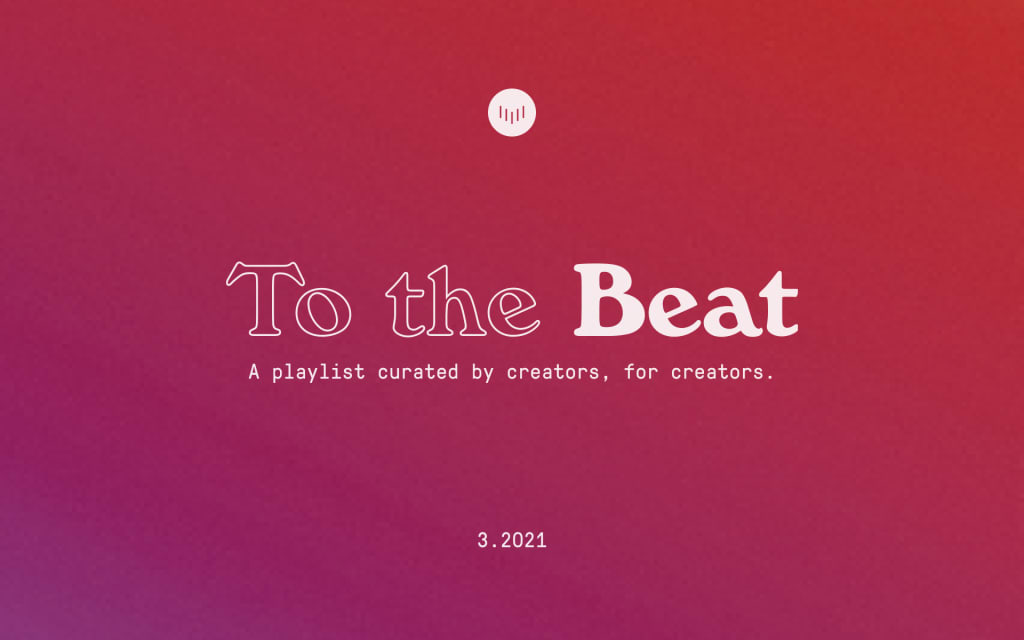 If everyone is a product of this society, who will say the things that need to be said, and do the things that need to be done, without compromise?

-Lauryn Hill
March has been all about coloring outside of the lines and saying yes to authenticity. This month has been especially dedicated to balancing obedience to unbridled self-expression and disrupting the norm for the sake of personal liberty. Throughout this Women's History Month we've made strides to defy the stereotypes, and gender roles society has built to confine women via our #SoLadyLike campaign, so it is only right that we conclude the month by highlighting the work of powerful women in music.
The role of women in the music industry has become increasingly evident as we have more conversations surrounding the powerful impact women have on the industry as a whole. Women from all backgrounds and within all sectors have continued to flourish in this male-saturated business, although there's still a way to go. For this special edition of To the Beat, we want to celebrate this positive progression as we've seen it through your stories.
This time next year I'll be livin' so good

Won't remember no pain, I swear

Before that you figured out, that I was just a normal girl
Josh peels away multiple layers of SZA's debut album CTRL as he explores the themes of body image and insecurity, femininity, and love presented by the singer. According to Josh, this album heavily questions the societal norms that are placed upon women. CTRL is intended to challenge the idea that women should remain perfect at all times, be complacent or submissive in toxic relationships, and remain sexually monogamous. He finds that SZA urges other women to make their stories their own via this coming-of-age album.
Through an album of heartbreak, low self-esteem, and body image issues, the SZA learns she has intrinsic value with helpful advice from her mother and grandmother. The beauty of music is that we can apply these lessons to ourselves without having to share the experience. Or even if we have had the same experience, we can take comfort in the fact that we are not alone.
Women breaking records in the music industry will always be our favorite song. In this case, singer/songwriter Karol G is making major waves as she broke the record for the highest Spanish-language song by a female artist to reach the top spot on the Billboard Hot 100 in over 20 years. Rui walks us through the singer's empowerment anthem "Bichota" which has become one of the most popular Latin music songs, with almost 1 billion global streams. He says, "Bichota is a celebration for all women and all men who choose to be fearless and fabulous…"
The reggaeton superstar and top-ranked Latin artist wants to empower her fans by showing them how leaders need to own inclusion.
I just took a DNA test, turns out I'm 100% that bitch

Even when I'm crying crazy

Yeah, I got boy problems, that's the human in me

Bling bling, then I solve 'em, that's the goddess in me
Lauren brings our attention to a true force to be reckoned with in music: Lizzo. From being a symbol of self love and body-positivity, to being a genuine champion for the people via her acts of service, Lauren expounds upon the many ways in which Lizzo and her art have proven to be a source of strength for her and millions of other listeners. She says, "*Regardless of what she is creating, Lizzo is a source of light in the darkness. She is a powerhouse of talent, passion, and compassion."* And we agree!
These two songs got me through a lot of heartbreak I didn't even realise I'd been holding on to until I heard them. Whenever the mood strikes, I'll still listen to them. For me, they're healing. Just knowing that someone else out there felt like how I felt eased my pain. If you like country and are going through heartbreak, then these songs are for you.
For those with a broken heart, country music has always been the go-to genre with heartbreak anthems and crooning lullabies to soothe a wounded soul. Sky shares how some of country music's leading ladies helped her cope with her own heartache and hard times navigating the end of a relationship.
I'm not usually a crier, but the emotions behind that song and the chorus Momma, can you die from a broken heart, forced the tears out. I've been there so many times through the years, but nothing felt as bad as when I lost Shawn.
These southern Mamas – Maddie, Tae, and Miranda – know about broken hearts, and their lyrics have certainly helped this creator and many other get through hard times. So, if you're going through heartbreak, this story and these songs are for you.
Janelle Monáe has identified herself as bisexual, pansexual and even nonbinary in 2020. The bravery it takes for an artist of her magnitude to declare such a personal matter about herself cannot be easily quantified. She serves as a further inspiration not just to black artists, black women, nerd culture, and the LGBTQ community but to all those that fall in between these categories.
"Janelle Monáe is more than just a fantastic musical artist and a talented actress. She is an innovator in modern art," Yanina shares in an open heart letter dedicated to Monáe for her inspiration and courage.
Yanina writes about Monáe's decades-long, thriving career and how at first, she wasn't feeling her vibe, but has since changed her viewpoint and has become one of her biggest admirers. Monáe's strength, courage, and inspiration are clear throughout this piece if you're a new fan of Monáe's, and this story is sure to have you jumping on the Monáe train. We salute and admire the strong women who we know and don't know personally. It's artists like Monáe who make a positive impact on the industry and pave new paths for future artists pack a powerful but tender punch.
#SoLadyLike
It's been another great month of listening and reading your stories on Beat. Keep sharing your music, reviews, and stories with us, turn up the volume, and enjoy this female empowering playlist below! You can find all of our monthly playlists here.
playlist
Collaborative, conscious, and committed to content. We're rounding up the best that the Vocal network has to offer.
Receive stories by Vocal Curation Team in

your feed