'The Teal Album:' What Works and What Doesn't
Introducing Weezer's New Album of Old Songs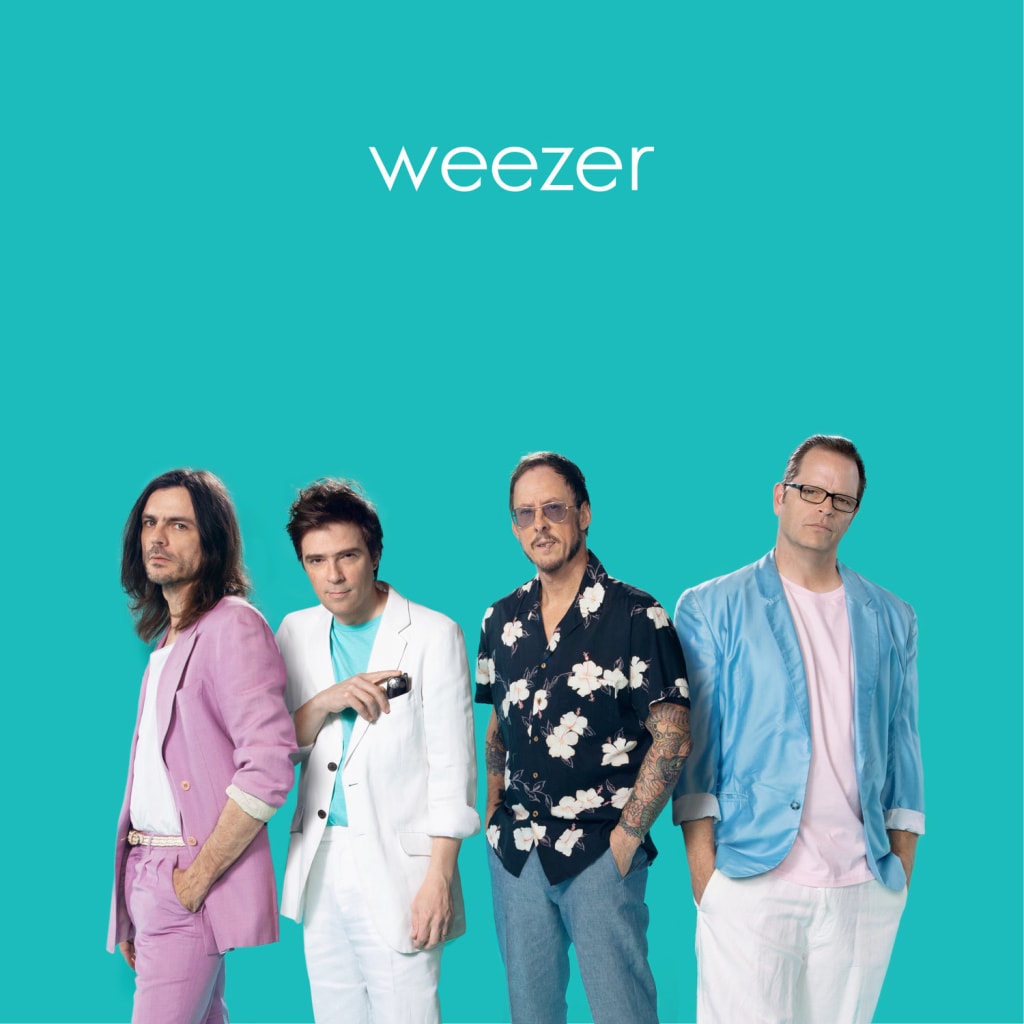 Photo by Weezer
Weezer surprised everyone with Weezer (The Teal Album), a surprise cover album dropped on January 24, 2019. The ten-track album follows the success of their cover of "Africa," the 1981 hit by yacht-rock band Toto, and precedes their upcoming thirteenth album, Weezer(The Black Album). It features covers of well-known songs from popular artists like TLC, Michael Jackson, and Black Sabbath.
When I listened to The Teal Album in its entirety for the first time, I enjoyed it. The songs are familiar and fun, and Weezer is a talented group. But to really get a feel for it, I had to listen a few more times before I could hear each song as a Weezer song instead of a close cover of the original.
Although I do enjoy this cover, I wish Weezer had kept it off the album. I've heard it played over and over again since it became a huge hit for them, and it seems like a waste to have it included on The Teal Album. I wish they'd recorded one more cover instead of starting it off with "Africa."
For a second, I forgot I was listening to a Weezer cover album instead of Tears for Fears. But that isn't a bad thing—I love this cover.
Another beloved song from the 80s, this cover of "Sweet Dreams (Are Made of This)" is, again, comfortably similar to the original.
Like the first three songs of this album, "Take On Me" sounds pretty close to the original, but I'm not complaining. Weezer seems comfortable covering 80s hits, and they should—I don't think Weezer should stop making new music and only create cover albums from here on out, but it's obvious they had fun doing this.
This cover is my least favorite on the album. This isn't my favorite song to begin with, I'll be honest, but it's not just that. After four jams from the 80s, this cover of "Happy Together" throws the whole album off.
While this is a little closer to the first four tracks, and not a bad cover, "Paranoid" just doesn't fit with the flow established in the beginning of the album.
This E.L.O. cover gets the album back on track. Though technically from the 70s, "Mr. Blue Sky" flows well with the first four songs on The Teal Album.
I wish this had been released as a single instead of part of the album. "No Scrubs" is one of my favorite songs, and Weezer's cover is better than I had expected—I love it. Unfortunately, it throws the album out of rhythm again.
Covering Michael Jackson isn't easy, but Weezer's cover of "Billie Jean" is one of the better songs on this album. Weezer's cover sounds pretty close to the original, albeit with more rock and less pop.
"Stand By Me" was my favorite song on The Teal Album. I didn't think I would like it because the song has such a different sound from Weezer's music, but they managed to make it their own while keeping everything I love about the original. Though the song itself isn't from the '80s I always think of the 1986 movie, Stand By Me, when I hear it, so I didn't feel thrown out of sync with the rest of the album. Instead, the feeling of '80s nostalgia continued.
I love most of the song choices on this album, but I do think that choosing only songs from the 80s would have given it a more cohesive sound. That being said, critics should keep in mind that this is a cover album that was made to be fun. This album wouldn't exist if Weezer had never covered "Africa," or if their cover hadn't been met so positively. Weezer hasn't given up on new music.
Weezer (The Black Album) will be released in March 2019. Until then, enjoy The Teal Album and accept it for what it is—entertainment.
album reviews
pnw | pisces | poet
co-eic of dollar store mag
wwu grad
social media: @kjzwrites
Receive stories by Katherine J. Zumpano in

your feed